Hawaiian Birds: 28 To Spot On Hikes (Oahu, Maui, Kauai & Big Island)
Has this happened to you? You are hiking one of Hawaii's many beautiful trails and enjoying the amazing scenery and views, and all of a sudden you spot a stunning-looking bird!
How frustrating is it not knowing what the bird is? Is it rare? Is it native to Hawaii? Is it endangered?
I wrote this detailed guide to identifying Hawaiian birds precisely for this reason! I too wanted to be able to recognize Hawaii's pretty birds!
What are the common Hawaiian birds you'll see while hiking, how to spot them, and how to recognize them? Which ones are rare, which ones are endangered and almost extinct?
With over 300 species of Hawaii birds, many introduced to the islands by humans (accidentally or deliberately), Hawaii is a bird-watcher's paradise.
Alas, this paradise may not last, because Hawaii is also one of the world's topmost bird extinction places, where natively evolved birds have few defenses against recently introduced predators, competitors and diseases.
Come, join us on a virtual tour of the prettiest of Hawaiian birds, and use our detailed guide to spot and understand them on your visit to Hawaii. Help with the conservation efforts, or they may not be around for your next!
Some links on this page may be affiliate links. If you click an affiliate link and make a purchase, we may receive a small commission, at no extra cost to you. For more details, refer to our disclosure.
Iconic Hawaiian Birds
I'iwi (Scarlet Honeycreeper)
With a vivid, scarlet-red plumage, black wings and a long curved bill, the i'iwi is a stunning petite bird, about 6 inches long, and likely the prettiest bird you'll see in Hawaii.
I'iwi is native to Hawaii, and is a honeycreeper that feeds on the nectar from the flowers of high-elevation forest trees like the ohi'a lehua. They are quite loud and sound like a squeaky hinge.
The best places to spot an i'iwi are the Haleakala National Park on Maui or the Hawaii Volcanoes National Park on the Big Island or Koke'e State Park on Kauai.
You have to look for flashes of red in the green foliage.
>> Book an exciting, 5-star rated, highly popular, Oahu tour now!
Nene (State Bird of Hawaii)
The state bird of Hawaii is the nene, the Hawaiian goose, related to the Canadian goose, but native to Hawaii.
The nene is about a foot and a half long, with a black head, long neck, brown feathers with black and white markings. They live in grasslands and open areas among native plants like pili grass and 'ilima.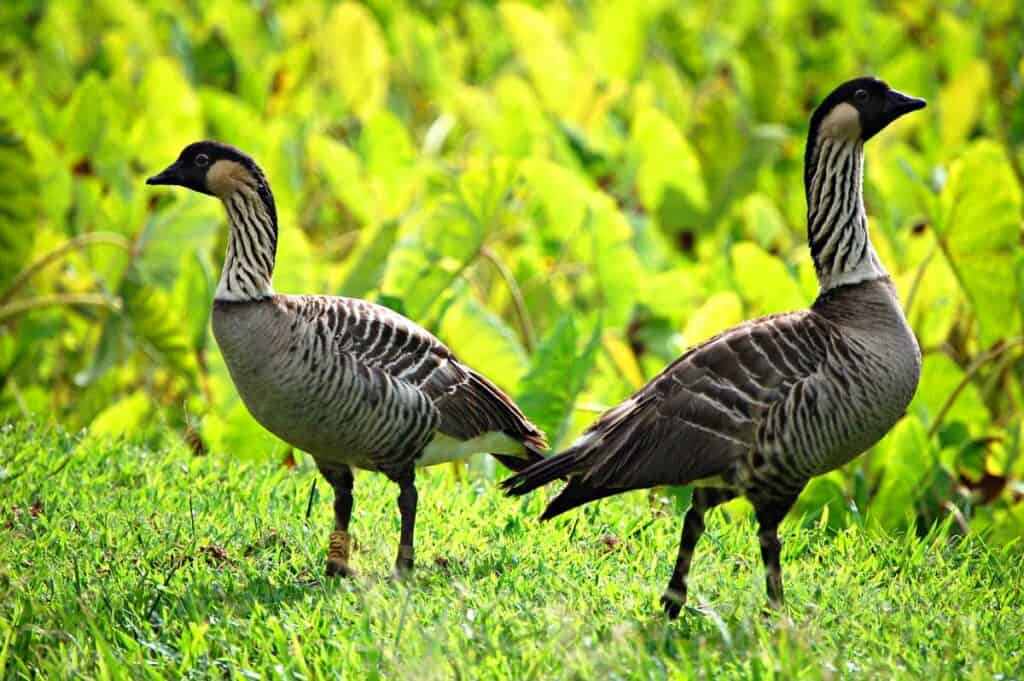 The best places to see nene are in Haleakala National Park on Maui or Hawaii Volcanoes National Park on the Big Island.
Nene is endangered and you'll often see them in protected environments like golf courses and ranches.
Our kids spotted nene on the Poipu Bay Golf Course while hiking the Mahaulepu Heritage Trail on Kauai. They make a soft honking sound like nay-nay, hence the name!
Red Crested Cardinal
Wondering what those pretty Hawaiian birds with red head are, flitting around in the parks around Waikiki?
They are most likely the red-crested cardinal, a striking bird imported from South America (also called the Brazilian cardinal), and found in many urban areas like Honolulu on Oahu and Lihue on Kauai.
The red crested cardinal is about 7 inches long and has a red head with a crest that sharply contrasts against a white belly and a gray back. They sing a whistling-type song.
>> Book an exciting, 5-star rated, highly popular, Oahu tour now!
Common Hawaiian Birds
With 300+ bird species on the Hawaiian islands, there is no dearth of birds to see. Here are some of the most common and beautiful Hawaiian birds you must keep an eye out for!
Urban Birds
Even in population centers like Honolulu and Lihue, you'll some interesting birds, in the parks, along the coastline, and even outside your window!
Northern Cardinal (Redbird)
The Northern Cardinal is a striking red bird (hence the common name "redbird") that was introduced to Hawaii in the early 1900s and is now widely found on all the main islands, and in all kinds of habitats including urban parks and gardens.
The Northern Cardinal is about 8-9 inches long, with a distinctive crest. Males are red with a black mask on their face around the beak, and females reddish green.
They eat mostly seeds, insects and fruit.
Common Myna
The common myna (or mynah) is ubiquitous and was originally introduced to Hawaii from India to control insect pests, since they are omnivorous and feed on insects and fruit.
The myna is roughly 9 inches long, black-headed, with a bland brown body, and striking yellow beaks, eye patches, and feet.
You can spot mynas all over Hawaii and in the big cities like Honolulu, so much so, that they are now treated as an invasive species.
>> Book an exciting, 5-star rated, highly popular, Oahu tour now!
Japanese White-Eye (aka Warbling White-Eye)
The Japanese white-eye is easily recognizable from the distinctive white ring around its eyes and its olive head with a yellow throat.
A small bird, roughly 4 inches long, the Japanese white-eye, introduced from Japan, is one of the most abundant birds in Hawaii today.
Unfortunately, while the Japanese white-eye has been successful in adapting to Hawaii and growing in numbers, this has been at the expense of native Hawaiian birds that were out-competed.
Yellow-Fronted Canary
The yellow-fronted canary is a small, 5-inch long, bird from the finch family with a yellow forehead and underbelly, and gray, brown and olive back.
Introduced into Hawaii in the 1960s, the African bird, though non-native, is not considered a threat to other bird species.
Game Birds
Hunting is increasing popular in Hawaii, and game birds are introduced to make birds available to be hunted each year.
Popular game bird species in Hawaii include snipe, duck, pheasant and quail.
Erckel's Spurfowl
Introduced on Big Island and Maui as a popular game bird, Erckel's spurfowl imported from the highlands of East Africa, has a distinctive black and white plumage.
Erckel's spurfowl are found in the mountains and higher grasslands, and are fast runners.
Chukar Partridge
The chukar partridge, native to Eurasia, was introduced into Hawaii in the 1920s as a game bird for hunting.
Roughly 14 inches long, with a black band and stripes against a white face and body, the chukar partridge is an exotic-looking bird. They are found mainly on the Big Island, Maui and Molokai.
We spotted a couple while hiking the Sliding Sands trail in the Haleakala National Park in Maui.
>> Book these 5 star rated, highly popular, Kauai Tours now!
Forest Birds
As you head out on your hike on one of Hawaii's many rainforest trails, make sure you keep a pair of binoculars and your camera ready!
You'll likely hear the birds first, either when they sing or make a sound or just the rustling of leaves in the canopy above or the lush vegetation surrounding you.
Common Hill Myna
Introduced in the late 1800s to control army worms, the mynas of Hawaii include more than a dozen species, and the Hill Myna is the more famous among them, cherished for its ability to mimic human speech.
Distinctly more colorful and striking in appearance than the common myna, the hill myna can be spotted on the hillside forests.
White-Rumped Shama
The most skilled songbird in Hawaii, the white-rumped shama is a stunning small bird, about 10 inches long, introduced into Hawaii from the Indian subcontinent.
More prevalent on Oahu and Kauai, you can spot the white-rumped shama along forest streams. Look for a dark black plumage, stunning orange breast, and a white rump with white tail feathers.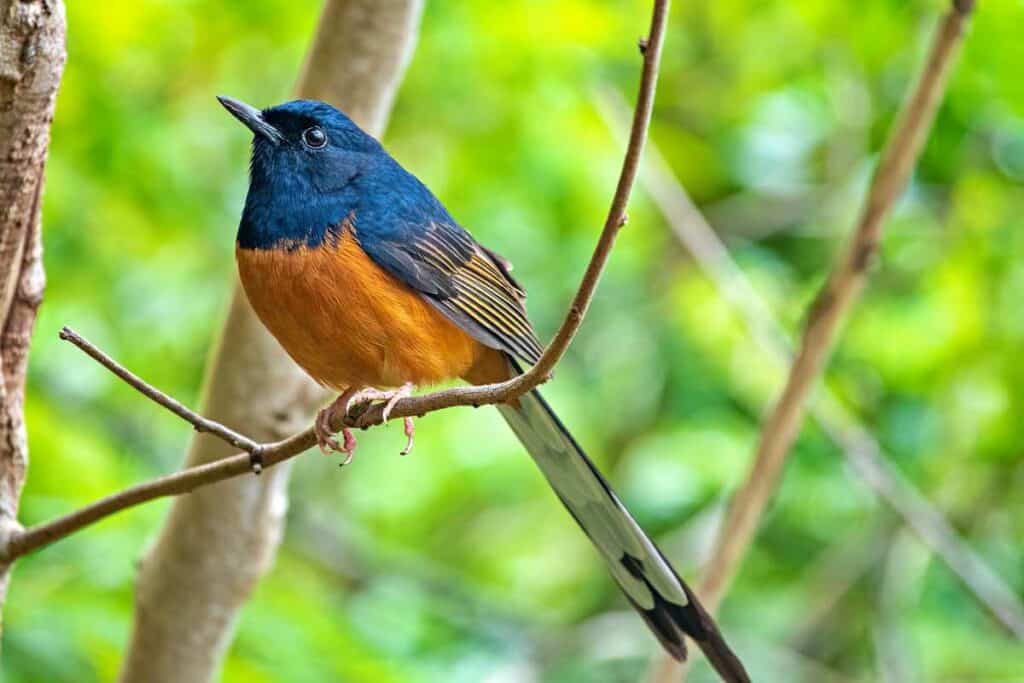 Due to its spectacular singing ability, the white-rumped shama is a popular cage bird.
Red Junglefowl
Red junglefowl is common on most of the main Hawaiian islands, and you can encounter them on most rainforest jungle trails, especially in the lowlands.
Wild ancestors of chicken, the red junglefowl of Hawaii are believed to have been brought by the ancient Hawaiians, and have flourished in the tropical rainforests.
We saw many while hiking popular Kauai's trails like the Ho'opi'i Falls Trail and the Kalalau Trail.
Scaly-breasted Munia
A beautiful, small songbird, the scaly-breasted munia is easily recognizable by its distinctive, scale-like markings on the underside chest area.
You'll find them mostly in the grassy areas, and their diet is primarily grass seeds.
We saw a couple of pretty, scaly breasted munia birds on our Kuilau Ridge Trail hike near Wailua on Kauai.
Chinese Hwamei
The Chinese Hwamei is a small brown forest bird, a laughing thrush, easily identified by a characteristic white line around the eye.
The Chinese Hwamei was introduced to the islands of Hawaii, and is commonly found in wet rainforests on Kauai, Maui and the Big Island.
The Chinese hwamei is a secretive bird, and very hard to spot. Most likely, the only indication of its presence will be its long, beautiful song.
We were lucky to spot this beautiful songbird on the Pipiwai Trail hike on the way to Waimoku Falls in the Haleakala National Park.
>> Book these 5-star rated, highly popular, Kauai tours now!
Seabirds
Hawaii, being an archipelago of islands, is home to many beautiful seabirds, some of which are indigenous to Hawaii.
Laysan Albatross
The Laysan albatross, a large seabird of roughly 32 inches length and a wingspan of nearly 7 feet, is endemic to the Hawaiian islands, but ranges across a wide swath of the North Pacific.
The bulk of the Laysan albatross birds nest on the Northwestern Hawaiian islands, primarily Laysan Island, hence the name.
You can see a small colony nesting in Kaena Point on Oahu, protected from predators like feral cats and mongooses by an elaborate fence, since they are ground nesting birds.
The Laysan albatross is one of the more common seabirds around Hawaii.
Red-Tailed Tropicbird
Like the Laysan albatross, the red-tailed tropicbird is also pelagic (preferring the wide open ocean), and is often seen around Oahu and Kauai.
The red-tailed tropicbird is a white seabird with a red beach and a long, streaming red tail. They breed in the smaller islands (like the Manana-Rabbit island) and the Northwestern Hawaiian islands.
Yellow-billed Tropicbird
The yellow-billed tropicbird can be easily recognized as a white seabird with a long streaming tail, yellow beak, and two characteristic black bars on its wings and black coloration at the tips of the wings.
Like the red-tailed tropicbird, the yellow-billed tropicbird prefers the wide open ocean waters, and feeds on flying fish and squid.
We saw a couple while on a boat tour to Molokini Crater near Maui, which is a protected Hawaii State Seabird Sanctuary, and while hiking the Mahaulepu Heritage Trail near Poipu on Kauai.
Great Frigatebird
The Great Frigatebird can be found along the coasts of all the main Hawaiian islands, and is a black seabird, large to medium sized, with a bright red throat that swells during mating season. Females have a white throat.
Like the tropicbirds, the Great Frigatebird prefers the pelagic ocean and feeds on flying fish.
Red-Footed Booby
The red-footed booby is another indigenous Hawaiian seabird, white in color with a small blue circle around the eyes and red feet.
They breed in the many protected bird sanctuaries around Hawaii like the Rabbit Island (Manana Island) off Oahu.
>> Book these 5 star rated, highly popular, Kauai Tours now!
Native Hawaiian Birds
While some Hawaiian birds are found the world over, others are endemic to Hawaii. The beautiful i'iwi is endemic to Hawaii, and found on all the main Hawaiian islands.
Endemic basically means these birds are found only in Hawaii and nowhere else! They have to evolved over the millennia into separate species adapted to Hawaii's different habitats.
Not only that, some are endemic to individual islands, that is, they are found only on that island, not in any of the others! Since the various islands are hundreds of miles apart, independent evolution is not unusual in the case of non-seafaring birds.
Apapane, Bird Species Endemic to the Hawaiian Islands
The apapane, a mid-sized honeycreeper found on most of Hawaii's main islands, is a striking crimson in color, with streaks of black on its wings and tail, and a pure white undertail.
You can spot the apapane on popular hiking trails like the Pihea Trail on Kauai and the Hosmer Grove Trail in the Haleakala National Park on Maui, in the forested areas, especially those with the native ohia lehua trees.
Hawaiian Birds: Oahu
Oahu has many endemic bird species including the Oahu Alauahio, the Oahu Amakihi, and the Oahu Elepaio.
Oahu Amakihi
Likely the last surviving honeycreeper on Oahu, the Oahu Amakihi is a small (about 4.5 inches long) greenish-backed, yellow under-bellied endemic Hawaiian bird that feeds primarily on the nectar from the native ohia lehua flowers and insects.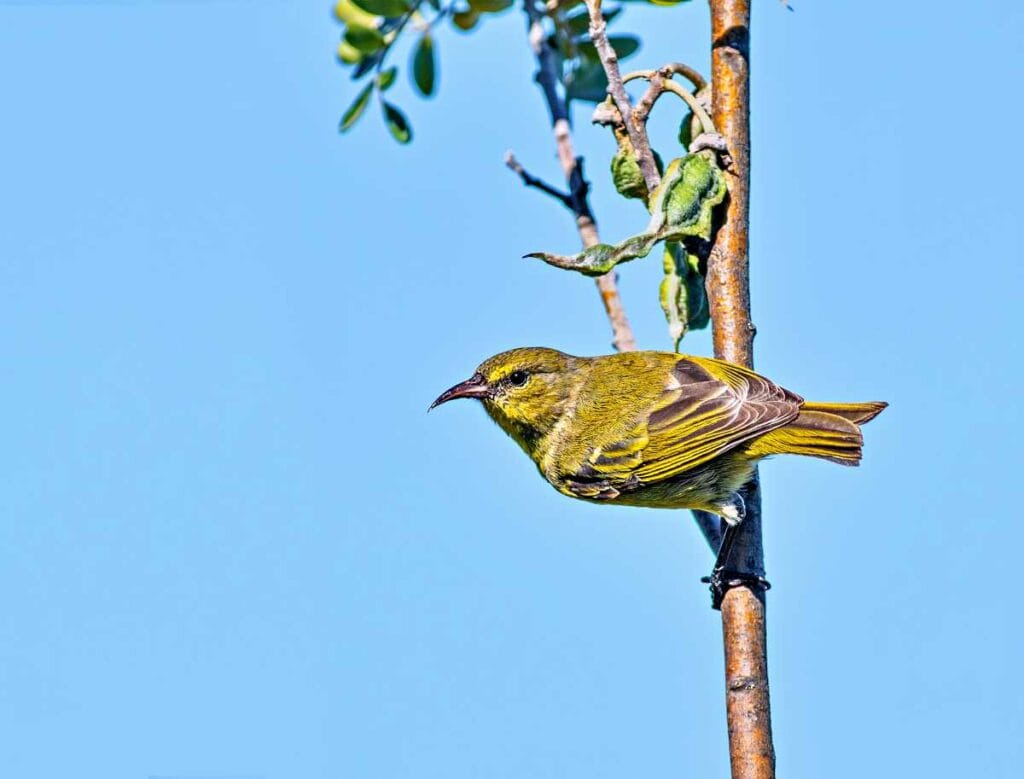 Mostly found on Oahu's southern forests, they can often be spotted in the Wa'ahila Ridge State recreation area.
Oahu 'Elepaio
The Oahu 'elepaio is small, about 6 inches long, with a brown back body and white underbelly and tinges of black.
The 'elepaio is a monarch flycatcher, adept at catching flies and other insects on the move, and can be spotted in the foothill rain forest trails of Wai'anae and Koolau ranges.
Hawaiian native canoe builders used to avoid trees pecked at by elepaios, under the belief that they were infested with insects.
Hawaiian Birds: Kauai
Hawaiian bird species endemic to Kauai include the Anianiau, the Akikiki, and the Kauai Elepaio. The Kauai 'Elepaio is a species distinct from the Oahu 'Elepaio.
'Akikiki (Kauai Creeper)
The 'akikiki is native to Kauai, and being susceptible to the avian malaria carried by mosquitos, has become critically endangered and rare.
Previously you could spot the 'akikiki in the Kokee State Park and around the Alakai swamp, but note that the species may be extinct by 2024.
The akikiki is small, olive-headed with a white underbelly, and feeds on insects.
Hawaiian Birds: Maui
Maui has its own endemic bird species like the Maui Parrotbill, the Maui Alauahio, and the Akohekohe.
Oddly enough, the elepaio species of monarch flycatchers are not found on Maui, probably because their niche was already taken.
Akohekohe (Crested Honeycreeper)
The akohekohe is a medium sized bird, about 7 inches long, and one of the largest living honeycreepers on Maui. It is mostly black, but marked with striking white and orange spots and lines, and a striking gold-colored crest.
Critically endangered, but the akohekohe can still be spotted on Mount Haleakala and the Hosmer Grove Trail of the Haleakala National Park.
The akohekohe is mostly a nectar feeder, primarily on the flowers of the native Ohia lehua plant, but also eats insects and fruits.
Hawaiian Birds: Big Island
The Big Island of Hawaii also has endemic bird species like the Palila, the Hawaii Akepa, and the Hawaii Creeper.
Palila
The Palila is endemic to the Big Island (used to be found on Kauai and Oahu also, but are now extinct there).
You can spot the Palila in forests on the slopes of Mauna Kea, among the native mamane trees.
The Palila is easily recognizable from its golden head and chest, and the males have a black mask around the eyes. About 7 inches long, the palila is one of the largest honeycreepers, feeding mostly on mamane seeds, flowers and buds.
Predatory Hawaiian Birds
While only two endemic hawaiian bird species are still living: the Hawaiian hawk ('Io) and the Hawaiian short-eared owl (pueo), there are other introduced predatory birds on Hawaii including barn owls (an invasive species), peregrine falcons and northern harriers.
Pueo (Hawaiian Short-Eared Owl)
The Hawaiian short-eared owl, the pueo, is a natively evolved version of the globally found short-eared owl.
The pueo is active during the day, but the best time to spot them is usually dusk, and you can either see them patrolling the skies or perched on trees. They eat small mammals, and rats are their common prey.
Invasive Birds of Hawaii
The term invasive is used to refer to non-native bird species that were brought here by humans and are causing harm to native species and the environment.
Three bird species on the Hawaiian Government's list of invasive species include the red-whiskered bulbul, the red-vented bulbul and the rose-ringed parakeet.
Red-whiskered Bulbul, Red-vented Bulbul
Found mostly on Oahu, these two species of bulbul, red-whiskered and the more prevalent red-vented, are aggressive smallish (7-8 inches long) birds that outcompete other species for food and territory.
The bulbul is easily recognizable as the only black bird in Hawaii with a crest on its head, and has red feathers under its tail. The red-whiskered bulbul is mostly white on the underside, while the red-vented bulbul is gray.
They feed on fruits, vegetables, and insects, and cause extensive crop damage on Oahu.
Rose-ringed Parakeet
Brought as pets to Hawaii from the Indian sub-continent, the rose-ringed parakeet is a pretty parrot, about a foot and a half in length, with bright beaks and males have a distinctive red-black neck ring.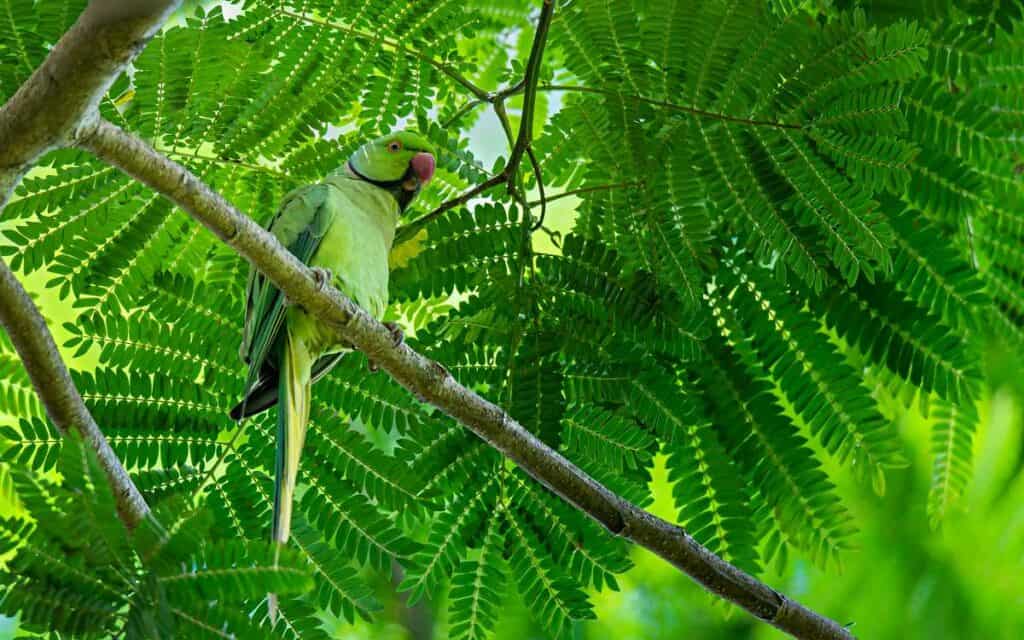 With a high reproduction rate and few predators, you can now find large populations of the rose-ringed parakeet on every main Hawaiian island.
They feed on fruit and grain and cause a lot of damage to local food crops.
Best Places to See Hawaiian Birds
Hawaii has rightly been called a bird paradise, with abundant bird populations on all the main islands.
Popular hiking trails like the Manoa Falls Trail, the Makapuu Point Lighthouse Trail, the Kuilau Ridge Trail, the Maha'ulepu Heritage Trail, the Kapalua Coastal Trail, the Waihee Ridge Trail, and even urban parks and beach parks have many different varieties of bird species including the common myna, the red-crested cardinal, the Japanese white-eye, apapane, the red-whiskered and red-vented bulbuls and the rose-ringed parakeet.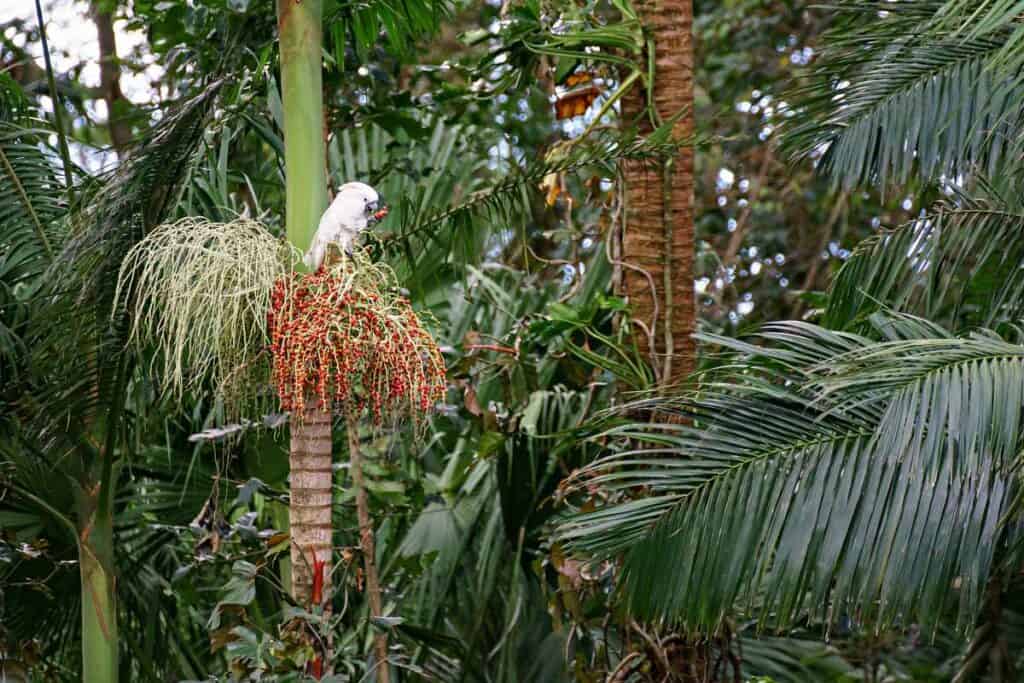 Botanical gardens and arboretums provide convenient access to birdwatchers who don't want to hike. Some of the popular ones include Waimea Valley, Ho'omaluhia Botanical Garden, and Limahuli Botanical Garden..
However, sadly, the endemic Hawaiian bird population has declined dramatically, especially the native honeycreeper bird species, due to avian malaria disease and competition from introduced, invasive bird species.
To see the rarer honeycreepers you will have to head to specific bird watching locations and trails, and if you're lucky, you'll spot some of these very pretty birds!
Haleakala National Park, Maui
The Haleakala National Park on Maui is a haven for many endemic Hawaiian birds including the nene, Hawaii's state bird, and the pretty honeycreepers, i'iwi and 'apapane, and to some Hawaiian birds endemic to Maui, like the Maui alauahio and the Maui akohekohe.
The Hosmer Grove Trail, located close to the entrance to the Summit District of the Haleakala National Park on Maui, is one of the best easy Haleakala hikes, through a grove of planted eucalyptus, cedar, pine and spruce trees.
The Hosmer Grove Trail is one of the best Maui hikes for bird watchers, and you can expect to spot nene, 'apapane, i'iwi, common amakihi and Maui alauahio.
Koke'e State Park, Kauai
Koke'e State Park, one of the best Kauai state parks, is further up from the popular Waimea Canyon State Park, and is likely the best spot to find some of Kauai's shy endemic forest birds.
Some of the best Koke'e State Park trails are also popular with bird watchers including the Alaka'i Swamp Trail, the Awa'awapuhi Trail, and the Pihea Vista Trail.
The Alaka'i Swamp Trail is my favorite, with its wetlands harboring the Kauai Elepaio, 'apapane, Kauai amakihi, and i'iwi. The rare and critically endangered akeke'e, puaiohi, and akikiki are much harder to spot, but known to be frequent the highland swamps.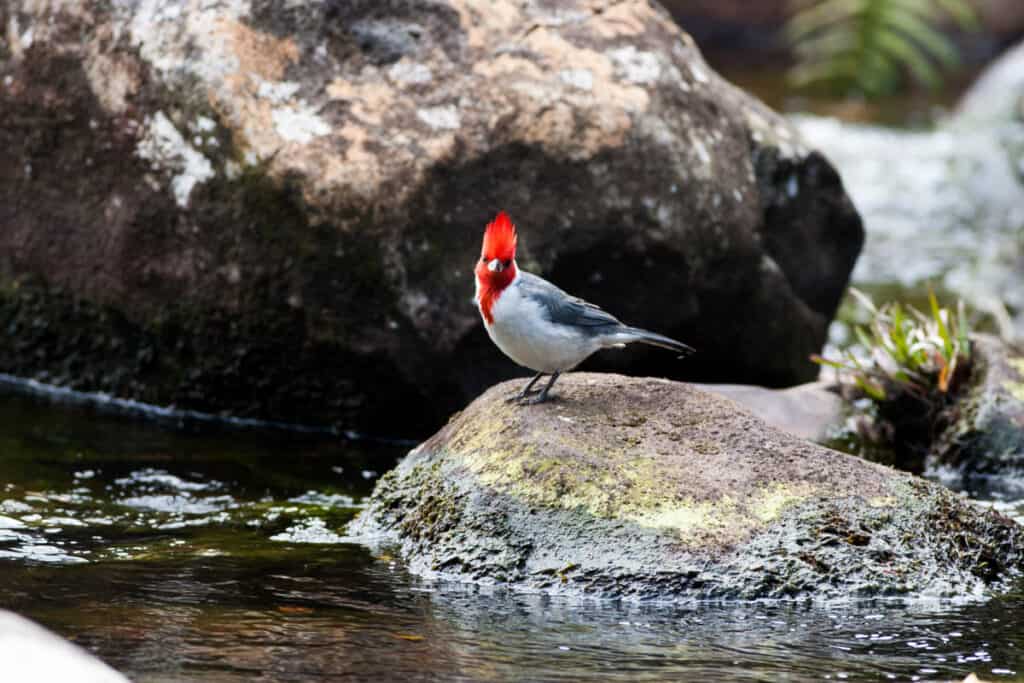 Molokini Crater, Maui
Molokini Crater, a few miles off the south west coast of Maui, is one of the most popular snorkeling locations in Maui, and one of the best places to visit in all of Hawaii.
Apart from the amazing Hawaiian tropical fish you can see here while snorkeling, Molokini Crater is also a designated Hawaii State Seabird Sanctuary.
While you may only view from aboard a boat tour (no landings are permitted), Molokini Crater is an excellent location to view some of Hawaii's seabirds that nest and breed here including the wedge-tailed shearwater, Bulwer's Petrel, yellow-billed tropicbird, Great frigatebird, the red-footed booby and the Laysan albatross.
You do need to take a boat tour, and here are some top-rated, highly popular ones:
Volcanoes National Park, Big Island
The Volcanoes National Park on Big Island provides safe harbor for a variety of Hawaiian birds, both endemic and introduced.
I found Kipuka Ki, a forested area on the Mauna Loa Strip Road, and the Kilauea Iki Trail the best bird spotting locations in the park, and on a recent visit could view most of the common birds including the i'iwi, the Hawaii elepaio, warbling white-eye, apapane and the common amakihi.
Though some of the rare honeycreepers like the Hawaii akepa and the Hawaii creeper, frequent this area, they are few and very difficult to spot.
Ka'ena Point, Oahu
Kaena Point, the westernmost point on Oahu, is easily accessible for the bulk of the tourists, and offers a protected sanctuary, the Kaena Point Natural Area Reserve, for many Hawaiian seabirds.
A fence perimeter keeps out feral cats and mongoose, allowing ground-nesting birds like albatross and shearwater to breed in peace, in colonies.
You can spot Laysan albatross, wedge-tailed shearwater, yellow-billed tropicbird, and many other seabirds, and also Erckel's francolin, and Kalij pheasant in the grassy shrub areas.
Extinct Hawaiian Birds
No longer a bird paradise, Hawaii is now facing an ever-growing bird extinction crisis, with conservation efforts falling woefully behind.
The reasons are many: loss of habitat, predation from human-introduced mongoose and feral cats, competition from non-native species and, more recently, avian malaria carried by mosquitoes.
Hawaiian native birds, after years of evolution, have no protection to these threats, and many very pretty bird species are now extinct, or on the brink of extinction.
As recently as October 2023, the US Fish and Wildlife Service delisted 10 bird species from their endangered list and declared them extinct.
8 of 10 bird species were from Hawaii: Kauai akialoa, Kauai nukupuu, Kauai o'o, large Kauai thrush, Maui akepa, Maui nukupu'u, Molokai creeper and the po'ouli.
Did you find this article informative? Pin it on Pinterest for later!