Visiting Polihale State Park, Kauai: The Ultimate 2023 Guide!
Polihale State Park in Kauai is a must-visit if you love to visit untamed wild places.
With an endlessly long stretch of pristine beach and great views of the renowned Na Pali cliffs, Polihale State Park offers oceanfront adventure in a blissfully uncrowded environment.
You'll find Polihale State Park along the remote west side of the island, along with other Kauai state parks like Waimea Canyon State Park and Koke'e State Park.
Polihale State Park is the furthest up the remote west coast of Kauai you can drive. Getting here, in fact, is an adventure in itself.
But visitors that make the effort to get to Polihale State Park are rewarded with a beautiful stretch of sandy beach backed by tall scenic dunes, with opportunities for strolling and sunbathing, sunset watching and stargazing, and fishing and camping. Polihale's natural beauty makes it well worth visiting!
In this article, we tell you how to visit Polihale State Park: the best things to do in the park, plus how to get here, when to visit, and more.
Planning a trip to Kauai? Be sure to check our in-depth guides to Haena State Park and Wailua River State Park!
And now, let's get started with our guide to Polihale State Park, Kauai!
Hey, by the way! Visiting Kauai? The only way to get a real feel for the rugged beauty of this incredible island is through a helicopter tour! Check out the five highest rated Kauai Helicopter tours for 2023!
Some links on this page may be affiliate links. If you click an affiliate link and make a purchase, we may receive a small commission, at no extra cost to you. For more details, refer to our disclosure.
Things to Do in Polihale State Park
Stroll on Polihale Beach
If you are looking for an endless stretch of golden sand to stroll, you can't do better than Polihale Beach!
At over 15 miles long, Polihale Beach is by far the longest beach in Kauai. It is also the westernmost beach accessible to the public in Hawaii.
And one of the least crowded beaches in Hawaii as well!
With its beautiful backdrop of vegetated dunes and pristine golden sand, Polihale Beach is the perfect walking beach.
While you can walk here any time of the day, we suggest walking early ot late as it's exposed. Sunset here is stunning!
Walking on Polihale Beach is a great way to take in the views of the Na Pali cliffs to the north, and enjoy watching (and hearing!) the waves roll in and out.
On clear days, look for the Forbidden Isle, Ni'ihau, which lies even further west than Polihale, plus spinner dolphins in the water, and humpback whales in the winter.
Beachcombing and looking for shells is a popular thing to do here.
Tip: People drive on the beach here, so watch out for vehicles. You may just see one or two, or even none, since the beach is remote.
>> Book these 5 star rated, highly popular, Kauai Tours now!
Enjoy Queen's Pond
Waves are generally rough at Polihale Beach, and there are dangerous rip currents, so it's not considered a great Kauai swimming beach.
That said, you may see people swimming here in the summer. But remember you are far away from assistance here, and cellphone reception is pretty much non-existent.
If you want to swim, check out Queen's Pond, a natural seawater pool that forms in the south of Polihale State Park. Children and non-expert swimmers can enjoy the water here.
Queen's Pond is set inland, with quite a bit of sand between the shorebreak and the pool in the summer, and the water in the pool is about 4 feet deep or less.
The waters in Queen's Pond are calm. It's exactly like a swimming pool on the beach, and popular with families on weekends.
If you have a floatie, bring it along!
The pool is usually seen during the summer months and tends to disappear come fall when the surf comes in higher up.
Have a Picnic
One of the best things to do in Polihale State Park is picnicking.
The park features many picnic pavilions throughout, set atop sandy dunes, and in fact each of the pavilions can be reserved for camping, if you plan to spend a night or two in the park.
To get to the large picnic area by the entrance, take the road up the hill at the monkeypod tree and the sign for the park. At the top you'll find a large shaded area with picnic pavilions and barbecues.
There are restrooms here as well, so it's a great place to base if you want to spend a few hours in the park.
Walking paths lead from the pavilions to the beach.
You'll need a canopy or a beach umbrella for shade if you plan to spend your time right on the beach. Also bring a cooler for your drinks!
To pick up supplies for your Polihale State Park picnic, stop in the town of Waimea on the drive up.
Camp in Polihale State Park
Outdoor enthusiasts will want to consider tent camping in Polihale State Park.
Wild and remote, Polihale Beach offers a wonderful wilderness camping experience on the island, away from the more crowded touristic areas on Kauai.
Camping here allows you to enjoy the beauty of the park early and late in the day, and at night.
Campsites in the park are minimally developed and have oceanfront locations. Many of the designated campsites are located under acacia trees, which offer some shade. Wear thick-soled shoes: the acacias have thorns!
You'll find restrooms, outdoor showers in the beach area, drinking water, picnic tables, and trash cans at campsites in the park.
At the time of writing, campsites cost $20.00 per campsite per night for Hawaii residents and $30.00 per campsite per night for non-residents.
Reserve your Polihale State Park campsite here.
>> Book these 5 star rated, highly popular, Kauai Tours now!
Watch the Sunset
Since Polihale State Park is one Kauai's west coast, Polihale Beach is a great spot for catching sunset.
It's a nice time of day to stroll on the beach as well, since it isn't as hot as during the daytime.
If you aren't camping in Polihale State Park, you'll want to head back just at sunset, though, because driving the unpaved road just outside the park in the dark isn't for the faint of heart.
Stargaze
Camping in Polihale State Park? You'll love stargazing in the skies over the ocean!
Since this part of the island isn't populated much at all, Polihale State Park doesn't have much light pollution and is therefore an excellent place for night sky observation.
If you are here on a moonless, cloudless night, you will be treated to thousands of stars twinkling in the skies above you.
Listen to the rhythmic sound of the waves as you watch the show!
If you are visiting for the day, note that you will likely not have much time for stargazing before the park closing time. Plus, driving the dirt road outside the park can be difficult in the dark.
>> Book these 5-star rated, highly popular, Kauai tours now!
Getting to Polihale State Park
Polihale State Park is located about mid way up the west coast of Kauai. The location is considered somewhat remote, but you can access it by road.
Take Highway 50 West to Lower Saki Mana Road (see map). Highway 50 is well paved and usually in good condition, but Lower Saki Mana Road is unpaved and rough.
This unimproved dirt road stretches for about the last 5 miles and can get flooded and become unpassable when it rains.
There are also pockets of deep sand, where 2-wheel drives can get stuck.
A high-clearance 4WD is the way to go!
Here are the driving distances to Polihale State Park from various parts of the island:
Koloa (or Poipu) — 32.3 miles, one hour and 10 minutes
Lihue — 38.1 miles, one hour and 18 minutes
Hanalei (or Princeville) — 69.1 miles, 2 hours
The nearest town is Waimea.
It's easiest to visit Polihale State Park while you are staying in Koloa or Poipu, on the south shore of Kauai.
The park is easy to find and well signposted. In fact, the large monkeypod tree that marks the entrance to Polihale State Park is well known in Kauai!
Polihale State Park Hours and Admission Fees
Polihale State Park is open daily from 5.30 a.m. until 6.45 p.m.
There is no entrance fee or parking fee for day use.
Are Reservations Required for Polihale State Park?
No, at this time reservations are not required for Polihale State Park for day visits. Camping overnight requires a permit.
The only state park in Kauai that requires a reservation is Haena State Park, which also provides access to Na Pali Coast State Wilderness Park.
The Best Time to Visit Polihale State Park
You can visit Polihale State Park year round.
Because the road leading to the park can become impassable during rains, we suggest visiting during a dry patch. Check the weather forecast before you go!
Anyway, since it's a beach park, you want a bright clear day for your visit. On such nice weather days, the ocean here looks electric blue. It's an amazing sight!
In the summer, the surf is the gentlest you'll find here, although that still does not mean it's safe to get into the ocean.
Note that the surf can get high and even more dangerous in the winter, and Queen's Pond, the natural swimming pool, may not always be present.
You can still visit Polihale State Park in the winter if you wish to camp and stargaze, and watch the waves from a safe place on land!
Tips for Visiting Polihale State Park
Arrive in a 4WD
The dirt road that leads to Polihale State Park is very rough. We drove at 15 mph most of the way and still found it very bumpy.
Although you can drive to the park in a 2WD when conditions are right, and you will see lots of 2WDs when you visit, we suggest getting a high-clearance 4WD, especially if you are a first-time visitor.
Check your rental car agreement carefully!
If you want to drive to Polihale State Park and plan on getting a rental car, read the agreement carefully.
Many rental car companies prohibit you from driving the rental car on the unpaved road that leads to the park.
Do not drive on the beach or over the sand dunes
The park forbids driving on the beach or over the sand dunes in the park. ATVs are not allowed either.
That said, you will see lots of visitors to the park, including locals, driving on the beach. Just know that it is not legal.
Visit respectfully
Sand dunes at Polihale contain the skeletal remains of departed Hawaiians and are sacred to locals. They also provide a habitat for local flora and fauna.
Please be respectful when you visit and avoid littering or camping on the sand dunes.
Fill your gas tank in Waimea
There are no gas stations past Waimea on the route to the park, so if you need gas, Waimea is the place to top off.
Get supplies in Waimea (or Poipu)
There is no food or drink available for purchase at Polihale State Park.
Get picnic fixings or lunch to go, snacks, and beverages in Waimea, which is small but has a grocery store and a few eateries. But note that not everything may be open early in the day.
We got our food and drinks ready in Poipu the evening prior and took everything to the park in a cooler.
Arrive early for more pleasant temperatures
Polihale State Park is located on the hot and dry side of Kauai. It can get unpleasantly hot on the beach during the day without shade.
Plan on an early start so you can spend time on the beach first and retreat to a shaded pavilion once it gets very hot. You can head back to the beach later in the day when it cools down a bit.
Getting here early also means you can stake out a shaded picnic spot.
Drive out before dark
Although sunset at Polihale State Park is spectacular, you will want to make sure you have light to drive the unpaved road just outside the park.
The road is full of potholes and you will not want to get stuck here in the dark.
Do not expect cellphone reception
Cell reception in Polihale State Park can be spotty to non-existent.
Download any maps or information you need prior to your visit.
Note that it's not easy to get assistance here
Polihale State Park is in a remote area of Kauai, and also does not have reliable cell coverage.
It may not be easy to call for assistance, or get it easily.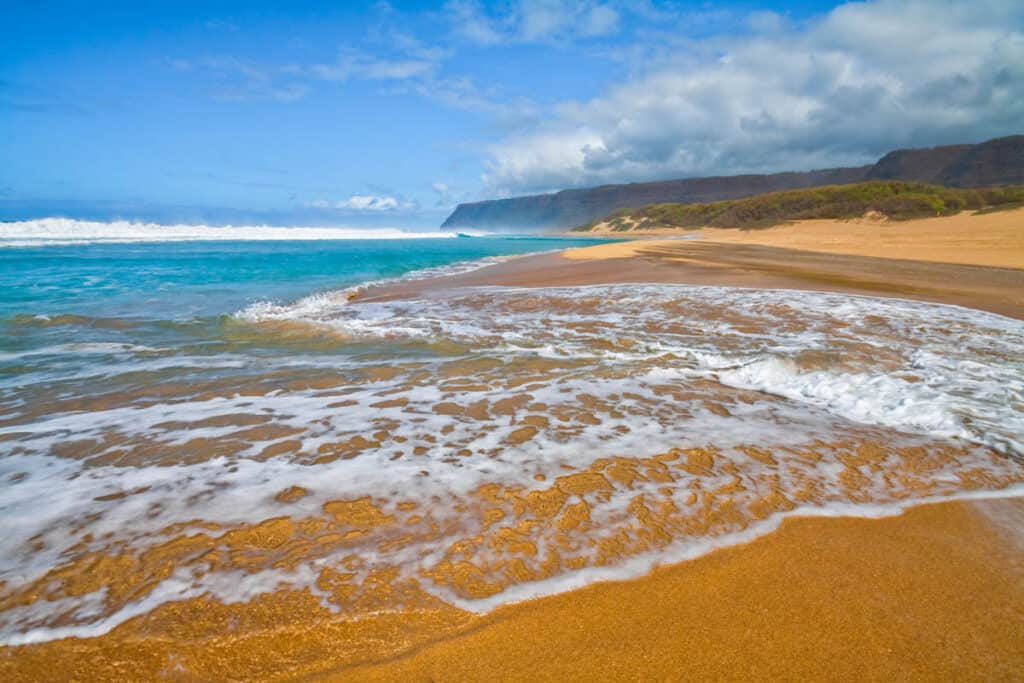 The Best Kauai Tours
Have you booked these top Kauai guided adventures yet?
Sunset catamaran tour of the Na Pali Coast (relatively more stable ride, insane views on good weather days!)
Doors-off helicopter tour of Kauai (unobstructed views, chance to see more of the island than you can by land, no middle seats!)
Kayak on the Wailua River plus hike to a waterfall (a super fun activity for active travelers, albeit a little muddy sometimes!)
Raft trip to the Na Pali Coast plus snorkeling (prepare to get wet on this exhilarating adventure!)
Eurocopter ECO-Star helicopter tour over Kauai (the most booked Kauai helicopter tour on Viator with close to 2K reviews and a 5-star rating!)
Renting a Car in Kauai
The best things to do in Kauai are scattered all over the island.
Public transport options on Kauai aren't great, so if you want to explore the island beyond your base, you'll want to book a rental car for your Kauai trip.
We always use Discover Cars to book Kauai car rentals. They search across a variety of rental car companies, both budget and brand, to offer you the best deals, AND they offer free cancellations. Plus, there are no hidden fees.
>> Check availability and prices on Kauai car rentals now!
Lihue Airport-Hotel Shuttle
Not planning to pick up a rental car at Lihue airport? Pre-arrange round trip transfer from the airport to your hotel and back!
This shared shuttle serves hotels or vacation rentals in Princeville, Kahala, Poipu, Kapaa, or Lihue, and then back again. It's convenient and inexpensive, and saves time and hassle!
>> Check prices and availability for shared round-trip airport transfer in Kauai now!
Where to Stay in Kauai
Depending on whether you want a vacation rental with more room and the option to cook some of your meals, or you want a resort or hotel experience, and depending on which part of Kauai you want to choose as your base, you have a variety of options.
Since you'll likely want to base in a couple places on your trip to Kauai, we suggest starting your search for Kauai accommodations by browsing vacation rentals on VRBO.
We have stayed in VRBO rentals in both Poipu and Princeville and find that the choice and quality are generally great.
>> Look for a Kauai vacation rental on VRBO now!
Want detailed recommendations for accommodations in Kauai? Check out our comprehensive guide to the best places to stay in Kauai!
More Kauai Travel Inspiration
Considering a trip to the Garden Isle in Hawaii? You'll definitely want to check out some of our other comprehensive Kauai travel and attraction guides!
If you are a first-time visitor to Kauai, start by discovering the best things to do in Kauai! From beaches and botanical gardens to cliffs, canyons, and waterfalls, Kauai has it all, and our round-up lists all of Kauai's must-experience activities and attractions.
Read our in-depth guide to visiting the Na Pali Coast of Kauai. We give you the full scoop on the best ways to visit this stunning coast in the remote northwest of the island.
Discover our round-up of the nine spectacular state parks in Kauai, which house some of Kauai's most treasured natural wonders.
We also have visitor's guides to popular parks like Waimea Canyon State Park, which protects the namesake canyon, nearby Kokee State Park, and the remote but beautiful Polihale State Park.
Also check out the ultimate guide to visiting Haena State Park on Kauai's north shore, and a full guide to hiking the epic Kalalau Trail.
Check out our round-up of the most beautiful waterfalls in Kauai, from waterfalls you can view from the road to falls that require hiking and falls that are best seen from a helicopter or sightseeing flight.
Read our guide to Wailua River State Park to discover two easy-to-access Kauai waterfalls, and our trail guide for the easy hike to Ho'opi'i Falls. We also have an article on the best Kauai waterfall hikes.
And if a helicopter tour is part of your plans for Kauai, read our article on the top-rated helicopter tours in Kauai!
Hiking enthusiasts will want to read our article on the best hikes in Koke'e State Park: the trails here are some of the best hikes in Kauai!
We have detailed trail guides for the most popular Koke'e hikes, from the scenic Canyon Trail to the top of Waipo'o Falls, to the epic Awa'awapuhi Trail, challenging but very rewarding!
Also discover the best hikes in Waimea Canyon State Park, and the best hikes on Kauai's north shore.
We also have a trail guide for the Mahaulepu Heritage Trail on Kauai's scenic south shore, an article on how to hike the Sleeping Giant Trail, and a guide to the Kuilau Ridge Trail, one of the easy hikes on Kauai.
Get the scoop on the best botanical gardens in Kauai, from Limahuli Garden on the north shore to McBryde and Allerton Gardens on the south shore.
Learn about the best things to do in Hanalei, the charming town that sits in the middle of Kauai's scenic north shore.
Read our guide to the best swimming beaches on Kauai, from Hanalei Bay on the north shore to Poipu Beach on the south shore! We also have a guide to the best snorkeling beaches on Kauai, and a round-up of the best Kauai north shore beaches.
Did you find this article informative? Pin it on Pinterest for later!