Incredible Kalalau Trail Hike, Kauai: Ultimate 2023 Guide
The best trail on the Hawaiian Islands? Seems superlative. Is there such a trail?
The closest trail in my mind that fits this accolade is most likely the Kalalau Trail on Kauai.
From the trailhead near Ke'e Beach to the final destination, Kalalau Beach (a beautiful remote beach with land access only by this trail), the Kalalau Trail is 11 miles one way.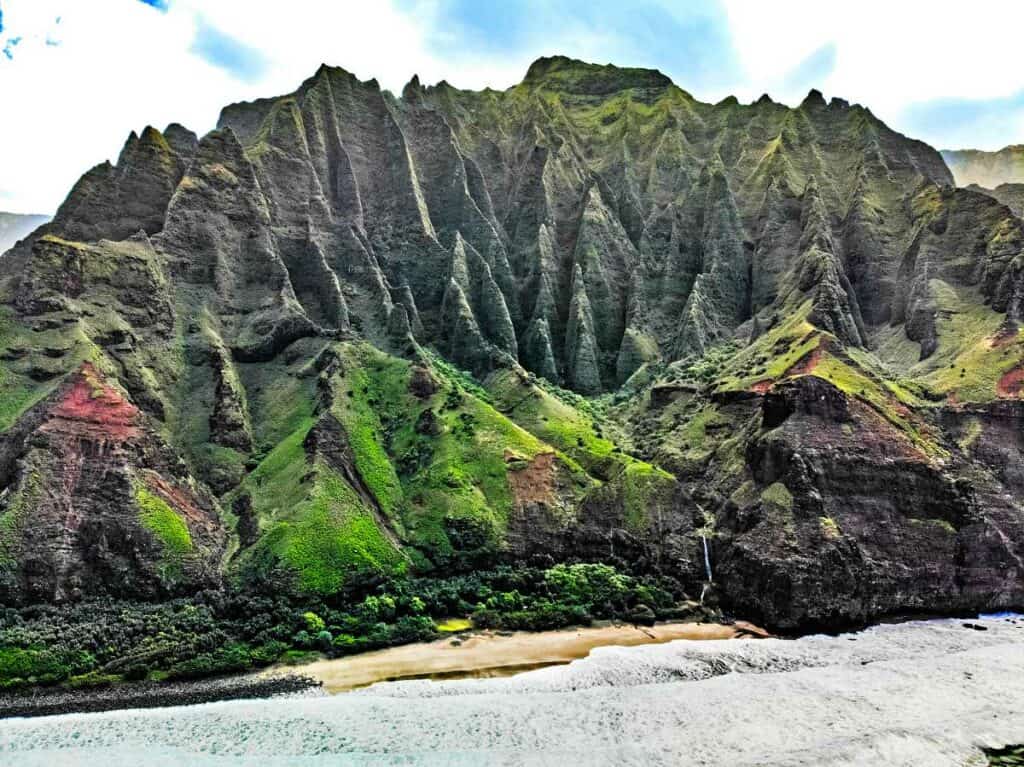 But what an amazing stretch of 11 miles! The trail winds along the Na Pali Coast, one of the most beautiful parts of Kauai, through steep mountain ranges, lush green valleys, beautiful white beaches, tropical rainforests, bubbling streams and majestic waterfalls.
An epic hike of 22 miles round trip is not for the faint of heart, and the Kalalau Trail is only for experienced hikers, and requires considerable planning and preparation.
But if you're an avid hiker, you most likely already have this on your Kauai bucket list!
While long and difficult, the rewards of hiking the Kalalau Trail are monumental: stunning views of the beautiful Na Pali coast against a background of steep, fluted mountains!
So beautiful are the views and trail scenery that even amateur hikers brave this trail, at least the first few sections of it.
If you are vacationing on Kauai, read on! Maybe you will be motivated to consider the some initial parts of the Kalalau Trail and get a sample of what you're missing! Just enough to cross it off your Kauai bucket list items!
Hey, by the way! Visiting Kauai? The only way to get a real feel for the rugged beauty of this incredible island is through a helicopter tour! Check out the five highest rated Kauai Helicopter tours for 2023!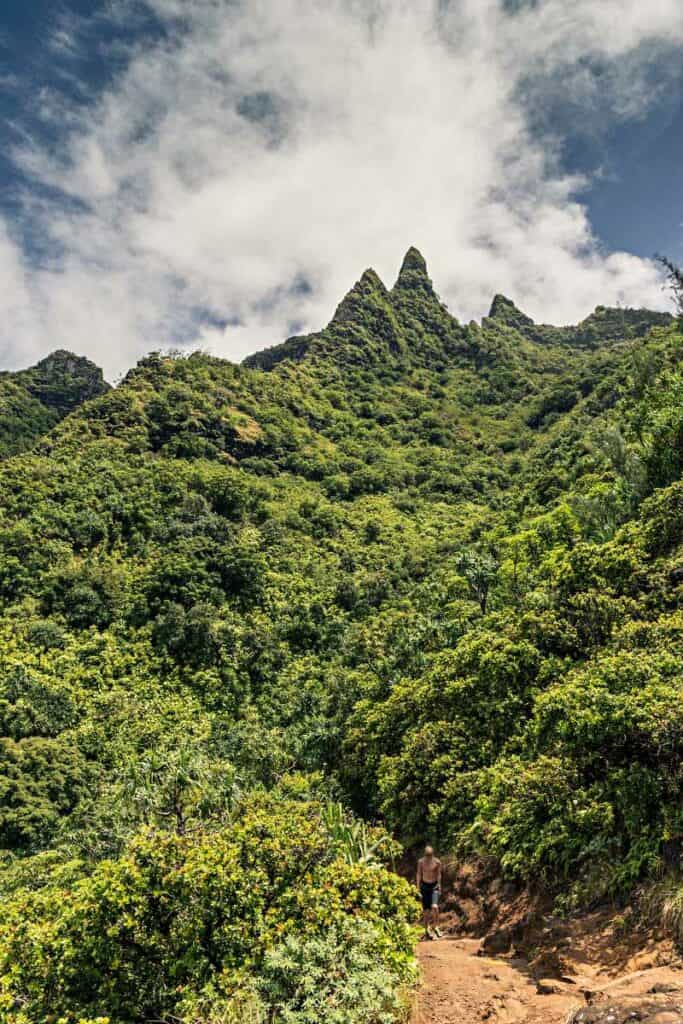 Some links on this page may be affiliate links. If you click an affiliate link and make a purchase, we may receive a small commission, at no extra cost to you. For more details, refer to our disclosure.
Kalalau Trail Hike: Fast Facts
Kalalau Trail Difficulty
The Kalalau Trail difficulty is rated hard, and you should tackle this trail only if you are an experienced hiker with the proper gear and planning.
The trail is not technical in that it needs ropes, climbing gear or the related skills.
Then why is the trail marked hard?
First, you get a lot of rain in this area, with the result that the trail is often muddy and slippery.
Natives call the trail mud "Hawaiian ice" because footing can be treacherous.
Second, with the rains come flash floods, often in a matter of minutes. A stream that looked docile can quickly turn into a raging torrent, and wash away unsuspecting tourists.
More importantly, foolhardy hikers who worry more about time will still attempt to cross these turbulent waters, rather than waiting patiently for the waters to subside.
Instead, they risk getting swept away. Most of the lives lost on the trail have been at the Hanakapiai stream crossing!
Third, you are in mountainous territory, trails are narrow (especially the Crawler's Ledge section described below), and one misstep could result in a dangerous fall.
With the rains and mountainous landscape, the danger from rock falls is also high.
Lastly, the two beaches on the trail have strong currents and I would strongly advise against swimming or even entering the water unless you really know what you are doing.
You need to be especially careful in winter, when huge swells are common, or under high surf warning conditions. The risk of injury from random rogue waves is ever present.
Now that you understand the risks, you can prepare better for your hike or decide if you want to do only a smaller section of the hike.
Most people hike up to Hanakapiai Beach and, some take the side trail to Hanakapiai Falls, instead of hiking the full 22-mile round trip distance.
But keep in mind that Kalalau Trail deaths are not uncommon, so be careful on the trail!
Kalalau Trail Length
The Kalalau Trail length is 11 miles. The Kalalau Trail is a loooong hike, roughly 22 miles total round trip distance on this out-and-back hike.
The Kalalau Trail first 2 miles is the short initial section to Hanakapi'ai Beach one way.
If you are doing the Hanakapiai Falls and back, your total round trip distance is 8 miles.
The shortest fun hike you can do on this trail is probably up to the .5 mile Na Pali Coast viewpoint and back (1 mile) or to the Ke'e Beach viewpoint and back (.4 mile).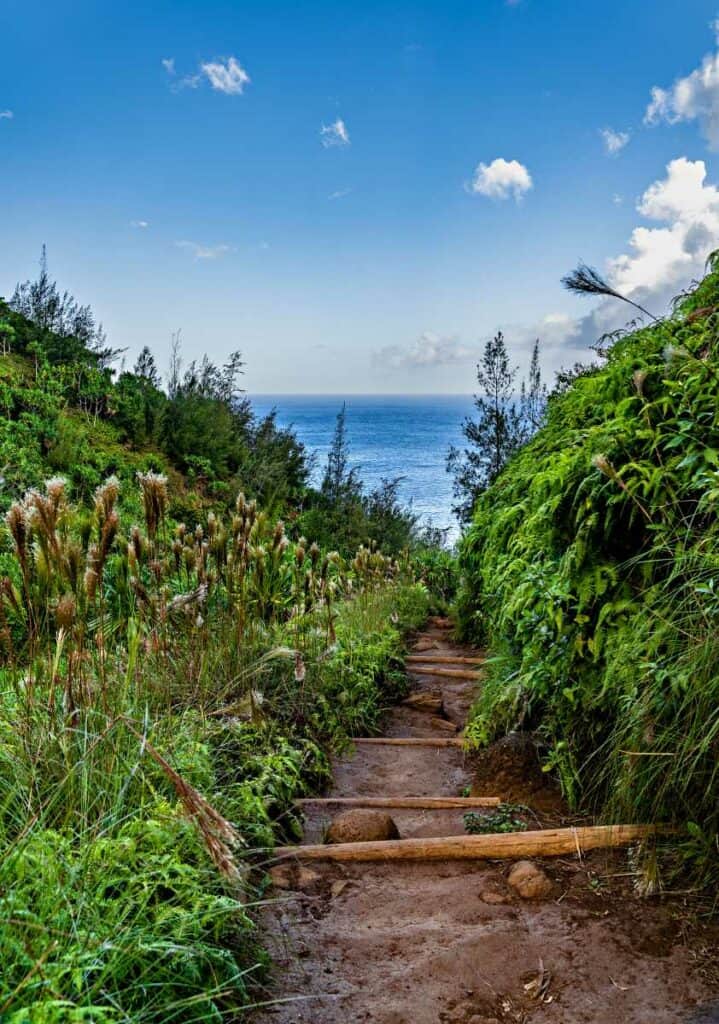 Both will give a good taste of what the entire hike is about, and whet your appetite for more!
Kalalau Trail Elevation Gain
The Kalalau Trail elevation gain is about 725 feet. You are starting from close to sea level (roughly 75 feet elevation) to a maximum elevation of roughly 800 feet.
However this is quite misleading, the entire hike is a series of ups and downs and there is almost no flat section on the trail.
The Kalalau Trail overall elevation gain is about 6,500 feet, so you are climbing quite often.
As mentioned above, none of the climbing requires ropes or technical climbing skills, but the trail does narrow quite a bit with steep drops, especially in the aptly named Crawler's Ledge Kalalau section.
Kalalau Trail Time Taken
The time taken to hike the Kalalau Trail is subjective, but as you probably guessed, at least 8-10 hours, but more likely, a multi-day trip that involves camping overnight.
The average time to complete the Kalalau Trail and back is about 12-13 hours.
Camping is definitely advisable if you plan to add on the side trails to the waterfalls.
Under good conditions, and if you are fit and experienced, you can average about 30-45 minutes per mile.
Kalalau Trail is a very popular running trail, and I believe the (unsupported) record time is under 4 hours!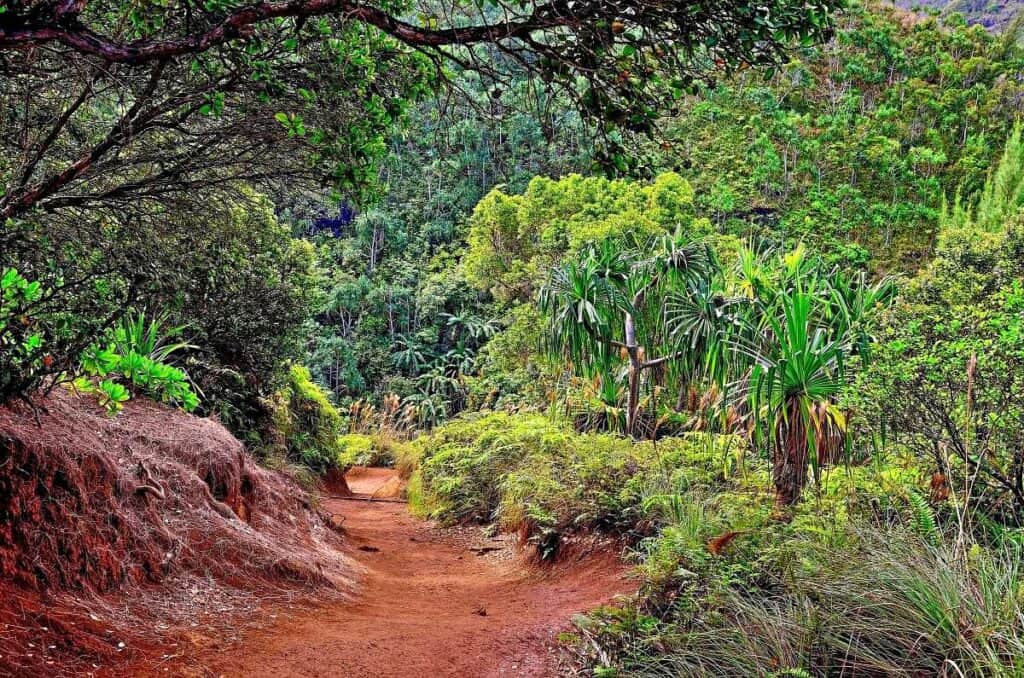 Under bad trail conditions, or if you take frequent stops as is natural, to admire the fabulous views and scenery, you are more likely looking at 60-90 minutes per mile.
What are typical bad conditions? Rain and bad weather, muddy and slippery trails, stifling heat and humidity, and turbulent streams are just some of the factors that will slow you down.
Unless you are on a fitness goal or competition with friends, or even if, listen to nature and your body, and adjust your pace!
What about Kids and Dogs on the Kalalau Trail?
Dogs are easy, they are not allowed on the Kalalau Trail.
I would definitely not take kids beyond the Hanakapi'ai Beach, the Kalalau Trail first 2 miles.
Hiking upto the Hanakapi'ai Beach will probably depend a lot on the kid. I have seen kids on the first section of the trail (more like 8+), but they will need to be closely supervised.
>> Book these 5 star rated, highly popular, Kauai Tours now!
Getting to the Kalalau Trailhead
The Kalalau Trailhead is at the end of the furthest Ke'e Beach parking lot in the Ha'ena State Park.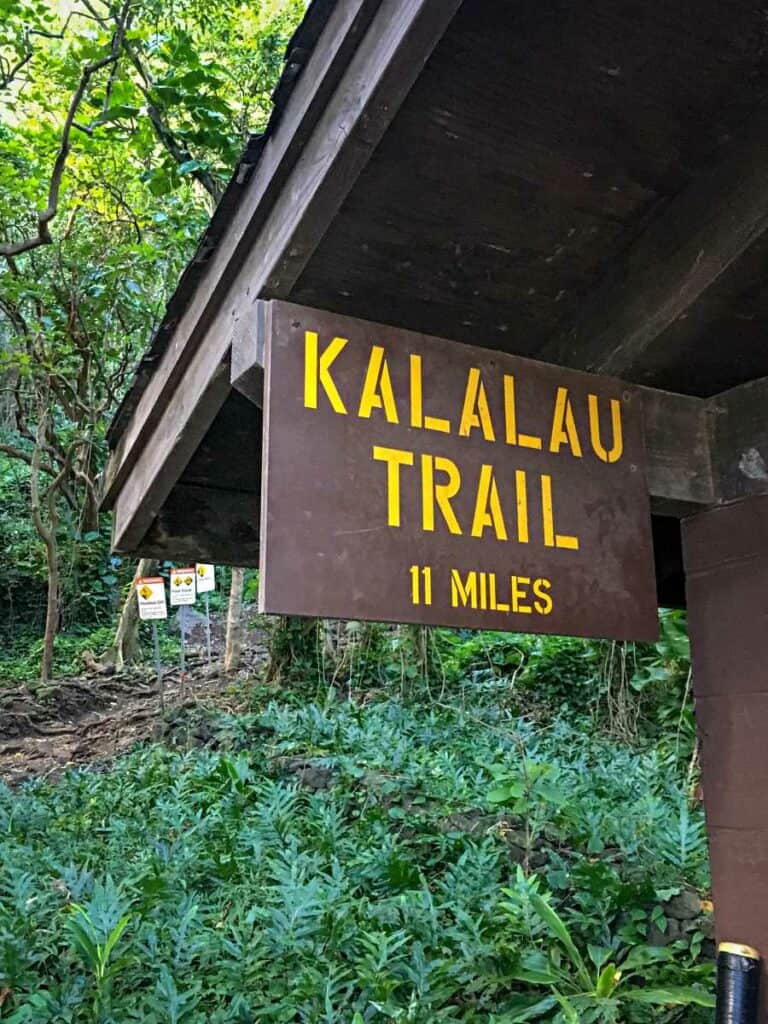 If you are coming by road, you will take the Kuhio Highway (Route 560) to Haena State Park.
You will need to make advance reservations online (see below) before you can enter the park, so please don't just drive up!
In Haena State Park, you will continue on the road till you reach the Ke'e Beach parking lot, literally the end of the road.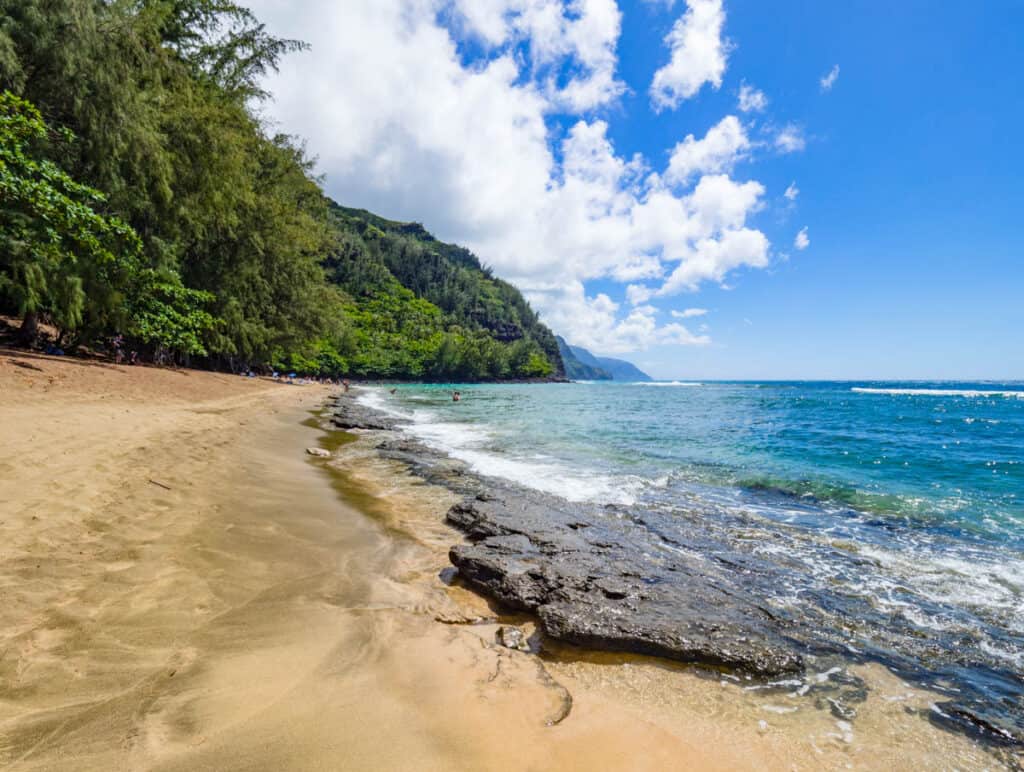 You have multiple options to get to the trailhead location.
1. Drop Off & Pick Up
You can find a member of your party that will drop off and pick you up, or you can make arrangements with rideshare drivers or a similar reliable private service.
There is a dedicated drop-off area near the Haena State Park entrance.
Keep in mind that cellphone service is mostly non-existent within the state park and on the trail, so you need to pre-arrange everything, and put backup measures in place if you run into unexpected delays.
Better to build in some padding into the pickup time.
If you get done with the Kalalau Trail hike early, just relax on the beautiful Ke'e beach or enjoy Haena State Park!
2. Shuttles
The shuttle service will usually be your best option, unless your specific circumstances violate one of the many rules they have (like you plan to carry larger equipment).
Shuttles run every 20 minutes starting 6:20 am from Waipa with last pick up from Haena State Park at 5:40 pm.
Waipa is just outside the quaint little town of Hanalei, and if you have some time, there are many things to do in Hanalei.
Park free at the Waipa Park & Ride from 6:00 am to 7:00 pm daily (no overnight parking).
You need to make reservations for the shuttle and the entry to the park (described below).
You must check in at Waipa Park & Ride at your reserved departure time (or ride standby at a different time including all afternoon).
Boarding at other stops is more tricky and requires 2+ days prior approval (submit your proof of accommodation address and your shuttle reservation number).
Your return ride is first-come, first served from any stop, with peak times between 2:00-4:00 pm from the state park.
Small beach gear is ok, but no surfboards, large coolers, etc.
The shuttle service has many rules.
3. Driving and Parking
Driving to the trailhead and parking is your worst option.
There are 70 parking lots for 960 visitors a day to Haena State Park, so you can imagine how difficult parking is going to be.
>> Book these 5 star rated, highly popular, Kauai Tours now!
Kalalau Trail Reservations
Gone are the days when you could just drive into a state park or national park.
With the post-Covid travel craze, most parks have implemented a reservation system to manage visitor numbers and keep up conservation efforts.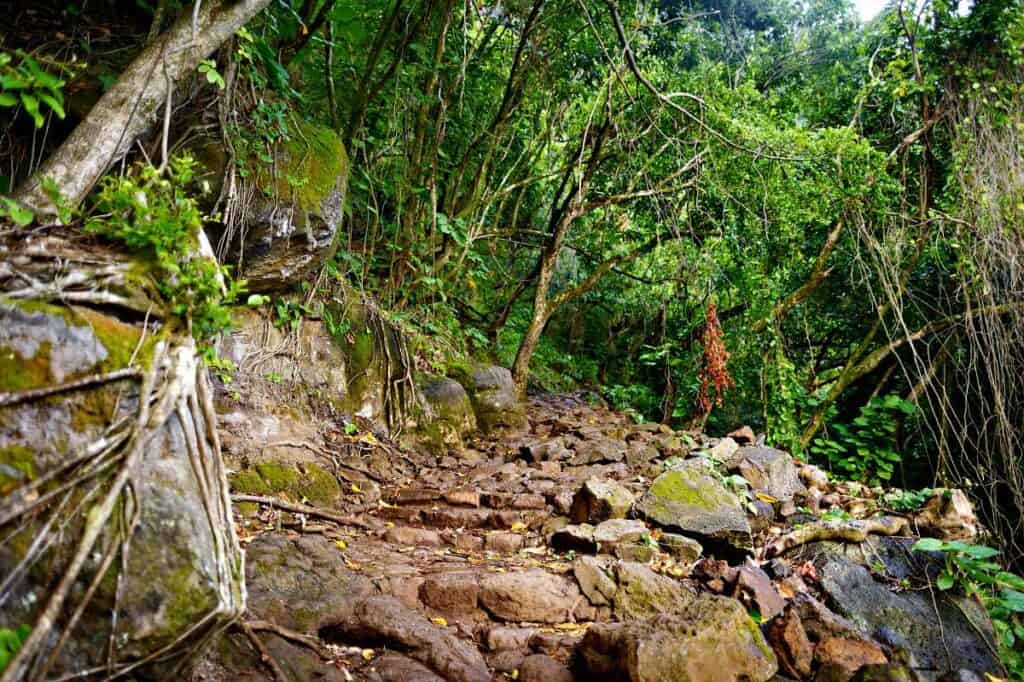 Haena State Park and the highly popular Kalalau Trail are no exception, and visitors must navigate a fairly complex set of reservations and camping permit rules.
There are three main options listed below. All three options include entry to Haena State Park, visiting Ke'e Beach and hiking on the Kalalau Trail to Hanakapi'ai Beach and falls.
If you are planning to go past the Hanakapi'ai Valley on the Kalalau Trail, you need to reserve a Kalalau Trail camping permit (see below), whether you plan to camp or not, or even if you are doing a day hike and plan to return same day.
Dates open 30 days in advance at 12:00 am HST and 90 days in advance for the camping permits. Reserve as soon as you can, most availability goes quickly!
You can make reservations for the below three options at gohaena.com. There is a 10% cancellation fee.
Entry reservations only ($5 / person)
Ideal for those taking ride-share or drop-off and pick-up services.
Don't try to park outside and walk up, parking / towing fines are substantial and you are specifically violating the terms of purchase.
Keep in mind that you will not have cell service at the entrance, so make all pickup arrangements foolproof!
Shuttle + entry reservations (only available roundtrip)
This is probably your best option, as discussed above, where availability is concerned.
Shuttle reservations are roundtrip, $35 per adult (16+), $25 / child (4-15), and free for 0-3 (on lap).
The reservation includes entry to the State Haena Park and the day hike portion of the Kalalau Trail (cannot go past the Hanakapi'ai Valley).
You must ride the shuttle to use the entry part of the reservation, must check in at the Waipa Park & Ride, and may park for free at Waipa Park & Ride from 6:00 am to 7:00 pm (no overnight parking or parking at other route stops).
Parking + entry reservations ($10 / timeslot + $5 entry / person)
Parking is based on timeslots (morning: 6:30 am – 12:30 pm; afternoon: 12:30 pm – 5:30 pm, and evening: 4:30 pm – sunset).
Parking rates are currently $10 / timeslot (plus $5 entry / person).
You can enter any time after the timeslot begins, but you must leave by the end of your timeslot.
If you think you will need more parking time, you should purchase multiple timeslots.
All people named on the parking reservation must arrive together in the same vehicle.
Note: This option usually sells out in a minute, so you have to be really fast!
If you were not successful, try again at 12:15 am HST (for unsuccessful reservations) or 07:00 am – 08:00 am HST for cancellations.
Kalalau Trail Camping Permit
The camping permit is a bit of a misnomer.
If you plan to go past Hanakapi'ai Valley on the Kalalau Trail, you must buy the Kalalau Trail Camping Permit, irrespective of whether you plan to camp or not.
Note, other camping permits won't work, you need the Kalalau Trail Camping Permit.
You may camp only at two locations on the trail: Hanakoa and Kalalau Beach. You cannot camp at any other location on the Kalalau Trail.
The maximum length of stay on the Kalalau Trail is 5 consecutive nights. You are allowed 1-night camping (each way) at Hanakoa.
The camping permit must be purchased online (currently $35 / person / night, non-Hawaiians), and the purchase window opens up at midnight (HST) 90 days in advance.
The camping permit must list all the hikers (ID cards will be checked at the park entrance).
The Kalalau Trail camping permit includes entry to Haena State Park and the trail.
You can purchase overnight parking at the trailhead in Haena State Park after you buy your camping permit.
You don't need a camping permit if you plan to stay out of that section of the trail, that is, if plan to hike only upto Hanakapi'ai Valley and the side trail to Hanakapi'ai Falls.
Best Time to Hike the Kalalau Trail
The Kalalau Trail is open year-round, and is beautiful all through the year.
The temperatures on Kauai are relatively flat throughout the year, mid-70s to mid-50s.
You can expect rain throughout the year as well, though April, May, and November tend to be the most rainy.
If you hike in the winter months, most likely you will see the migratory humpback whales from the trail. Unfortunately, these months also tend to have a lot of rain.
The best time of day to hike the Kalalau Trail is early morning, as early as you can, provided there is light. The weather is cooler and the trail is likely to be drier.
Overall, if you have a choice, I would recommend the summer months as the best time of year to hike the Kalalau Trail (late May to early October).
>> Book these 5-star rated, highly popular, Kauai tours now!
Kalalau Trail Map
The Kalalau Trail map provides the details of the Kalalau Trail and the various sections mentioned below.
Kalalau Trail Information
The Kalalau Trail takes you along the rugged, beautiful Na Pali Coast. You will walk through five lush valleys to two beautiful beaches, and cross multiple streams.
If you are ok with detours, you can visit two beautiful waterfalls as well, Hanakapi'ai Falls and Hanakoa Falls.
For the first half of the 11 mile-hike you will be within the Hono O Na Pali Natural Area Reserve and the latter half of the trail is part of the Napali Coast Wilderness Park.
The first 2 miles of the Kalalau trail can be covered by day hikers, who can also tack on an additional 4 mile round trip to the Hanakapi'ai Falls.
You should do the remaining nine miles only if you are an experienced hiker and have the necessary camping permits and appropriate gear.
The origins of the Kalalau Trail was around late 1800's and was used to connect native Hawaiian settlements along the Na Pali Coast.
The native Hawaiians grew taro in the lush, green valleys, and later, coffee.
1. Ke'e Beach
The Kalalau Trail trailhead is at the end of the Ke'e Beach parking lot.
Take some time to explore the beach, especially on your way back, if you have to wait for the shuttle or pickup.
Snorkeling and swimming at Ke'e beach are excellent during calm days and low tide.
Make sure you use the comfort station here, the next one is at Hanakapi'ai Beach, probably an hour or two away.
You start the hike on a trail of old paving stones, slippery when wet, and start climbing almost immediately through a jungle path.
The initial one mile is a climb to roughly 600 feet, one of the steeper sections of the trail.
The trail upto Hanakapi'ai Beach is quite wide, reasonably maintained and very popular. You are bound to see other hikers on the trail.
For much of this trail section, you will hiking along the side of the mountains, parallel to the ocean.
2. Ke'e Beach Viewpoint (0.2 miles)
A short 0.2 mile distance from the Kalalau trailhead, you come to the first of many beautiful viewpoints, the Ke'e Beach Viewpoint.
Turn around and admire the beautiful beach below and the Na Pali Coast vista, a perfect Instagram photo opportunity.
3. Kalalau Trail Coast Viewpoint (0.5 miles)
At 0.5 miles from the trailhead, you come to the Kalalau Trail Coast Viewpoint, where you get a panoramic view of the Na Pali Coast.
I never get tired of the views on this trail, and this viewpoint is one of the more magnificent ones!
Also, a great opportunity to catch your breath after the climb!
4. Hanakapi'ai Beach (Kalalau Trail First 2 Miles)
Just after the 2 mile marker, you come to the Hanakapi'ai Stream.
For the most part, the stream is quiet and the crossing is easy, just be careful if you plan to hop from rock to rock: some can be slippery!
But if you've had a heavy rainstorm up in the mountains, the stream can become a raging torrent in minutes.
Be very cautious then, a large portion of the Kalalau Trail deaths (and there have been many) happened here at the stream crossing.
If the waters are fast, you can very easily be swept away into the ocean and strong currents.
What impulsive hikers don't realize is that the water subsides as quickly as it rises, you just need to be patient, and not take unnecessary risks.
Hanakapi'ai Beach is a beautiful beach, with powdery white sand against crystal blue ocean waters.
I don't recommend entering the water or swimming here; in fact, there is a warning sign with the number of people who have drowned, and was approaching 100.
In winter, be very careful of random rogue waves during high surf warnings!
The Kalalau Trail first 2 miles to Hanakapi'ai Beach is often the end point for most casual hikers, and the bulk of the hikers turn back here.
4a. Hanakapi'ai Falls (2 miles using a side trail)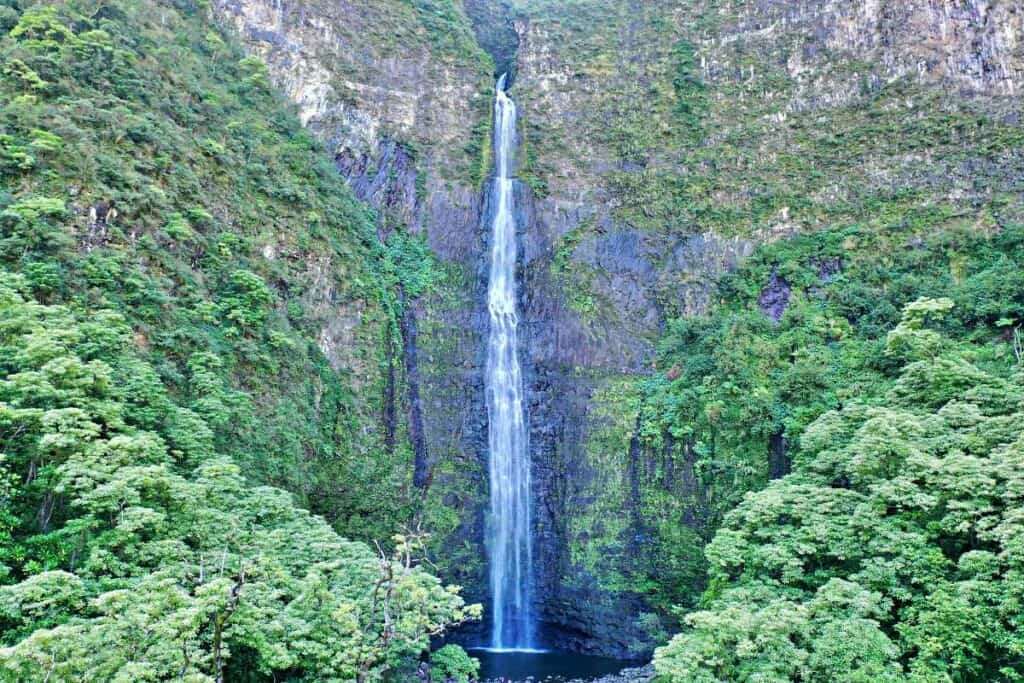 A side trail up the valley to the Hanakapi'ai Falls is a great option for day hikers who want an extended hike or who didn't get the camping permit to go beyond the Hanakai'ai Beach on the Kalalau Trail.
The offshoot trail is 4 miles out and back through the jungle to an amazing waterfall with a pool at the base.
The waterfall outflow is the same Hanakapi'ai stream that you crossed earlier. In fact, you will cross the stream multiple times along the trail to the waterfall.
Be careful of flash flood potential, especially closer to the falls, during rainstorms.
At 300 feet tall, this majestic waterfall is one of the best waterfalls in Kauai, and definitely worth a detour for those hiking the Kalalau Trail.
The hike to Hanakapi'ai Falls via the Kalalau Trail is one of the best Kauai waterfall hikes.
5. Hoolulu Valley & Waiahuakua Valley
Leaving Hanakapi'ai Beach, the Kalalau Trail takes you to its highest elevation of about 800 feet.
You climb a steep grade, with switchbacks, from the 2 to 3 mile marker.
Don't forget to look back at the amazing view of the beautiful Hanakapi'ai Beach from the elevated trail, and take a few photographs!
You will cross two valleys, Hoolulu and Waiahuakua, both beautiful, hanging valleys at elevations of 500 feet and 350 feet, respectively.
As you leave the heavily trafficked portion of the Kalalau Trail, you will notice the difference.
The trail is significantly narrower and more overgrown, with the tropical rainforest forming canopies over you, and trees with exposed roots overflowing into the trail.
You will also see a sign saying there are snares around the trail for feral (wild) pigs, so don't venture too far from the trail.
Though you will cross a few streams as you move across the Hoolulu Valley and Waiahuakua Valley, many of them tend to be dry (unless it rained recently).
If you are purifying stream water and drinking, don't forget to fill up at the Hanakapa'ia stream.
6. Hanakoa Valley (6 miles)
At around the 6 mile marker, you are in the middle of the beautiful Hanakoa Valley, another, larger, hanging valley with the Hanakoa stream winding through its base.
Many hikers break camp here, especially those who trekked to Hanakapi'ai Falls.
You have a composting toilet at the campsite.
You can also see the remnants of the terraces cut into the hillside by the native Hawaiians who used to live in the valley and grow taro, their staple crop.
Now you can see more economically viable crops like coffee still grown in the valley.
The Kalalau Trail takes you deep up the Kanakoa valley and back out. You cross the Hanakoa stream closer to the falls at an elevation of 500 feet and further away from the Napali coastal cliffs.
6a. Hanakoa Falls (0.5 miles)
If you are doing well on time, you might want to consider a short detour to the Hanakoa Falls, another stunning waterfall in this remote jungle.
The trail to Hanakoa Falls is much harder to follow, I recommend you use a downloaded AllTrails map and GPS, else you risk getting lost.
When I took the trail, it was mostly deserted, a peaceful, quiet jungle walk through the valley.
The hike to Hanakoa Falls via the Kalalau Trail is one of the best Kauai waterfall hikes.
7. Crawler's Ledge (Kalalau Trail Mile 7)
Leaving Hanakoa, hopefully after a night's rest, you hike the trail back towards the beautiful Na Pali coast.
Now you come to a more difficult part of the Kalalau Trail called the Crawler's Ledge, a section of the trail that cuts along the cliffside with steep drops to the rocky ocean below.
You need to have a good head for heights because for the next mile or so you are on a narrow ledge trail, and can see the waves crashing far below at the base of the steep cliff.
For experienced hikers, this section should not pose a challenge. As mentioned earlier, there are no technical climbing sections requiring ropes.
But you should still exercise caution. There are segments where the ledge has eroded with traffic and weather, and you need to have really good hiking shoes with adequate grip.
When we went, this section was super windy, you are hiking along an almost open cliff face with nothing to stop the winds.
Also, when you see hikers coming from the opposite side, pause at wider sections to allow them to pass you safely.
The next mile is a downward and upward stretch, but was as difficult because it had rained and the muddy path was slick.
8. Kalalua Valley (10 miles)
Roughly around the 10th mile marker, you are in the stunning Kalalua Valley, a gorgeous valley that opens out to the ocean.
You will cross the famous Kalalau sign asking you to preserve the beauty of this marvelous place for future generations!
After the stream crossing, you are quite close to your final destination!
9. Kalalua Beach (11 miles)
The Kalalau Trail gradually descends to the famous, secluded Kalalau Beach, land-accessible only through the grueling 11 mile Kalalau Trail hike!
Relax, savor the moment!
You just hiked the Kalalau Trail, one of the most beautiful, highly dangerous hikes in all of the Hawaiian islands!
The Kalalau Trail can go no further, the far side of the beach is blocked with forbidding pali or cliffs that jut deep into the ocean.
We spent an hour just resting on the beach, admiring the ocean and views. We even saw a pod of humpback whales, with a couple of calves in tow!
If you are planning to camp the night here, I recommend walking down to the furthest campsite, and pitching your tent under the trees.
A compostable toilet, quite primitive, is available at the campsite.
There is a convenient waterfall on the far corner for refilling your water supply!
You can explore hollowed out caves or swap stories with other hikers and campers.
The sunset from Kalalau beach is spectacular, and one of the most romantic moments to cherish with your loved one!.
Kalalau Trail Camping
You are allowed camping at only two locations along the trail: Hanakoa and Kalalau Beach.
You must purchase a Kalalau Trail camping permit online, in advance, to camp at these two locations, and the permit should list all the hikers.
Both campsites have compostable toilets, and the facilities are basic.
You have only natural water from streams or waterfalls. Make sure you have the proper equipment to treat and purify the water for drinking purposes.
Hawaiian Birds to Spot on the Kalalau Trail Hike
Make sure you take a good pair of binoculars with you, the Kalalau Trail hike is an excellent hike to spot some beautiful Hawaiian birds, both introduced to the islands and some endemic birds (found nowhere else)!
Some of the common Hawaiian birds you can expect to see, especially in the rainforest areas of the trail, are the rose-ringed parakeet (a highly invasive bird species), the red-crested cardinal (pretty red-headed birds with a crest), and the warbling white eye (with a characteristic white ring around its eyes).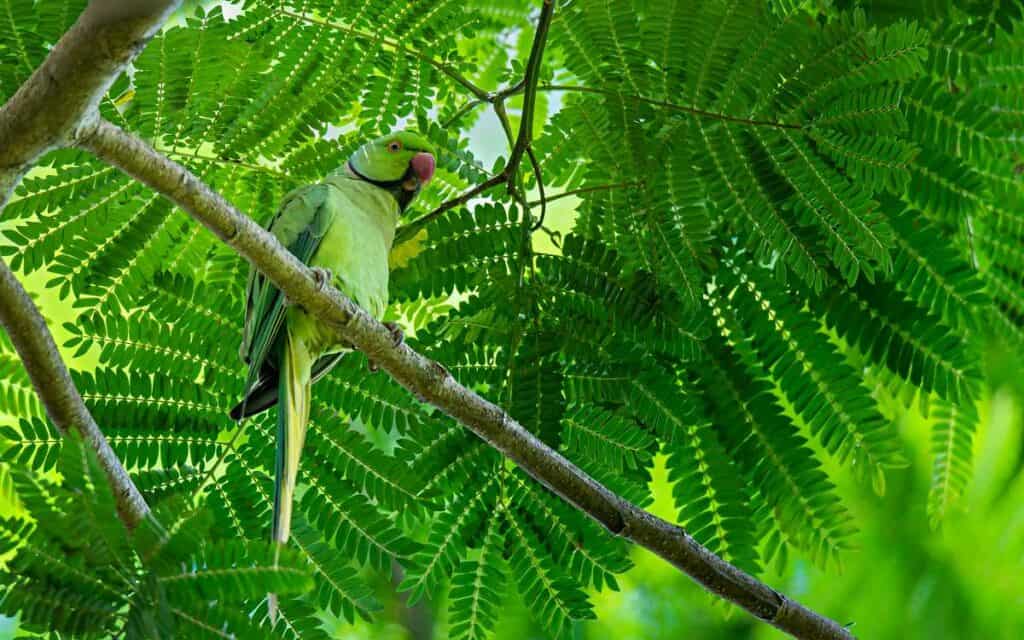 We saw red junglefowl near the start of the Kalalau Trail in Haena State Park, these are wild ancestors of chicken.
We could hear the beautiful song of the white-rumped shama near the Hanakapi'ai Stream, but couldn't spot it.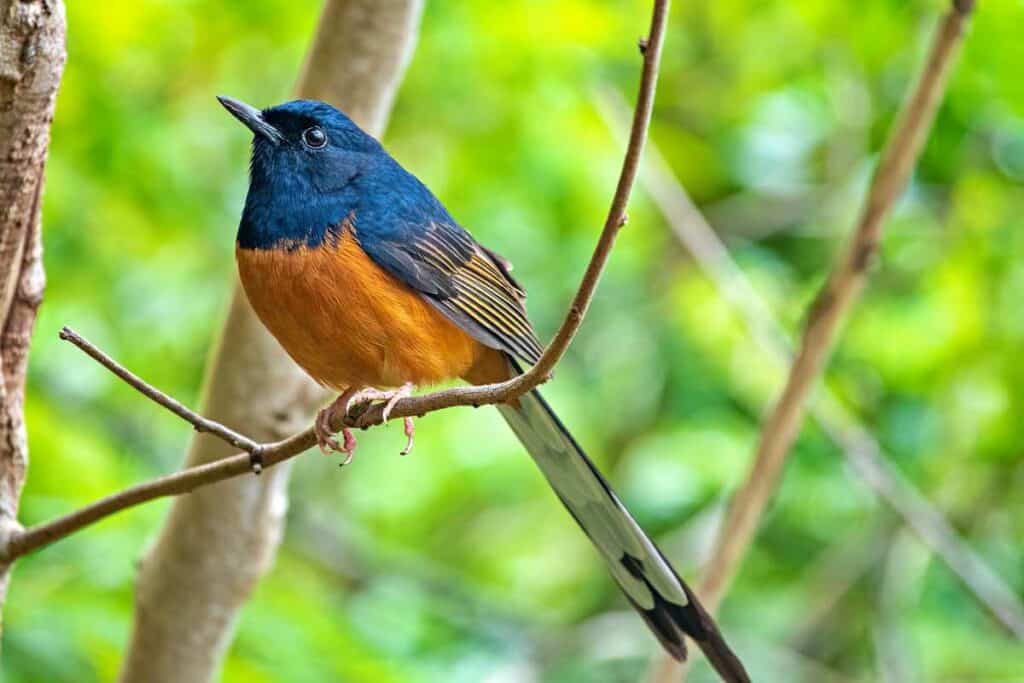 The Kalalau Trail is great for spotting some of the common Hawaiian seabirds like the Great Frigatebird, the yellow-billed tropicbird and the red-footed booby.
Refer to our detailed post on Hawaiian birds to identify and learn about these bird species, some endemic to Hawaii, and found nowhere else on the world!
Hawaiian Plants, Trees and Flowers on the Kalalau Trail Hike
The Kalalau Trail is a forest and coastal hike, with many common and easily identifiable Hawaiian plants, trees and flowers to look for along the trail!
Along coastal sections of the Kalalau Trail, you are likely to see niu (coconut palm) trees and the naupaka kahakai, one of the indigenous Hawaiian plants, with unusual half-flowers!
The forested sections of the trail have many endemic trees, including ohi'a lehua, koa acacia and hala.
The lush ground cover for the rainforest sections of Kalalau Trail are typical native fern trees like hapu'u fern and uluhe fern.
Refer to our detailed post on Hawaiian plants to identify and learn about these plant species, some endemic to Hawaii, and found nowhere else on the world!
Hiking the Kalalau Trail: What to Pack?
Obviously, what you pack will differ based on whether you are day hiking or camping.
You will need to bring good pair of hiking shoes, ideally shoes with an excellent grip that breathe and dry out fast when they get soaked (which they most likely will).
I found a pair of walking sticks useful, but your mileage may vary. If you didn't bring your own trekking poles, you may find walking sticks at the trailhead: if you do, be sure to pick up one, or a couple!
Definitely pack bug spray! You are in a tropical rainforest, and mosquitoes and other bugs are common, especially early dawn and after dusk.
I used something called "After Bite" that relieves itching after mosquito bites.
Pack lots of water and snacks, and water purification gear if you plan to refill your water using the streams and waterfalls.
A light rain jacket is handy. A hat or some kind of head covering will help, some parts of the trail are open and you may be trekking in the hot sun. You will need sunscreen.
You won't have cell service on the trail or Haena State Park, so consider a satellite phone and GPS.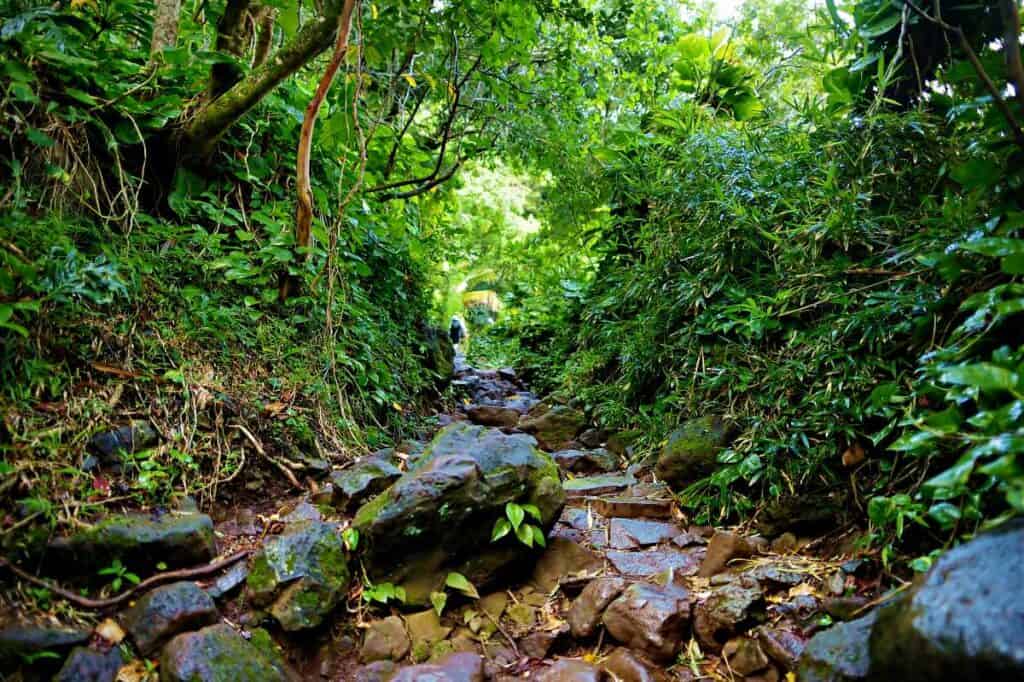 If you plan to hike and camp, use camping gear that is lightweight. Check the weather conditions, most likely you will not need the thermal insulation beds, which tend to be heavier.
Bring food that you can easily consume at the camp. Note, you are expected to carry out your trash!
Tips for Hiking the Kalalau Trail
Before you even plan for the trip, make sure you watch all the safety videos and trail information since that will help in your planning!
The Kalalau Trail is one of the most popular hiking trails on Kauai. Make your reservations as soon as your date opens up.
If you miss, don't give up. You need to check the site from 7:00 am to 8:00 am (Hawaiian time) daily in case someone else cancelled.
You also have multiple options for getting to the trail and day hiking instead of camping.
The typical weather on the Kalalau Trail is hot, humid and rainy! You will sweat a lot, so dehydration is a real risk, and a lot of hikers succumb to it!
Start as early as you can, usually cooler early morning. Bring lots of water, sunscreen, a hat and a light rain jacket.
Check current conditions before you leave, so you are ready for the weather, surf and trail conditions.
There is no cell service / reception on the Kalalau Trail or the Haena State Park. Download everything you need including your reservations / permits, maps, and trail guides.
I strongly recommend you download AllTrails maps for the two side trails to the waterfalls, if you are planning to hike those.
Sturdy hiking shoes and walking sticks are a no-brainer.
If you do not have a camping permit, don't go past Hanakapi'ai (it doesn't matter if you don't plan to camp).
Most of all, enjoy the hike, the beautiful views and nature.
Finally, heed the sign below, leave no trace, pack out your trash!
Kalalau Trail Deaths
You need to be fully aware that Kalalau Trail is a difficult hike, and you must take the necessary planning steps and safety precautions.
Many hikers have died on this trail. Some were accidents on the trail itself, when unwary hikers slipped and fell off cliffs.
The large bulk of the deaths (more than 100) have occurred at the Hanakapi'ai Stream crossing and Hanakapi'ai Beach.
The stream crossing can be very dangerous during rain storms and flash floods can happen very quickly.
Swimming at Hanakapi'ai Beach is dangerous, especially at high surf, when the waves and currents can trap unwary swimmers.
The Best Kauai Tours
Have you booked these top Kauai guided adventures yet?
Sunset catamaran tour of the Na Pali Coast (relatively more stable ride, insane views on good weather days!)
Doors-off helicopter tour of Kauai (unobstructed views, chance to see more of the island than you can by land, no middle seats!)
Kayak on the Wailua River plus hike to a waterfall (a super fun activity for active travelers, albeit a little muddy sometimes!)
Raft trip to the Na Pali Coast plus snorkeling (prepare to get wet on this exhilarating adventure!)
Eurocopter ECO-Star helicopter tour over Kauai (the most booked Kauai helicopter tour on Viator with close to 2K reviews and a 5-star rating!)
Renting a Car in Kauai
The best things to do in Kauai are scattered all over the island.
Public transport options on Kauai aren't great, so if you want to explore the island beyond your base, you'll want to book a rental car for your Kauai trip.
We always use Discover Cars to book Kauai car rentals. They search across a variety of rental car companies, both budget and brand, to offer you the best deals, AND they offer free cancellations. Plus, there are no hidden fees.
>> Check availability and prices on Kauai car rentals now!
Lihue Airport-Hotel Shuttle
Not planning to pick up a rental car at Lihue airport? Pre-arrange round trip transfer from the airport to your hotel and back!
This shared shuttle serves hotels or vacation rentals in Princeville, Kahala, Poipu, Kapaa, or Lihue, and then back again. It's convenient and inexpensive, and saves time and hassle!
>> Check prices and availability for shared round-trip airport transfer in Kauai now!
Where to Stay in Kauai
Depending on whether you want a vacation rental with more room and the option to cook some of your meals, or you want a resort or hotel experience, and depending on which part of Kauai you want to choose as your base, you have a variety of options.
Since you'll likely want to base in a couple places on your trip to Kauai, we suggest starting your search for Kauai accommodations by browsing vacation rentals on VRBO.
We have stayed in VRBO rentals in both Poipu and Princeville and find that the choice and quality are generally great.
>> Look for a Kauai vacation rental on VRBO now!
Want detailed recommendations for accommodations in Kauai? Check out our comprehensive guide to the best places to stay in Kauai!
More Kauai Travel Inspiration
Considering a trip to the Garden Isle in Hawaii? You'll definitely want to check out some of our other comprehensive Kauai travel and attraction guides!
If you are a first-time visitor to Kauai, start by discovering the best things to do in Kauai! From beaches and botanical gardens to cliffs, canyons, and waterfalls, Kauai has it all, and our round-up lists all of Kauai's must-experience activities and attractions.
Read our in-depth guide to visiting the Na Pali Coast of Kauai. We give you the full scoop on the best ways to visit this stunning coast in the remote northwest of the island.
Discover our round-up of the nine spectacular state parks in Kauai, which house some of Kauai's most treasured natural wonders.
We also have visitor's guides to popular parks like Waimea Canyon State Park, which protects the namesake canyon, nearby Kokee State Park, and the remote but beautiful Polihale State Park.
Also check out the ultimate guide to visiting Haena State Park on Kauai's north shore, and a full guide to hiking the epic Kalalau Trail.
Check out our round-up of the most beautiful waterfalls in Kauai, from waterfalls you can view from the road to falls that require hiking and falls that are best seen from a helicopter or sightseeing flight.
Read our guide to Wailua River State Park to discover two easy-to-access Kauai waterfalls, and our trail guide for the easy hike to Ho'opi'i Falls. We also have an article on the best Kauai waterfall hikes.
And if a helicopter tour is part of your plans for Kauai, read our article on the top-rated helicopter tours in Kauai!
Hiking enthusiasts will want to read our article on the best hikes in Koke'e State Park: the trails here are some of the best hikes in Kauai!
We have detailed trail guides for the most popular Koke'e hikes, from the scenic Canyon Trail to the top of Waipo'o Falls, to the epic Awa'awapuhi Trail, challenging but very rewarding!
Also discover the best hikes in Waimea Canyon State Park, and the best hikes on Kauai's north shore.
We also have a trail guide for the Mahaulepu Heritage Trail on Kauai's scenic south shore, an article on how to hike the Sleeping Giant Trail, and a guide to the Kuilau Ridge Trail, one of the easy hikes on Kauai.
Get the scoop on the best botanical gardens in Kauai, from Limahuli Garden on the north shore to McBryde and Allerton Gardens on the south shore.
Learn about the best things to do in Hanalei, the charming town that sits in the middle of Kauai's scenic north shore.
Read our guide to the best swimming beaches on Kauai, from Hanalei Bay on the north shore to Poipu Beach on the south shore! We also have a guide to the best snorkeling beaches on Kauai, and a round-up of the best Kauai north shore beaches.
Did you find this article informative? Pin it for later!