12 Best Oahu Tours and Excursions Worth the Splurge! (2023)
Planning a trip to Oahu in Hawaii and wondering what Oahu tours and excursions to book?
There are plenty of things to do in Oahu on your own, especially if you are okay with renting a car and driving to various parts of the island.
But some exciting adventures and activities on Oahu call for booking tours, either because they can only be done as guided activities (think helicopter tour or shark cage dive!), or because a guided tour can make the activity hassle-free and more enjoyable.
Guided tours are a great way to explore more of Oahu if you are planning to be based in Honolulu and do not want to rent a car.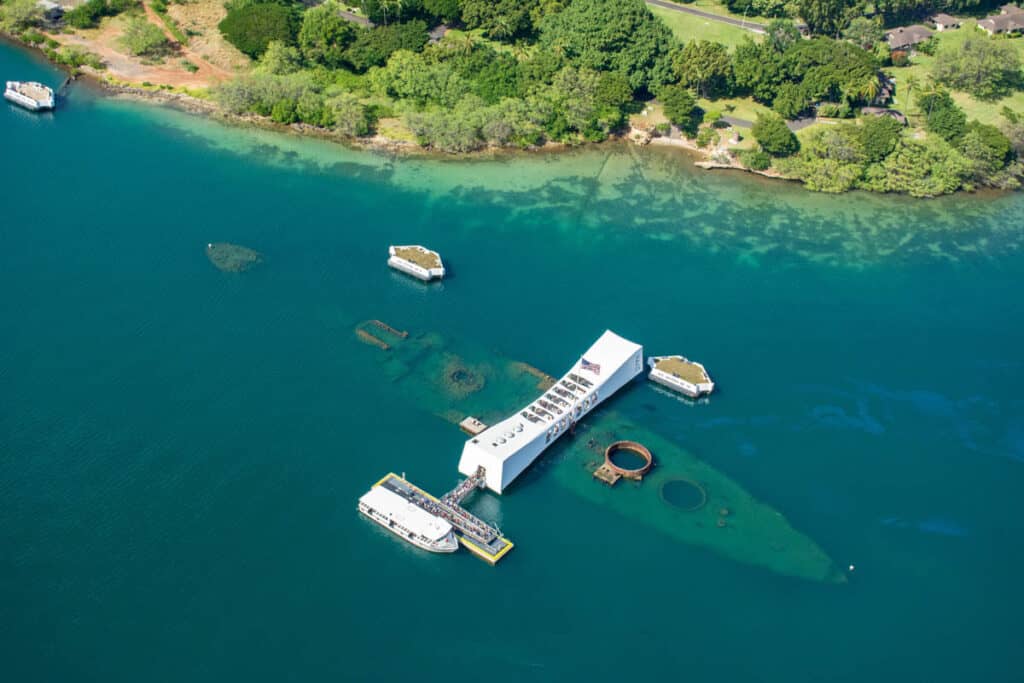 To make your itinerary planning for the island easier, we've rounded up the best Oahu tours and excursions in this article.
Booking tours and activities on Viator is a breeze. Plus, in most cases, you can cancel up to the day prior (or 2-3 days prior) in case your plans change.
We also love the "reserve now, pay later" feature that helps us make sure we are guaranteed spots on the super popular tours, but with the ability to pay much closer to the date of the tour.
Ready? Let's dive in and discover the very best Oahu tours and guided activities!
Some links on this page may be affiliate links. If you click an affiliate link and make a purchase, we may receive a small commission, at no extra cost to you. For more details, refer to our disclosure.
Best Oahu Tours for Sightseeing, Adventures, and More
On a brief visit to Honolulu but want to see something of the rest of Oahu as well?
We don't blame you: there are many exciting things to see and do in Oahu outside of the Waikiki area. And the scenery is spectacular!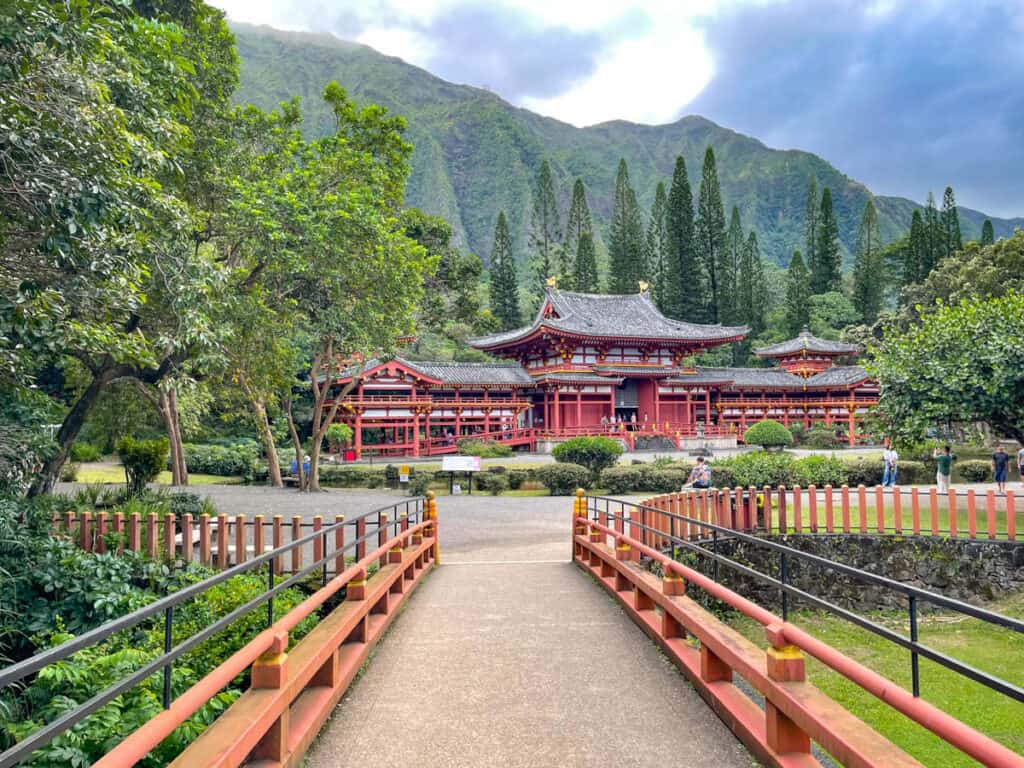 You could rent a car and visit Oahu's east side and north shore on your own, but an Oahu island tour is a hassle-free and efficient way to take in the best sights in a day without the need to drive.
This SUPER popular Oahu circle island tour has a 5-star rating with over 10,500 reviews on Viator.
It includes hassle-free pick-up from select hotels in Honolulu and insightful commentary from your guide. The guides get high marks from participants!
Pass by Hanauma Bay, see the Halona Blowhole, visit the Byodo-In Temple, stroll the town of Haleiwa, tour the Dole Plantation, and much more.
"First time in Hawaii for me and my wife and we wanted a tour that included a handful of sights. This tour was a success beyond our expectations. Our driver and tour guide Marlon was amazing and super friendly and knowledgeable. Marlon made this tour fun and interactive. Even though it is a 9 hour tour, the day went by quick in a good way. Highly recommend this tour, especially for first time Hawaii visitors!"
— John (Read more reviews!)
>> Check price and availability for this full-day Oahu Circle Island Tour now!
A helicopter tour is a great way to get an aerial view over the island of Oahu in a short time. You can really appreciate the jewel green of the lush mountains against the deep blue of the ocean from above.
Opt for a full island tour rather than a short flight over a part of the island. They generally last about one hour and offer the biggest bang for your buck when it comes to aerial views.
This highly-rated open door helicopter tour over Oahu has a 5-star rating on Viator with over 850 reviews. It offers a flight time of 50 minutes.
Your pilot offers insightful commentary as you soar over the major sights on Oahu, with unobstructed views and fantastic photo ops.
View such iconic landmarks as the USS Arizona Memorial at Pearl Harbor, Kaneohe Bay, Chinaman's Hat, Hanauma Bay, Sacred Falls, and, of course, Waikiki and Diamond Head.
The heliport is in Honolulu, easy to reach by Uber or taxi if you aren't planning to rent a car while on Oahu.
"This was an exhilarating experience! Views were incredible and our pilot pointed out so many highlights. Flying through the mountains was especially thrilling!! Pilot and ground crew were very professional and friendly and made this a wonderful adventure!"
— Matthew (Read more reviews!)
>> Check pricing and availability for the Oahu open door helicopter tour now!
Prefer not to have the doors off? Consider this highly-rated Oahu helicopter tour instead: it has ALL window seats!
One of the most exciting underwater adventures in Oahu awaits you on the North Shore: cage diving to see sharks!
On this tour, you will be in a cage while the sharks you're trying to spot will be swimming free in the ocean. They may even come close!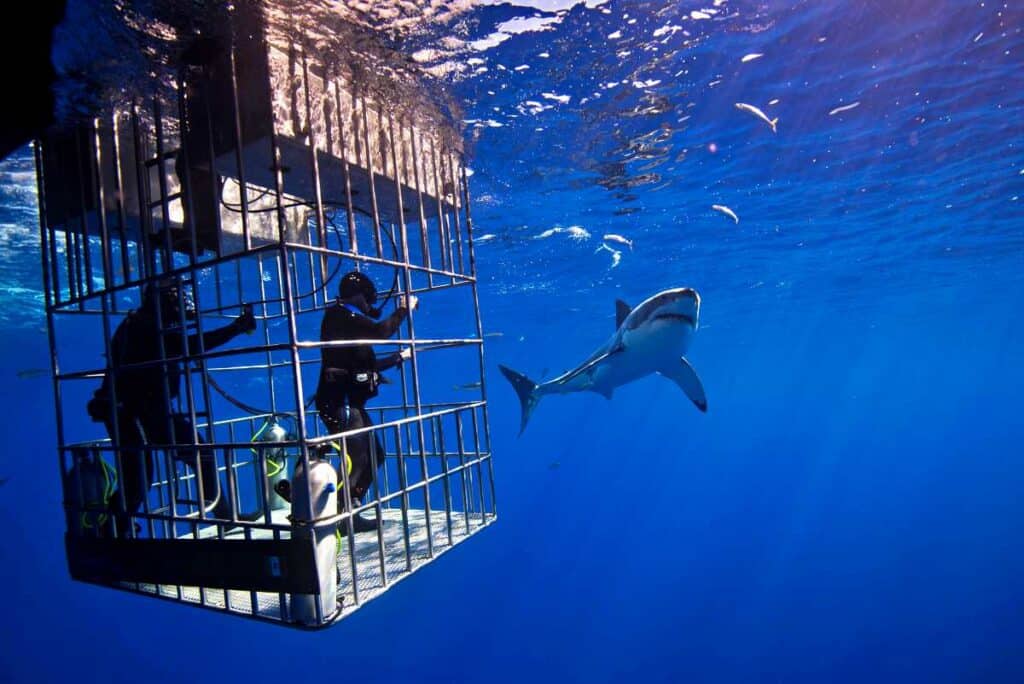 You'll depart by boat from Haleiwa Harbor on this 2-hour excursion.
En route to the shark-viewing area and back, keep your eyes peeled for dolphins and sea turtles, and humpback whales in season.
Once you arrive, you'll be lowered into the water in a secure cage, to see if you can spot graceful sharks swimming in the ocean near you. Galapagos, hammerhead, and sandbar sharks are the varieties commonly sighted here.
This highly-rated shark dive tour offers a money back guarantee, so you'll definitely see a shark (or three!) or go again!
A cage can hold more than one adult, so you can share the adventure with a companion or two! All equipment is provided and an expert crew will brief you before your dive.
If you do not want to go underwater, you can try to spot sharks right from the boat once you arrive at the viewing area. Visibility is usually clear enough that you may be able to see them from the boat.
"Sharks everywhere, awesome!! Great trip, would do it again. Water was incredibly clear and we had a wonderful experience."
— Debra (Read more reviews!)
>> Check pricing and availability for this shark cage diving tour now!
Want to swim with sharks without a cage? Consider this highly-rated excursion led by marine reasearchers!
Swimming with Hawaiian green sea turtles (honu) was a highlight of our first visit to Oahu.
While we also saw them on the beach (at Laniakea Beach on the North Shore), it was a lot more exciting seeing them in the water and swimming with them!
Turtle Canyons is a prime sea turtle viewing area, because it is a "cleaning station" for the endangered creatures. They congregate here to have their shells cleaned of algae by the reef fish.
On this very popular and exciting excursion, you'll cruise in a boat from Waikiki to the snorkeling site, where you will enjoy guided snorkeling time.
You'll share the pleasantly warm Oahu waters with not just the sea turtles but lots of colorful fish as well.
En route to the snorkel site and back, watch for playful spinner dolphins or flying fish, and, in the winter, majestic humpback whales.
The tour includes refreshments and all snorkeling equipment.
Departure is from a slip right in downtown Honolulu. Arrive by rideshare or a taxi if you don't have a rental car.
"There were multiple turtles and fish swimming all around. They had a few people who were not good swimmers and they made their experience great as well. The whole living ocean team did a fantastic job!"
— Penny (Read more reviews!)
>> Check pricing and availability on the Turtle Canyons snorkel excursion now!
Want to include an exciting adventure when visiting Waikiki?
This highly-rated parasailing excursion allows you to soar 500 feet over the scenic south shore of the island for fabulous views.
The excursion doesn't require any prior experience, and you'll meet at the company's booth on Ala Moana Boulevard in downtown Honolulu.
The entire tour lasts about one hour, so it can easily fit into even brief itineraries!
You will ride in a shared boat (max 15 participants), where you will buckle into a harness and take off! Rides are for two (or three) people at a time.
You can choose from three different line lengths. A 1,000-foot line length allows you to get stunning views of Diamond Head Crater, which looms over Waikiki.
And no matter the line length you choose, you will get spectacular views of the coast.
Be sure to opt for the photo package!
"This is an adventure for almost anyone! I'm over 70 and had a great time! The staff was courteous and very helpful…I would go again anytime!"
— Kenneth (Read more reviews!)
>> Check pricing and availability for this Oahu parasailing excursion from Waikiki now!
For many Americans, a visit to Pearl Harbor is a must on a first-time Oahu itinerary.
This is where the Japanese attacked on December 7, 1941, drawing the US into World War II. Thousands lost their lives. Many US warships (and hundreds of aircraft) were destroyed in the attack.
At the Pearl Harbor National Memorial, you can pay your respects at the USS Arizona Memorial, a pristine white structure that sits in the blue waters of the Pacific Ocean directly over the spot where the sunken ship lies.
The National Park Service, which manages the memorial, has a 45-minute program to visit the memorial, which involves a boat ride to the memorial and back.
While entry is free, you have to secure your spot on the program with an advance reservation.
If you do not have a rental car, but want to visit the Pearl Harbor National memorial, this highly-rated guided tour is an efficient option.
The 4-hour tour includes pick up at many Waikiki hotels, and a ticket for the boat visit to the USS Arizona Memorial.
>> Check pricing and availability for the Pearl Harbor National Memorial Tour now!
If you are a WWII buff or traveling as a family with school-age kids that want to learn more, consider this tour, which includes the Battleship Missouri (where WWII ended) as well as the USS Arizona Memorial.
The Battleship Missouri Memorial is independently managed and there is an entry fee.
One of Oahu's top attractions, Kualoa Ranch offers something for everyone.
The working cattle ranch has a stunning location on Oahu's windward coast and stretches all the way from the imposing Ko'olau Mountains to the Pacific Ocean.
Contained within Kualoa Ranch is one of the largest areas of accessible nature on the island, and tours offer many different ways of enjoying the gorgeous landscapes.
In fact, tours are the only way to see Kualoa Ranch, other than the visitor center and cafe at the entrance.
Many visitors opt for the Kualoa Ranch Hollywood Movie Sites Tour. On this tour, you'll travel by vintage school bus to locations where movies such as Jurassic Park, Jurassic World, and Jumanji and TV shows such as Magnum P. I. were filmed.
Your guide will offer commentary as you gawk at the stunning landscapes.
"My family and I really enjoyed this! I was interested in the other more adventurous tours, however, we had an infant and people with back issues in our party. This tour turned out to be the perfect experience for us all. The stops and beautiful scenery wowed us!…Would definitely do this again!"
— Courtney (Read more reviews!)
>> Check price and availability for the Hollywood Movie Sites Tour now!
If you prefer an adventurous Kualoa Ranch excursion, check out the popular UTV Raptor Tour, where you can either drive your own UTV or just go along for the ride.
On the UTV tour, you will discover the beautiful landscapes and filming locations in an open-air vehicle, plunging over streams and driving though mud in the process.
"So much fun! The guides were very informative and funny. The ranch is huge and the trails had a lot of different movie sets, and we had plenty of opportunities to stop for photos. Beware though, you will get very dirty, and depending on how fast you go, wet as well!"
— Shelby (Read more reviews!)
>> Check price and availability for the UTV Raptor Tour now!
Or consider the Jungle Expedition Tour (in a 6-wheel-drive Swiss Pinzgauer) or the Jurassic Adventure Tour in an open-air vehicle: there are many tour options at Kualoa Ranch!
The west coast of Oahu is one of the best places in Hawaii to swim with dolphins (and other marine life).
Waianae, on the west coast, is a popular dolphin spotting location on Oahu, and on a tour here, you may be lucky enough to see Hawaiian spinner dolphins, which frequent the area and can often be seen leaping and spinning in the air. It's an exciting sight!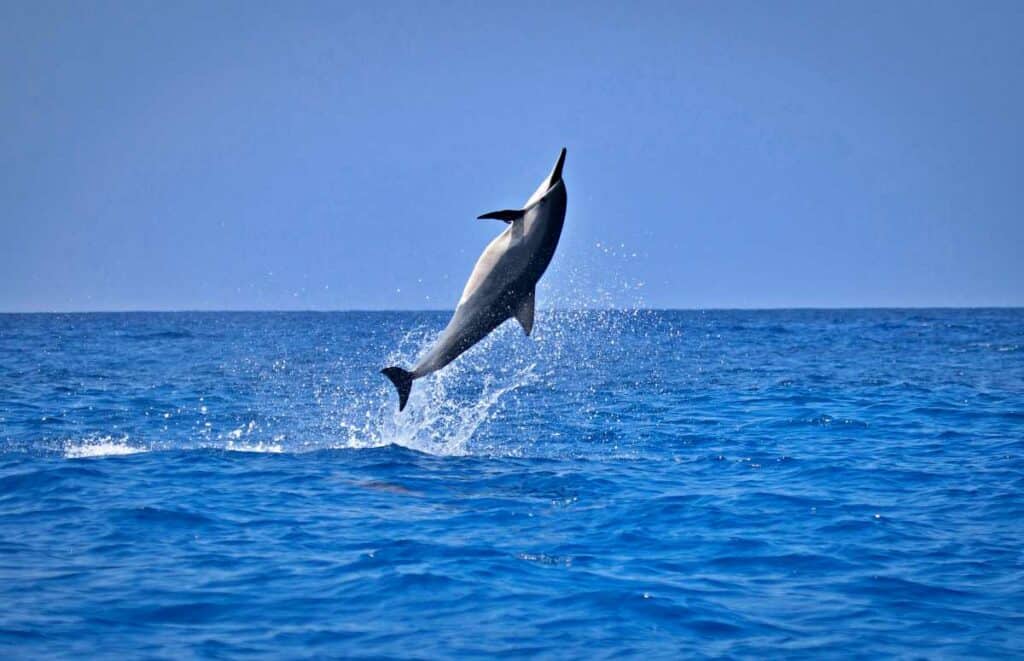 Other than spinner dolphins, you may see bottlenose dolphins, spotted dolphins, sea turtles, and, in season, humpback whales.
Since 2021, there's a law that states that you have to maintain a 50-yard distance from spinner dolphins, so be aware that your boat may move away from spinner dolphins should you come upon them unexpectedly.
This highly-rated swimming and snorkeling dolphin tour allows you to enjoy the beautiful scenery of the western coast of Oahu while trying to spot marine life, and includes transport from Waikiki and back.
Embark on your tour in a comfortable double-hulled catamaran and enjoy swimming and snorkeling. Lunch, bottled water, and all equipment are provided.
"We swam with dolphins twice and swam with turtles and an octopus once. We also enjoyed to boat ride along the coastline. Gorgeous scenery! Our tour guide Mike, driver, and boat crew were so friendly and fun! We definitely recommend this excursion!"
— Justin (Read more reviews!)
>> Check pricing and availability for this west coast of Oahu dolphin excursion now!
While people have been riding the waves for centuries, Oahu is often considered the birthplace of modern surfing.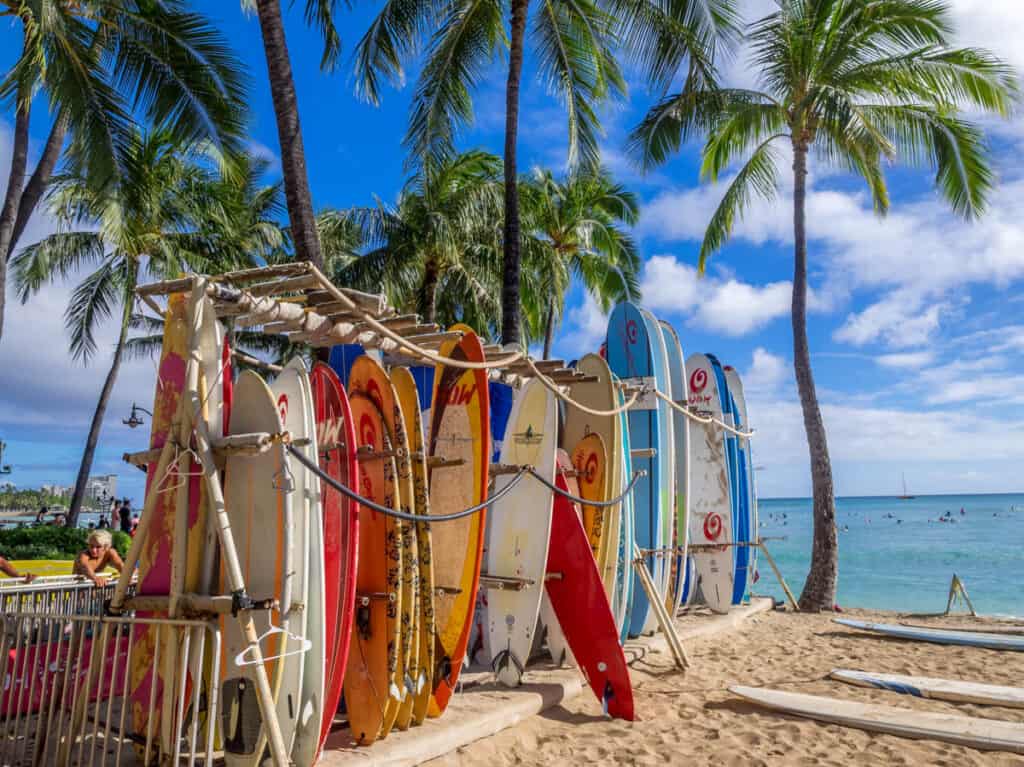 And there's no denying that it's super exciting even to stand on shore in the winter and watch the experts in action at high-profile competitions along the north shore of the island.
But if you want to personally try catching some waves while in Oahu, there are plenty of places that offer classes with a professional.
Whether you are a rank beginner or trying to advance your skills, you can find a lesson to suit.
This 1-on-1 private 2-hour surfing lesson in Waikiki is perfect for beginners. You'll receive instruction and an equipment fitting, followed by coaching in the water.
Learn to paddle out and stand up on the board, to try and catch some waves!
The tour includes pick-up and drop-off at select locations in Waikiki, plus all equipment. Photos and video are available for purchase afterwards.
"The one on one personal attention with the instructor can't be beat. Mark did an amazing job going through all of the steps on land before going in the ocean. I got up on the third try and caught a good amount of waves after that. Highly recommend."
— Stephanie (Read more reviews!)
>> Check pricing and availability for this 1-on-1 surfing lesson in Waikiki!
Want to learn on the North Shore of Oahu instead? Consider this private 2-hour surfing lesson on the North Shore, tailored to your abilities.
With its spectacular blue-green waters and picturesque offshore islets, Kailua Bay is one of the most scenic destinations on Oahu.
And one of the best ways to enjoy the stunning scenery is on a kayaking tour of the bay.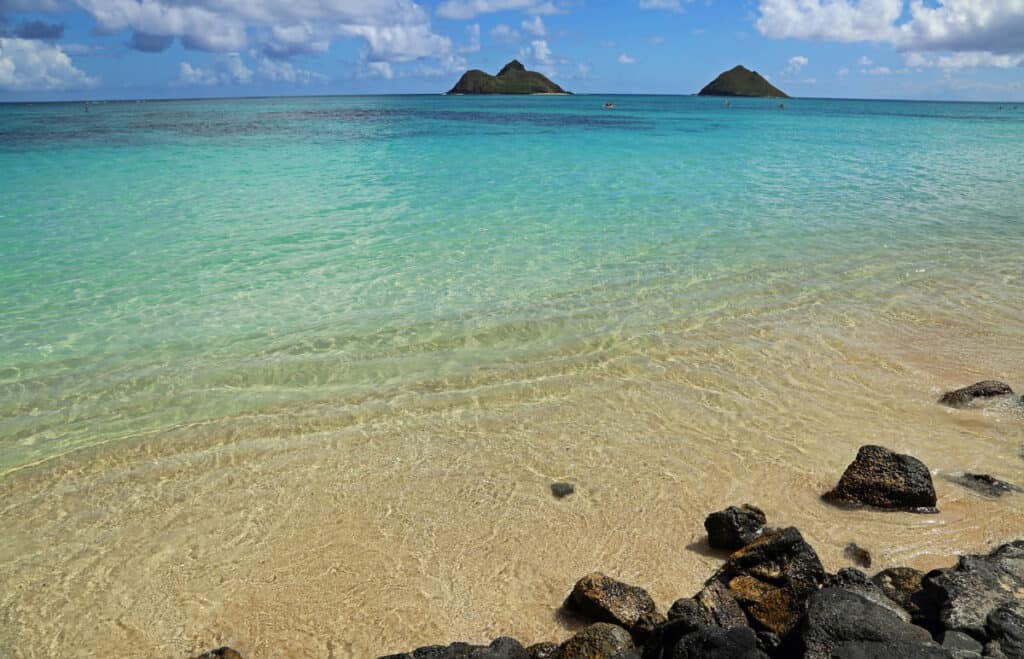 Nā Mokulua, colloquially known as The Mokes, are two little islets that lie off the Kailua coast. They are seabird sanctuaries and a very popular photo subject.
While many visitors are content to view them from Lanikai Beach, you can paddle out to the islets on a self-guided trip or a guided excursion.
You can even land on the larger of the two islands with a landing permit.
Popoia Island is a small flat islet that is another popular Kailua kayaking destination. It is also a seabird sanctuary, and you can land here with a permit.
This highly-rated Kailua Bay kayaking tour offers a guided or self-guided option. On the tour, you will admire the beautiful views, enjoy the pristine beaches on the little islets, and look for marine life.
Lunch, kayak, island landing permits, and snorkeling equipment are included.
If you are a first-time visitor and want to visit The Mokes, we suggest the guided option, so you don't get stranded on a reef.
And make sure you pick a nice weather day, for calm waters and unforgettable views!
"The water was clear and calm with beautiful panoramic views! Unforgettable experience, viewing sea lions, turtles and learning the history!"
— Ashley (Read more reviews!)
>> Check pricing and availability for the Kailua Bay kayaking excursion now!
The Kaneohe Sandbar, on the east side of the island, is one of the most unique destinations in Oahu!
The sandbar, which lies in Kaneohe Bay about a mile from shore, only gets exposed at low tide. If you are on the sandbar at this time, it feels like you are on a beach right in the middle of the ocean…very cool!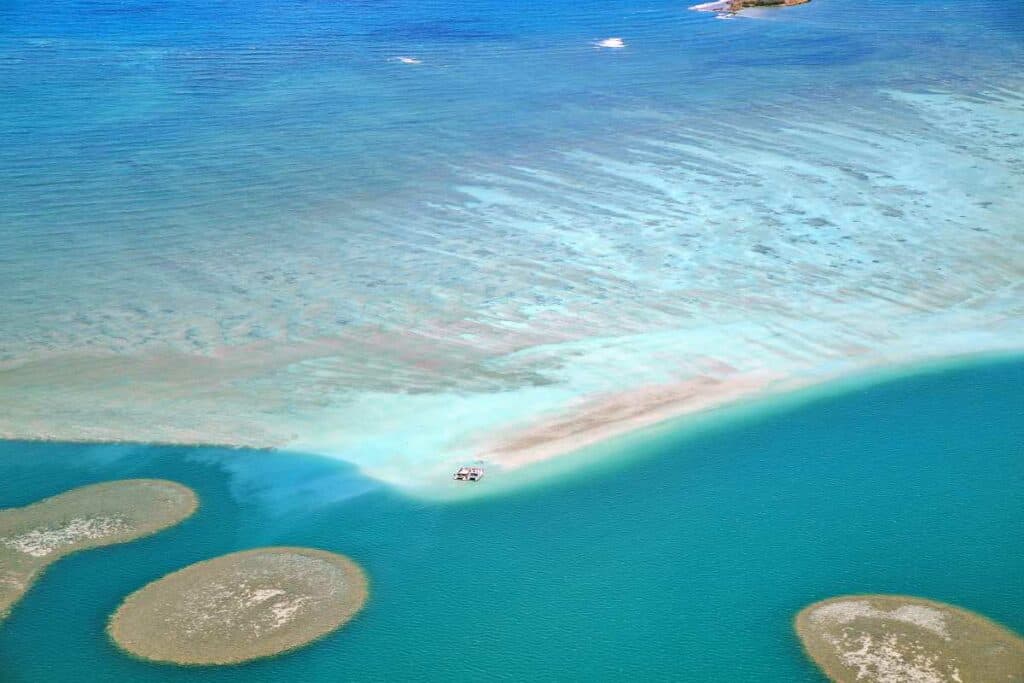 Once at the sandbar, you can relax on the sand and soak in the sun, enjoy the views of the mountains and the coastline, play a game of beach volleyball, or snorkel.
The easiest and most hassle-free way to get to the Kaneohe Sandbar is on a boat tour. Boat tours leave from the pier at He'eia Kea.
The boat ride is scenic, even if it just lasts 10 to 15 minutes each way!
This highly-rated Kaneohe Sandbar boat tour has a 5-star rating and close to 350 reviews on Viator. The tour lasts about 2 hours and 45 minutes.
On this afternoon tour, you'll cruise to the sandbar, where you can snorkel and look for turtles, or just soak in the sun.
Paddleboards and snorkeling equipment is provided. Enjoy snacks and soft drinks.
"Snorkeling, paddle boarding, sunbathing and saw a turtle 🐢 while snorkeling. The crew was amazing. They had snacks and drinks available."
— Licia (Read more reviews!)
>> Check pricing and availability for the Kaneohe Sandbar boat tour now!
If you'd rather visit on your own, you can rent a kayak. It takes 45 to 60 minutes to paddle each way, and you have to check tide times in advance to make sure you'll be there when the sandbar is exposed.
You don't need to worry about transporting the kayak: it will be waiting for you by the water!
First visit to Oahu? Plan on attending a luau while you are on the island!
A luau is a traditional Hawaiian feast, accompanied by entertainment: music, traditional dancing and story-telling.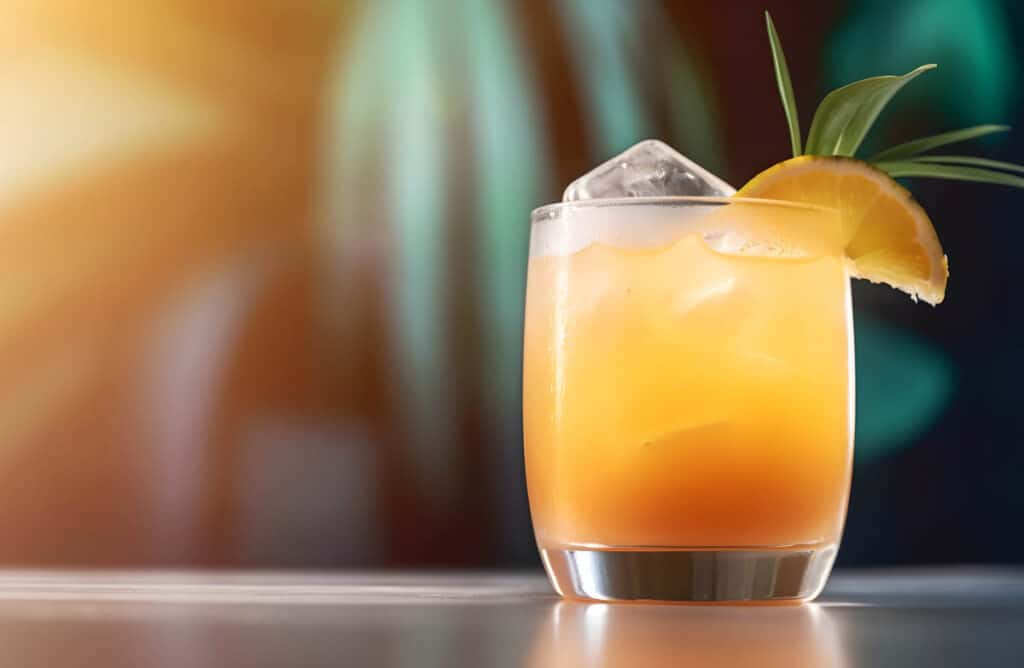 Luaus today offer a wide variety of food choices, but kalua pork, traditionally made in an imu (an underground oven) is usually on the menu, along with other local dishes like poi.
Paradise Cove Luau is one of the best luaus on Oahu, with a location right by the ocean in Ko Olina.
You'll be greeted with a Mai Tai and have the opportunity to wander the Hawaiian Village to check out arts and crafts like lei-making. You can then take a canoe ride in the cove, and watch the imu ceremony.
The feast includes both traditional Hawaiian dishes and continental cuisine, with options for vegetarians and vegans.
And the show is amazing, with the sunset as the backdrop. The troupe of singers, musicians, and dancers will keep you enthralled.
The Paradise Cove Luau excursion includes transport from select Waikiki hotels.

"Awesome from start to finish!…The cultural display was entertaining and enlightening, the food…delicious! At the end, after an intense presentation, the performers gracefully came out to take photos with the us. The activities and shopping were interesting as well. Two thumbs up and if I'm ever here again, I'll be back!"
— Raquel (Read more reviews!)
>> Check pricing and availability for the Paradise Cove Luau excursion now!
We hope you found this round-up of the best tours and excursions in Oahu helpful. Which ones will you book for your next Oahu trip?
Renting a Car in Oahu
If you want to explore more of the island of Oahu on your vacation, you should get a rental car.
Oahu's popular attractions are spread over the island: the windward coast, the North Shore, and Ko Olina are great places to explore beyond Waikiki (or the greater Honolulu area).
While Oahu does have public transport options that are better than the other islands, a car offers a lot more flexibility and time savings.
We always use Discover Cars to book Oahu car rentals. They search across a variety of rental car companies, both budget and brand, to offer you the best deals, AND they offer free cancellations. Plus, there are no hidden fees.
>> Check availability and prices on Oahu car rentals now!
Honolulu Airport-Hotel Shuttle
If you are not planning to get a rental car at Honolulu Airport, consider booking shuttle transport in advance!
This shared shuttle can be canceled up to 24 hours from the date of service. It serves hotels in Waikiki and Honolulu and then back again to the airport the day you leave. It's convenient and inexpensive, and saves time and hassle!
>> Check prices and availability for shared round-trip airport transfer in Oahu now!
Staying in Ko Olina? Consider this round-trip airport transfer instead!
Where to Stay in Oahu
Honolulu (Waikiki in particular) offers a large number of hotels and resorts, along with shopping and dining options. Most visitors to Oahu choose to base in Honolulu at least for a part of their stay.
While many of the large chains have a presence if you are looking to use your memberships, Honolulu also has several unique boutiques to consider.
Our faves include Halekulani for a splurge stay, the Lotus Honolulu for views of Diamond Head, and The Laylow for its awesome location.
Want more room to spread out or looking to stay elsewhere on Oahu? You will find VRBO listings all over the island!
On previous trips to Oahu, we have stayed in VRBO rentals in Waikiki as well as on the North Shore and the east coast and we've found the choice and quality great.
>> Look for an Oahu vacation rental on VRBO now!
More Oahu Travel Inspiration
Planning a trip to Oahu? Check out our other in-depth Oahu travel guides for help finalizing your Oahu itinerary!
Start by discovering the best things to do in Oahu. We also have a detailed guide to Oahu's North Shore, a round-up of things to do on the east side of Oahu, and the best things to do in Ko Olina, on the west coast of the island.
Of course you'll want to learn about all the exciting things to do in Honolulu, Hawaii's capital, and Waikiki, the touristic core of Oahu.
We also have a guide to the best beaches in Oahu, and a round-up of the must-visit Oahu waterfalls.
Oahu is home to so many must-visit landmarks! Check out our in-depth article on how to visit Pearl Harbor, and our guides on the beautiful Waimea Valley in Oahu and the spectacular Byodo-In Temple.
Want to enjoy the thrill of observing sharks in the wild? Check out our article on shark cage diving on Oahu's North Shore!
Discover the top places to go snorkeling in west Oahu, where you will find a long coastline with lovely beaches, and tips for snorkeling Kaneohe Sandbar on the island's east coast.
And if you love marine life, also check out our complete guide to (respectfully!) see and swim with dolphins in Oahu, and the best spots to snorkel with turtles in Oahu.
For hikers and outdoor enthusiasts, we have a round-up of the best Oahu hikes, and if you are looking to exclude the harder Oahu trails, a guide to the best easy Oahu hikes.
Find out how to do the iconic (and VERY popular) Diamond Head Hike near Waikiki for exceptional views. We also have a guide to the very popular Manoa Falls Trail in Honolulu.
More advanced hikers will want to read up on the Koko Head Hike, a long set of stairs leading to expansive views.
Learn where to go for the best sunsets in Oahu, whether you want to hike or enjoy watching a colorful Hawaiian sunset without working up a sweat.
We also have a guide to the best sunrise hikes in Oahu, one of which is the spectacular Makapu'u Point Lighthouse Trail in the southeastern part of the island. The Lanikai Pillbox Hike is another wonderful sunrise hike on Oahu!
Did you find this article informative? Pin it on Pinterest for later!