21 Best Things To Do On The Windward Side Of Oahu – 2023
Two phrases you'll often hear on Oahu from native Hawaiians are windward side of Oahu and leeward side of Oahu.
Understanding them will help you decide what things to do where!
Simply put, the windward side of Oahu is the side of the island that faces the winds, the powerful northeast trade winds that sweep over the Pacific Ocean and Hawaii.
These winds bring moisture-laden clouds that result in tropical rain on the windward side of Oahu when the clouds meet the steep Koolau Range mountains.
And with all the rain comes the greenery, lush vegetation, tropical rain forests, waterfalls and streams!
The leeward side of Oahu is the opposite side, the side of the island that is protected or shielded from these winds by the mountains.
This side tends to be drier, but not a desert. More like scrub bushes, but fewer forests.
So what are the best things to do on the windward side of Oahu (the east side of Oahu)?
You guessed it: hiking, exploring rainforests, viewing waterfalls, bodysurfing, kitesurfing and board surfing (the winds kick up massive waves).
Hey, by the way! Visiting Oahu and planning your bucket-list activities? Check out our in-depth guide to the best tours and excursions in Oahu worthy of the splurge!
Some links on this page may be affiliate links. If you click an affiliate link and make a purchase, we may receive a small commission, at no extra cost to you. For more details, refer to our disclosure.
Windward Side of Oahu Map
The windward side of Oahu, along the eastern side of Oahu, extends from the north shore of Oahu down to the southeastern tip of the island, and is bounded by the Koolau Mountain Range on one side and the Pacific Ocean on the other.
The map of the windward side of Oahu shows the locations of the different things to see and do!
How to Get to the Windward (East) Side of Oahu?
There are two main routes to get to the windward side of Oahu from Waikiki.
One is to take Highway 72 (Kalanianaole Highway) directly east and follow the coast.
I love this route due to the beautiful scenery and the iconic landmarks that you see on the way including Diamond Head Crater, Koko Head, Hanauma Bay, Makapu'u Point Lighthouse, and Sea Life Park.
The other is to take Highway 61 (Pali Highway) north and cross the Ko'olau Mountain Range. This route gives you panoramic views of the Windward Coast and the Nu'uanu Pali Lookout.
Both routes will take you about 30 minutes to reach Kailua town, which is the main hub of the windward side of Oahu.
If you plan to rent a car for your Oahu trip, you can do a self-drive tour of Oahu's east side. A rental car offers comfort and flexibility and you can stop where you like for photos.
When we travel to Hawaii, we book our rental car at Discover Cars. They search across a range of car rental companies, both brand and budget, and we have found great deals!
Feeling adventurous? Moped or scooter is a fun way to tour the windward side! On our first visit to Oahu, we rented a scooter for the day, and loved driving the scenic route with the wind blowing gently on our faces!
Want to splurge? You could opt for a private tour with an experienced local guide.
Here are some 5-star rated, highly popular alternatives to driving a rental car:
Things to Do on the East 'Windward' Side of Oahu
1. Snorkel at Hanauma Bay
Visiting Oahu and haven't been snorkeling yet? Not to worry, I have the perfect spot for you.
Hanauma Bay Nature Preserve is the BEST snorkeling location on Oahu for beginners and families with kids.
Hanauma Bay is a beautiful, semi-circular, well-protected bay within a sunken, ancient volcanic crater.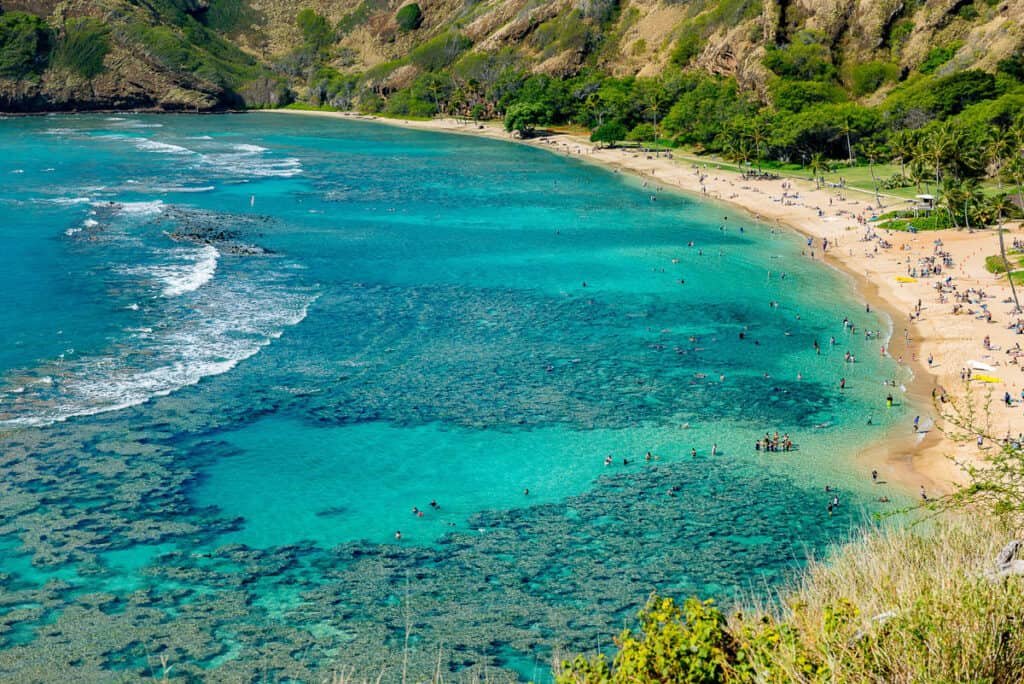 The shallow, sheltered waters, excellent underwater visibility, and, best of all, stunning marine life, make for ideal snorkeling conditions.
My kids love snorkeling at Hanauma Bay and I make it a must-visit destination on every trip to Oahu. They see so many beautiful varieties of tropical fish!
To avoid the hassle of driving and parking, I usually book this popular Hanauma Bay Snorkeling tour that offers transportation from Waikiki hotels.
Due to its popularity and to promote conservation, Hanauma Bay charges an entrance fee of $25 / adult (parking is $3 and fills up quickly) and uses a reservation system.
>> Check availability and pricing on the Hanauma Bay Snorkeling tour now!
Planning your Oahu itinerary? Read our guide to the best Oahu tours and excursions, from shark cage diving to snorkeling with turtles and kayaking to the Mokes!
2. Hike the Lanikai Pillbox Trail on the Windward (East) Side of Oahu
Can't sleep because of jet lag? Why not grab a cup of coffee and hike the popular Lanikai Pillbox Trail for a spectacular sunrise?
The Lanikai Pillbox Trail (also called the Kaiwa Ridge Trail) is a hugely popular and relatively easy hike on the windward side of Oahu, and a great family activity.
The two main pillboxes (World War II military observation posts) offer stunning views of the Koolau Mountain range, the turquoise waters of the Pacific Ocean and the beautiful Lanikai Beach, and the Mokulua Islands.
Sunsets are also very beautiful!
Because the Lanikai Pillbox Hike is so popular, if you are planning to hike this trail, read our tips on the best time to go, parking and what to take with you.
>> Book an exciting, 5-star rated, highly popular, Oahu tour now!
3. Stroll Down the Lanikai Beach on the East Shore of Oahu
Need to cool off after the sunrise hike on the Lanikai Pillbox Trail? The cool, inviting waters of beautiful Lanikai Beach beckon you!
One of the best beaches on the island of Oahu, Lanikai (which means "heavenly ocean") Beach is the perfect place to take a relaxing stroll on the golden white sands.
The calm, clear-blue waters are excellent for a refreshing dip or swim.
Watching a sunrise or sunset from Lanikai Beach with your partner is one of the most romantic things to do on the windward side of Oahu!
4. Work Out on the Koko Crater Railway Trail
Want to keep fit while vacationing? How does climbing over 1000 stairs sound to you?
The Koko Head Trail is not like your run-of-the-mill gym elliptical machine, but an intense hike with a tremendous payoff!
On a clear day, you will have fantastic, panoramic, 360 degree views of the island of Oahu, and will be able to see almost all its iconic landmarks.
The 1028 stairs you are climbing are the remains of an old railway track that starts relatively flat, and then becomes a steep incline to the summit of Koko Head.
Sunsets and sunrises from the summit are incredible. What a way to start or end your day!
Interested? Here is a complete guide to hiking the Koko Head Trail.
5. Drive Through Ho'omaluhia Botanical Garden
Tired of paying entrance fees? You'll love Ho'omaluhia Botanical Garden!
Visiting Ho'omaluhia Botanical Garden is one of the best free things to do on the windward side of Oahu: a gorgeous, 400-acre, plant-lover's paradise!
I love visiting this garden because it is so beautiful and I learn a lot!
The Ho'omaluhia Botanical Garden is organized into sections showcasing plants from all around the world including Africa, India, Polynesia, and Hawaii.
If you have limited time, then definitely drive through the garden. But if you have more time, explore the trails and enjoy a quiet picnic by the lake.
Check here for the latest on the timings.
>> Book an exciting, 5-star rated, highly popular, Oahu tour now!
6. Relax on Kailua Beach on the East Shore of Oahu
Vacationing with family and kids? Beautiful Kailua Beach may be a much better option for you than Lanikai Beach.
Kailua Beach has more parking options, restrooms, outdoor showers, lifeguards on duty, and overall better facilities!
Need to cool off? Don't be shy about jumping into the inviting waters of Kailua Bay for a swim or a refreshing dip.
Kailua Beach is also a great beach for sunbathing or relaxing with a book, the beach is large enough to find a quiet spot.
Want more? You can try standup paddle boarding, kayaking or kitesurfing!
7. Kayak to Mokoli'i Island (the Mokes) off the East Coast of Oahu
Need something a bit more adventurous? Consider this highly popular, 5-star rated Kayaking Tour of Kailua Bay with Lunch, Oahu.
You can kayak with the family or on a guided tour around the islands of Kailua Bay, including Popoia Island (Flat Island) or the Mokulua Islands. Note, you must be able to swim.
The Mokulua Islands (popularly called the Mokes) are two islets off the coast of Lanikai and are part of the Hawaii State Seabird Sanctuary. Expect to see seabirds like wedge-tailed shearwaters, red-footed boobies, brown noddies, and white terns.
You have multiple options for kayak tours:
We took our kids on tandem kayaks since they were younger, and they had a great time. One of them actually spotted a wedge-tailed shearwater chick hiding near some rocks.
You need a permit to land on the islands, which you can get from the Division of Forestry and Wildlife.
If you take the below tour, expect to spend roughly 5 hours, but that includes snorkeling and lunch.
>> Check pricing and availability on this 5-star rated, popular kayaking tour from Kailua Bay!
8. Hike the Makapu'u Point Lighthouse Trail
Don't despair if you are a family with small kids! The Makapu'u Point Lighthouse Trail is an easy, paved, well-maintained trail that you can hike!
If you are hiking in winter, the kids may even spot humpback whales out in the ocean. The views from the trail are gorgeous!
The stunning, red-roofed Makapu'u lighthouse is an iconic structure on the island of Oahu, but visitors are not allowed in.
With very little shade on the hike, you should plan on hiking this trail early morning or late evening.
Check here for detailed information and tips on how to hike the Makapu'u Point Lighthouse trail.
9. Meditate at the Byodo-In Temple (Valley of the Temples)
Vacation stressing you out? What you need is some quiet time at one of the most peaceful locations on the island of Oahu: the Byodo-In Temple in the Valley of the Temples Memorial Park on the east side of Oahu.
The Byodo-In Temple is a beautiful replica of a Japanese Buddhist temple in the serene settings at the base of the Koolau Mountains.
Meditating at the Byodo-In Temple is one of the most relaxing things to do on the windward side of Oahu.
The temple even has a meditation pavilion, along with a koi pond, a bell house, a stunning Buddha statue, and picturesque gardens.
The Byodo-In Temple is part of many Oahu Island tours, these are the most popular options:
10. Visit Kualoa Ranch
A fan of the Jurassic Park movie series? You must visit Kualoa Ranch where many of the famous movie scenes were filmed.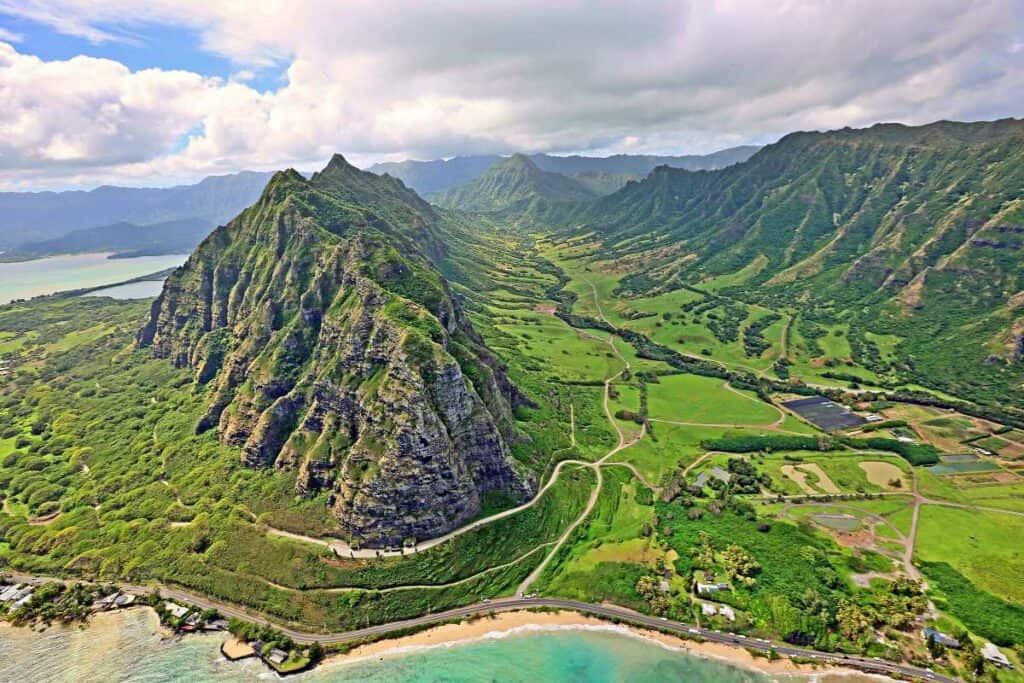 The ranch even has a dedicated tour, Kualoa Ranch – Jurassic Adventure Tour, that is quite popular.
Now that you know Kualoa Ranch was a setting for many popular films, you've probably guessed the location and scenery is fabulous.
Exploring Kualoa Ranch is one of the best things to do on the windward side of Oahu for families with kids, especially, teenage kids.
You can take a Jungle Expedition Tour, try out the popular Jurassic Valley Zipline, or explore on the ranch on horseback with a Horseback Walking Tour.
The fun and options are endless!
Check out some other popular, highly rated, Kualoa Ranch tour options below:
11. Snorkel at the Kaneohe Sandbar off Windward Coast of Oahu
Kaneohe Sandbar is an oddity of nature, a bunch of sand islands in Kaneohe Bay that appear and disappear with the tides.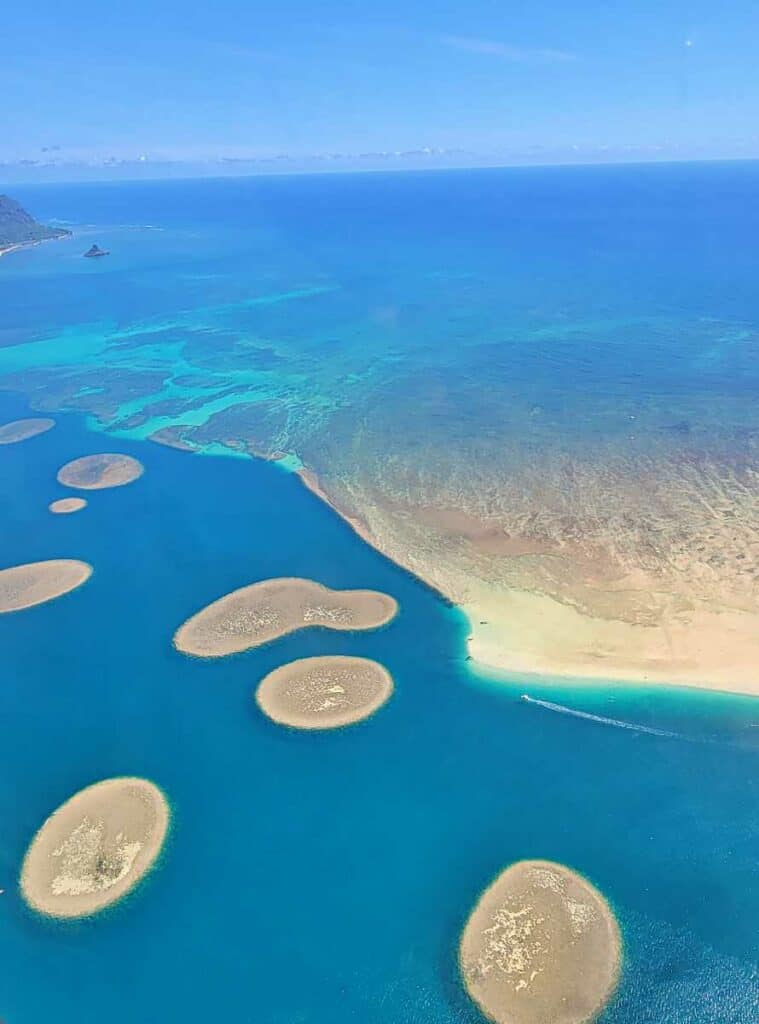 At high tide, the Kaneohe sandbar is under roughly waist-level deep water, at low tide completely visible as a sandy island.
The Kaneohe sandbar is a remarkable playground for all kinds of water activities, roughly a mile from shore: snorkeling, kayaking, paddle boarding, water volleyball, and ocean sports like jet skiing, parasailing or wakeboarding.
Snorkeling is by far the most popular activity, with the clear and shallow waters making it easy and safe for beginners and kids.
If you have older, teenage kids, they will love the ocean sports!
To get to Kaneohe sandbar, since it is a mile from shore, you will take a boat tour or kayak.
Vacationing with family and kids? Kaneohe sandbar is an excellent choice to keep the whole family engaged.
For tips on planning your visit including the best time to visit and planning which tour to take, check Kaneohe Sandbar Snorkeling (+ Best Tours).
>> Check out pricing and availability on this popular 5-rated afternoon tour to Kaneohe Sandbar!
12. Hike the Kuliouou Ridge Trail
Need a more challenging hike? The hike on Kuliouou Ridge Trail is moderately difficult, about 5 miles round trip, with stunning views along the ridge.
The trail climbs about 1,800 feet to the summit of the Kuliouou Ridge, from where you get amazing views of Waimanalo Beach on the east side of Oahu.
While older, teenage kids will do fine on the trail, I don't recommend the hike for younger kids, especially after rains, when it is muddy and slippery.
I personally like to hike the Kuliouou Ridge Trail in the early morning, the sunrises over the windward coast of Oahu are amazing.
>> Book an exciting, 5-star rated, highly popular, Oahu tour now!
13. Marvel at Desert Plants in the Koko Crater Botanical Garden
A desert botanical garden on a tropical island? Yup, Koko Crater Botanical Garden!
Koko Crater Botanical Garden is a unique, 60-acre garden devoted to rare and endangered dryland plants in the crater head basin and inner slopes.
We hiked the 2-mile loop path through the garden and were amazed to see plants and trees from all over the world including Madagascar and Africa.
We loved the iconic boababs that we had seen dotting the African plains in photos. My favorites were the cactus garden and the blooming plumeria.
The kids were delighted to see a majestic male peacock wandering through the garden!
Make sure you take plenty of drinks with you to stay hydrated.
Best of all, admission to the Koko Crater Botanical Garden is free! The garden is open daily from sunrise to sunset.
14. Hike the Maunawili Falls Trail to Maunawili Falls
Yearning to explore a tropical rainforest? Maunawili Falls Trail is a moderate, 3-mile, family-friendly trail through a lush rainforest with a beautiful waterfall at the end.
The trail follows the stream (crossing it multiple times) and winds along the side of the Koolau Mountain range.
I love hiking this trail because apart from the pleasant jungle hike and the waterfall, you also get amazing views of the windward side of Oahu and Olomana.
We've seen kids play Tarzan with a rope swing at the end of the pool at the base of the waterfall. Some kids were jumping from the rocky cliffs into the pool as well!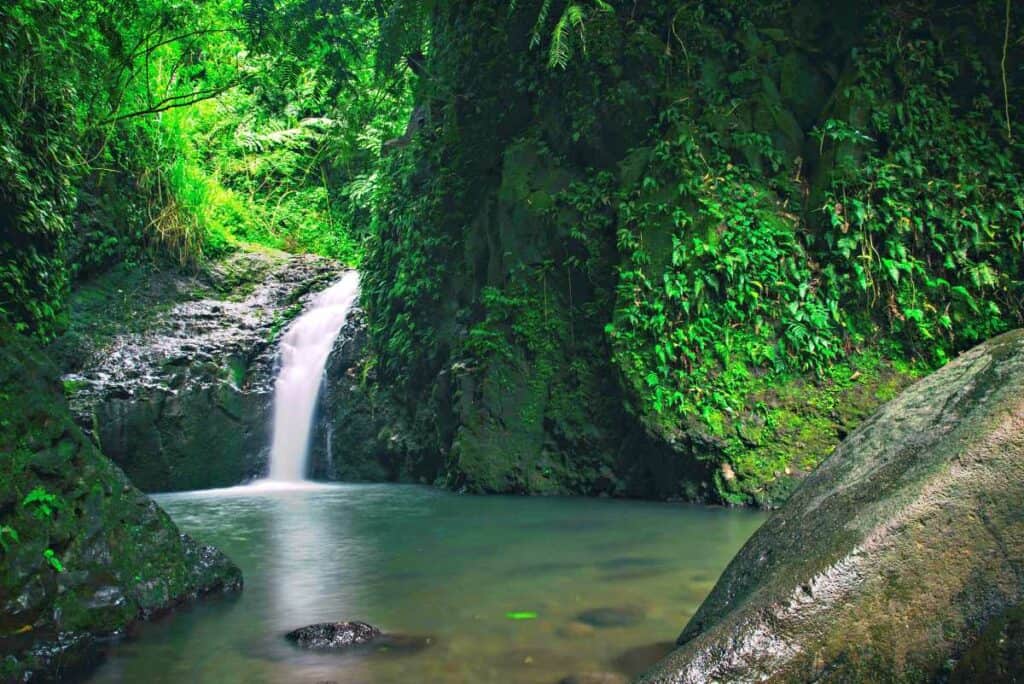 Be careful of the rocks and potential currents if you plan on diving in!
The trail is rated moderate because it gets very muddy and slippery after rains.
Learn more about hiking the Maunawili Trail here.
15. Gourmet Dining at Kailua Town Restaurants
The first time we toured the windward side of Oahu, Kailua Town was a charming, sleepy beach town where we stopped to get a bite, and had a hard time finding a suitable restaurant.
On our last trip, Kailua had evolved into a bustling tourist destination with an extraordinary variety of places to eat!
I guess Dr. Beach's 2019 award of the Best Beach in the United States had something to do with it!
If you are watching your diet, you have options like Nalu Health Bar and The Beet Box Cafe that offer delicious acai bowls, Green Blend bowls and Cacao Bowls.
The acai bowl I had at Nalu's was the best I've tasted in Hawaii!
You will also see a variety of sushi, Mexican, Italian and other Asian restaurants offering eclectic fusion menus.
Kailua also has a popular, bustling Farmer's Market on Sunday mornings!
16. Watch the Halona Blowhole Shoot Water
Seen the Old Faithful Geyser in Yellowstone National Park? The Halona Blowhole is something like that, but near the ocean!
The Halona Blowhole is one of the more famous blowholes in the world: a wonder of nature, created by volcanic activity over thousands of years, that shoots out water upto 30 feet high through a hole in the volcanic rocks.
The best time to watch the Halona Blowhole is at high tide and on windy days, when the wind and waves expel sea water at great pressure through the hole.
The blowhole is unpredictable and rogue waves are common, so please watch from the lookout point that provides an excellent and safe view!
Also from the lookout point, you can see Halona Beach Cove, a beautiful, secluded beach where many famous movies like Pirates of the Caribbean and From Here to Eternity were filmed!
The Halona Blowhole is located near Hanauma Bay, and is a stop on most island tours.
Here are three highly popular, 5-star rated island tours that stop at Halona Blowhole:
17. Admire the Views from Nu'uanu Pali Lookout
The BEST spot on the island of Oahu for panoramic views is Nu'uanu Pali Lookout on the windward side of Oahu.
Nu'uanu Pali Lookout is located on a 1000-feet high cliff, and from this altitude you can see most of the windward coast, the Ko'olau Mountains, Kaneohe, Kailua and the Mokes.
Keep a hand on your hat, the winds here are strong and gusty!
The drive to Nu'uanu Pali Lookout is beautiful as well, with the road often covered by a canopy of tropical trees!
18. Challenge Yourself With the Mt Olomana (Three Peaks) Hike
Are you an experienced hiker seeking an adrenaline high?
The Mt Olomana Hike (also known as the Olomana Three Peaks Hike) is a demanding hike on the windward side of Oahu.
Hiking to the top of the third peak (Ahiki) requires good technical climbing skills! Only experienced hikers should attempt this peak, as it is dangerous and exposed.
We rate hiking the Olomana Three Peaks Trail as one of the best challenging hikes in Oahu!
The Mt Olomana Three Peaks Trail is a dirt and rock path through a lush rainforest and along a ridge.
The first peak (Olomana) is the highest and most popular, but still involves a steep climb that requires ropes and cables. Most hikers stop with the first or second peaks.
The views from each of the peaks are stunning. On a clear day, you can see the Ko'olau Range, Kaneohe Bay and Kailua Beach.
19. Bodysurf the Waves on Sandy Beach
Need a change from regular board surfing? How about bodysurfing?
Sandy Beach is world-famous for bodysurfing, a form of surfing that does not require a board. Instead you use your body and a pair of fins to catch and ride the waves.
Bodysurfing at Sandy Beach is best reserved for strong swimmers or experienced bodysurfers!
The waves are powerful and break close to the shore, causing a strong shorebreak that can slam you into the sand.
No wonder Sandy Beach has the highest rate of injuries among all the beaches on the island of Oahu!
I strongly recommend you start at Half Point on the left side of the beach, where the waves are smaller and less crowded.
But simply watching the locals in action can be fun as well!
20. Hike the Hanauma Bay Ridge Trail
Want to while away some time till your teenage kids are done snorkeling at Hanauma Bay?
Hike the Hanauma Bay Ridge Trail, an easy hike up the ridge overlooking the bay.
The views of crescent-shaped Hanauma Bay and the surrounding coastline are stunning, and on a clear day you can even see the coral reefs!
21. Watch Dolphins at the Sea Life Park on the East Side of Oahu
If you don't like getting wet or have small kids who are not ready to snorkel, do not worry!
Sea Life Park near Waimanalo Beach is an alternative for you and families with smaller kids to experience Hawaii's amazing underwater marine life.
My kids loved the Dolphin Exploration program where they could interact with Hawaii's charismatic spinner dolphins! They even have a dolphin theater!
We stayed back for the oceanfront Aloha Kai Luau, and the food was delicious, and so was the entertainment!
Where to Stay on Oahu's East Side
It's perfectly possible to base in Waikiki, with its many resorts, and explore the windward coast of Oahu on day trips.
But if you want to actually stay on Oahu's east side and explore in greater depth, that's a great idea too!
Kailua, the most well-known town on the east shore, is no longer an undiscovered gem, but staying here for even a couple of nights will give you a far different experience than staying amidst the high-rise resorts of Honolulu.
Paradise Bay Resort is located near Kaneohe Bay and offers a swimming pool and hot tub, along with air-conditioned rooms and suites. The grounds have lush landscaping.
>> Check price and availability for Paradise Bay Resort now!
This lovely oceanfront house features 3 bedrooms and 2 bathrooms. Try spotting Hawaiian green sea turtles from the deck, or whales in the winter. The home is convenient to shopping and dining.
>> Check price and availability for this oceanfront home now!
This charming beachfront cottage, with one bed and one bath, is perfect for a couples getaway on Oahu's east shore. Relax on your private deck and enjoy the full kitchen. Close to restaurants and food trucks!
>> Check price and availability for this beachfront cottage now!
Best Things to do on the Windward Side of Oahu: FAQ
What is the windward side of Oahu like?
Lush green with tropical rainforests filled with fruit trees, bamboo trees, fern and vegetation. Here you will find most of the popular Oahu hiking trails, waterfalls, and gorgeous views.
Is the windward side of Oahu windy?
Yes, the windward side of Oahu is quite windy, especially in winter, so be prepared! But with some wind you get to enjoy sailing, surfing, kitesurfing and parasailing!
How often does it rain on the windward side of Oahu?
A lot! The windward side of Oahu can get as much as 200 inches of rain per year at the higher elevations, compared to about 15 inches of rain for the leeward side. The Koolau mountain range and the Waianae mountain range block the moisture-laden trade winds resulting in almost daily light rain showers, typically morning and evening.
Is Waikiki on the windward side of Oahu?
No, Waikiki is on the leeward side of Oahu, sheltered from the trade winds.
Best Oahu Tours
Have you booked these popular Oahu tours and excursions yet?
Love snorkeling? This Turtle Canyon snorkeling excursion from Waikiki lets you frolic with colorful fish and Hawaiian green sea turtles. Hands down the MOST BOOKED Oahu snorkeling tour: turtle sightings are guaranteed!
The most popular luau in Oahu, Paradise Cove Luau has a 4.5 rating on Viator with over 3.5K reviews. The tour includes pick-up from your Waikiki hotel, pre-dinner games, arts, and crafts, a delicious meal, and an award-winning show.
Based in Waikiki but want to see more of the island? This full-day Oahu Circle Island Tour includes Diamond Head, Hanauma Bay, Haleiwa, the Dole Plantation, and more!
Pay your respects at the USS Arizona Memorial at Pearl Harbor! This popular Pearl Harbor tour includes boat tickets and round-trip transport from Waikiki.
A super popular Oahu North Shore excursion, this Oahu shark cage dive allows you to observe wild sharks in the open ocean from the safety of a cage! It's a THRILLING Oahu advennture for your bucket list.
We have a detailed guide to the top Oahu tours and excursions if you are in the midst of planning your itinerary for the island.
Renting a Car in Oahu
If you want to explore more of the island of Oahu on your vacation, you should get a rental car.
Oahu's popular attractions are spread over the island: the windward coast, the North Shore, and Ko Olina are great places to explore beyond Waikiki (or the greater Honolulu area).
While Oahu does have public transport options that are better than the other islands, a car offers a lot more flexibility and time savings.
We always use Discover Cars to book Oahu car rentals. They search across a variety of rental car companies, both budget and brand, to offer you the best deals, AND they offer free cancellations. Plus, there are no hidden fees.
>> Check availability and prices on Oahu car rentals now!
Honolulu Airport-Hotel Shuttle
If you are not planning to get a rental car at Honolulu Airport, consider booking shuttle transport in advance!
This shared shuttle can be canceled up to 24 hours from the date of service. It serves hotels in Waikiki and Honolulu and then back again to the airport the day you leave. It's convenient and inexpensive, and saves time and hassle!
>> Check prices and availability for shared round-trip airport transfer in Oahu now!
Staying in Ko Olina? Consider this round-trip airport transfer instead!
Where to Stay in Oahu
Honolulu (Waikiki in particular) offers a large number of hotels and resorts, along with shopping and dining options. Most visitors to Oahu choose to base in Honolulu at least for a part of their stay.
While many of the large chains have a presence if you are looking to use your memberships, Honolulu also has several unique boutiques to consider.
Our faves include Halekulani for a splurge stay, the Lotus Honolulu for views of Diamond Head, and The Laylow for its awesome location.
Want more room to spread out or looking to stay elsewhere on Oahu? You will find VRBO listings all over the island!
On previous trips to Oahu, we have stayed in VRBO rentals in Waikiki as well as on the North Shore and the east coast and we've found the choice and quality great.
>> Look for an Oahu vacation rental on VRBO now!
More Oahu Travel Inspiration
Planning a trip to Oahu? Check out our other in-depth Oahu travel guides for help finalizing your Oahu itinerary!
Start by discovering the best things to do in Oahu. We also have a detailed guide to Oahu's North Shore, a round-up of things to do on the east side of Oahu, and the best things to do in Ko Olina, on the west coast of the island.
Of course you'll want to learn about all the exciting things to do in Honolulu, Hawaii's capital, and Waikiki, the touristic core of Oahu.
We also have a guide to the best beaches in Oahu, and a round-up of the must-visit Oahu waterfalls.
Oahu is home to so many must-visit landmarks! Check out our in-depth article on how to visit Pearl Harbor, and our guides on the beautiful Waimea Valley in Oahu and the spectacular Byodo-In Temple.
Want to enjoy the thrill of observing sharks in the wild? Check out our article on shark cage diving on Oahu's North Shore!
Discover the top places to go snorkeling in west Oahu, where you will find a long coastline with lovely beaches, and tips for snorkeling Kaneohe Sandbar on the island's east coast.
And if you love marine life, also check out our complete guide to (respectfully!) see and swim with dolphins in Oahu, and the best spots to snorkel with turtles in Oahu.
For hikers and outdoor enthusiasts, we have a round-up of the best Oahu hikes, and if you are looking to exclude the harder Oahu trails, a guide to the best easy Oahu hikes.
Find out how to do the iconic (and VERY popular) Diamond Head Hike near Waikiki for exceptional views. We also have a guide to the very popular Manoa Falls Trail in Honolulu.
More advanced hikers will want to read up on the Koko Head Hike, a long set of stairs leading to expansive views.
Learn where to go for the best sunsets in Oahu, whether you want to hike or enjoy watching a colorful Hawaiian sunset without working up a sweat.
We also have a guide to the best sunrise hikes in Oahu, one of which is the spectacular Makapu'u Point Lighthouse Trail in the southeastern part of the island. The Lanikai Pillbox Hike is another wonderful sunrise hike on Oahu!
Did you find this article informative? Pin it for later!