The 6 Best Oahu Snorkeling Spots For 2024
Looking for a great snorkeling experience while visiting Oahu? We have the best Oahu snorkeling spots below, and you can pick the one that meets your needs.
First-time snorkeler or beginning swimmer? Head to protected, safe and shallow waters like the Ko Olina Lagoons or the Hanauma Bay Nature Preserve.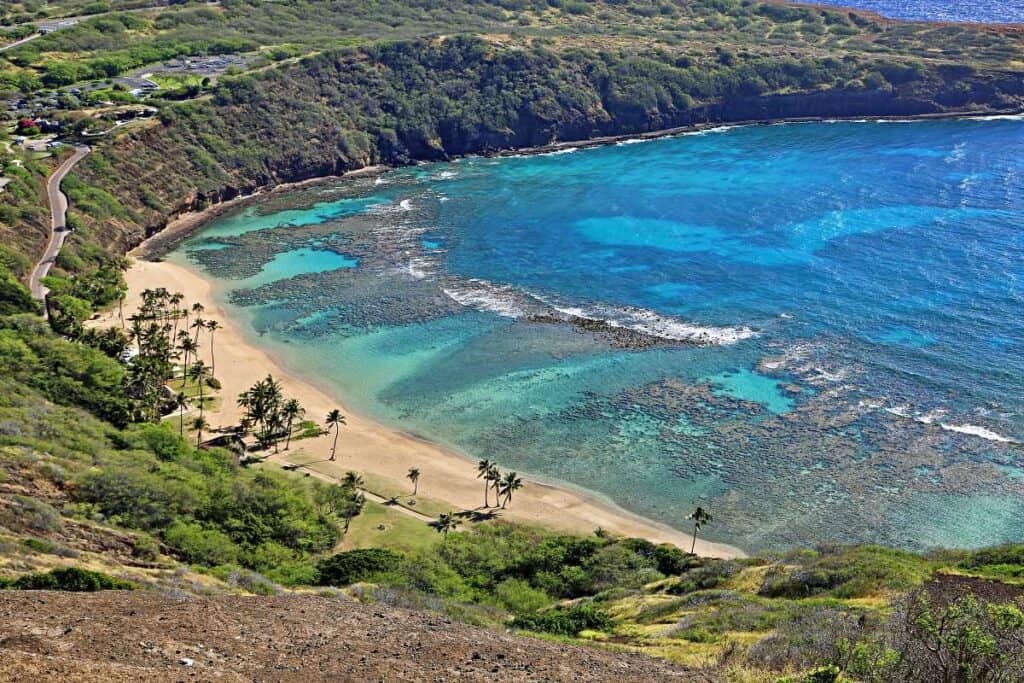 Strong swimmer and advanced snorkeler looking for exciting, rich marine life? Try the Electric Beach or Shark's Cove (ideally in summer though, to avoid the rough winter waves).
Snorkelers with different abilities in your group? Hanauma Bay Nature Preserve and Shark's Cove in summer are your two best Oahu snorkeling options.
Staying in Waikiki and don't want to venture far? Your best option is the Queen's Beach or the adjacent Sans Souci Beach, quieter Waikiki beaches with much better snorkeling!
Here's a list of the best Oahu snorkeling spots, culled from dozens of options, tailored for a visiting tourist with limited time, but looking for a great snorkeling experience.
Hey, by the way! Visiting Oahu and planning your bucket-list activities? Check out our in-depth guide to the best tours and excursions in Oahu worthy of the splurge!
Some links on this page may be affiliate links. If you click an affiliate link and make a purchase, we may receive a small commission, at no extra cost to you. For more details, refer to our disclosure.
The Best Oahu Snorkeling
1. Hanauma Bay Nature Preserve, Southeast Oahu
Undoubtedly one of the world's best snorkeling locations, Hanauma Bay Nature Preserve, on the southeast shore of Oahu, has extensive coral reefs, but is a bit tricky to visit with reservations, limited parking and crowds.
My recommendation: book a tour (as early as you can) and let them take care of all the hassle.
Hanauma Bay Nature Preserve is one of my favorite Oahu snorkeling locations simply because the marine life here is abundant and amazing, and is one of the best Oahu snorkeling places for families, kids and beginners, with excellent facilities.
Hanauma Bay is one of the best places to visit in Hawaii!
2. Electric Beach, West Oahu (aka Kahe Point Beach Park)
For the adventure tourist, snorkeling at Electric Beach is probably the most rewarding, in terms of the rich variety of tropical fish you'll see.
Electric Beach is on the west coast of Oahu, which offers some of the best snorkeling year-round, since it is on the protected leeward side.
But snorkeling here is definitely for the advanced swimmer, and I recommend swim fins, since you need to swim about 200 feet along underwater pipes to their outlet, where the warm waters from the electric plant attracts all kinds of marine life.
>> Book an exciting, 5-star rated, highly popular, Oahu tour now!
3. Ko Olina Lagoons, West Oahu
If you can't handle the reservations for snorkeling at Hanauma Bay, snorkeling at Ko Olina Lagoons is an excellent alternative for families, kids and beginners.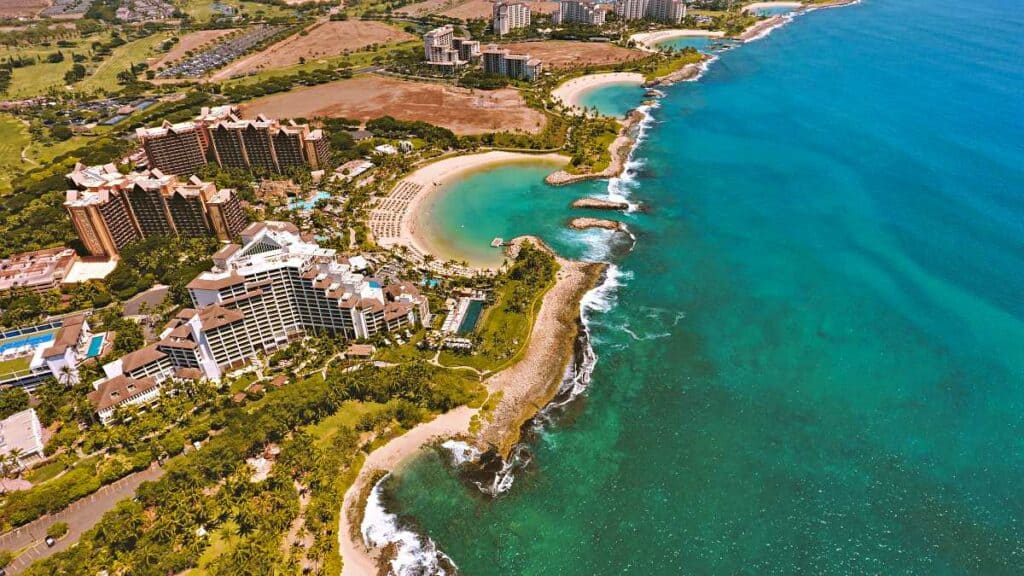 Sheltered, man-made, large lagoons with family-friendly facilities and ritzy resorts, the Ko Olina Lagoons offer year-round snorkeling and lots of handy food options for hungry kids afterwards!
Snorkeling at the lagoons is one of the best things to do in Ko Olina!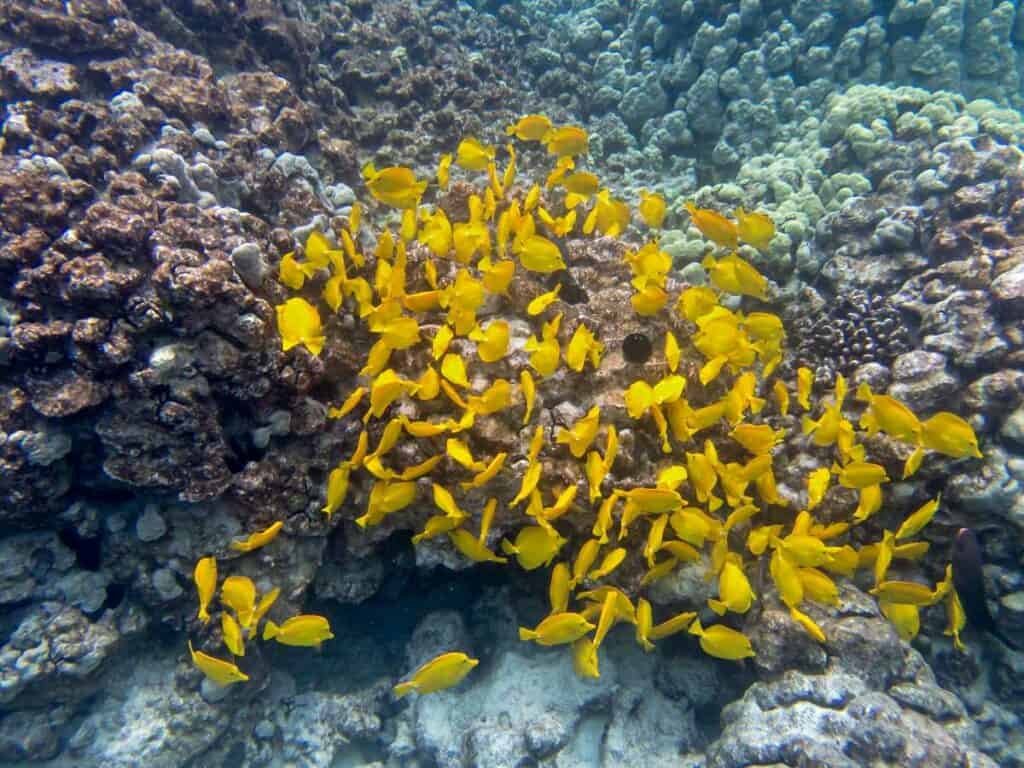 4. Shark's Cove, North Shore of Oahu
On the quieter, more secluded, North Shore of Oahu, Shark's Cove near Pupukea Beach Park is one of the best Oahu snorkeling locations in summer, with rich marine life due to its location within the Pupukea Marine Life Conservation district.
Shark's Cove is named after its resemblance to a shark's head when viewed aerially, so don't be discouraged from entering the water!
The nearby Three Tables, table-like underwater coral structures, is also an excellent snorkeling location.
>> Book an exciting, 5-star rated, highly popular, Oahu tour now!
5. Kuilima Cove, North Shore of Oahu
Right next to the upscale Turtle Bay Resort, Kuilima Cove, also on the north shore of Oahu, offers sheltered, shallow waters with plenty of marine life.
Kuilima Cove is an excellent beach to spot the Hawaiian green sea turtles while snorkeling or even on the beach itself since they often come to sunbathe and rest here.
Snorkel within the cove, and steer clear of high surf and rough waves in winter.
>> Book an exciting, 5-star rated, highly popular, Oahu tour now!
6. Queen's Beach, Waikiki
If you're staying in Waikiki and tethered there, Queen's Beach on Waikiki offers good snorkeling since its part of a restricted Marine Life Conservation District.
You can explore the reefs along the beach walls, which are usually teeming with colorful tropical fish.
Apart from great facilities, a lifeguard is usually on duty here, so the Queen's Beach is one of the best Oahu snorkeling beaches for families with kids.
Book a Guided Oahu Hiking Adventure!
Excited about hiking in Oahu but haven't hiked in Hawaii before? This guided hiking adventure is a great way to get started.
It's customizable to your interests and abilities and a local guide that's familiar with the terrain will accompany you. Plus, round-trip transport is included.
You can pick two short hikes or a longer hike, and your guide can suggest specific hikes if you don't know which ones you want to try.
>> Check pricing and availability on this customizable Oahu hiking adventure now!
Best Oahu Tours
Have you booked these popular Oahu tours and excursions yet?
Love snorkeling? This Turtle Canyon snorkeling excursion from Waikiki lets you frolic with colorful fish and Hawaiian green sea turtles. Hands down the MOST BOOKED Oahu snorkeling tour: turtle sightings are guaranteed!
The most popular luau in Oahu, Paradise Cove Luau has a 4.5 rating on Viator with over 3.5K reviews. The tour includes pick-up from your Waikiki hotel, pre-dinner games, arts, and crafts, a delicious meal, and an award-winning show.
Based in Waikiki but want to see more of the island? This full-day Oahu Circle Island Tour includes Diamond Head, Hanauma Bay, Haleiwa, the Dole Plantation, and more!
Pay your respects at the USS Arizona Memorial at Pearl Harbor! This popular Pearl Harbor tour includes boat tickets and round-trip transport from Waikiki.
A super popular Oahu North Shore excursion, this Oahu shark cage dive allows you to observe wild sharks in the open ocean from the safety of a cage! It's a THRILLING Oahu advennture for your bucket list.
We have a detailed guide to the top Oahu tours and excursions if you are in the midst of planning your itinerary for the island.
Renting a Car in Oahu
If you want to explore more of the island of Oahu on your vacation, you should get a rental car.
Oahu's popular attractions are spread over the island: the windward coast, the North Shore, and Ko Olina are great places to explore beyond Waikiki (or the greater Honolulu area).
While Oahu does have public transport options that are better than the other islands, a car offers a lot more flexibility and time savings.
We always use Discover Cars to book Oahu car rentals. They search across a variety of rental car companies, both budget and brand, to offer you the best deals, AND they offer free cancellations. Plus, there are no hidden fees.
>> Check availability and prices on Oahu car rentals now!
Honolulu Airport-Hotel Shuttle
If you are not planning to get a rental car at Honolulu Airport, consider booking shuttle transport in advance!
This shared shuttle can be canceled up to 24 hours from the date of service. It serves hotels in Waikiki and Honolulu and then back again to the airport the day you leave. It's convenient and inexpensive, and saves time and hassle!
>> Check prices and availability for shared round-trip airport transfer in Oahu now!
Staying in Ko Olina? Consider this round-trip airport transfer instead!
Where to Stay in Oahu
Honolulu (Waikiki in particular) offers a large number of hotels and resorts, along with shopping and dining options. Most visitors to Oahu choose to base in Honolulu at least for a part of their stay.
While many of the large chains have a presence if you are looking to use your memberships, Honolulu also has several unique boutiques to consider.
Our faves include Halekulani for a splurge stay, the Lotus Honolulu for views of Diamond Head, and The Laylow for its awesome location.
Want more room to spread out or looking to stay elsewhere on Oahu? You will find VRBO listings all over the island!
On previous trips to Oahu, we have stayed in VRBO rentals in Waikiki as well as on the North Shore and the east coast and we've found the choice and quality great.
>> Look for an Oahu vacation rental on VRBO now!
More Oahu Travel Inspiration
Planning a trip to Oahu? Check out our other in-depth Oahu travel guides for help finalizing your Oahu itinerary!
Start by discovering the best things to do in Oahu. We also have a detailed guide to Oahu's North Shore, a round-up of things to do on the east side of Oahu, and the best things to do in Ko Olina, on the west coast of the island.
Of course you'll want to learn about all the exciting things to do in Honolulu, Hawaii's capital, and Waikiki, the touristic core of Oahu.
We also have a guide to the best beaches in Oahu, and a round-up of the must-visit Oahu waterfalls.
Oahu is home to so many must-visit landmarks! Check out our in-depth article on how to visit Pearl Harbor, and our guides on the beautiful Waimea Valley in Oahu and the spectacular Byodo-In Temple.
Want to enjoy the thrill of observing sharks in the wild? Check out our article on shark cage diving on Oahu's North Shore!
Discover the top places to go snorkeling in west Oahu, where you will find a long coastline with lovely beaches, and tips for snorkeling Kaneohe Sandbar on the island's east coast.
And if you love marine life, also check out our complete guide to (respectfully!) see and swim with dolphins in Oahu, and the best spots to snorkel with turtles in Oahu.
For hikers and outdoor enthusiasts, we have a round-up of the best Oahu hikes, and if you are looking to exclude the harder Oahu trails, a guide to the best easy Oahu hikes.
Find out how to do the iconic (and VERY popular) Diamond Head Hike near Waikiki for exceptional views. We also have a guide to the very popular Manoa Falls Trail in Honolulu.
More advanced hikers will want to read up on the Koko Head Hike, a long set of stairs leading to expansive views.
Learn where to go for the best sunsets in Oahu, whether you want to hike or enjoy watching a colorful Hawaiian sunset without working up a sweat.
We also have a guide to the best sunrise hikes in Oahu, one of which is the spectacular Makapu'u Point Lighthouse Trail in the southeastern part of the island. The Lanikai Pillbox Hike is another wonderful sunrise hike on Oahu!
Did you find this article informative? Pin it on Pinterest for later!