25 Best Things To Do In Honolulu, HI: 2023 Guide
Surprised when you peek out of the plane window and see the downtown Honolulu skyscraper skyline for the first time? Roughly 60% of the population of Hawaii lives in the Honolulu metro area!
No wonder there are so many things to do in Honolulu! With limited vacation time, you need to be selective, pick the best things to do, the best things to see.
First time visitor to Hawaii? Hit the stunning beaches in Waikiki and snorkel Hanauma Bay to view the amazing underwater marine life!
Honeymooning in Hawaii? Take a romantic sunset cruise or splurge on romantic beachfront fine dining!
Traveling foodie? Take a walking food tour through Honolulu's Chinatown and sample local Hawaiian delicacies carefully selected by a native guide!
Thrill seekers looking for adventure? Try the underwater scooter submarines or extreme parasailing!
Whether you are a history World War II buff, want to learn about Polynesian culture, or just relax and enjoy a fun vacation, Honolulu has something for you!
You want to leave Hawaii content that you have checked off your Oahu bucket list items, had once-in-a-lifetime experiences!
Having visited Honolulu, Oahu and Hawaii multiple times through the years, we know what you should not miss!
Scroll through our curated list of the best things to do in Honolulu, find the ones that resonate with you, and enjoy!
Hey, by the way! Visiting Oahu and planning your bucket-list activities? Check out our in-depth guide to the best tours and excursions in Oahu worthy of the splurge!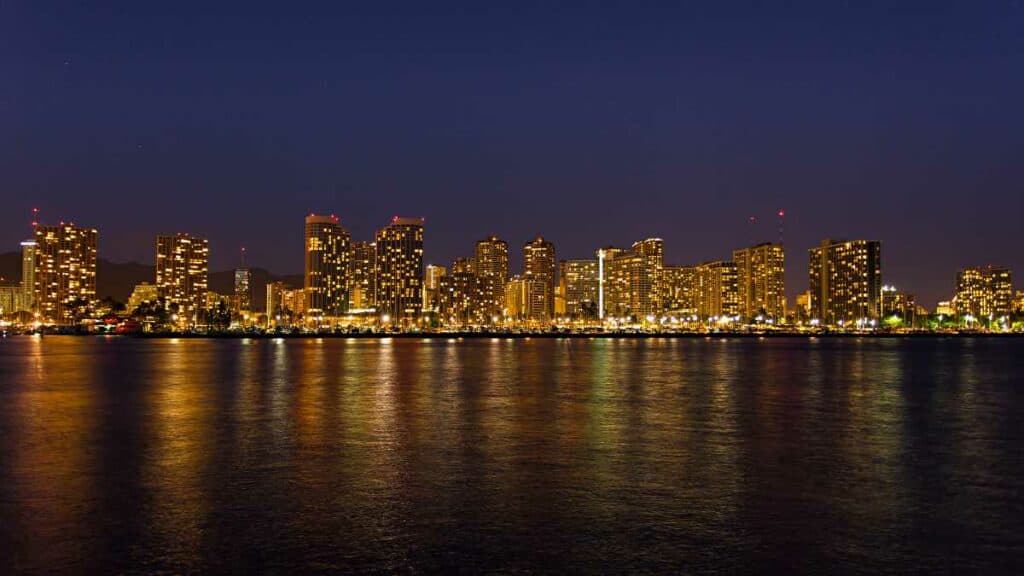 Some links on this page may be affiliate links. If you click an affiliate link and make a purchase, we may receive a small commission, at no extra cost to you. For more details, refer to our disclosure.
Things to Do in Honolulu, HI
1. Enjoy Gorgeous Waikiki Beach
Just landed in Honolulu? Starting your vacation with Waikiki Beach may be your best bet! In Hawaii, where else will you start but on a gorgeous beach with golden sand and beautiful turquoise ocean waters?
Waikiki Beach is a popular, roughly 3-mile long, narrow strip of beach that extends from the Duke Kahanamoku Beach on the westernmost end to Queen's Beach and Sans Souci Beach on the eastern end.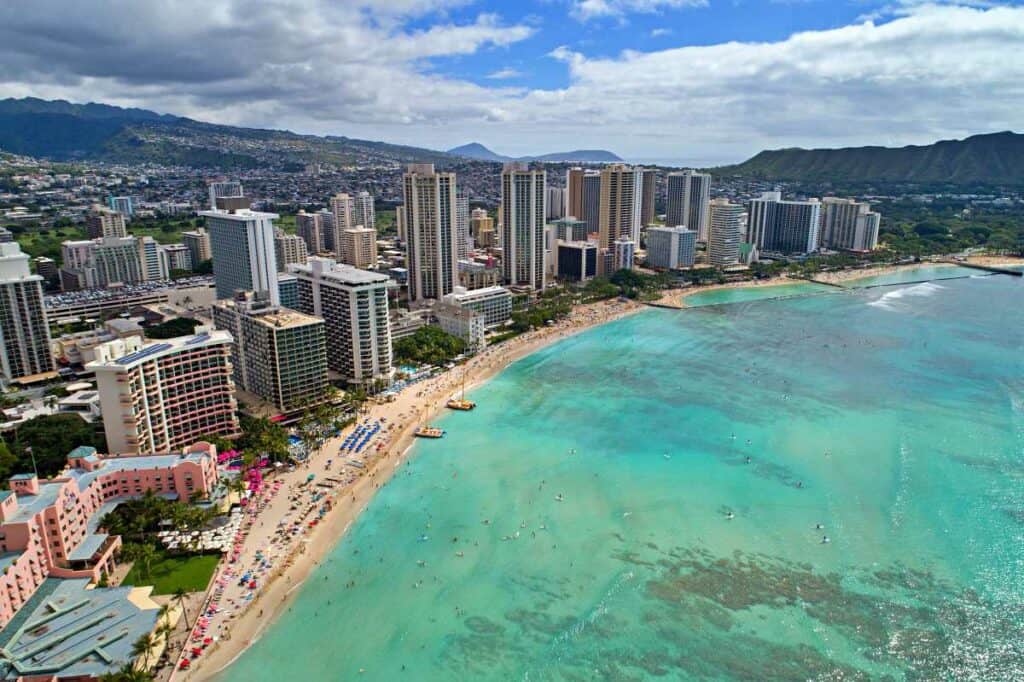 In between, you will find various different stretches of the beach (called by different names), and a whole slew of ritzy resorts bordering the beach or on the other side of Kalakaua Avenue (the main artery running parallel to the coastline).
Waikiki Beach is a water-lover's paradise!
Like ocean sports? You can parasail, jet ski, surf, canoe, standup paddleboard, and even, perform yoga on a board floating in the ocean!
Don't like to get wet? You can stroll along the beach taking in the action on the ocean waters, watch spectacular sunsets, sunbathe and relax, and even watch fireworks!
Every Friday, around 7:45 pm, the Hilton Hawaiian Village Resort hosts a 10-minute fireworks show that lights up the night sky of Waikiki and Honolulu.
Seeking a thrill? Our teenage kids raved about these three adventures in particular: extreme parasailing, underwater submarine scooters, and learning to scuba dive.
Want something more relaxed, but on the waters? Our parents loved the glass-bottomed afternoon boat tour, the sunset cocktail cruise, and watching the Friday night fireworks from a catamaran cruise.
Must-do activities on Waikiki Beach: take a selfie with the statue of Duke Kahanamaku, three time Olympic gold medal winner and the father of surfing, watch a free hula show on Kuhio Beach, and sample the food and drinks at the numerous classy beachfront restaurants!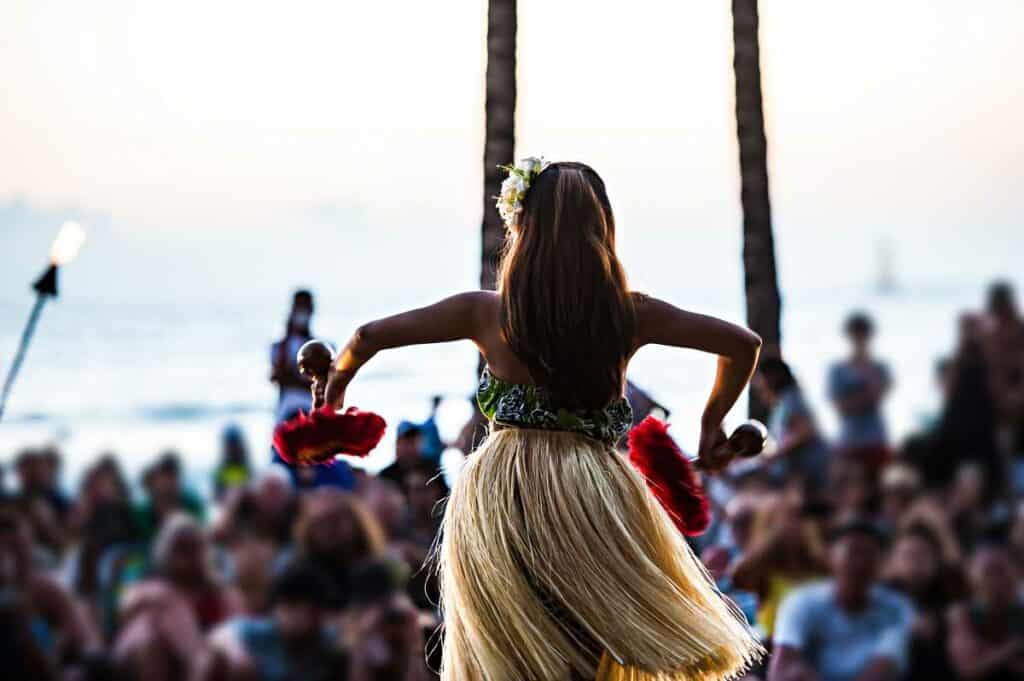 Waikiki Beach is a microcosm of all that the Aloha state has to offer, and check our blog for details on the best things to do in Waikiki!
2. Admire Iolani Palace, Residence of Hawaiian Monarchy
Address: 364 South King Street, Honolulu, HI 96813
Hours: 9:00 am to 4:00 pm, Tuesday – Saturday
Cost: $26.95 / adult (18+), $21.95 teen (13-17), $11.95 / child (5-12) (self-guided tour)
A royal palace in America? Yes, in fact, the only royal palace in all of America is in Honolulu.
Iolani Palace was built in 1882 by King Kalakaua, and was a lavish and elegant residence for the royalty of Hawaii. Queen Liliuokalani, his successor, was overthrown by American businessmen while in residence.
Today, Iolani Palace is a restored museum open to the public, showcasing the Hawaiian royalty, how they lived, their rooms with original furniture and artwork, and their personal possessions.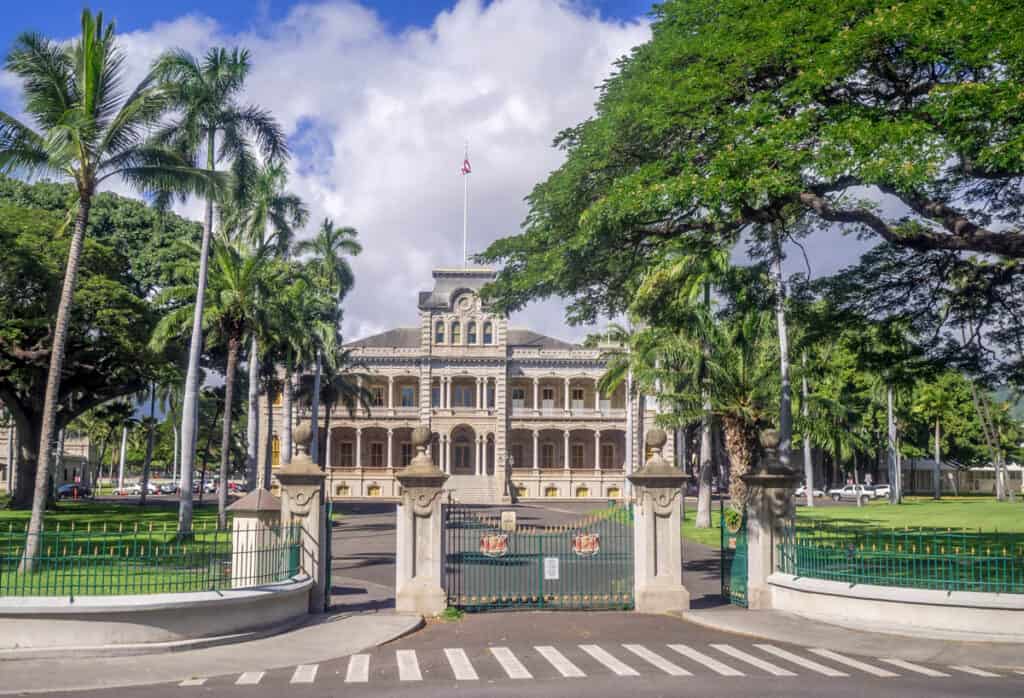 You must make a reservation for a tour and they have many options, but the two popular ones are guided tour with a palace docent (offered on Wednesday and Thursday) or a self-guided tour.
We took the self-guided tour and that allowed us to explore the palace at our own pace. The audio recordings were excellent and we learned a lot about the Hawaiian history and their monarchy.
>> Book an exciting, 5-star rated, highly popular, Oahu tour now!
3. Dine Finely at Romantic Gourmet Restaurants
Wondering if you'll miss the fine dining that you were accustomed to? Think again!
In recent years, Honolulu's fine dining restaurant scene has perked up, mostly to cater to a new generation of discriminating travel foodies!
As of now, Michelin doesn't cover Hawaii, but that doesn't mean there aren't restaurants, especially in Honolulu, that aren't worthy!
If you need some kind of validation before making a reservation, La Mer is a AAA Five Diamond and Forbes 5 star restaurant. La Mer, a part of the Halekulani Hotel, offers Hawaiian-inspired French cuisine
Honeymooning couple? Taking your loved one to La Mer for an oceanfront dinner is one of the most romantic things to do in Honolulu for couples!
Can't get a reservation at La Mer, one of the most sought after restaurants in Honolulu? Try House Without a Key or Orchids, two other beachfront restaurants within the same Halekulani Hotel.
Other romantic fine-dining options are Michel's at the Colony Surf, Hoku's Kahala, and 53 By The Sea!
4. Appreciate History at the Bishop Museum
Address: 1525 BERNICE STREET, HONOLULU, HAWAI'I 96817
Hours: 9:00 am to 5:00 pm, daily (admission closes at 4:00 pm)
Cost: $28.95 / adult (18-65), $25.95 senior (65+), $20.95 / youth (4-17)
Raining and want to do something indoors? Bishop Museum may fit the bill!
Named in honor of Princess Bernice Pauahi Bishop, the last descendant of the Hawaiian royal Kamehameha family, the Bishop museum is filled with Hawaiian and Pacific Polynesian historical artifacts.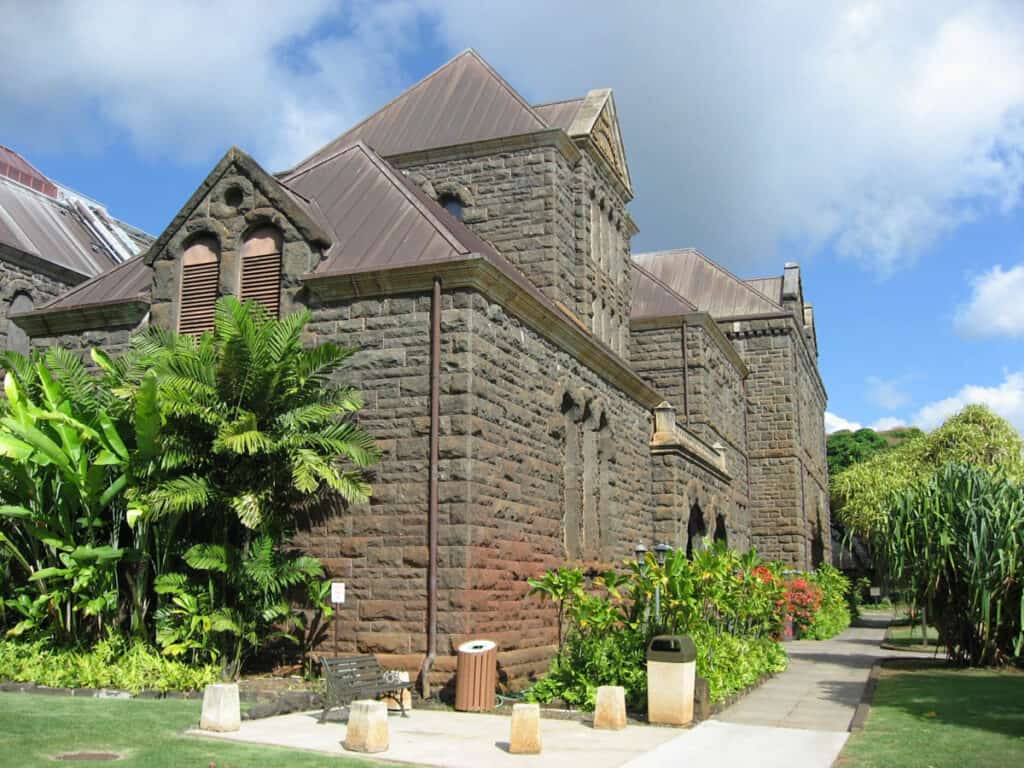 The Bishop museum's natural history section has one of the largest collections in the world.
With so many fun, interactive exhibits, our kids had as much fun as we did!
Their favorite was the hot lava melt demonstration, which gave them an idea of how the Hawaiian islands were formed.
While the Bishop Museum has multiple signature galleries and special exhibitions, we spent the bulk of our time on the Hawaiian Hall and the Pacific Hall.
The Hawaiian Hall is about Hawaiian culture and history, their gods and legends, and how they lived and worked.
The Pacific Hall is broader and covers the Polynesian people, their migrations, their culture and the connections between remote islands.
The model canoes were fascinating, and the kids couldn't believe people traveled thousands of miles to Hawaii with such basic canoes.
Visiting the Bishop Museum is one of the best things to do in Honolulu for families with kids, especially on rainy days!
>> Book an exciting, 5-star rated, highly popular, Oahu tour now!
5. Pay Your Respects at the Pearl Harbor National Memorial
December 7th, 1941, a day that will live in infamy – the day that Japan attacked Pearl Harbor, a US naval base.
The surprise attack killed 2403 US soldiers and civilians, and destroyed or damaged 19 navy ships, including 8 battleships.
The Pearl Harbor National Memorial was built in remembrance, and is consistently one of the top three most visited tourist attractions in the state of Hawaii, and rightfully so!
Three of the memorials, USS Arizona Memorial, USS Oklahoma Memorial and the USS Utah Memorial, are for the US battleships that were sunk or capsized that day.
You must visit the USS Arizona Memorial, a striking white structure over the sunken hull of the battleship, and a stark reminder of the 1177 sailors and Marines that died with the battleship.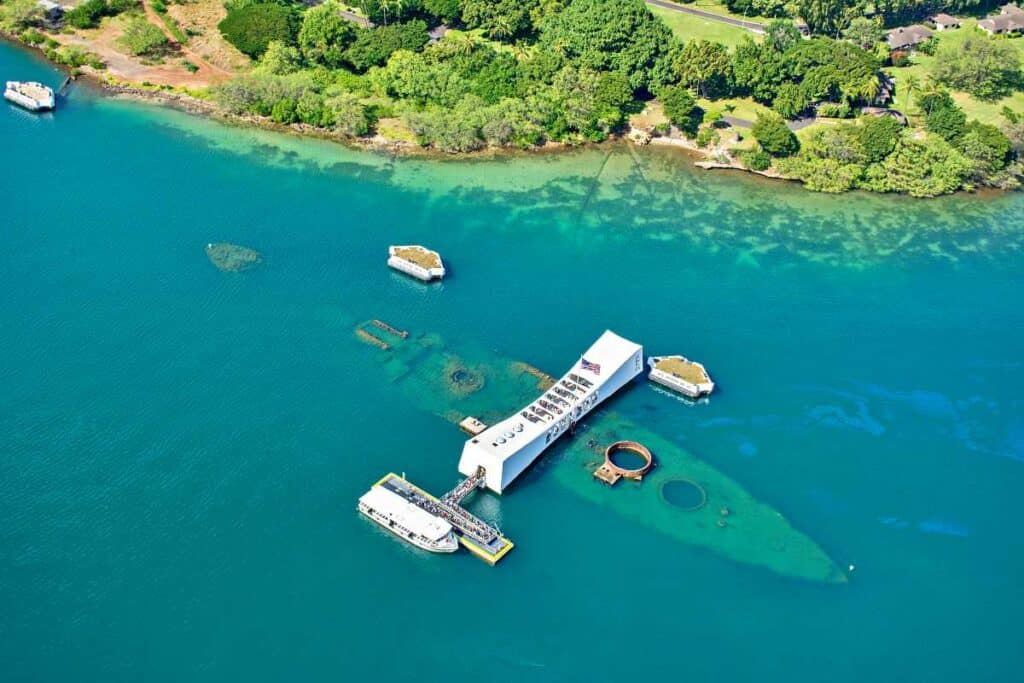 Each name of our fallen heroes is engraved on a marble wall. You can also see the "tears of the Arizona," a reference to oil droplets that continue to leak from the battleship.
Why was the US involved in the war? The national memorial visitor center has museums and exhibits that vividly depict the political stage before the attack, the actual attack and what happened on that day, and how history was forever changed after the attack.
While many in our group were of a generation post World War II, everyone was deeply moved by the memorial.
Visiting the Pearl Harbor National Memorial and remembering our brave soldiers and civilians is one of the best things to do in Honolulu!
To see the USS Oklahoma and the USS Utah Memorials, which are on Ford Island, an active duty military base, you will need to make reservations for the Ford Island Bus Tour.
If you plan to visit many of Pearl Harbor's historic sites, consider a Passport to Pearl Harbor, which includes the Pacific Fleet Submarine Museum and Park (adjacent to the Pearl Harbor National Memorial), where you can see USS Bowfin, a World War II submarine.
Feeling overwhelmed planning the Pearl Harbor National Memorial visit? These three highly rated, popular tours take out a lot of the hassle, and cover the highlights in half a day:
6. Snorkel Coral Reefs at Hanauma Bay
Address: 7455 Kalanianaole Hwy, Honolulu, Hawaii
Hours: 6:45 am to 4:00 pm (last entry 1:30 pm), Wednesdays – Sundays
Cost: $25 / adult, kids 12 and under free
Parking: $3 / vehicle, very limited, first-come first-served
Reservations: Preferred, limited walk-ins at opening
Haven't explored the amazing underwater world of coral reefs yet? Check out Hanauma Bay Nature Preserve, a marine sanctuary and one of the most popular snorkeling destinations in the world!
Snorkeling is one of the best fun things to do in Honolulu, and where better than Hanauma Bay with its beautiful, horseshoe-shaped bay, rich marine sanctuary tropical fish and crystal clear, calm waters that give you excellent underwater visibility?
In fact, while the kids are snorkeling, if you can hike the Hanauma Bay Ridge trail, you will see from a distance the entire coral reef structure beneath the calm clear waters!
If you are vacationing with family and kids, you will love Hanauma Bay because it has many facilities: visitor center, education center, snack bar and a gift shop at the upper parking lot level, and showers, restrooms, lockers, lifeguards and a picnic area at the lower beach level.
You can bring your own snorkeling gear or rent it at Hanauma Bay (snorkel gear and life vests only).
The inner reef of the bay is more for beginners and smaller kids with shallow waters and gentle waves, the outer reef is further offshore and appropriate for experienced snorkelers.
I love snorkeling at Hanauma Bay because you see all kinds of colorful, exotic, tropical fish in prolific numbers: tangs, butterfly fishes, parrot fishes, wrasses, trigger fishes, and even green sea turtles.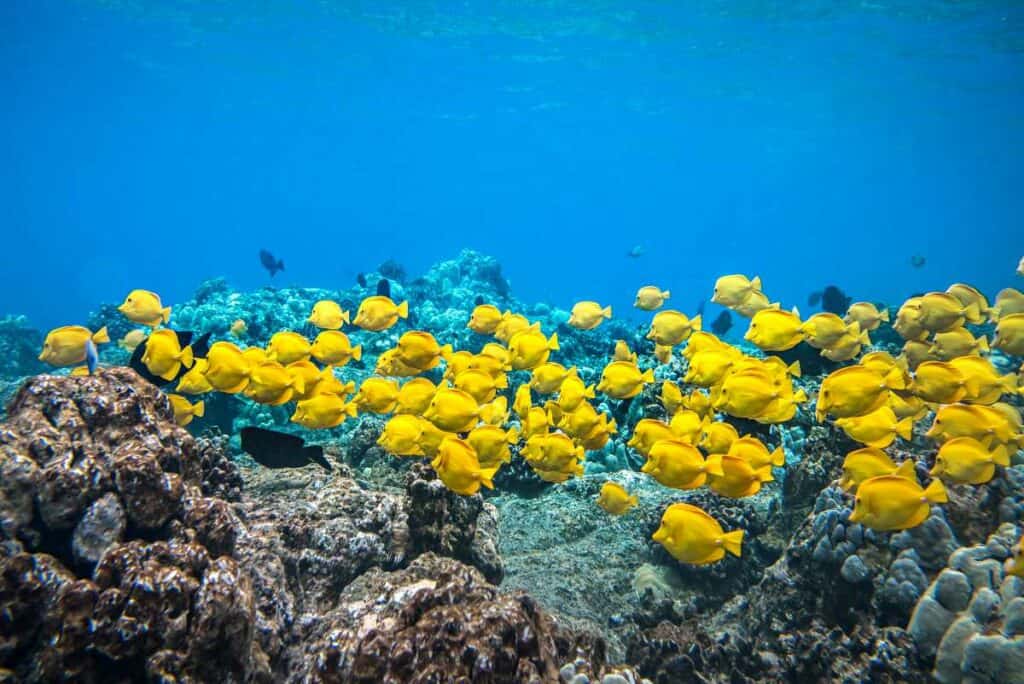 With the recently implemented reservation system, the crowds are much better controlled, and you have ample space to take your family out to the waters.
The reservation is primarily for visitors to watch a mandatory 9-minute orientation video, which is very useful in the marine sanctuary conservation efforts and tells you to be careful with the coral reef structure (a delicate living organism) and the marine life around it.
However, parking is still a hassle, and nowadays I prefer taking a tour or a shuttle instead of driving.
>> Check pricing and availability of this highly popular, well-rated Hanauma Bay Snorkeling tour!
7. Hike Diamond Head Crater Trail to Summit
Address: Diamond Head State Monument, Kapahulu, Honolulu, HI 96815
Hours: 6:00 am to 6:00 pm (last entry 4:00 pm), daily
Cost: $5 / person, kids 3 and under free
Parking: $10 / vehicle
Reservations: Required
Climbing an extinct volcano crater head on your Oahu bucket list? Hiking the Diamond Head Crater Trail to the summit is one of the best things to do in Honolulu for you!
The Diamond Head Crater Hike is a family-friendly (older kids, not toddlers), relatively easy hike with a hugely rewarding, panoramic views of the surrounding Oahu landscape.
Not in top condition? While you are mostly climbing, you can easily manage with breaks to take in the beautiful views as you climb up.
Take your camera with you, since from the top of the crater, you can get some amazing photos of Waikiki, the Honolulu skyline, and the Pacific Ocean.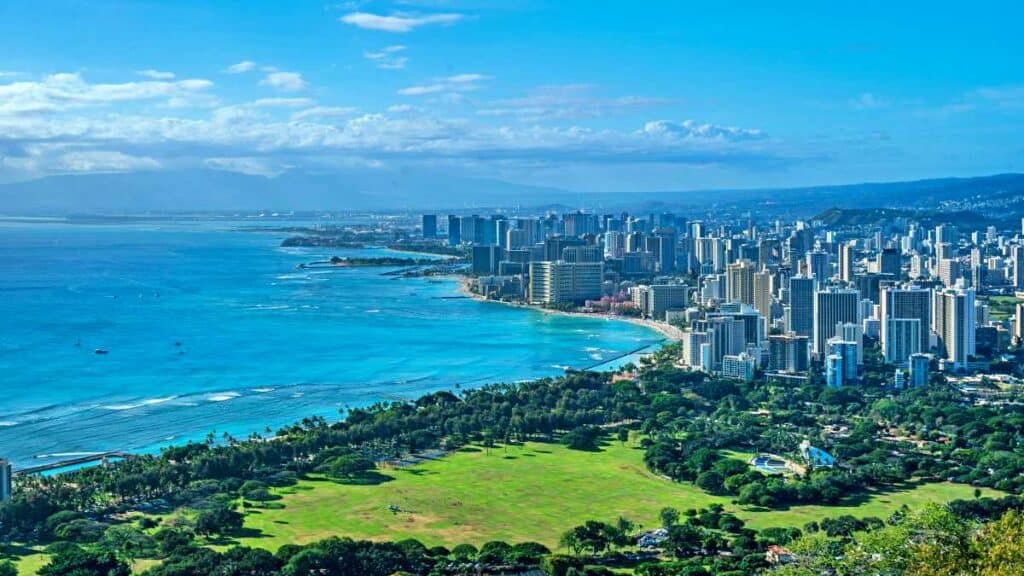 Don't like crowded trails? Beat the crowds by hiking this early, for the sunrise, if you can: this hike is one of the best sunrise hikes in Oahu!
Don't want to drive or find parking? Check out this shuttle service that will get you to the trailhead bright and early for your sunrise hike!
Here are the best tips for hiking the Diamond Head Summit Trail!
8. Heal with Shopping Therapy
Love shopping as a form of retail therapy when stressed? You will like Honolulu, home to the world's largest open-air shopping mall, Ala Moana Center!
With 350+ stores and restaurants, Ala Moana Center includes brand names like Nordstrom, Apple, Gucci, Chanel and many others!
If you're there at 5pm, check out their daily free Hula show at Centerstage!
If you're looking to window shop upscale brands, try the Royal Hawaiian Center in Waikiki that carries brand names like Ferragamo, Kate Spade, Jimmy Choo and Hermes.
Your kids will love the free cultural events and live entertainment held at the Royal Grove. Our kids made leis, took hula lessons and tried the ukulele!
You'll also find many popular brands strolling along Kalakaua Avenue and Kuhio Avenue in Waikiki
For a different kind of shopping, try Chinatown. They have boutiques and stores that offer trendy and chic clothing, jewelry and accessories from local artists and designers.
To pick uniquely Hawaiian gifts and souvenirs, we usually head to Chinatown.
>> Book an exciting, 5-star rated, highly popular, Oahu tour now!
9. Take the Kids to the Honolulu Zoo
Address: 151 Kapahulu Avenue, Honolulu, Hawaii 96815
Hours: 10:00 am – 03:00 pm, daily
Cost: $21 / adult, $13 / child (3-12)
Ever seen a living, breathing komodo dragon? Oddly enough, you can see one in Honolulu, the Honolulu Zoo, to be precise.
If you're struggling to entertain younger kids on your vacation, check out the Honolulu Zoo, home to 1200+ animals from three main zones: the African Savanna (plains), the Asian and American Tropical Forests, and the Pacific Islands.
Right as we walked in, we were greeted by a flock of very pretty, pink African flamingos, an amazing Instagram photo opportunity.
Our kids loved the experience! They could pet and feed goats, sheep and ponies in the Keiki section of the zoo (children's zoo).
They were fascinated by the Komodo dragons, largest living lizards in the world. We learned they kill their prey not with their bite, but with the poison in the bite's saliva!
The only zoo in the US to be established through a land grant by a king (King Kalakaua), Honolulu Zoo is a part of the Queen Kapiolani Park, located at the eastern end of Waikiki Beach.
10. Taste Hawaiian Local Eateries
Tired of fine dining and expensive beachfront restaurants? Why not go to the places locals frequent to get an authentic taste of Hawaii?
We didn't dare do this on our own, having had multiple hit-and-miss experiences. On our last trip, we did venture on a food tour, based on strong recommendations from friends who had taken the tour.
It was a remarkable culinary experience, and right up your alley if you are a foodie and love experimenting with different flavors and cuisines!
Hawaii Food Tour – Off The Beaten Path is a small group, 3-hour walking food tour that takes you through fresh markets, fruit vendors, exotic eateries, and modern-day fusion restaurants with a local guide.
Victor, our local guide, was very knowledgeable, both about the food dishes and Hawaiian culinary heritage overall, and took us through downtown Honolulu and Chinatown.
We tried everything that was offered, even from street vendors (reliable ones). Our basic motto was eat first, then ask what it was later (no spoilers)!
This food tour is one of the best fun things to do in Honolulu, and if you are an adventurous foodie, this is a must-do activity!
>> Check pricing and availability on this 5-star rated, popular Hawaii Food Tour – Off The Beaten Path!
11. Visit Foster Botanical Garden
Address: 180 N Vineyard Blvd, Honolulu, HI 96817
Hours: 9:00 am to 4:00 pm, daily
Cost: $5 / person, $1 / children (6-12), kids 5 and under free
A 13.5 acre garden in the middle of Honolulu Downtown? Yes, a few blocks from Chinatown is Foster Botanical Garden, one of the oldest botanical gardens on Oahu.
While the garden is large, there are some sections definitely worth spending time on.
The kids favorite was easily the Butterfly Garden, and they loved the stunning, colorful butterflies flitting around!
The Prehistoric Glen section features cycads, ancient plants dating to the Jurassic period, when dinosaurs roamed the earth. Imagine that!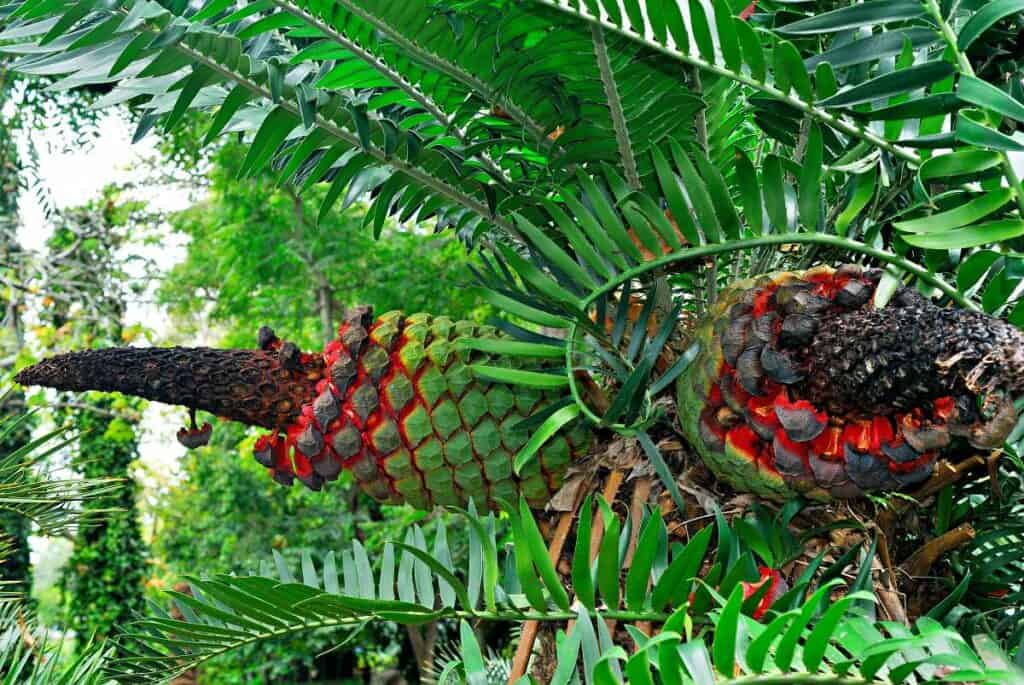 An Exceptional Trees section has some odd trees like a cannonball tree that produces large round fruits that explode when ripe and a baobab tree that can store water in its trunk.
If you have some time while in downtown Honolulu, take a detour through Foster Botanical Garden. Very reasonably priced, and well worth a couple of hours!
12. Appreciate Artwork at the Honolulu Museum of Art
Address: 900 South Beretania Street, Honolulu, Hawaii 96814
Hours: 10:00 am to 6:00 pm (9:00 pm Friday, Saturday), Wednesdays – Sundays
Cost: $20 / person, kids 18 and under free
Parking: $5 (5 hours), behind the Honolulu Museum of Art School, 1111 Victoria St
Want to appreciate art? Really, while vacationing in Hawaii?
Hawaii does have many rainy days, and visiting the Honolulu Museum of Art may be one of the best things to do in Honolulu when the weather is inclement!
For art lovers, the Honolulu Museum of Art offers paintings from van Gogh, Monet, Picasso and O'Keefe, and sculptures by Rodin, Moore and Noguchi.
What about local Hawaiian and Polynesian art? The museum has galleries on art from the Pacific Islands (Hawaii, Polynesia, Micronesia and Melanesia).
Apart from galleries, the museum offers themed exhibitions, with recent themes like Hawaiian Modern: The Architecture of Vladimir Ossipoff and Artists of Hawai'i Now!
The museum is quite large, we took the docent-led Highlights Tour (offered on Wednesdays, Fridays, and Sundays at 11:00, free with the admission fee).
The guide was very knowledgeable, and we got a much deeper appreciation of the displayed art than we would have on our own. I highly recommend taking one of their tours!
13. Hike Through a Tropical Rainforest to Manoa Falls
Yearning to bond with nature? After all, you are in Hawaii!
A hike to Manoa Falls is just what you need. The Manoa Falls Trail takes you through a lush, tropical rainforest and a dense bamboo forest to a stunning 150-foot waterfall!
The hike is easy and family-friendly, on a mostly flat and well-maintained trail (though muddy after rains).
The round trip took us a couple of hours (1.6 miles round trip distance), but we stopped often to take photos.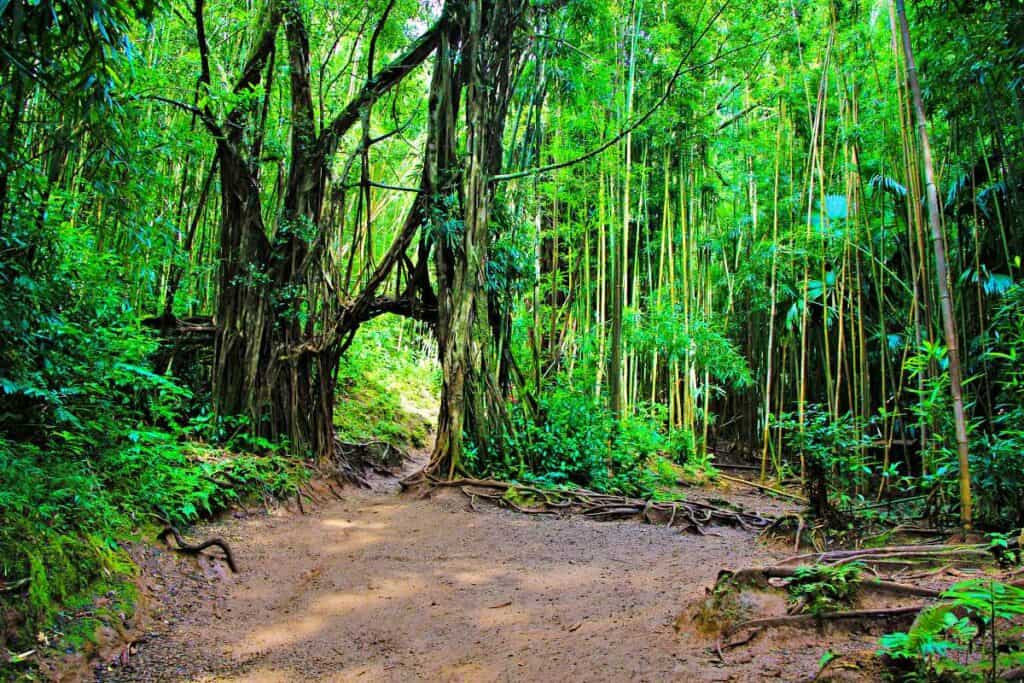 A fan of the Jurassic Park movie series? The waterfall and tropical rainforest are so picturesque, they have provided settings for scenes from Jurassic Park, and many other movies and TV shows.
Check our detailed guide on Manoa Falls for tips on how to plan your hike!
If you don't want to drive or if you just want a guided experience to learn more, these are some highly rated, popular options:
14. Swim with Dolphins at Dolphin Quest Oahu
Address: The Kahala Hotel & Resort, 5000 Kahala Ave, Honolulu, HI 96816
Hours: 8:30 am to 5:00 pm, daily
Cost: Various programs
Swimming with dolphins on your Oahu bucket list? If you don't want to swim in the open ocean with wild dolphins, Dolphin Quest Oahu is your best option!
Dolphin Quest Oahu is part of the Kahala Hotel & Resort, one of the best luxury resorts on the island of Oahu where presidents, film stars and royalty stay.
Dolphin Quest Oahu offers a wide range of programs for different age groups and for different levels of interaction with their dolphins. Group sizes are typically limited to 6 maximum, and time duration is usually 25 minutes with the dolphins.
The dolphins are friendly and playful, housed in a natural lagoon. They are very entertaining, with all kinds of tricks they have learned from their trainers.
They also have a family option, where parents can join the kids in their interactions with the dolphins.
We opted for the basic dolphin encounter program, their most popular option.
We were pleasantly surprised at what we could do in this basic dolphin encounter – swim with the dolphins, hug them, feed them, and play with them.
Our kids rated this their best experience on the vacation!
Of course, if you want the experience of swimming with wild dolphins, check out our tips and recommendations!
These are highly popular, well-ranked tours for dolphin encounters in the open ocean:
15. Relax with the Family at Ala Moana Beach Park
Address: 1201 Ala Moana Blvd, Honolulu, HI 96814
Hours: 04:00 am to 10:00 pm, daily
Cost: Free public park
Waikiki Beach too crowded for you? Ala Moana Beach Park, a free public park, between Waikiki and downtown Honolulu, covers over 100 acres of land with a wide golden beach over a half-mile long.
Magic Island, a man-made peninsula, is a small lagoon that extends off the beach, a perfect place for families with kids to play and swim.
When we were visiting Honolulu with kids, we would prefer Ala Moana Beach Park over Waikiki Beach.
With a protected shallow reef offshore, Ala Moana Beach is one of the best places in Honolulu to swim, snorkel, or paddle board. The clear, calm waters and the coral reefs in shallow waters are great for smaller kids and beginning snorkelers.
The beach has lifeguards, showers and restrooms.
Can you stay late on Friday evenings? Magic Island is one of the best spots for watching the Hilton Hawaiian Village Waikiki Beach Resort Fireworks, one of the best things to do in Honolulu for free!
Not Friday? Stay for the sunset anyway! Ala Moana Beach Park is one of the best places to watch the sunset on Oahu!
16. Bodysurf at Sandy Beach
Address: 8801 Kalanianaole Hwy, Oahu, HI 96825
Ever hear of bodysurfing? In regular surfing, you use a board to balance on and ride the waves.
Bodysurfing is a water sport that uses your body as a board to ride the waves! You don't need any equipment, except for a pair of swim fins and maybe a hand plane.
The sport involves swimming out to the wave, catching it at the right moment, and enjoying the ride.
Sandy Beach is a world-famous bodysurfing beach, with two primary places for bodysurfing: Half Point and Full Point.
Half Point is more for learners, closer to shore and has smaller waves. Full Point is further out, bigger waves, more challenging and meant for experienced bodysurfers.
Sandy Beach (even Half Point) is definitely not the place for starting swimmers. If you are not careful, you can get thrown onto the beach or the shallow reefs.
In any case, even watching the action from the beach is great fun, especially if you have never seen bodysurfing!
17. Admire the Views from Tantalus Lookout
Address: Nutridge St, Honolulu, HI 96822
Hours: 7:00 am to 6:45 pm, daily
Want to get the best view of Honolulu from above but don't want to hike up Diamond Head Crater? Luckily, you do have other options!
Tantalus Lookout gives you one the best views of Honolulu from above, and the best part is you can drive right upto the lookout point, ideal if you have people in your group who can't hike.
Located in the Puu Ualakaa State Park on the slopes of Mount Tantalus, just four miles north of Waikiki, Tantalus Lookout offers panoramic views of Honolulu, Diamond Head, Pearl Harbor, the ocean and the mountains.
On a clear day, you can even make out landmarks like the Aloha Tower, the State Capitol and the Punchbowl Crater.
Can you time your visit to late evening? If so, you are in for a colorful treat. Sunset views from Tantalus Lookout are simply stunning!
Stay a bit longer, and you will see a spectacular night-lit Honolulu skyline!
Taking in the views from Tantalus Lookout is one of the best things to do in Honolulu for free!
18. Climb the 1000+ Stairs of Koko Crater Railway Trail
Address: 7604 Koko Head Park Rd #7602, Honolulu, HI 96825
Hours: 6:30 am – 11:00 pm, daily
Parking: Free parking lot near the baseball diamond
Cost: Free
Want a fitness challenge while on vacation in Honolulu? What better than climbing 1000+ steps, remnants of an old railway track, up to the summit of Koko Head, an extinct volcanic crater.
A challenging hike, and a bit scary in places (there is a section where the tracks are more like a bridge with drops of 10+ feet), the reward for reaching the summit is fabulous, panoramic views!
On clear days, you can see the Honolulu skyline, Hanauma Bay, Sandy Beach and the Diamond Head Crater.
Note, there is a bypass (called Murphy's bypass) that let's you skip the bridge-like section.
The Koko Head Hike is a very popular hike, and I strongly recommend you do this as early in the morning as you can. You will avoid crowds (except for the most dedicated hikers), and beat the heat (no shade on the trail).
See if you can push yourself to get there early enough to see sunrise from the top, one of the best places to watch colorful, spectacular sunrises on Oahu!
Interested? Check out our best tips on how to hike the Koko Head Trail!
Hiking the Koko Head Trail is one of the best things to do in Honolulu, and an Oahu bucket list item for so many!
19. Enjoy a Luau Feast and Entertainment
Been to a luau yet? No vacation in Hawaii is complete without attending a luau, a traditional Hawaiian celebration with a feast and entertainment.
Luaus usually start with a traditional greeting of guests with leis, a necklace of flowers, and drinks.
The luau we attended included interactive activities for kids, where they learned to make Hawaiian arts, crafts and music, like leis and play the ukulele, and play Hawaiian games.
Next is the feast, and the highlight is usually kalua pig, a whole pig cooked in an imu, an earthen, underground oven.
The luau feast can include yummy traditional entrees like poi (a paste made from taro), lomi salmon (a salad of raw salmon, tomatoes, and onions), poke (a dish of raw fish marinated in soy sauce and spices), haupia (a coconut pudding), and tropical fruits.
The feast is accompanied (or followed) by a spectacular show with graceful hula dancers, energetic fire knife dancers, and talented musicians playing ukulele, conch shells, and drums!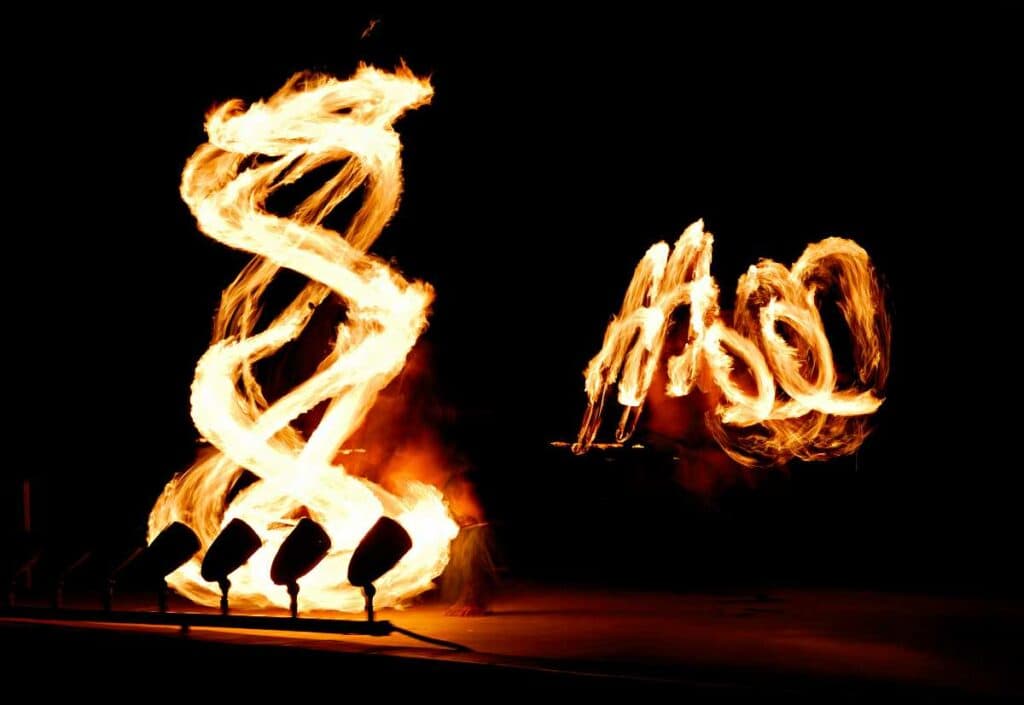 Some luaus encourage audience participation towards the end, so jump in and enjoy the fun, and learn some hula moves!
The Paradise Cove Luau is a well-rated, popular luau at the Ko Olina Resort, a few miles from Honolulu, that we have attended and liked in the past.
It has a beautiful beachfront setting with stunning views of the sunset and the ocean, and watching the performers against this background is a perfect luau experience!
>> Check pricing and availability on the popular Paradise Cove Luau now!
20. Admire Desert Plants at the Koko Crater Botanical Garden
Address: 7491 Kokonani St, Honolulu, HI 96825
Hours: Sunrise to sunset, daily
Cost: Free
A botanical garden inside a volcanic crater?
The Koko Crater Botanical Garden is a different kind of garden, focusing on plants from dry and arid regions, and very appropriate for a garden at the base of an extinct volcanic crater.
Note, you don't have to hike the grueling Koko Crater trail to reach the garden, you can drive upto a dirt parking lot near the entrance.
We took the self-guided tour around the 2-mile loop (took us 2 hours because we spent some time taking photos and reading about the plants.
You can't miss the plumerias and bougainvillea, they are right at the entrance. If you are visiting in spring or fall, many of the flowers are in full bloom and very pretty!
For us, the best parts of the garden were the African plants (you can see the iconic baobab trees that dot the African savannah) and the cactus garden (amazing variety of desert plants).
Just make sure you take a lot of water, and plan to go as early in the morning as you can (to beat the heat, no shade on the path)!
Make sure you budget at least two hours to cover this botanical garden, one of the best things to do in Honolulu for free!
21. Cool off with Shave Ice!
Want to cool off after a challenging hike or a hot day? Shave ice is a refreshing and delicious Hawaiian treat perfect to beat the heat.
An ice-based dessert made by shaving a block of ice, shave ice can be flavored with syrups as banal as vanilla or as exotic as mango and lychee. You can have blended syrups like a rainbow syrup or create your combination.
Like in an ice cream, you can add toppings like azuki beans or mochi balls.
Waiola Shave Ice (one on Waiola Street, another on Mokihana Street) is a very popular place to taste shave ice, a fixture in Honolulu since 1940s. They have a smooth and fluffy shave ice that melts in your mouth!
My favorite is the Li Hing Mui (salty dried plum, tangy) shave ice with vanilla ice cream, a classic Hawaiian combo that balances sweet and sour flavors.
Eating shave ice is one of my favorite fun things to do in Honolulu!
22. Watch Majestic Humpback Whales Breach
Visiting Honolulu in the winter season? What luck! You are vacationing in Hawaii just when an epic migration of humpback whales is underway.
The humpback whales leave their feeding grounds near Alaska and migrate to the warm waters near the Hawaiian islands to mate and breed.
While the peak density is typically in the months of January and February, you are likely to see whales all through winter.
Maui is the best Hawaiian islands given its proximity to popular breeding areas like the Maui Nui Basin and the Au'au Channel, the whales are so plentiful, you can see them from Honolulu as well.
Your best option to spot a whale is to book a whale watching tour, many of which will guarantee whale sightings or offer a second tour!
You have many highly-rated tours to choose from:
We took the Oahu Whale-Watching Excursion in late January, and had so many whale sightings, even pods of whales and a whale calf with its mother.
We checked off one of our Oahu bucket list items: watching a giant male humpback whale breach the surface of water completely!
23. Cover Oahu Highlights with a Circle Island Tour
Don't want to limit your vacation to Honolulu? There are many tours that circle the island, taking you to highlights of what the Oahu has to offer.
On one of our first vacations, we did just that. With smaller kids, we spent the bulk of the time in Waikiki and Honolulu.
But before we left, we spent one day with a circle island tour, and boy, were we glad we did! The rest of Oahu has a much more relaxed rhythm to it, with some activities localized to particular parts of the island.
First time visitor to Oahu? These wildly popular, 5-star rated circle island tours will take you to most of the tourist attractions on Oahu:
So even if you don't make a return trip, at least you'll have covered what's best on Oahu!
If you do return, and we hope you do, you'll have a good idea as to where to focus your time optimally!
24. Explore the Windward Side of Oahu
Have a day to spare just for the windward side (east shore) of Oahu? You'll be happy you did!
The windward side faces the trade winds and gets a lot more rain! Hiking in nature here is pure joy, strolling through lush, green tropical rainforests along bubbling streams and to beautiful waterfalls!
Here are a few of the best things to do on the windward side of Oahu.
Kualoa Ranch
Fan of Jurassic Park movie series? You must allocate some time at Kualoa Ranch, a beautiful setting for many popular Hollywood movies (in fact, they have a Hollywood tour to take you to the different sites)!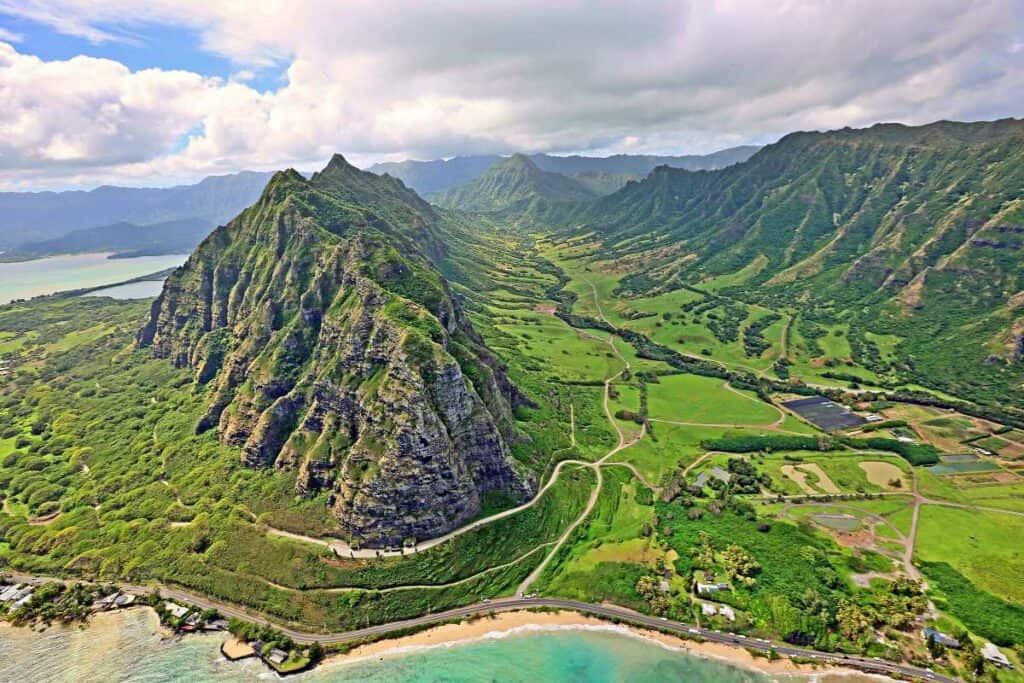 But there is much more to Kualoa Ranch: ATVs, horseback riding, ziplining and even a jungle expedition:
Lanikai Beach and Kailua Beach
Lanikai Beach and the adjacent Kailua Beach are two stunning beaches with fine golden sand and clear, turquoise ocean waters!
Kitesurfing, paddleboarding, surfing, swimming and kayaking are popular beach activities.
Lanikai Pillbox Hike, one of the best easy hikes on Oahu, is a stone's throw from Lanikai Beach.
Kaneohe Sandbar
A sandy island that appears and disappears with the tides, Kaneohe Sandbar is a unique location for fun-filled family activities from ocean sports like jet skiing to snorkeling to water volleyball!
We took this popular afternoon Kaneohe Sandbar Snorkeling tour and the kids had a great couple of hours snorkeling and playing around on the shallow sandbar.
25. Spend a Day on the North Shore of Oahu
And what about the North Shore of Oahu? From world-class surfing at the Banzai Pipeline to family-oriented Waimea Valley and the Polynesian Cultural Center, the North Shore has many of the best things to do in Oahu!
With limited time, your best option is a North Shore of Oahu tour, and there are many popular, 5-star rated tours:
Want to skip the tour and plan a day's outing on your own? Check out our best things to do on the North Shore of Oahu post!
Here are three of the highlights.
Cage Diving with Sharks
Family with teenagers seeking a thrill? How does cage diving with sharks sound?
You are in a steel, polyglass cage lowered below the surface in shark-infested open ocean waters, where sharks as big as tiger sharks swim so close, you are scared to breathe!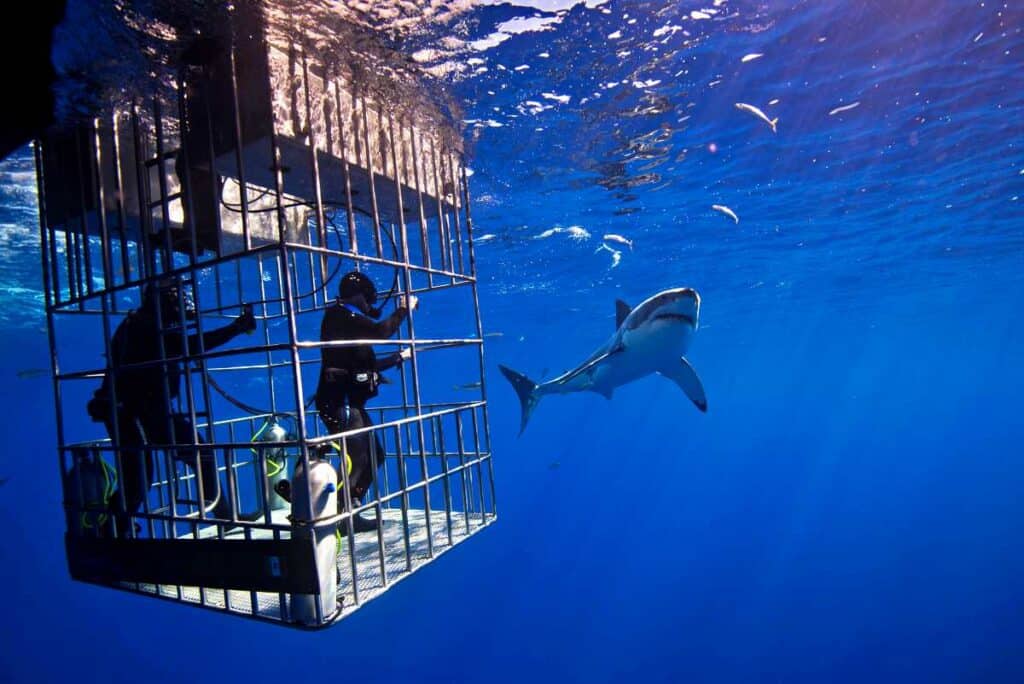 Check out these highly-rated, popular cage diving with sharks tours:
Polynesian Cultural Center
The Polynesian Cultural Center, a hands-on, interactive center, is the perfect place to imbibe Polynesian culture, and for you and your kids to learn to make leis, play the ukulele, and even spear throwing!
The Alii Luaua at the Polynesian Cultural Center and HA: Breath of Life, an amazing show with over 100 performers, are very popular.
Waimea Valley Falls
Pressed for time? Waimea Valley gives you the opportunity to combine three treats: an amazing waterfall with a natural swimming pool at its base, a beautiful botanical garden dotted with ancient Hawaiian archeological structures, and one of the best luaus on Oahu, the Toa Luau!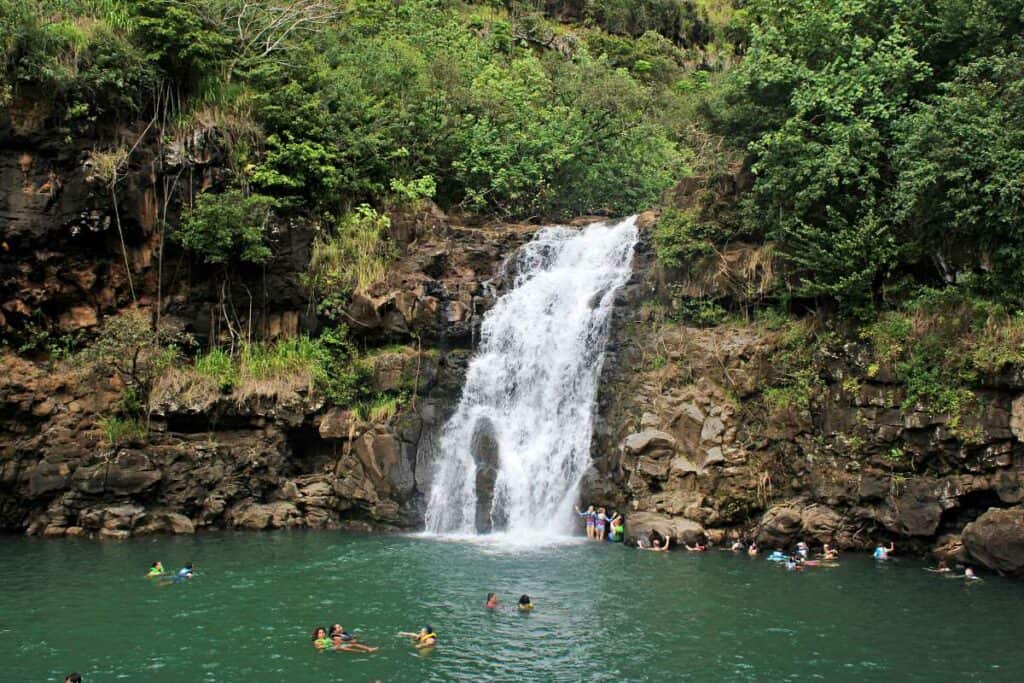 The Toa Luau at Waimea Valley is a popular, 5-star rated that includes the entrance fee to Waimea Valley and the Toa Luau feast and entertainment.
>> Check pricing and availability on the Toa Luau at Waimea Valley!
Map of the Best Things to Do in Honolulu
The below map shows the locations of many of the best things to do in Honolulu described above.
Where to Stay in Honolulu?
Most visitors to Honolulu stay in Waikiki, known for its many resorts, shopping, and dining. You can also stay in the Ala Moana neighborhood, or Diamond Head or Kahala.
Hotels and Resorts in Honolulu
The Halekulani Hotel is the top luxury choice in Honolulu. It has been serving customers for almost 100 years! With a location right by the ocean, a gorgeous pool, and elegant rooms, this is the perfect splurge stay in Honolulu!
>> Check price and availability for the Halekulani Hotel now!
The Sheraton Waikiki is located right on Waikiki Beach and offers spectacular views of the water and the Diamond Head Crater. The resort offers lovely outdoor pools and onsite dining. Some rooms come with ocean views.
>> Check price and availability for the Sheraton Waikiki now!
Prince Waikiki is located centrally in Honolulu and features a striking modern design. It is walking distance to the Ala Moana Shopping Center. The pool offers ocean views as do many of the rooms. Enjoy the sunset from your window!
>> Check price and availability for the Prince Waikiki now!
The Hilton Hawaiian Village Waikiki Beach Resort has a prime location on Waikiki Beach, with the Duke Kahanamoku Beach and Lagoon right in front. The resort offers five inviting pools with waterfalls and a water slide.
>> Check price and availability for the Hilton Hawaiian Village now!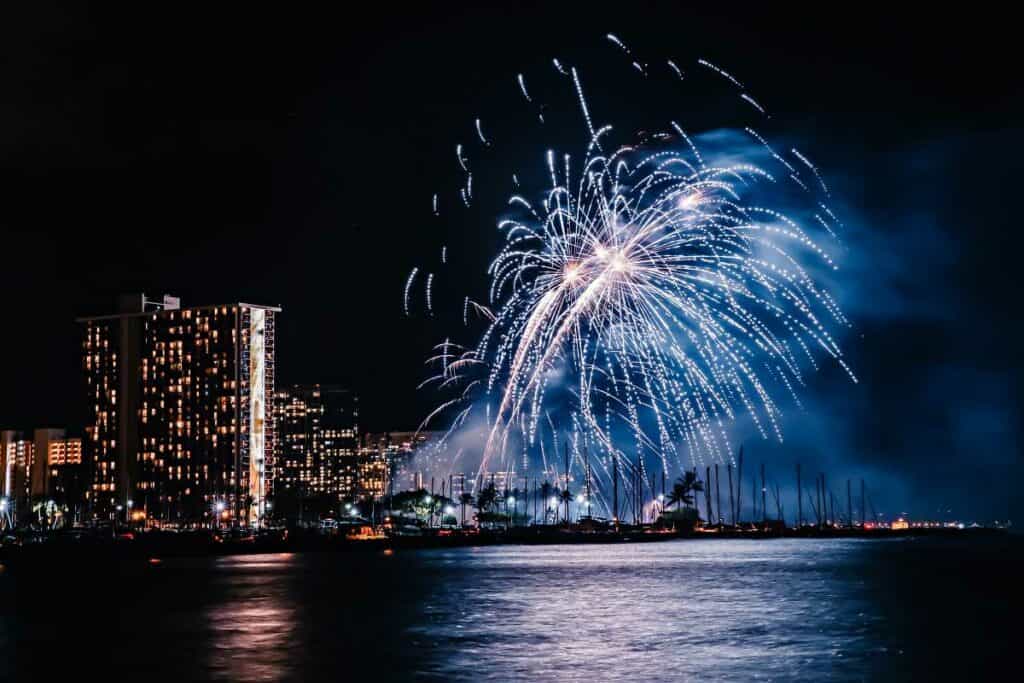 The Lotus Hotel is a great boutique choice in Honolulu. With a choice location between Kapiolani Park and the white sand beach, the Lotus Hotel offers great views of Diamond Head and a tranquil stay amidst the bustle of Waikiki.
>> Check price and availability for the Lotus Hotel
How to Get Around Honolulu?
Honolulu is like any other large American metropolis, you can get around easily by renting a car or with Uber or Lyft.
We rent cars when we want to explore on our own, especially outside Honolulu.
We use Discover Cars for car rentals when we travel to Hawaii. Discover Cars searches for deals across a number of car rental companies, from brand to budget, and offers you the best choices for your travel dates.
>> Check price and availability for your Oahu car rental now!
Another interesting transportation alternative is the hop-on, hop-off option like the Waikiki Trolley Hop-On Hop-Off Tour of Honolulu, that allows you jump onto a double decker bus or open-air trolley unlimited number of times for 1, 4, or 7 day options.
Want to try something fun? It's vacation after all!
We tried a scooter one time, and loved the experience! Our friends rented a moped when they went to the east shore of Oahu, and they had fun as well!
Try these different options if you are feeling adventurous:
Things to do in Honolulu: FAQ
How can I save money on the best things to do in Honolulu?
For a family with kids, visiting the Honolulu Zoo, the Bishop Museum, the Honolulu Museum of Art and many of the other best things to do in Honolulu quickly adds up.
Oahu is part of the Go City program, and an all-inclusive pass is worth exploring! We used this on many of our vacations, and saved a substantial amount of money.
Check the Go City: Oahu All-Inclusive Pass with 40+ Attractions and Tours!
Best Oahu Tours
Have you booked these popular Oahu tours and excursions yet?
Love snorkeling? This Turtle Canyon snorkeling excursion from Waikiki lets you frolic with colorful fish and Hawaiian green sea turtles. Hands down the MOST BOOKED Oahu snorkeling tour: turtle sightings are guaranteed!
The most popular luau in Oahu, Paradise Cove Luau has a 4.5 rating on Viator with over 3.5K reviews. The tour includes pick-up from your Waikiki hotel, pre-dinner games, arts, and crafts, a delicious meal, and an award-winning show.
Based in Waikiki but want to see more of the island? This full-day Oahu Circle Island Tour includes Diamond Head, Hanauma Bay, Haleiwa, the Dole Plantation, and more!
Pay your respects at the USS Arizona Memorial at Pearl Harbor! This popular Pearl Harbor tour includes boat tickets and round-trip transport from Waikiki.
A super popular Oahu North Shore excursion, this Oahu shark cage dive allows you to observe wild sharks in the open ocean from the safety of a cage! It's a THRILLING Oahu advennture for your bucket list.
We have a detailed guide to the top Oahu tours and excursions if you are in the midst of planning your itinerary for the island.
Honolulu Airport-Hotel Shuttle
If you are not planning to get a rental car at Honolulu Airport, consider booking shuttle transport in advance!
This shared shuttle can be canceled up to 24 hours from the date of service. It serves hotels in Waikiki and Honolulu and then back again to the airport the day you leave. It's convenient and inexpensive, and saves time and hassle!
>> Check prices and availability for shared round-trip airport transfer in Oahu now!
Staying in Ko Olina? Consider this round-trip airport transfer instead!
More Oahu Travel Inspiration
Planning a trip to Oahu? Check out our other in-depth Oahu travel guides for help finalizing your Oahu itinerary!
Start by discovering the best things to do in Oahu. We also have a detailed guide to Oahu's North Shore, a round-up of things to do on the east side of Oahu, and the best things to do in Ko Olina, on the west coast of the island.
Of course you'll want to learn about all the exciting things to do in Honolulu, Hawaii's capital, and Waikiki, the touristic core of Oahu.
We also have a guide to the best beaches in Oahu, and a round-up of the must-visit Oahu waterfalls.
Oahu is home to so many must-visit landmarks! Check out our in-depth article on how to visit Pearl Harbor, and our guides on the beautiful Waimea Valley in Oahu and the spectacular Byodo-In Temple.
Want to enjoy the thrill of observing sharks in the wild? Check out our article on shark cage diving on Oahu's North Shore!
Discover the top places to go snorkeling in west Oahu, where you will find a long coastline with lovely beaches, and tips for snorkeling Kaneohe Sandbar on the island's east coast.
And if you love marine life, also check out our complete guide to (respectfully!) see and swim with dolphins in Oahu, and the best spots to snorkel with turtles in Oahu.
For hikers and outdoor enthusiasts, we have a round-up of the best Oahu hikes, and if you are looking to exclude the harder Oahu trails, a guide to the best easy Oahu hikes.
Find out how to do the iconic (and VERY popular) Diamond Head Hike near Waikiki for exceptional views. We also have a guide to the very popular Manoa Falls Trail in Honolulu.
More advanced hikers will want to read up on the Koko Head Hike, a long set of stairs leading to expansive views.
Learn where to go for the best sunsets in Oahu, whether you want to hike or enjoy watching a colorful Hawaiian sunset without working up a sweat.
We also have a guide to the best sunrise hikes in Oahu, one of which is the spectacular Makapu'u Point Lighthouse Trail in the southeastern part of the island. The Lanikai Pillbox Hike is another wonderful sunrise hike on Oahu!
Did you find this article informative? Pin it for later!