Manoa Falls Trail Hike, Oahu: Parking, Map, Photos – 2023
First time visitor to Oahu? A must-do item on every first time visitor's Oahu bucket list is hiking the Manoa Falls Trail to Manoa Falls, a stunning waterfall in the midst of a lush, tropical rainforest.
As a frequent visitor to Hawaii and, specifically, Oahu, I make it a point to hike some of the best Oahu nature trails on every trip, and the hike to Manoa Falls tends to make the list more often than not.
Why? The answer is simple, the Manoa Falls Trail hike showcases almost everything you want a visitor to experience in Hawaii, especially first-time visitors.
Want to see the famous Hawaiian tropical rainforests? The Manoa Falls Trail winds through Manoa Valley, a rainforest landscape so gorgeous that several Jurassic Park movie scenes were shot here.
Like to chase waterfalls? Manoa Falls is one of the best waterfalls in Oahu, a stunning 150-feet cascade that you can view up close.
Avid birdwatcher and nature lover? Take your time hiking the Manoa Falls Trail, and you'll have your fill of tropical forest birds, endemic Hawaiian plants, dense bamboo forests, and bubbling streams.
Vacationing with family and kids?The Manoa Falls Trail hike is one of the best easy Oahu hikes, and on every hike I've taken, I've seen parents with kids of all ages in tow, happily trekking with them or on backpack baby carriers (no strollers)!
Hop along and I'll take you on a virtual Manoa Falls Trail hike in this detailed guide. But be warned, the Manoa Falls photos don't do justice, you must hike this in person!
Hey, by the way! Visiting Oahu and planning your bucket-list activities? Check out our in-depth guide to the best tours and excursions in Oahu worthy of the splurge!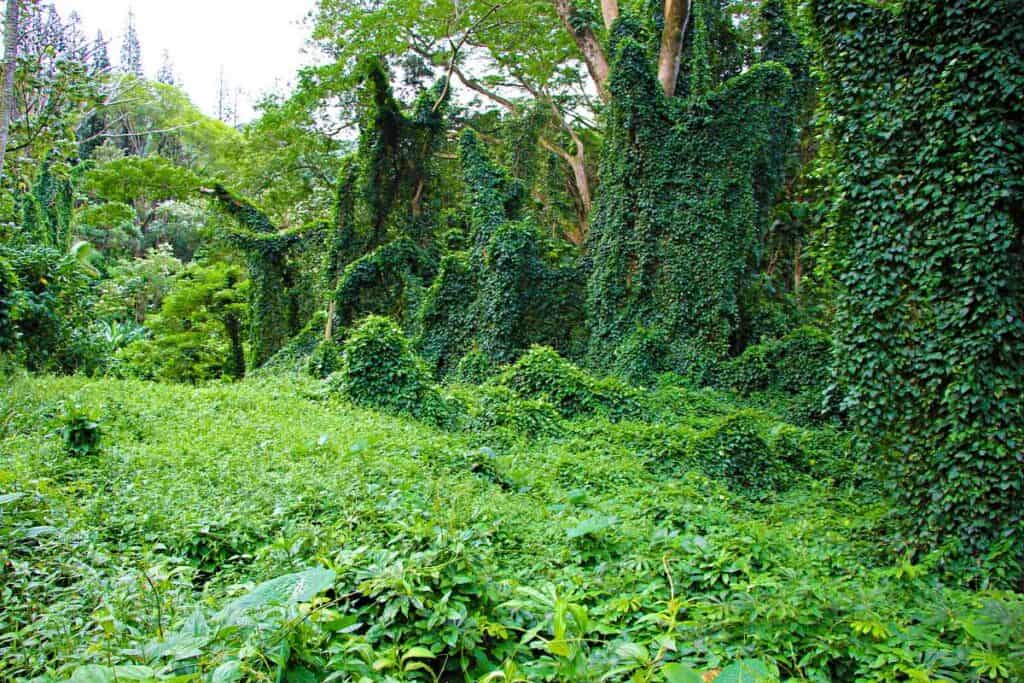 Some links on this page may be affiliate links. If you click an affiliate link and make a purchase, we may receive a small commission, at no extra cost to you. For more details, refer to our disclosure.
Manoa Falls
Being on the windward side of Oahu, Manoa Valley gets about 150 inches per year, some of the heaviest precipitation on Oahu.
Where does all this water go? One of the most spectacular exit points for this rain water is the Manoa Falls that flows from the Ko'olau Mountains into a pool at the end of Manoa Valley.
With so much rain, even though the rainfall varies with the season, Manoa Falls is one of the few waterfalls in Oahu that is usually flowing all year round.
Want to get the best photos of Manoa Falls for your Instagram? Plan your visit a day or two after heavy rainstorms, and you'll get the waterfall gushing at its most majestic!
The Story of Manoa Falls: Hawaiian Folklore
Manoa Falls is one of the few waterfalls on Oahu that has a legend associated with it. According to Hawaiian mythology, Manoa Falls was created by a mo'o (lizard god) named Kahalaopuna who lived in a rainbow above the valley.
She was so beautiful that she attracted the attention of Kauhi, a chief from Kauai who wanted to marry her. However, he became jealous of her beauty and killed her in a fit of rage.
Her body was buried under a rock at the base of the waterfall, where her spirit still resides.
Manoa Falls is one of the Best Waterfalls in Oahu, Hawaii
Manoa Falls is one of the best waterfalls in Oahu because it offers something for everyone, whether you are looking for a relaxing nature walk, an adventurous hike, or a stunning photo opportunity.
Manoa Falls and its surroundings are so spectacular, they were featured in several movies and TV shows, such as Jurassic Park, Lost, Hawaii Five-0, and Magnum P.I. Some of the scenes filmed here include the dinosaur chase, the plane crash, and the hatch.
Manoa Valley was once home to ancient Hawaiians who grew taro and bananas there. The waterfall is home to some rare species of snails that are endemic to Hawaii.
There are also smaller waterfalls along the way, such as Lua'alaea Falls, which is hidden behind a bamboo forest. Manoa Falls has a twin waterfall called Aihualama Falls, which is located on a different trail that branches off from the main one.
Manoa Falls has a secret cave behind it that you can explore if you are brave enough. However, it is very risky and not recommended for safety reasons.
>> Book an exciting, 5-star rated, highly popular, Oahu tour now!
Manoa Falls Trail, Honolulu: Hike to Manoa Falls, Oahu
As amazing as Manoa Falls is, I actually think the hike to Manoa Falls on the Manoa Falls Trail is equally amazing: an easy to moderate hike, but through stunning, lush, tropical rainforests.
Quick Facts on the Manoa Falls Trail
Location: Manoa Falls, Honolulu, HI 96822
Length: 1.6 miles, out and back
Elevation change: 800 feet
Difficulty level: Easy to Moderate
Manoa Falls Hike Difficulty
The Manoa Falls hike difficulty is easy to moderate. For the most part, the hike is easy, but if it has rained recently, the trail will be muddy and slippery.
Manoa Falls Trail Length
The Manoa Falls Trail length is 0.8 miles for a total round trip distance of 1.6 miles on this out-and-back hike. The Manoa Falls Trail hike is quite short, and is one of the easier hikes on Oahu.
Manoa Falls Trail Elevation Gain
The Manoa Falls trail elevation gain is roughly 800 feet, mostly milder grades.
Towards the end of the trail, you have a few steps and steeper incline sections. Overall, the hike is quite manageable in terms of the climb.
Manoa Falls Hike Time
The Manoa Falls hike time is about an hour, at an average, to complete.
If, like us, you take some time to check out the greenery and the birds, and stop for Manoa Falls photos, you can expect the time taken to be closer to two hours.
>> Book an exciting, 5-star rated, highly popular, Oahu tour now!
How to Get to Manoa Falls, Oahu
Manoa Falls Location
Manoa Falls is located about 5 miles or 8 kilometers from downtown Honolulu. You can use this address for your GPS or Google maps: Manoa Falls, Honolulu, HI 96822.
You can get there by car, bus, or tour.
Bus to Manoa Falls Trail
If you don't have a car, you can take bus #5 from Ala Moana Center or Waikiki to Manoa Road and Woodlawn Drive. From there, you can walk about 0.8 miles or 1.3 kilometers to the trailhead. The bus fare is $2.75 per person one way.
Manoa Falls Tours
Instead of driving or taking the bus, we opted for this tour from Waikiki Manoa Waterfall Hike with Health Lunch Included which worked out really well for us – we were picked up from our Waikiki hotel.
The tour guide was amazing, we learned a lot about Hawaiian flowers, trees and birds along the hike to Manoa Falls.
Check out pricing and availability on the Manoa Waterfall Hike guided tour now!
Manoa Falls Trail Directions
If you have a car, you can drive to Manoa Valley.
You will take exit 23 (Punahou) if going east bound on H1 or exit 24 (Wilder) if going west bound on H1 to Punahou (3rd light). Punahou turns into Manoa Road. Continue to the end of Manoa Road.
Use the Manoa Falls Trail map below.
Manoa Falls Parking
Manoa Falls parking is available at the trailhead for $7 per vehicle. The parking lot is open from 8 am to 6 pm daily.
You can also park for free along Manoa Road or Woodlawn Drive if you don't mind walking a bit further, but obey all posted signs.
Manoa Falls Trail Hours
Manoa Falls Trail hours are sunrise to sunset, but I would not start the hike after 5:30 pm.
Manoa Falls Reservations
Manoa Falls reservations are currently not necessary. Permits are also needed. There are no entrance or admission fees.
Manoa Falls Trail Head
The Manoa Falls trail head is located just past the trail gate near the parking lot. The trailhead is a well-marked sign with information and maps of the area.
>> Book an exciting, 5-star rated, highly popular, Oahu tour now!
Manoa Falls Trail Information
The trail is well-marked and maintained, but it can be muddy, slippery, and rocky in some parts, so you need to wear proper shoes and be careful. I've seen kids on the trail, but the hike may not be appropriate for very small kids.
The hike starts on a gravel road that leads you through a eucalyptus forest. You will smell the fresh and minty scent of the trees as you walk.
Then, the trail becomes a dirt path that goes uphill through a lush rainforest with ferns, bamboo trees, ginger plants, and guava trees.
Along the way, you will have some nice views of the valley and the mountains. You will also pass by some interesting spots, such as an old irrigation ditch, a small bamboo bridge, and benches where you can rest.
Closer to the falls, you will start climbing and there will be some stairs.
The trail is well-marked and easy to follow, and there are some side trails that you can explore if you want.
The hike to Manoa Falls is not only a way to reach the waterfall, but also a way to enjoy the beauty of Manoa Valley. Take your time and enjoy nature!
You will hear and see many birds, such as cardinals, mynahs, and doves. You might even spot some wildlife, such as pigs, mongoose, or geckos.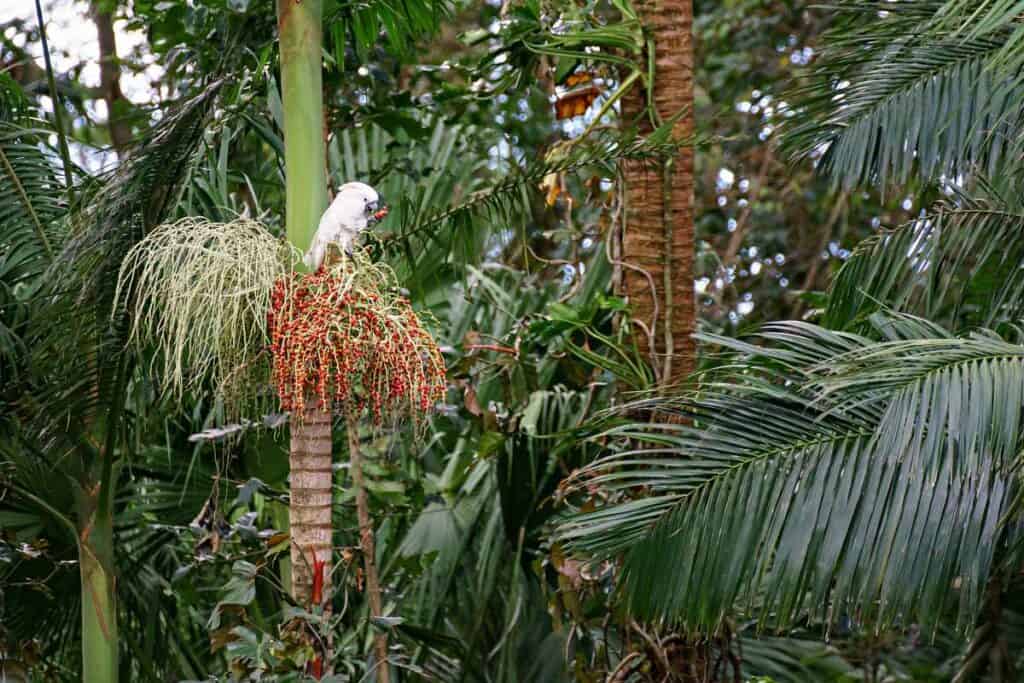 The Manoa Falls hike has several viewing points where you can pause, admire the scenery of the valley and the mountains, and click some photos of the Manoa Falls and the trail. The most notable ones are:
Shipping Container (replaced small bridge)
A shipping container (that replaced a small wooden bridge) across a stream can be found at the entrance to the trail that leads to a rainforest. The views of the tropical rainforest as you emerge out of the container are spectacular.
The bamboo forest
A section of the trail, closer to the falls, where you will walk through a dense grove of bamboo that creates a cool and shady atmosphere. You will hear the sound of the bamboo swaying in the wind and the water dripping from the leaves.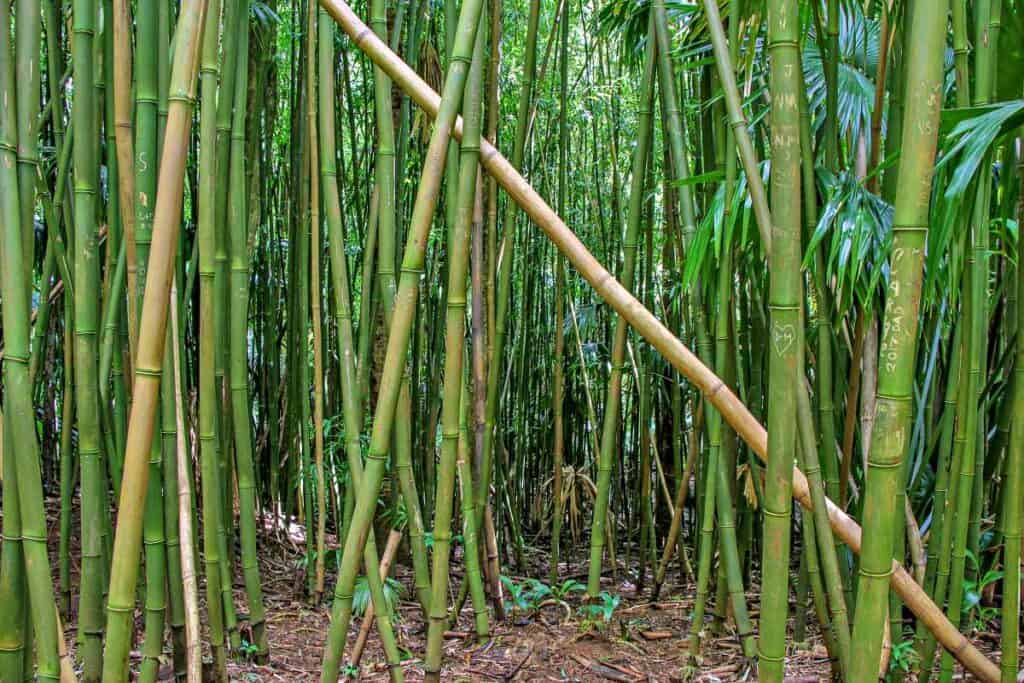 The banyan tree
A huge tree with aerial roots that form a natural arch over the trail. You can walk under it or climb on it if you are feeling adventurous.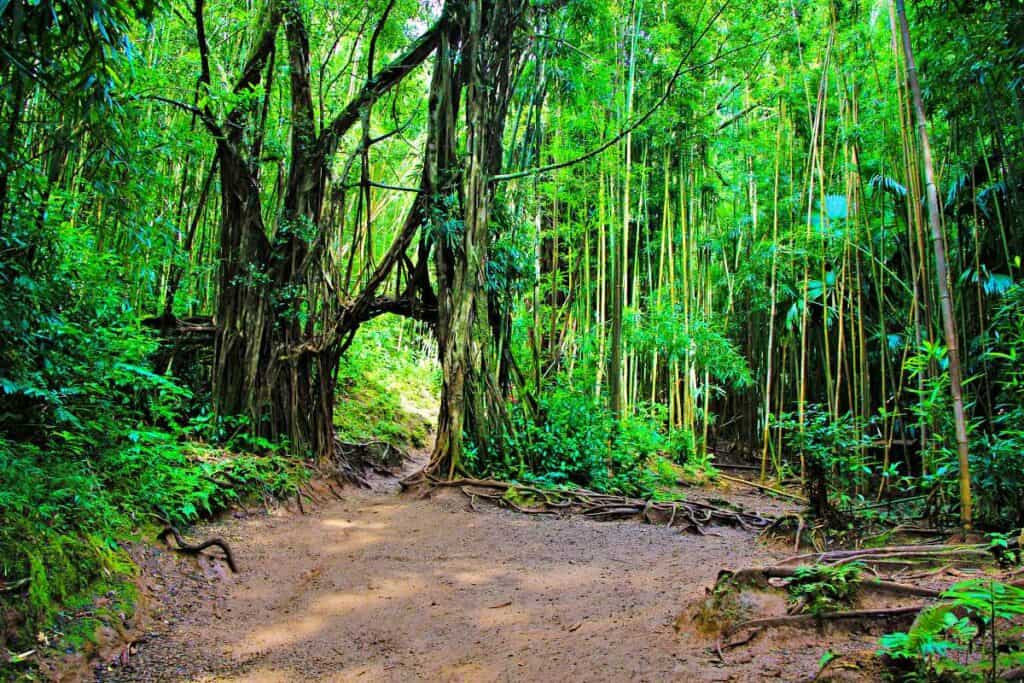 Among Manoa Falls photos, this is one of the most photographed spots on the Manoa Falls Trail!
Manoa Falls
The hike to Manoa Falls ends at the waterfall itself, where you will be rewarded with a spectacular view of the cascading water and the pool below.
The waterfall is very beautiful and photogenic, especially when the sun shines through the mist and creates rainbows.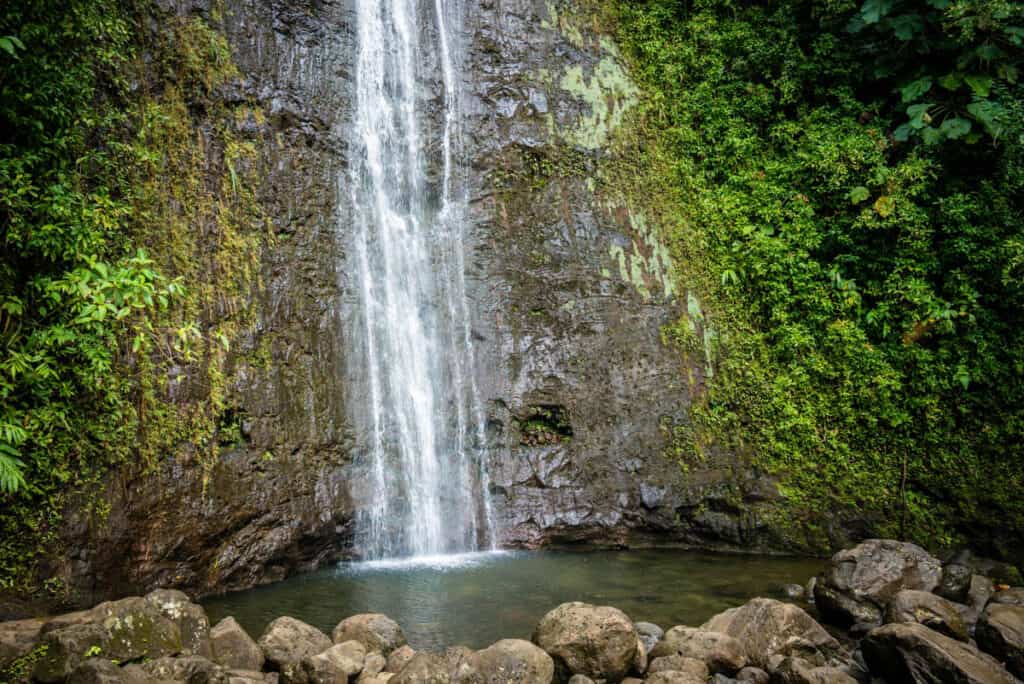 You can get close to the waterfall and feel the mist on your face, but you cannot swim in the pool because it is dangerous and prohibited.
There are signs and fences that warn you to stay away from the water's edge because of falling rocks and leptospirosis (a bacterial infection).
Manoa Falls Trail Map
The Manoa Falls Trail map below shows the location of the trail, Manoa Falls, and Manoa Falls parking options.
Manoa Falls Trail Photos
Amateur nature photographer? You're in heaven!
For the best Manoa Falls trail photos, go as early as you can, when the crowds are much less, and you can get nature pictures without the crowds. You are aiming for the golden hour (shortly after sunrise or before sunset), when daylight is softer.
Manoa Falls trail and waterfall scenery is sensational, so spend your time taking the best photos for your Instagram!
Tips for Hiking to Manoa Falls, Honolulu, Oahu
Here are some tips for making your visit to Manoa Falls more enjoyable and safe:
Go early or late
Manoa Falls is a very popular attraction, so it can get crowded during peak hours (10 am to 2 pm). If you want to avoid the crowds and have a more peaceful experience, go early in the morning or late in the afternoon.
Check the weather
Manoa Falls is affected by the weather conditions on Oahu. If it rains a lot, the trail can be very muddy and slippery.
If it is too dry, the trail can be dusty and the waterfall can be too weak and disappointing. Check the weather forecast before you go and plan accordingly.
Bring essentials
Manoa Falls is a short hike, but you still need to bring some essentials with you including water, snacks, sunscreen, insect repellent, hat, sunglasses, camera, and a change of clothes or shoes in case you get wet or dirty.
Bring a fully charged cellphone, both for safety and to take Manoa Falls photos and trail photos.
You can also bring a rain jacket or poncho in case it rains.
Respect nature
Manoa Falls is part of a natural reserve that protects the environment and culture of Hawaii. Please respect nature by staying on the trail, not littering, not picking flowers or fruits, not feeding animals, and not making loud noises.
Also respect other hikers by being courteous and friendly.
Other Things to See Near Manoa Falls
While visiting Manoa Falls, you might also want to spend some time at Lyon Arboretum and Paradise Park.
Lyon Arboretum
Lyon Arboretum is a gorgeous botanical garden (a University of Hawaii research unit) with over 5,000 species of plants from Hawaii and other tropical regions.
Best of all, admission is free (but you have to pay for parking), reservations are required.
Lyon Arboretum is a vast park (nearly 200 acres), with many sections and trails.
You can even see Aihualama Falls (but be prepared to be disappointed if you just visited Manoa Falls, this waterfall is relatively dry).
Paradise Park
Located in the heart of Manoa Valley, Paradise Park is a 75-acre, former amusement park that was closed in 1994 and abandoned.
Just across the street from the Manoa Falls trailhead, Paradise Park has some interesting structures to explore.
I found it incredibly eerie to see how nature has reclaimed this park, with buildings and roads overgrown with vegetation. No wonder Paradise Park has been featured in some scenes of the hit TV series Lost.
Book a Guided Oahu Hiking Adventure!
Excited about hiking in Oahu but haven't hiked in Hawaii before? This guided hiking adventure is a great way to get started.
It's customizable to your interests and abilities and a local guide that's familiar with the terrain will accompany you. Plus, round-trip transport is included.
You can pick two short hikes or a longer hike, and your guide can suggest specific hikes if you don't know which ones you want to try.
>> Check pricing and availability on this customizable Oahu hiking adventure now!
Best Oahu Tours
Have you booked these popular Oahu tours and excursions yet?
Love snorkeling? This Turtle Canyon snorkeling excursion from Waikiki lets you frolic with colorful fish and Hawaiian green sea turtles. Hands down the MOST BOOKED Oahu snorkeling tour: turtle sightings are guaranteed!
The most popular luau in Oahu, Paradise Cove Luau has a 4.5 rating on Viator with over 3.5K reviews. The tour includes pick-up from your Waikiki hotel, pre-dinner games, arts, and crafts, a delicious meal, and an award-winning show.
Based in Waikiki but want to see more of the island? This full-day Oahu Circle Island Tour includes Diamond Head, Hanauma Bay, Haleiwa, the Dole Plantation, and more!
Pay your respects at the USS Arizona Memorial at Pearl Harbor! This popular Pearl Harbor tour includes boat tickets and round-trip transport from Waikiki.
A super popular Oahu North Shore excursion, this Oahu shark cage dive allows you to observe wild sharks in the open ocean from the safety of a cage! It's a THRILLING Oahu advennture for your bucket list.
We have a detailed guide to the top Oahu tours and excursions if you are in the midst of planning your itinerary for the island.
Renting a Car in Oahu
If you want to explore more of the island of Oahu on your vacation, you should get a rental car.
Oahu's popular attractions are spread over the island: the windward coast, the North Shore, and Ko Olina are great places to explore beyond Waikiki (or the greater Honolulu area).
While Oahu does have public transport options that are better than the other islands, a car offers a lot more flexibility and time savings.
We always use Discover Cars to book Oahu car rentals. They search across a variety of rental car companies, both budget and brand, to offer you the best deals, AND they offer free cancellations. Plus, there are no hidden fees.
>> Check availability and prices on Oahu car rentals now!
Honolulu Airport-Hotel Shuttle
If you are not planning to get a rental car at Honolulu Airport, consider booking shuttle transport in advance!
This shared shuttle can be canceled up to 24 hours from the date of service. It serves hotels in Waikiki and Honolulu and then back again to the airport the day you leave. It's convenient and inexpensive, and saves time and hassle!
>> Check prices and availability for shared round-trip airport transfer in Oahu now!
Staying in Ko Olina? Consider this round-trip airport transfer instead!
Where to Stay in Oahu
Honolulu (Waikiki in particular) offers a large number of hotels and resorts, along with shopping and dining options. Most visitors to Oahu choose to base in Honolulu at least for a part of their stay.
While many of the large chains have a presence if you are looking to use your memberships, Honolulu also has several unique boutiques to consider.
Our faves include Halekulani for a splurge stay, the Lotus Honolulu for views of Diamond Head, and The Laylow for its awesome location.
Want more room to spread out or looking to stay elsewhere on Oahu? You will find VRBO listings all over the island!
On previous trips to Oahu, we have stayed in VRBO rentals in Waikiki as well as on the North Shore and the east coast and we've found the choice and quality great.
>> Look for an Oahu vacation rental on VRBO now!
More Oahu Travel Inspiration
Planning a trip to Oahu? Check out our other in-depth Oahu travel guides for help finalizing your Oahu itinerary!
Start by discovering the best things to do in Oahu. We also have a detailed guide to Oahu's North Shore, a round-up of things to do on the east side of Oahu, and the best things to do in Ko Olina, on the west coast of the island.
Of course you'll want to learn about all the exciting things to do in Honolulu, Hawaii's capital, and Waikiki, the touristic core of Oahu.
We also have a guide to the best beaches in Oahu, and a round-up of the must-visit Oahu waterfalls.
Oahu is home to so many must-visit landmarks! Check out our in-depth article on how to visit Pearl Harbor, and our guides on the beautiful Waimea Valley in Oahu and the spectacular Byodo-In Temple.
Want to enjoy the thrill of observing sharks in the wild? Check out our article on shark cage diving on Oahu's North Shore!
Discover the top places to go snorkeling in west Oahu, where you will find a long coastline with lovely beaches, and tips for snorkeling Kaneohe Sandbar on the island's east coast.
And if you love marine life, also check out our complete guide to (respectfully!) see and swim with dolphins in Oahu, and the best spots to snorkel with turtles in Oahu.
For hikers and outdoor enthusiasts, we have a round-up of the best Oahu hikes, and if you are looking to exclude the harder Oahu trails, a guide to the best easy Oahu hikes.
Find out how to do the iconic (and VERY popular) Diamond Head Hike near Waikiki for exceptional views. We also have a guide to the very popular Manoa Falls Trail in Honolulu.
More advanced hikers will want to read up on the Koko Head Hike, a long set of stairs leading to expansive views.
Learn where to go for the best sunsets in Oahu, whether you want to hike or enjoy watching a colorful Hawaiian sunset without working up a sweat.
We also have a guide to the best sunrise hikes in Oahu, one of which is the spectacular Makapu'u Point Lighthouse Trail in the southeastern part of the island. The Lanikai Pillbox Hike is another wonderful sunrise hike on Oahu!
Did you find this article informative? Pin it for later!