25 Best Things To Do In Waikiki, Honolulu, For 2024
If you're visiting Hawaii from a coastal beach city like Miami or Santa Barbara, you will love Waikiki!
You are vacationing on familiar ground: fabulous ritzy resorts, beachside restaurants serving eclectic fusion menus, and sunset mai tais and exotic mocktails from beachfront bars.
But you are on vacation after all!
And here's where the difference is, so many fun things to do in Waikiki, Hawaii!
Snorkel with Hawaiian green sea turtles at Turtle Canyon, parasail and outrigger canoe on Waikiki beach waters, watch humpback whales (in the winter months) and spinner dolphins from boat tours, and learn to surf where Duke Kahanamoku, the father of surfing, grew up!
Came to Hawaii for nature? Hike the Diamond Head Crater Trail and snorkel with tropical coral reef marine life!
Want culture? No dearth of rich Polynesian culture on Waikiki Beach, from free hula dance shows to ukulele beach performers to flame-throwing dance performances at luaus!
Waikiki is a microcosm of Aloha life and culture, a self-contained beach district of Honolulu, the capital city of the state of Hawaii. You can have a complete Hawaii vacation, all from Waikiki, if you so choose!
You will never run out of things to do in Waikiki!
Hey, by the way! Visiting Oahu and planning your bucket-list activities? Check out our in-depth guide to the best tours and excursions in Oahu worthy of the splurge!
Some links on this page may be affiliate links. If you click an affiliate link and make a purchase, we may receive a small commission, at no extra cost to you. For more details, refer to our disclosure.
Things to Do in Waikiki, Hawaii
1. Head to Waikiki Beach
When in Waikiki, do what everyone does, head to the beach! Why else are you there?
Waikiki Beach is world famous for its powdery, golden sand and clear, turquoise waters. It is one of the most popular destinations in Hawaii!
But it is not one beach. Waikiki Beach is two miles long and broken into sections, each with its own personality!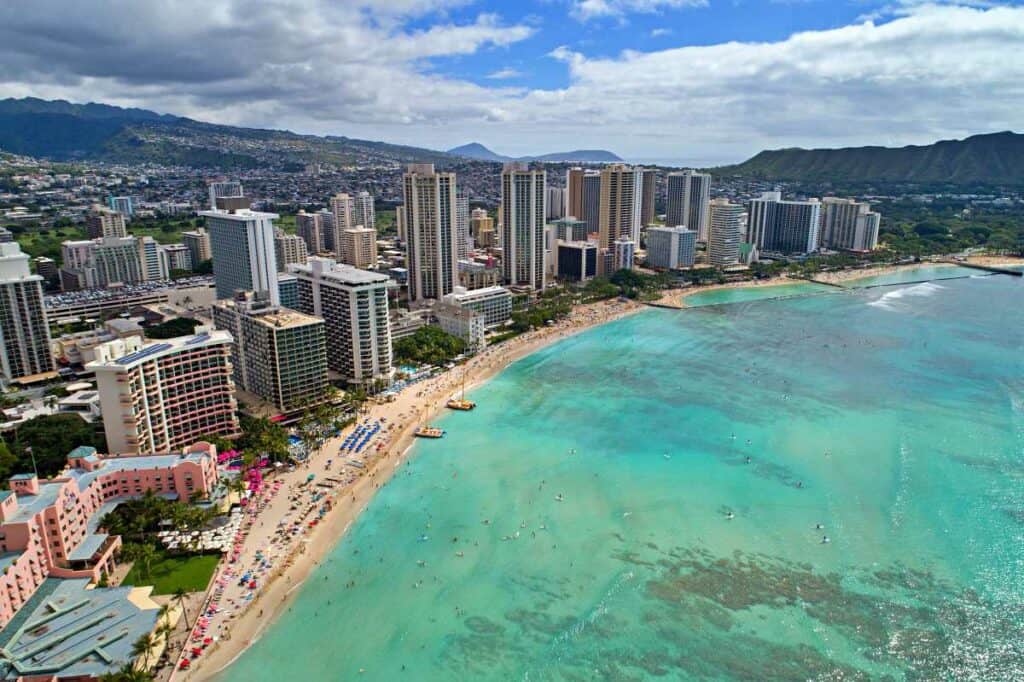 On the western end, Waikiki Beach starts from Kahanamoku Beach in front of the Hilton Hawaiian Village Resort.
Duke Kahanamoku Beach
Duke Kahanamoku, a native Hawaiian, was a three-time Olympic gold medal winner, who popularized the sport of surfing. The beach is named in his honor, and there is a famous bronze statue of him on Kalakaua Avenue (further along the beach).
Fort DeRussy Beach
As you stroll along the beach, you come to Fort DeReussy Beach and a grass park, a much more open section of Waikiki Beach, with volleyball courts and picnic tables.
Royal Hawaiian Beach
As you continue walking east along the coastline, you pass Gray's Beach and come to the Royal Hawaiian Beach in front of the iconic Royal Hawaiian Hotel.
This section is likely the most crowded part of Waikiki Beach, primarily because of all the rentals (catamaran, canoes, kayaks, paddle boards, snorkeling gear and surf boards).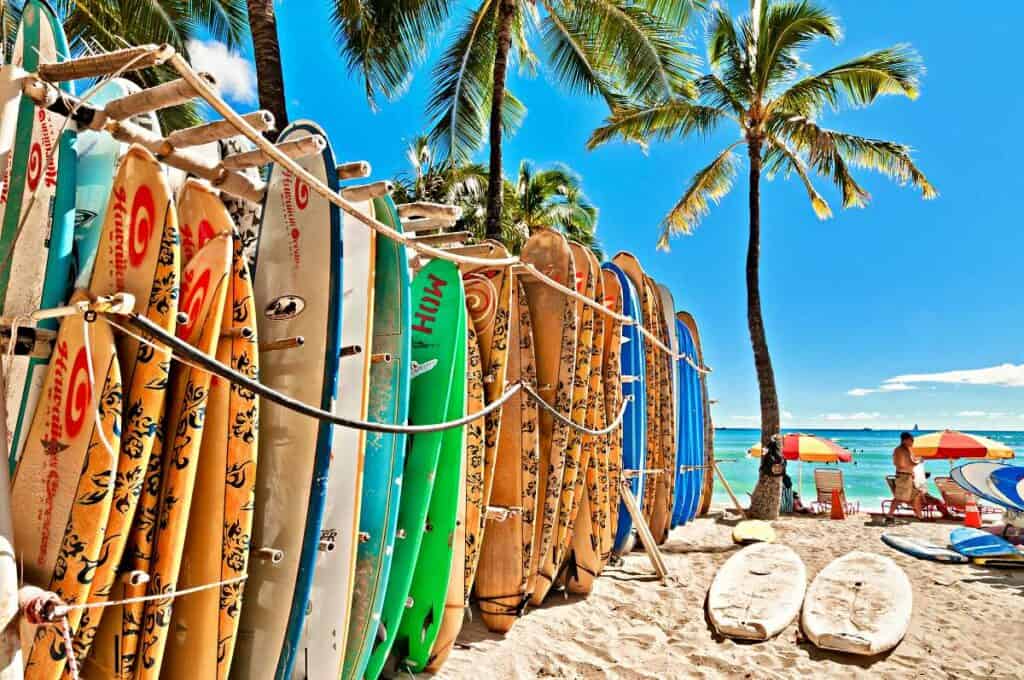 Kuhio Beach
Next up is Kuhio Beach, probably the most popular part of Waikiki beach, since there are no hotels on the ocean side of Kalakaua Avenue.
A calmer part of the ocean due to man-made walls, this part of the beach, called Kuhio Ponds, is excellent for beginners and kids.
Queen's Beach & Sans Souci Beach
If you want some peace and quiet, head to these eastern-end sections of Waikiki Beach near the Honolulu Zoo, Queen Kapiolani Garden and the Waikiki Aquarium.
I love to laze around on my first day of vacation just relaxing on Waikiki Beach. I like to watch people swimming, surfing, canoeing, paddle boarding, snorkeling and kayaking.
The soothing sound of the gentle Waikiki beach waves crashing on the shore gets me into the rhythm and mood of the vacation!
>> Book an exciting, 5-star rated, highly popular, Oahu tour now!
2. Dine at Gourmet Beachside Restaurants
Foodie couple in Waikiki? Nothing more romantic than a sunset dinner at a Waikiki beachside restaurant!
Gone are the days when you had to choose between good food and a romantic beachside setting.
On our most recent trip, we managed to sneak in a reservation for La Mer, Hawaii's only AAA Five Diamond and Forbes 5 Star restaurant.
La Mer is a French restaurant infused with Hawaiian traditions, part of the Halekulani Hotel, located on the beachfront, with fantastic ocean views.
Halekulani Hotel has two other excellent restaurants, Orchids (contemporary American and Hawaiian fusion) and House Without a Key (contemporary American) both of which will make any top 10 list of Waikiki romantic restaurants.
On our last trip, we were part of a larger group that liked to explore fine dining.
Some of the best recommendations I culled from my friends include Azure (seafood cuisine, part of the Royal Hawaiian Hotel), Beachhouse at the Moana (seafood cuisine, part of the Moana Surfrider Resort), and Roy's Waikiki Beach (Japanese, Polynesian).
Make sure you get reservations as soon as possible!
3. Hike the Diamond Head Crater Summit Trail
Address: 755Q+V8, Honolulu, HI 96815, United States
Hours: 6 am – 6 pm, daily (last entry 4 pm)
Cost: $5 / person (Diamond Head State Monument Park entry fee), $10 parking
Did you get amazing photos from Waikiki Beach of the Diamond Head Crater, an extinct volcano and a famous landmark on the island of Oahu?
What could be more exhilarating than hiking to the summit of Diamond Head Crater?
The most popular trail up to the summit starts at the Diamond Head State Monument (which has an entrance fee and a parking fee).
The hike is short and rated moderate because of the stairs and climbing, but offer such fabulous views that we try to hike the Diamond Head Trail at least once every trip to Oahu!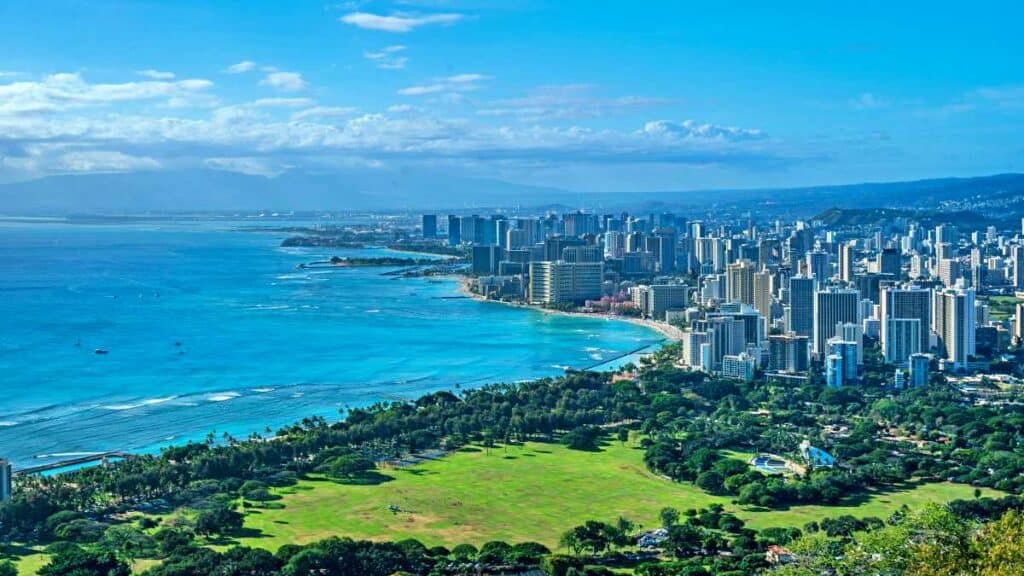 Most people including families with kids (not toddlers, though) should manage the hike with rests or stops for admiring the views and taking photographs.
If climbing to the top of an extinct volcano was on your Oahu bucket list, the Diamond Head Hike is perfect for you.
You can combine the Diamond Head Hike with a popular 5-star rated island tour or get to the trailhead on a separate tour or trolley shuttle:
Interested? Read all the details and our tips on how to hike the Diamond Head Summit Trail!
4. Enjoy a Romantic Sunset at Waikiki Beach
Honeymooning in Waikiki? One of the most romantic things to do in Waikiki is to watch the sunset on the beach with your loved one!
Sunsets on Waikiki Beach are magical with a display of a full palette of bright colors: orange, pink, purple and red.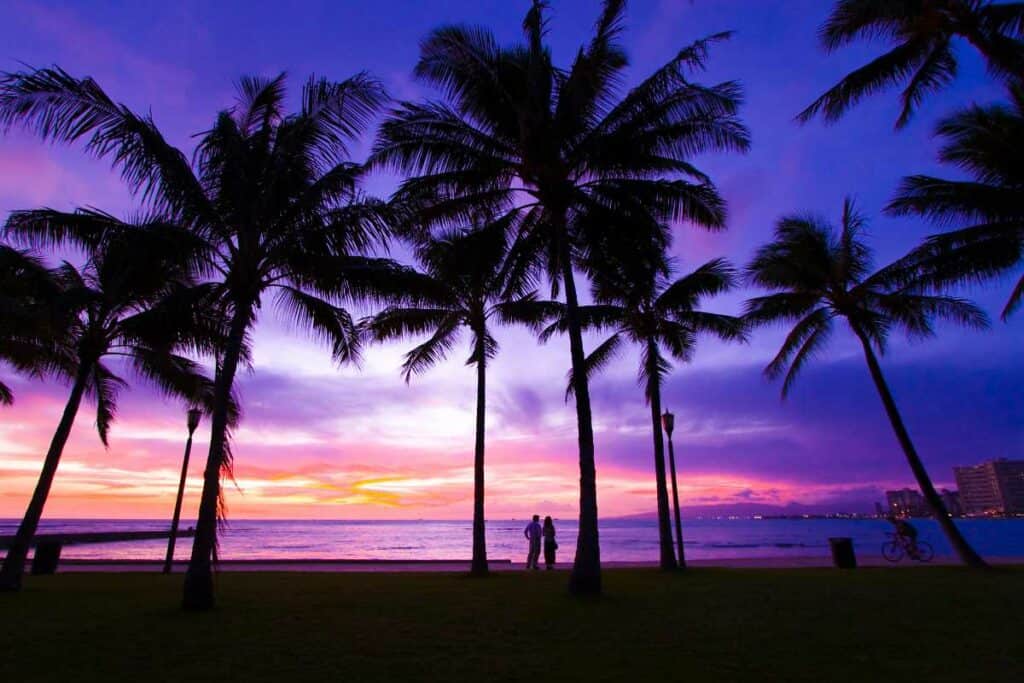 Just relax on a beach chair with a mai-tai or walk along enjoying the gentle sea breeze and the rhythmic soothing sound of the waves.
Or you could take a sunset cruise and watch amazing sunsets from the deck of a luxury catamaran.
Turn around after dusk and admire the lighted Honolulu skyline and Waikiki beach from the ocean.
On our first trip to Oahu, we took this Waikiki Sunset Cocktail Cruise and just loved the romantic experience of sipping cocktails and watching the golden sun dip below the Pacific Ocean waters from comfortable deck chairs!
>> Check pricing and availability on this highly popular, 5-star rated sunset cruise!
5. Sample Local Hawaiian Delicacies
Wonder what native Hawaiians' eat? We visited Waikiki recently with a foodie group, and loved two food tours that we took.
I highly recommend both tours if you want to get a sample of Hawaii's multicultural culinary heritage.
The first tour, Hawaii Food Tour – Off The Beaten Path, features a small group, 3 hour walking tour of the local food scene: fresh markets, fruit vendors and exotic eateries.
If you like spicy Asian dishes, you will love this tour that takes you to Chinatown and you get to sample local manapua, dim sum, spiced fruit, and, of course, Hawaiian-style poke.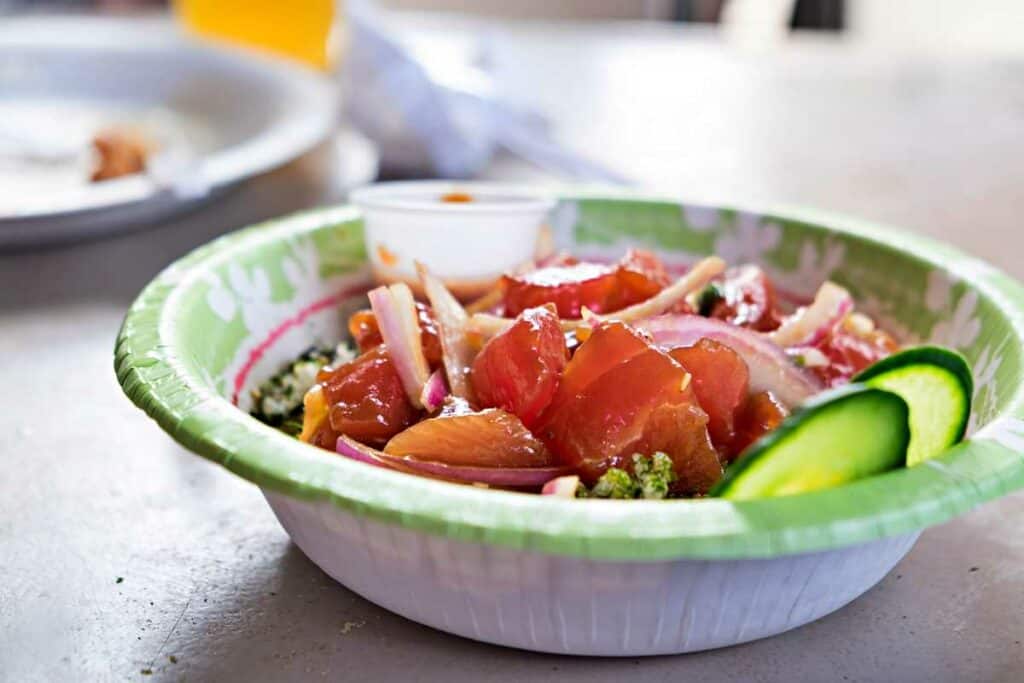 The second tour, Lanai Tabura curated Aloha Plate Hawaii Food Tour with Pickup, features a local celebrity, Lanai Tabura, winner of Food Network's The Great Food Truck Race, as the host and guide.
Lanai was very articulate and knowledgeable about Hawaii's culture and history, and we got to sample spam musubi, opihi, and malasadas.
I highly recommend both food tours to you, especially if you want an authentic Hawaiian tasting experience.
>> Check pricing and availability on these two 5-star rated, popular food tours: Hawaii Food Tour – Off The Beaten Path and Lanai Tabura curated Aloha Plate Hawaii Food Tour with Pickup.
6. Visit the Waikiki Aquarium
Address: 2777 Kalakaua Avenue, Honolulu, HI 96815
Hours: 9:00 am to 4:30 pm, daily
Cost: $12 / adult, $5 / child (4-12)
Can't snorkel? The Waikiki Aquarium is your best option to enjoy the amazing underwater marine life of Hawaii.
It's located near the Diamond Head Crater and the Kapiolani Park.
Waikiki Aquarium is one of the oldest in the United States, and continues to add new exhibits like the Living Reef that opened in February 2019.
The longest continuously running exhibit at the Aquarium is the Edge of the Reef Exhibit, an outdoor exhibit that recreates what you might find snorkeling along a Hawaiian coral reef.
You will see yellow tangs, parrotfish, gorgeous butterflyfishes, colorful coral and red pencil urchins.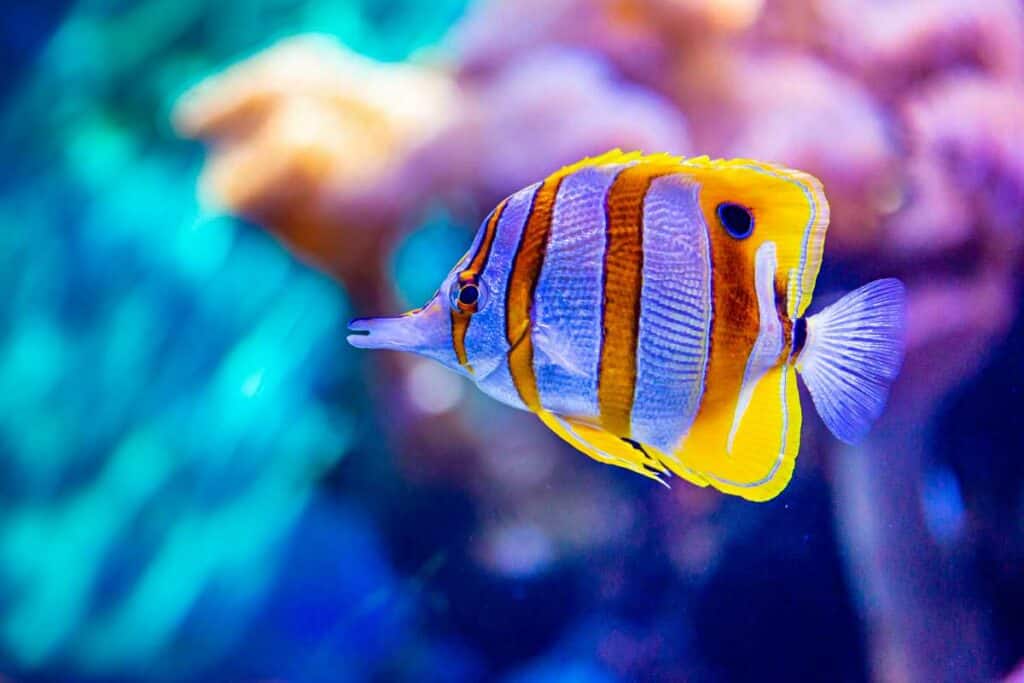 My kids loved the interactive exhibits where they could touch and feed some of the animals found in the local tide pools.
You'll also find some rare and endangered animals in Waikiki Aquarium, such as the Hawaiian monk seals, the Hawaiian green sea turtles and the chambered nautilus.
Visiting Waikiki Aquarium is one best things to do in Waikiki with family!
>> Book an exciting, 5-star rated, highly popular, Oahu tour now!
7. Watch the Fireworks at the Hilton Hawaiian Village Resort
Address: Hilton Hawaiian Village Resort, 2005 Kalia Rd.Honolulu, HI 96815
Hours: 7:45 pm (8:00 pm summer), Friday nights
Cost: Free
One of the best things to do in Waikiki for free is to watch the Hilton Hawaiian Village Resorts weekly fireworks show.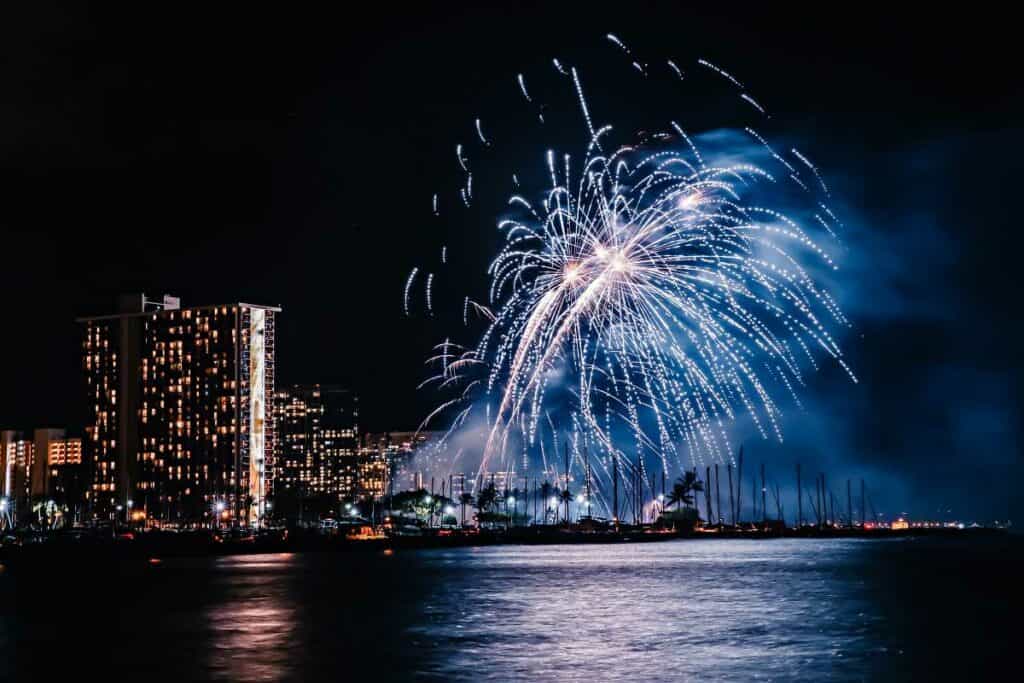 Held every Friday night at roughly 07:45 pm, the fireworks display is a 10-minute spectacular tradition since 1988, enjoyed both by the tourists and the island locals!
One of the best vantage points for observing the fireworks show is on Waikiki Beach itself between the Hilton Resort and Outrigger Reef.
The jetty that extends into the ocean, at the intersection of the Fort DeRussy Boardwalk and Halekulani Boardwalk is a prime location, but be careful you don't fall off the jetty!
On the other side, the best places to see the fireworks are Ala Moana Beach Park and the Magic Island Lagoon.
Make sure you reach there at least 30 minutes early to grab a good location!
Want the best seats in the house? This highly-rated luxury catamaran tour Friday Night Catamaran Fireworks Sail with Open Bar lets you enjoy the fireworks against the magnificent Honolulu nighttime skyline from the open Pacific Ocean!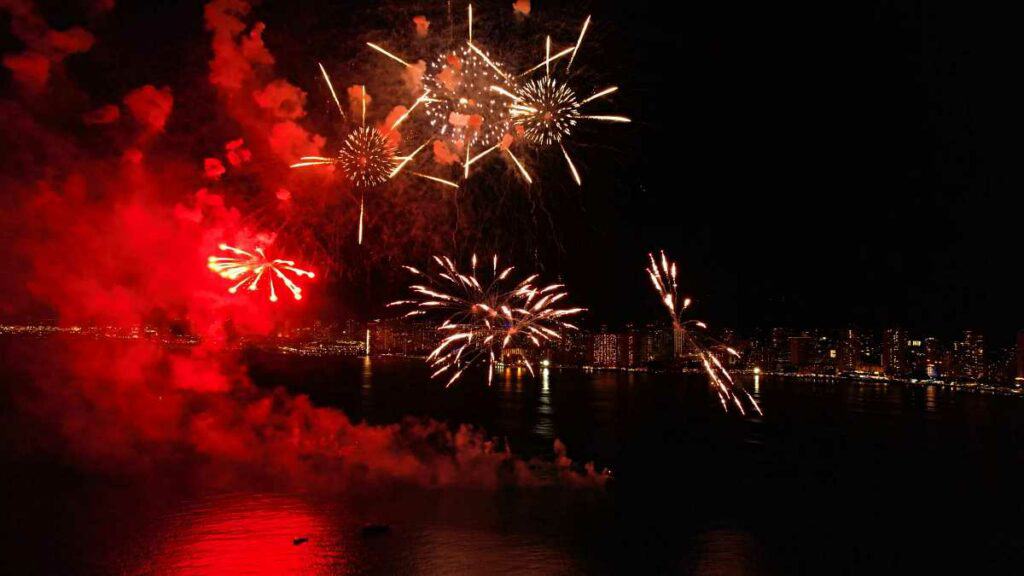 8. Take the Family to Honolulu Zoo
Address: 151 Kapahulu Avenue, Honolulu, Hawaii 96815
Hours: 10:00 am – 03:00 pm, daily
Cost: $21 / adult, $13 / child (3-12)
Vacationing with kids on the island of Oahu? They will love a visit to the Honolulu Zoo, a surprisingly large zoo with 1,200 animals from around the world!
Just a few minutes walk from Waikiki Beach, located at the intersection of Kalakaua Avenue and Kapahulu Avenue, the Honolulu Zoo covers 42 acres on royal land granted by the Hawaiian king (King David Kalakaua).
For my kids, the biggest highlight was the keiki, a children's zoo, where they could pet friendly animals like ponies, goats and sheep.
My personal favorites were the beautiful African pink flamingoes and lemurs from Madagascar!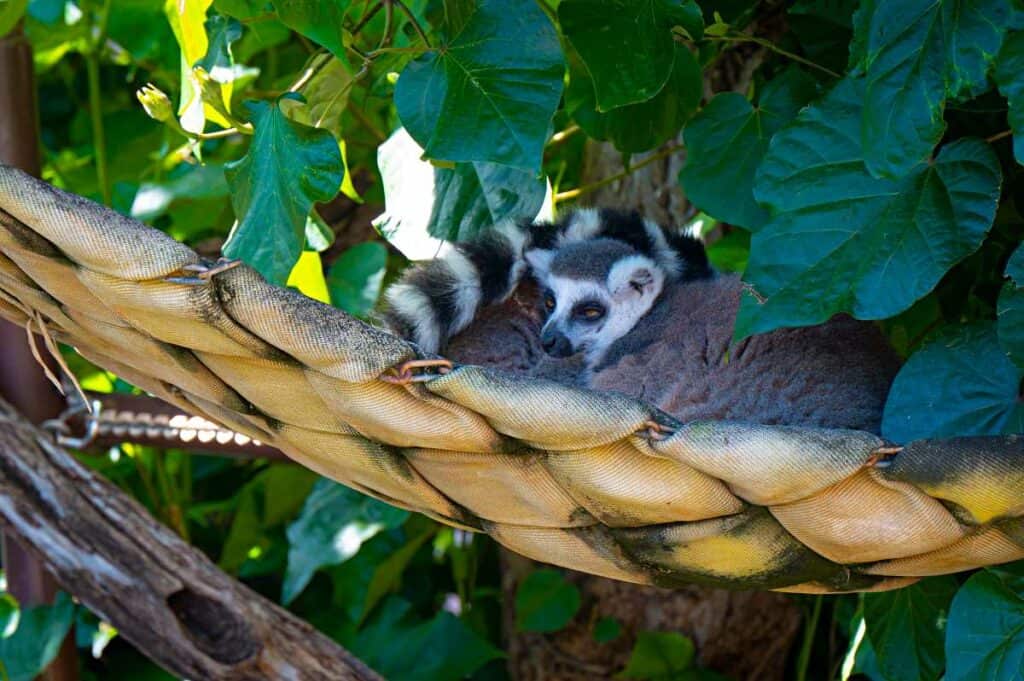 Komodo dragons from Indonesia were a star attraction for my kids. You can also see black rhinos and Sumatran tigers.
Visiting the Honolulu Zoo is another of the best things to do in Waikiki with family!
9. Try Dance Steps at the Hula Show on Kuhio Beach
Address: Kuhio Beach Hula Mound (across from Hyatt Regency)
Hours: Tuesdays & Saturdays. Roughly 6:00 pm to 7:30 pm (depends on the season)
Cost: Free
Want to enjoy one of the best free things to do in Waikiki? Attend the live hula show at the Kuhio Beach Hula Mound (near an old banyan tree across the Hyatt Regency and near Duke Kahanamoku's statue).
Put together by Hawaii's finest dance troupes and performers, the Hula Show features live traditional Hawaiian music and hula dances in an open-air stage surrounded by palm trees and torches.
The 1-hour show opens with the traditional Hawaiian blowing of a conch shell (pu kani) and the lighting of torches!
While browsing through the malls and other areas of Waikiki, we saw many other free hula performances. The one at Kuhio Beach was easily the best, a lot more traditional and authentic!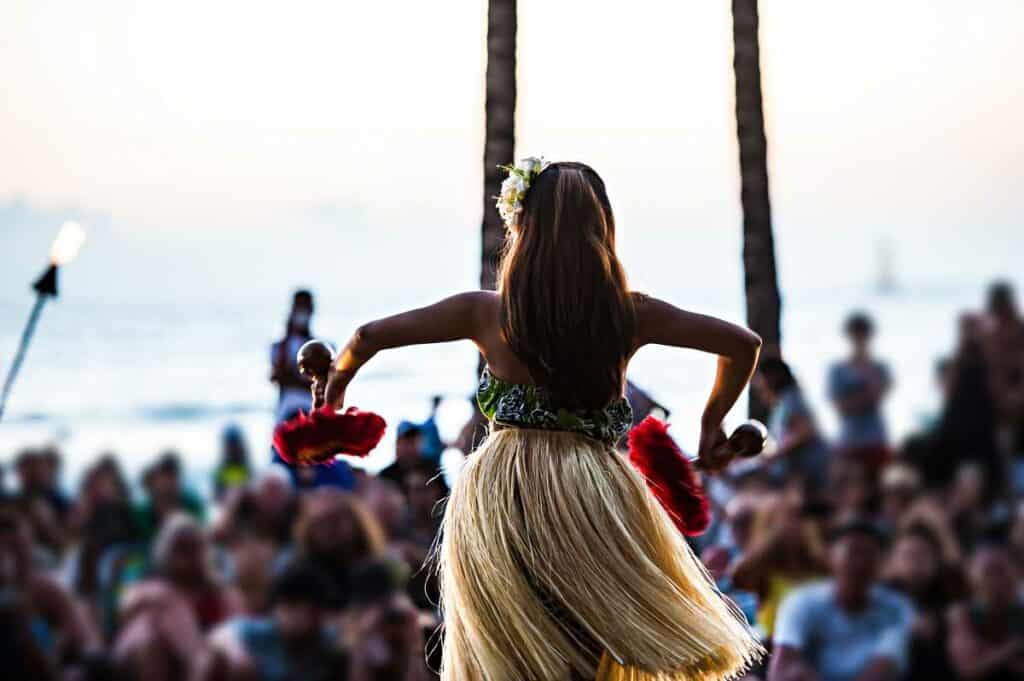 Our kids especially liked the ukulele performance, a lively and popular Hawaiian musical instrument.
Don't miss the opportunity to try out some basic hula steps at the end!
>> Book an exciting, 5-star rated, highly popular, Oahu tour now!
10. Stroll down Kalakaua Avenue
Kalakaua Avenue is the main artery that runs parallel to the Waikiki Beach coastline from the Convention Center down to the Waikiki Aquarium and Kapiolani Park.
We used to love strolling along the beach one way and strolling back up Kalakaua Avenue late evening on the return!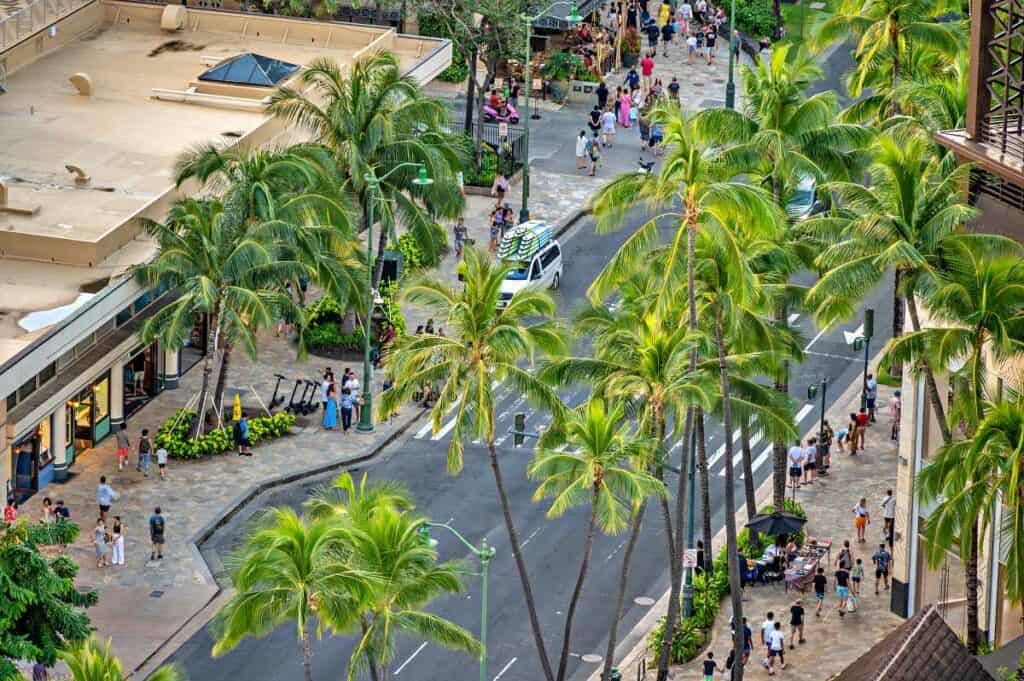 The contrast was amazing – from the relaxing sound of the waves on the shore to the vibrant hum and nightlife of a modern thoroughfare!
The street is lined with shopping malls, restaurants and skyscrapers, a great place to people-watch and take in the action!
11. Window Shop for a Therapeutic Experience
If shopping is your therapy, check out Ala Moana Center, the largest open-air shopping mall in the world, with over 300 stores and restaurants, including brand names like Gucci and Chanel.
The Royal Hawaiian Center has upscale stores – you can window shop ritzy stores like Ferragamo, Jimmy Choo and Hermes, or just splurge!
Window shopping at the Royal Hawaiian Center is one of my favorite things to do in Waikiki for free!
The International Market Place is recently renovated shopping center with a huge banyan tree providing a tropical ambiance to their open air food court
Waikiki Beach Walk is an open-air shopping mall near the Royal Hawaiian Center that is nice to stroll along, and a great way to spend an afternoon.
12. Learn Surfing on Waikiki Beach
Envious of the surfers gracefully riding the waves on Waikiki Beach? Why not learn to surf or get better at surfing in the very waters that Duke Kahanamoku, the father of surfing, brought the sport to the world?
The gentle waves on Waikiki Beach are the perfect place to start your surfing journey!
Many outfits offer surfing lessons, but if you are a beginner, I strongly recommend private, semi-private or family lessons.
My teenage kids took semi-private lessons and picked up the basics of paddling, standing up and balancing quickly, and I think it was mostly due to the dedicated attention they received
Here are some popular, 5-star rated private and semi-private surfing lessons:
13. Enjoy Live Music at the Kapiolani Park
Address: Kalakaua and Paki Ave, Honolulu, HI 96815, United States
Hours: 5 am – 12 am, daily
Cost: Free
Queen Kapi'olani Regional Park is a large, 300-acre, triangular, grass park at the east end of Waikiki Beach, near the base of the Diamond Head Crater, and excellent for a family picnic or a morning jog.
The park includes the Honolulu Zoo, the Waikiki Shell (an outdoor concert amphitheater), tennis and basketball courts, soccer and rugby fields, and even an archery range!
The Honolulu Marathon starts from and ends at Kapi'olani Park.
Enjoy a free concert with live music from the Royal Hawaiian Band every Sunday afternoon at the Kapiolani Bandstand.
My wife's favorite part of the park is the Queen Kapi'olani Garden, a section of the park at the intersection of Paki Avenue and Monsarrat Avenue.
When the flowers from Hawaii and other parts of the world are in the bloom, the garden is spectacular!
14. Scout Waikiki Resorts for Your Next Trip
Wonder what that stunning sprawling pink hotel is as you stroll along Waikiki Beach?
As you walk along Kalakaua Avenue or Waikiki Beach, you'll notice some of the oldest and most historic hotels in Waikiki.
The Royal Hawaiian, also known as the "Pink Palace of the Pacific" is a stunning hotel that stands out with its pink color and Moorish architecture.
One of the first luxury resorts in Hawaii, and a fixture on Waikiki Beach since 1927, the Royal Hawaiian is elegantly renovated and is now part of the Sheraton chain.
The Moana Surfrider, also known as the "First Lady of Waikiki", is a beautiful Victorian hotel that opened in 1901 and was the first hotel in Waikiki.
One of our favorite things to do in Waikiki in the late evening was to pick a new resort bar to chug down sunset mai-tais.
We liked wandering through many of the resorts, some with old architecture but beautifully renovated, others with luxurious modern skyscrapers, scouting accommodations for our next trip to Oahu!
15. Take Photos of Waikiki's Banyan Trees for Instagram
Wondering what that strange looking tree with weird roots coming down from branches is? The Indian banyan tree is a fascinating sight on many of the Hawaiian islands.
The banyan tree is a fig tree that develops roots from branches, aerial prop roots, that become auxiliary trunks supporting the tree and allowing the tree to grow outwards.
The largest banyan tree on the Hawaiian Islands is at Lahaina on Maui (one giant interconnected tree with 16 major trunks covering almost an acre).
On Waikiki Beach itself, you can spot banyan trees at Kuhio Beach, the Moana Surfrider Resort Courtyard, the Honolulu Zoo, the International Market Place and the Queen's Beach.
These banyan trees provide a unique setting to take Instagrammable selfies!
16. Go Deep Underwater in an Atlantis Submarine
Looking for a safe option to view Hawaii's amazing underwater marine life? Apart from the Waikiki Aquarium, you have another great option: a 45-minute ride on an Atlantis submarine.
The Atlantis submarine will take you to a depth of around 100 feet from where you can see coral reefs, tropical reef fish, Hawaiian green sea turtles and, if you're lucky, sharks and spinner dolphins!
The Atlantis submarine has a glass-bottom with large view ports that give excellent views of the tropical marine life.
>> Check out pricing and availability on this popular, highly rated tour: Waikiki Atlantis Submarine Adventure!
17. Attend a Waikiki Luau Feast
Don't have the time to head to the North Shore of Oahu for the Toa Luau at Waimea Valley or the Alii Luau at the Polynesian Cultural Center? Waikiki also offers some amazing luaus!
A luau is a Hawaiian feast with entertainment, usually live music and cultural dance performances.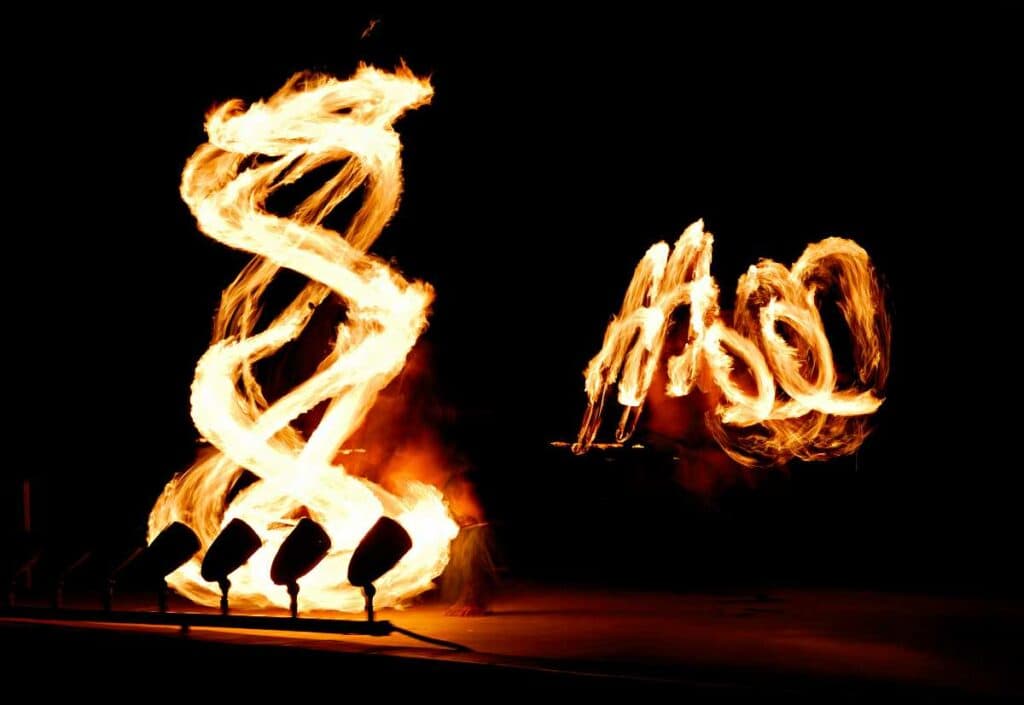 Attending a luau is one of the best things to do in Waikiki at night!
A traditional Hawaiian luau features kalua pua'a (kalua pig), pig that is slow-cooked in an earthen oven (imu).
Other dishes also typically served include poi (a staple made from taro root), poke (diced raw fish), lomi salmon (fresh tomato and salmon salad), 'opihi (molluscs or sea snails) and haupia (coconut milk-based dessert).
On trips where we chose to stay just in Waikiki, we usually spend at least one night at a Waikiki luau. Our kids love the fiery flame dances!
There are many popular, highly rated luaus in Waikiki to choose from:
18. Snorkel With Turtles at Turtle Canyon
Nearing the end of your trip and haven't seen a Hawaiian green sea turtle yet? Don't despair, all you need to do is snorkel at Turtle Canyon!
Turtle Canyon is a marine nature preserve, a coral reef that formed thousands of years ago. Turtle Canyon is accessible by boat, about a 15-minute boat ride from Waikiki.
What's notable about Turtle Canyon is the large number of Hawaiian green sea turtles that gather here!
Apparently, Turtle Canyon is a "cleaning station" for turtles, the coral reef fish surround the turtles, eating algae off their shells.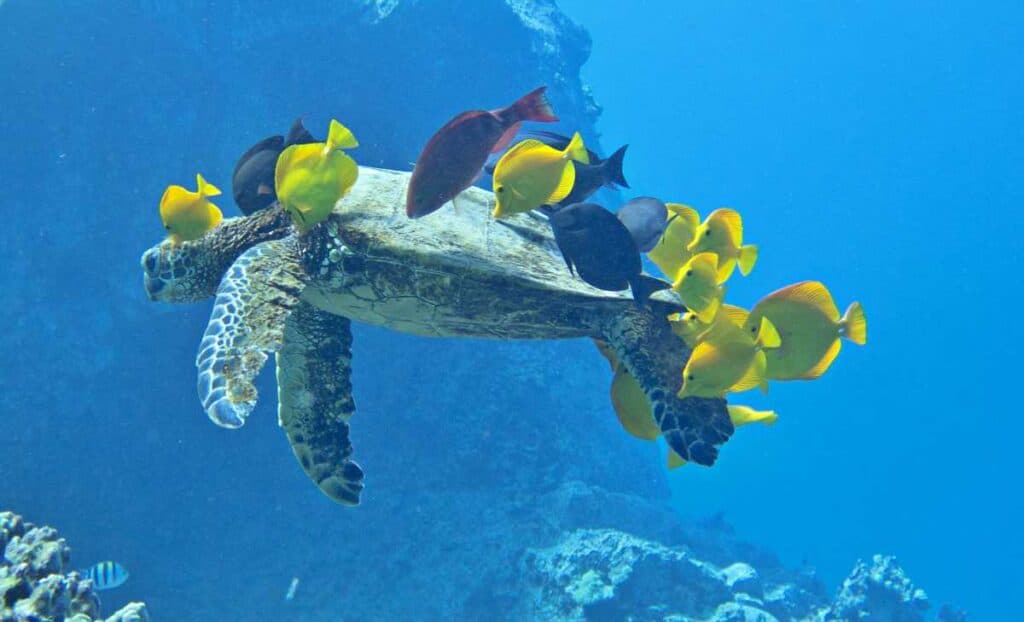 Turtles are so abundant at Turtle Canyon, tour operators will offer a guarantee of turtle sightings!
Turtle Canyon is a favorite snorkeling location for our family, and we've taken many tours. These highly rated, popular tours are our recommendations:
Check out our tips for visiting Turtle Canyon, one of the best fun things to do in Waikiki!
19. Sip Mai Tais While Enjoying Spectacular Views on a Sunset Cruise
Want a sunset experience different from what you get on Waikiki Beach? Sunset cruises offer amazing views of the Waikiki and Honolulu dusk and night skylines, while you enjoy cocktails and watch the colorful sunset over the Pacific Ocean waters!
The sunset cruises take you deeper offshore, and from this vantage point, you get spectacular panoramic views of the Waikiki coastline with Honolulu sykscrapers and iconic Waikiki resorts like the pink, Moorish-architecture, Royal Hawaiian Resort and the Victorian-style Moana Surfrider.
Most of the cruises take you up to Diamond Head Crater, and you can get some fantastic photos of this quintessential Oahu landmark for your Instagram!
Check out some of these popular sunset cruises:
Feel like splurging? Then try a sunset dinner cruise! We took this popular Sunset Dinner Cruise in Honolulu that took us along the Waikiki coastline all the way to Diamond Head Crater as the sun was setting!
The dinner was delicious, prepared fresh, onboard by a chef, which included freshly caught fish. After dinner, we enjoyed some custom cocktails prepared by a very proficient mixologist, and admired the views from the upper deck.
>> Check pricing and availability on this popular, highly rated sunset dinner cruise tour!
20. Admire Hawaii's Rich Marine Life Safely From Glass Bottom Boats
Can't snorkel or dive because you don't want to get wet or are constrained by smaller kids or older family members?
If you fall in this category, don't despair. You have so many different options for marveling at Hawaii's fabulous underwater marine life, from the Waikiki Aquarium to Atlantis Submarine tours.
One of the best options, that will take you out to the deeper coral reefs, are tours on glass bottom boats.
Like other boat tours, you get to see spinner dolphins and humpback whales (in winter) as they jump out of the water.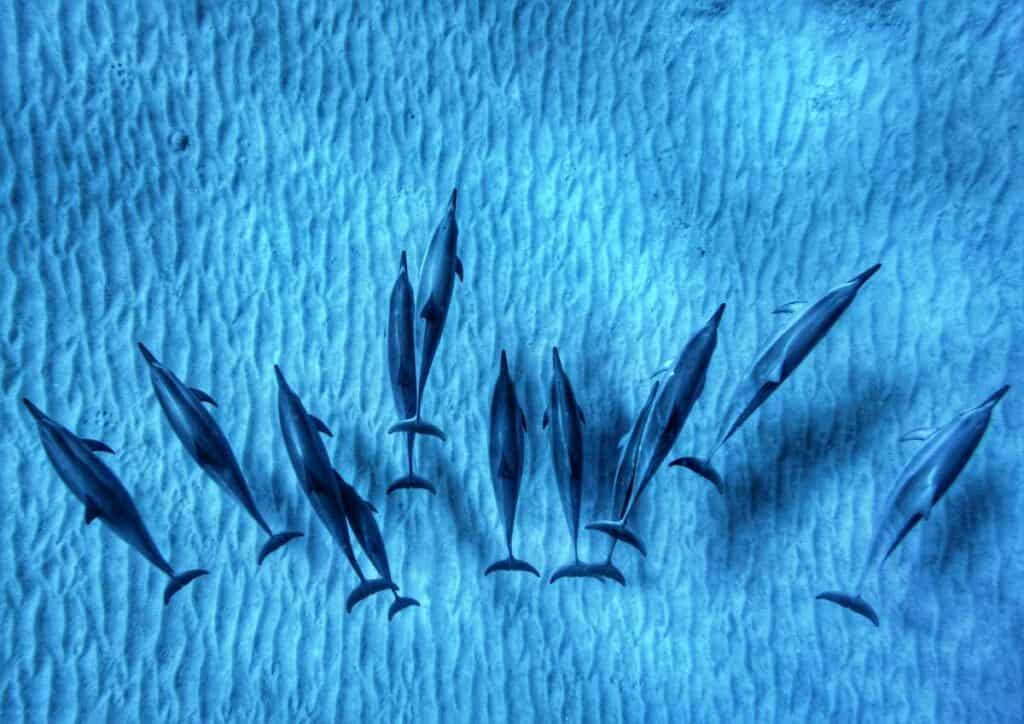 But unlike other tours, these boats are outfitted with magnifying glass view ports at the bottom that opens up an amazing underwater spectacle!
You can see the same amazing coral reef life as with snorkeling and diving, from the endangered Hawaiian green sea turtles to colorful varieties of tropical fish like yellow tangs, beautiful butterflyfishes, and reef triggerfishes.
If you are lucky, you may even spot reef sharks or other bigger sharks from the safety of your glass-bottom boat!
We took this popular, highly rated, glass-bottom afternoon tour when we were vacationing in Waikiki with my wife's parents, and they loved being able to see the coral reefs without getting wet.
The tropical waters around Waikiki have excellent underwater visibility, and they were able to see the coral reefs and tropical fish in all their colorful glory, just as we would have with snorkeling!
Here are some highly rated, popular glass-bottom tours from Waikiki:
21. Ride a Submarine Scooter
Want something more exciting than snorkeling but are not scuba-certified to go diving? Enter a submarine scooter, a unique thrill that even non-swimmers can relish!
On our last trip, we took this amazing tour, Oahu Submarine Scooter Adventure, and just loved the experience!
The tour takes you in a catamaran to Maunalua Bay, past the Diamond Head Crater.
You then ride a personal, electric underwater scooter with which you go under the surface and get to see stunning coral reef marine life including green sea turtles. All the equipment is provided for you.
The scooter is self-propelled and allows you to get close to the colorful fish that you see underwater.
Our whole family took the tour, and we all agreed this was one of the best experiences on our vacation, along with cage diving with sharks on the North Shore of Oahu!
22. Watch Migrating Humpback Whales (in Winter)
Visiting Waikiki in winter? You're in luck! An epic migration of humpback whales from their feeding grounds in Alaska to their breeding grounds in the Pacific Ocean near the islands of Hawaii is underway!
While Maui and the waters near Maui offer the best whale watching in Hawaii, the whales are so plentiful, you can easily see many on Oahu near Waikiki!
In fact, most whale watching tours guarantee whale sightings (note, book your whale watching trip early, so you can use the guarantee if needed).
Humpback whales are majestic, weighing upto 60,000 pounds (equivalent in size to a school bus), and exhibit fascinating patterns of behavior!
The sight of a fully grown, male humpback whale breach the surface of the water by propelling itself into the air is an incredible, bucket-list kind of experience.
So too is the sight of a newly born calf, gliding smoothly and synchronously with its gigantic mom!
Don't miss this exciting, once-in-a-lifetime opportunity to witness and understand these mighty creatures! Check out these popular, highly rated tours:
The tour we took, Oahu Whale-Watching Excursion, had an expert guide that walked us through the details of the migration and the life of a humpback whale.
We took the tour in January, which is the peak month for whale sightings, and were not disappointed, we saw more than a dozen, some in a pod!
>> Check out pricing and availability on this popular, highly rated whale watching tour!
23. Surf the Waves on Outrigger Canoes
How did the ancient native Hawaiians ever reach Hawaii, such a remote island? Using canoes!
Some of these canoes were outrigger canoes, canoes that have a float on one side, and were specifically designed by native Hawaiians to transport people and goods, sometimes upto 80 people.
While the design has evolved over the millennia, outrigger canoes have made a dramatic comeback in modern Hawaii, where the official state team sport is outrigger canoeing, and canoe racing is very popular.
Want to partake in this fun? We, as a family, took this tour, Outrigger Canoe Surfing, in which we paddled in the Waikiki waters and surfed three waves.
A fun way to experience outrigger canoe surfing!
>> Check out pricing and availability on this well-rated Outrigger Canoe Surfing tour!
24. Explore Downtown Honolulu
Not content with limiting your vacation to Waikiki? Downtown Honolulu is short distance from Waikiki and offers many cultural and nature viewing opportunities not available in Waikiki.
Honolulu Museum of Art
When I think of Hawaii, I usually don't visualize visiting a museum!
But the Honolulu Museum of Art boasts works from Monet, Picasso, Van Gogh, Gauguin and Warhol! You can also see the works of Hawaiian and Asian artists.
To do justice to the 30 odd galleries, the Docent-Guided Tour is the best option, where a knowledgeable guide takes you through the collections and the highlights.
Foster Botanical Garden
A garden in Downtown Honolulu? Yes, and what a garden!
The 14-acre Foster Botanical Garden is the oldest of Honolulu's gardens and boasts mature, magnificent tropical trees.
The kids highlight was the Outdoor Butterfly Garden, where hundreds of pretty butterflies were flitting around!
Bishop Museum
Want to learn more about Hawaii? Bishop Museum is where I usually take the kids.
My kids like interactive stuff, and the Bishop Museum has a ton of these. The live lava demonstration was their favorite!
The main galleries that we spent the most time on were the Hawaiian Hall (all about Hawaiian traditions, history and culture) and the Pacific Hall (the Pacific people, their origins and migrations, complete with model canoes).
Iolani Palace
Royalty in a staunchly democratic nation like the United States of America? Oddly enough, USA did have monarchs and royalty in the state of Hawaii, and the Iolani Palace is the only royal palace in USA!
King Kalakaua built the Iolani Palace in 1882, a lavish and elegant palace.
Today, the palace is a museum open to the public, and you can see the throne room, the dining room and many parts of the residence with the original furniture and artwork.
25. Spend a Day Exploring Oahu on a Circle Island Tour
Time-limited vacation, but have a day to spare? You can explore the rest of Oahu with an all-day island tour takes you through the highlights of Oahu.
That's what we did on our first vacation to Oahu. We spent the bulk of the vacation in Waikiki (our kids were smaller), but got a taste of what the island of Oahu has to offer with an all-day tour.
Not only did we learn what we were missing, we were able to plan the next few vacations around amazing activities on the North Shore of Oahu and the Windward or East Side of Oahu.
When it comes to all-island or circle island tours, you have a plethora of choices ranging from larger bus tours to small group tours to customized, private tours.
The small group tours are a good compromise as far as budget and experience go, and the one we chose was the Majestic Circle Island Eco Tour from Waikiki.
With small kids, we liked the hotel pickup convenience. Our guide was a native Hawaiian and had a whole bunch of stories about growing up on Oahu, with an excellent mixture of self-deprecating humor!
These are the top three, 5-star rated, wildly popular, circle island tours:
Map of the Best Things to Do in Waikiki, Hawaii
The below map shows the locations of the best things to do in Waikiki, Hawaii. If you are staying in Waikiki, these locations are very easily accessible.
Where to Stay in Waikiki
Hotels and Resorts in Waikiki
The Outrigger Waikiki Beach Resort offers accommodations overlooking Waikiki Beach and Diamond Head. Stay in rooms with fabulous ocean views, have cocktails at Duke's Waikiki, and enjoy nightly entertainment and cultural activities.
>> Check price and availability for the Outrigger Waikiki Beach Resort now!
The Hyatt Regency Waikiki Beach Resort and Spa is located just off the beautiful sandy beach and turquoise waters of Waikiki Beach. Relax in the swimming pool overlooking the ocean, treat yourself at the spa, and enjoy the cultural offerings.
>> Check price and availability for the Hyatt Regency Waikiki Beach Resort now!
For an exceptional stay in Waikiki, you can't go wrong with the Halekulani Hotel. The 5-star hotel has been welcoming visitors for more than 100 years, and its beautifully-appointed rooms will wow you, as will the impeccable service.
>> Check price and availability for the Halekulani Hotel now!
The Moana Surfrider is a Westin resort on Waikiki Beach and a wonderful place to base during your visit to Oahu. Get pampered at the Moana Lani Spa, enjoy the rooftop terrace, and opt for a residence in one of the two modern towers.
>> Check price and availability for the Moana Surfrider now!
Vacation Rentals in Waikiki
This ocean view apartment is located steps from the Kuhio section of Waikiki Beach. The one bed, one bath unit is the ideal getaway for two right on the beach. Enjoy the large balcony, and use of beach umbrella and chairs.
>> Check price and availability for this beachfront Waikiki apartment now!
This spacious condo at the Ilikai Hotel comes with 2 bedrooms and 2 baths. Enjoy ocean views from the two balconies, free onsite parking for your vehicle, free wifi and no resort fees.
>> Check price and availability for this Ilikai condo now!
Getting Around Waikiki, Honolulu, Hawaii
Waikiki is relatively small and self-contained, a narrow strip of about 3 miles.
You don't need a car, and if your party is mobile and active, then walking to most of the best things to do in Waikiki is perfectly reasonable.
Walking
Been to the strip in Las Vegas? Waikiki is a bit like that.
Just walk to your destinations, and you'll see a lot more of Waikiki that way. Your two main options are walking along the coast (beachfront promenade) or the main artery, Kalakaua Avenue, that runs parallel.
Walking down Kalakaua Avenue or the beachfront promenade from one tip of Waikiki (Hilton Hawaiian Village Resort) to the other end (Waikiki Aquarium) is roughly 30 minutes to an hour, depending on your pace.
Bus or Waikiki Trolley
Tired of walking? The bus or trolley system is very convenient and cheap!
Obviously, that comes with a price: wait times and frequent stops. If you are in no hurry, and want to take in the leisurely pace of island life, buses and trolleys are perfect for you.
An interesting option is a hop-on, hop-off tour like the Waikiki Trolley Hop-On Hop-Off Tour of Honolulu, that allows you jump onto a double decker bus or open-air trolley unlimited number of times for 1, 4, or 7 day options.
Bikes, Mopeds, EBikes, Scooters
Feeling adventurous? Renting a bike, moped, eBike or scooter is easy and a very different way to see Waikiki and the rest of the island.
Though my personal preference to walk to most things to do in Waikiki, I had several friends rent mopeds and scooters, but more often to go to the North Shore of Oahu or the East Side of Oahu.
They loved the adventure, especially those who had not tried it earlier!
Things to do in Waikiki, Honolulu, Hawaii: FAQ
How can I save money on the best things to do in Waikiki?
If you are vacationing as a family with kids, the cost of many of the best things to do in Waikiki, like visiting the zoo, aquarium, museums, etc., will quickly add up.
Oahu is part of the Go City program, and an all-inclusive pass is worth exploring! We used this on many of our vacations, and saved a substantial amount of money.
Check the Go City: Oahu All-Inclusive Pass with 40+ Attractions and Tours!
What are some fun things to do in Waikiki, Hawaii?
Waikiki can be an exciting vacation destination for thrill seekers, adventure tourists and young adults. My favorite fun things to do in Waikiki, Hawaii, are: taking an underwater submarine scooter ride, snorkeling Turtle Canyon, and taking food tours!
What are things to do in Waikiki at night?
Waikiki comes alive at night, and you have a lot of things to do in Waikiki at night apart from fine dining and bar hopping: watch the Hilton Village fireworks on Friday nights, attend luau feasts and watch the fire dancers, and sip mai tais on sunset cruises!
What are things to do in Waikiki with family?
Keeping kids engaged during vacations can be difficult, but there are many fun things to do in Waikiki with family: visiting the aquarium and zoo, taking the kids surfing and snorkeling, and attending a luau with fire dancers.
What are some free things to do in Waikiki?
While a Hawaiian vacation can be expensive, there are many fun, free things to do in Waikiki: stroll along Waikiki beach and Kalakaua Avenue watching the action and window shopping, watch the Hilton Village fireworks on Friday night, watch the Hula show and try a few steps on Kuhio Beach, and enjoy live music at the Kapiolani Park on Sunday afternoon.
Best Oahu Tours
Have you booked these popular Oahu tours and excursions yet?
Love snorkeling? This Turtle Canyon snorkeling excursion from Waikiki lets you frolic with colorful fish and Hawaiian green sea turtles. Hands down the MOST BOOKED Oahu snorkeling tour: turtle sightings are guaranteed!
The most popular luau in Oahu, Paradise Cove Luau has a 4.5 rating on Viator with over 3.5K reviews. The tour includes pick-up from your Waikiki hotel, pre-dinner games, arts, and crafts, a delicious meal, and an award-winning show.
Based in Waikiki but want to see more of the island? This full-day Oahu Circle Island Tour includes Diamond Head, Hanauma Bay, Haleiwa, the Dole Plantation, and more!
Pay your respects at the USS Arizona Memorial at Pearl Harbor! This popular Pearl Harbor tour includes boat tickets and round-trip transport from Waikiki.
A super popular Oahu North Shore excursion, this Oahu shark cage dive allows you to observe wild sharks in the open ocean from the safety of a cage! It's a THRILLING Oahu advennture for your bucket list.
We have a detailed guide to the top Oahu tours and excursions if you are in the midst of planning your itinerary for the island.
Renting a Car in Oahu
If you want to explore more of the island of Oahu on your vacation, you should get a rental car.
Oahu's popular attractions are spread over the island: the windward coast, the North Shore, and Ko Olina are great places to explore beyond Waikiki (or the greater Honolulu area).
While Oahu does have public transport options that are better than the other islands, a car offers a lot more flexibility and time savings.
We always use Discover Cars to book Oahu car rentals. They search across a variety of rental car companies, both budget and brand, to offer you the best deals, AND they offer free cancellations. Plus, there are no hidden fees.
>> Check availability and prices on Oahu car rentals now!
Honolulu Airport-Hotel Shuttle
If you are not planning to get a rental car at Honolulu Airport, consider booking shuttle transport in advance!
This shared shuttle can be canceled up to 24 hours from the date of service. It serves hotels in Waikiki and Honolulu and then back again to the airport the day you leave. It's convenient and inexpensive, and saves time and hassle!
>> Check prices and availability for shared round-trip airport transfer in Oahu now!
Staying in Ko Olina? Consider this round-trip airport transfer instead!
Where to Stay in Oahu
Honolulu (Waikiki in particular) offers a large number of hotels and resorts, along with shopping and dining options. Most visitors to Oahu choose to base in Honolulu at least for a part of their stay.
While many of the large chains have a presence if you are looking to use your memberships, Honolulu also has several unique boutiques to consider.
Our faves include Halekulani for a splurge stay, the Lotus Honolulu for views of Diamond Head, and The Laylow for its awesome location.
Want more room to spread out or looking to stay elsewhere on Oahu? You will find VRBO listings all over the island!
On previous trips to Oahu, we have stayed in VRBO rentals in Waikiki as well as on the North Shore and the east coast and we've found the choice and quality great.
>> Look for an Oahu vacation rental on VRBO now!
More Oahu Travel Inspiration
Planning a trip to Oahu? Check out our other in-depth Oahu travel guides for help finalizing your Oahu itinerary!
Start by discovering the best things to do in Oahu. We also have a detailed guide to Oahu's North Shore, a round-up of things to do on the east side of Oahu, and the best things to do in Ko Olina, on the west coast of the island.
Of course you'll want to learn about all the exciting things to do in Honolulu, Hawaii's capital, and Waikiki, the touristic core of Oahu.
We also have a guide to the best beaches in Oahu, and a round-up of the must-visit Oahu waterfalls.
Oahu is home to so many must-visit landmarks! Check out our in-depth article on how to visit Pearl Harbor, and our guides on the beautiful Waimea Valley in Oahu and the spectacular Byodo-In Temple.
Want to enjoy the thrill of observing sharks in the wild? Check out our article on shark cage diving on Oahu's North Shore!
Discover the top places to go snorkeling in west Oahu, where you will find a long coastline with lovely beaches, and tips for snorkeling Kaneohe Sandbar on the island's east coast.
And if you love marine life, also check out our complete guide to (respectfully!) see and swim with dolphins in Oahu, and the best spots to snorkel with turtles in Oahu.
For hikers and outdoor enthusiasts, we have a round-up of the best Oahu hikes, and if you are looking to exclude the harder Oahu trails, a guide to the best easy Oahu hikes.
Find out how to do the iconic (and VERY popular) Diamond Head Hike near Waikiki for exceptional views. We also have a guide to the very popular Manoa Falls Trail in Honolulu.
More advanced hikers will want to read up on the Koko Head Hike, a long set of stairs leading to expansive views.
Learn where to go for the best sunsets in Oahu, whether you want to hike or enjoy watching a colorful Hawaiian sunset without working up a sweat.
We also have a guide to the best sunrise hikes in Oahu, one of which is the spectacular Makapu'u Point Lighthouse Trail in the southeastern part of the island. The Lanikai Pillbox Hike is another wonderful sunrise hike on Oahu!
Did you find this article informative? Pin it for later!