Waimea Valley: Waterfall, Botanical Gardens, Toa Luau – 2023
Waimea Valley is a must-visit location in Oahu: a triple treat of one of best waterfalls in Oahu, a stunning botanical garden, and one of the best luaus in Oahu!
Located on the North Shore of Oahu, Waimea Valley is a treasure trove of lush greenery, ancient archaeological sites, and cascading waterfalls. For 700 years, ancient Hawaiians lived and thrived in this very valley!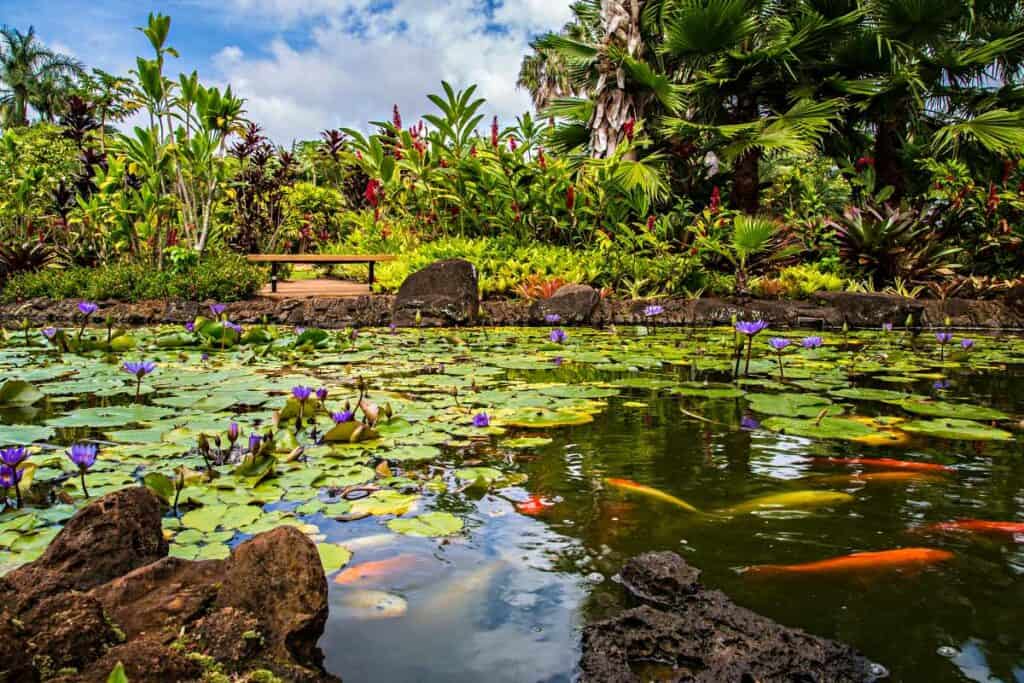 Visiting Waimea Valley is one of the best things to do in Oahu, with its beautiful botanical garden, an amazing waterfall that cascades into a pool where you can swim, and Toa Luau, a cultural and culinary delight!
In this blog post, I will share with you my experience of visiting Waimea Valley, and give you some tips and recommendations on how to make the most of your visit. 
Hey, by the way! Visiting Oahu and planning your bucket-list activities? Check out our in-depth guide to the best tours and excursions in Oahu worthy of the splurge!
Some links on this page may be affiliate links. If you click an affiliate link and make a purchase, we may receive a small commission, at no extra cost to you. For more details, refer to our disclosure.
What is Waimea Valley, Oahu, Hawaii? An Introduction
Waimea Valley is one of the most beautiful and sacred places on Oahu. It is a stunning valley on the North Shore of Oahu, close to the town of Haleiwa, off Kamehameha Highway.
Waimea Valley is a place where you can experience the beauty, history and culture of Hawaii in one location. It is part of a larger area called Waimea, which means "reddish water" in Hawaiian, because of the color of the soil that runs into the ocean.
Waimea Valley: Rich Hawaiian History
Waimea Valley has been a sacred place for Hawaiians for over 1000 years. It was once the home of powerful chiefs and priests who ruled over the land and the people.
They built temples, farms, fishponds and villages in the valley, and practiced their religion and culture. They also fought battles and made peace with other chiefs from different islands.
Waimea Valley Botanical Gardens: Incredible Biodiversity
With over 5000 species of plants, rare and endangered birds, and a stream where you can see native fish, Waimea Valley has a rich biodiversity of plants and animals, some of which are found nowhere else in the world.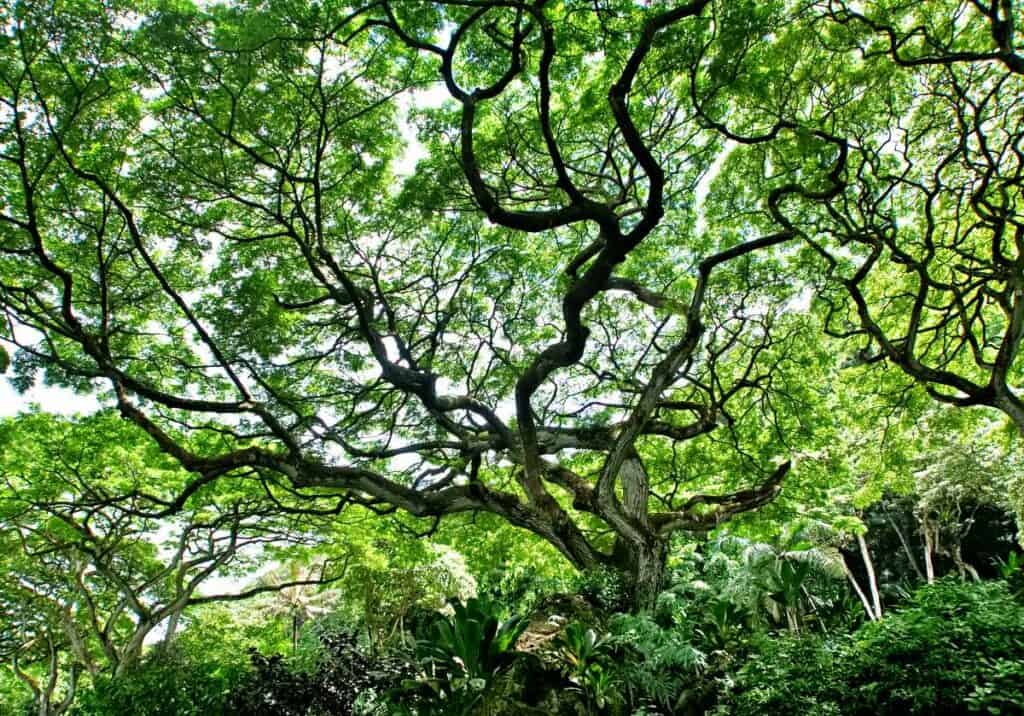 Waimea Valley Falls: Fun for the Family
Waimea Valley is the perfect place for a family outing, especially a family with small kids! The valley is about 1,875 acres in size, and has many trails and paths to explore.
Waimea Valley has a 45-foot beautiful waterfall that plunges into a pool where you can swim and relax in the cool water(with a life guard and life vests), a cultural center where you can learn about Hawaiian history and culture through activities like hula demonstrations, music performances, storytelling, and crafts, and one of the best luaus in Hawaii.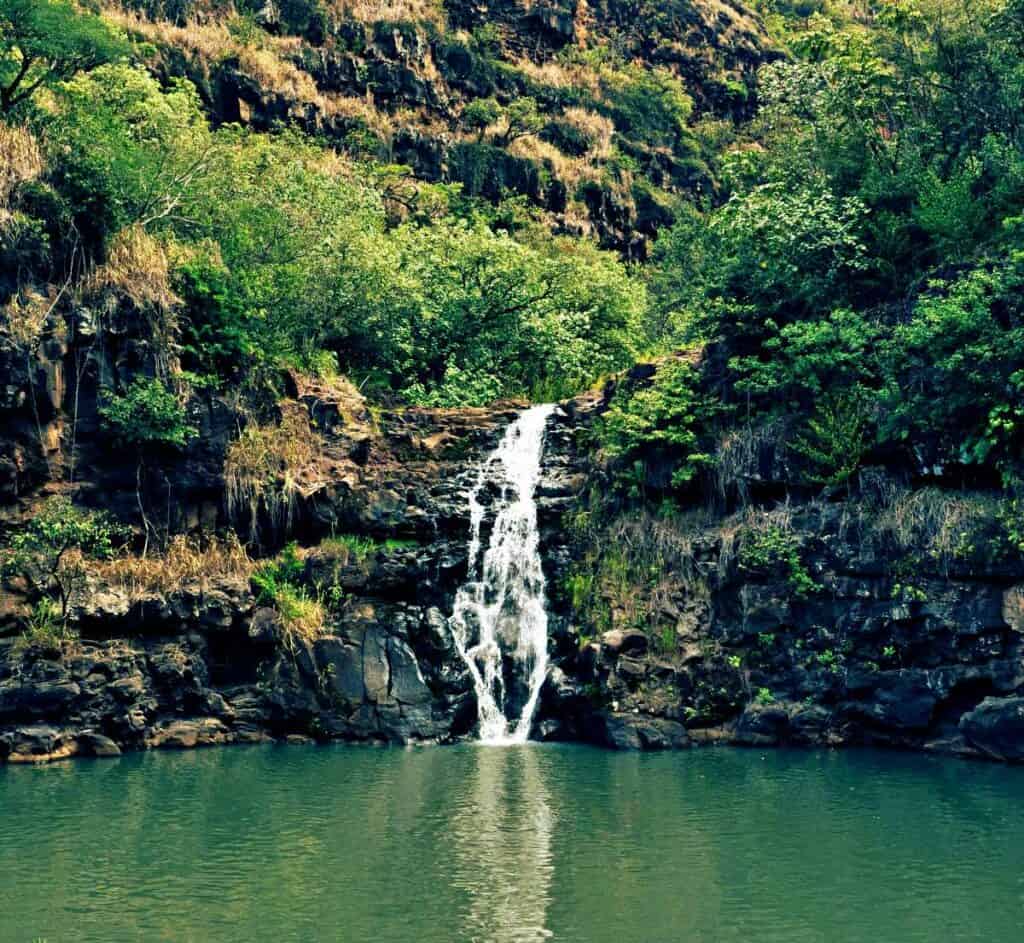 >> Book an exciting, 5-star rated, highly popular, Oahu tour now!
How to plan your visit to Waimea Valley, Oahu?
Waimea Valley is open daily from 9:00 AM to 5:00 PM, except for Christmas and New Year's Day.
How to Get to Waimea Valley?
Waimea Valley, on the North Shore of Oahu, Hawaii, is about an hour drive from Honolulu, depending on traffic. You can get there by car, bus, or tour.
If you have your own car or a rental car, you can drive to Waimea Valley.
From Haleiwa town, you need to take Kamehameha Highway (HI-83) for about 6 miles. Waimea Valley will be on your right, across from Waimea Bay Beach Park.
There is a large parking lot at Waimea Valley, but it can get crowded during peak hours. The parking fee is $5 per car.
The bus route is #52 Wahiawa-Haleiwa, and you can catch the bus from various locations in Honolulu, such as Ala Moana Center or Chinatown. The bus fare is $2.75 per person.
If you want a hassle-free way to visit Waimea Valley, you can join a tour that includes transportation and, sometimes, admission fees.
Many tours offer Waimea Valley as part of their itinerary (sometimes as an optional add-on), along with other attractions on the North Shore, such as Dole Plantation, Turtle Beach, and Sunset Beach.
Here are some of the highly rated, popular tours.
We chose the private tour on our most recent vacation, Private Circle Island Tour with Sunset & Free Photo Session by a Photographer, and we had the best time of our trip! You can't beat the flexibility that comes with a private tour, and our driver turned out to be an excellent guide and photographer!
Click here to check pricing and availability on this tour!
Waimea Valley Entrance Fees (How to save money!)
The botanical garden has a visitor center where you need to pay a small entry fee to enter the valley. The fee currently is $25 for adults, $12 for seniors, $12 for children 4-12, and free for children under 4.
You have three options for saving money on the entrance fee:
Waimea Valley Facilities
Waimea Valley is a great day trip for families, especially, families with small kids because it has many facilities to make your visit comfortable and enjoyable.
The facilities include a gift shop, snack bar, coffee house, bar and restrooms. The waterfall has a changing room, lockers, life jackets and a life guard.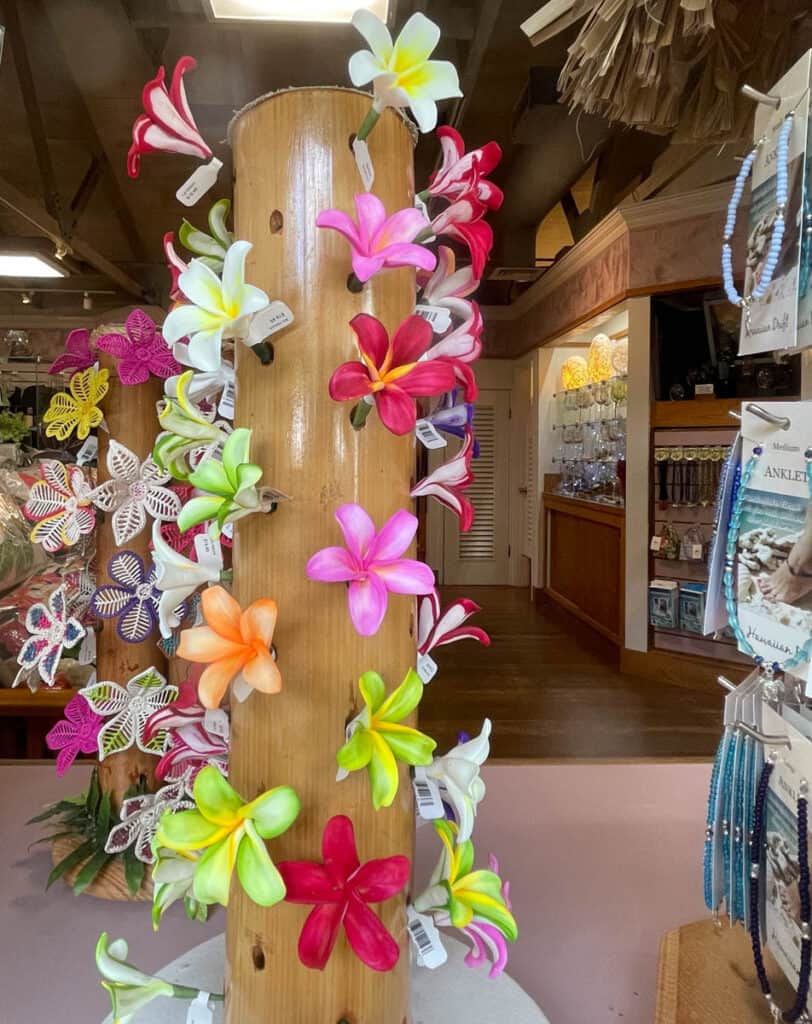 >> Book an exciting, 5-star rated, highly popular, Oahu tour now!
Archeological Site in Waimea Valley
Waimea Valley was given to the high priests or the Kahuna Nui in 1092. They were experts in many things like farming, healing, fishing and teaching.
The valley has many ancient sites, primarily of three kinds: heiau (temples), hale (houses, and lo'i (fields).
Heiau (Temples)
Heiau are ancient temples or shrines where the Hawaiians prayed to their gods or ancestors. There are three major heiau around Waimea Valley: Pu'u o Mahuka Heiau (the largest heiau on Oahu), Kupopolo Heiau (a human sacrificial temple), and Kaneaukai Heiau (a fishing shrine).
You can visit these heiau and learn about their history and meaning from signs or guides.
Hale (Houses)
Hale are traditional houses or structures where the Hawaiians lived or worked. You can see how these hale were built and used by the Hawaiians from signs or guides.
There are several hale in Waimea Valley that show different aspects of Hawaiian life: Hale Noa (sleeping house), Hale Mua (men's eating house), Hale Aina (women's eating house), Hale Ku'ai (storehouse), Hale Pili (thatched house), Hale Koa (warrior's house), and Hale Wa'a (canoe house).
Lo'i (Fields)
These are terraces or fields where the Hawaiians grew taro, a staple food in Hawaii. Taro is a root crop that can grow in wet or dry conditions.
The Hawaiians used water from the stream to irrigate their lo'i and create a complex system of agriculture. You can see some of the lo'i in Waimea Valley and learn about how they were made and maintained from signs or guides.
>> Book an exciting, 5-star rated, highly popular, Oahu tour now!
Waimea Valley Botanical Gardens
Waimea Valley Botanical Gardens is a plant lover's paradise, with over 5000 types of plants from all over the world!
The botanical garden of Waimea Valley is arranged in different sections or gardens with a theme (plants from a certain region like Hawaii, Polynesia, and South America, or plants that have a certain use or purpose, such as food, medicine, and fiber.
The botanical garden covers most of the valley floor, and follows the stream that leads to the waterfall. You can walk along the paved trail that goes through the botanical garden, and enjoy the beauty and diversity of the plants.
One of the best spots for Waimea Valley photos is when you enter the park: you will see a pond with huge water lilies, called Victoria Amazonica and they can grow up to 10 feet wide!
The Waimea Valley botanical garden has so many plants to see that you might feel overwhelmed. But don't worry, I'll give you some highlights of what you can see in the botanical garden.
I had heard the names of many of these plants, and it was wonderful to actually see them all in one place!
Hawaiian Plants
These are plants that are native to Hawaii, or were brought by the early Polynesian settlers. You can see plants that are important for Hawaiian culture and traditions, such as taro (kalo), banana (mai'a), coconut (niu), ti leaf (ki), and hibiscus (koki'o).
You can also see plants that are unique to Hawaii, such as silversword (ahinahina), lobelia (oha wai), and sandalwood (iliahi).
Polynesian Plants
These are plants that come from other islands in Polynesia, such as Tahiti, Samoa, and Tonga. You can see plants that have similar uses or meanings as Hawaiian plants, such as breadfruit (ulu), noni (nonu), and candlenut (kukui).
You can also see plants that have different uses or meanings than Hawaiian plants, such as tiare (gardenia), kava (awa), and pandanus (hala).
South American Plants
These are plants that come from South America, such as Brazil, Peru, and Colombia. You can see plants that have colorful flowers or fruits, such as orchids (okika), bromeliads (pina), and passionflower (liliko'i).
You can also see plants that have useful products or substances, such as rubber (kawele), cocoa (kokoleka), and quinine (kinina).
African Plants
These are plants that come from Africa, such as Madagascar, Ethiopia, and South Africa. You can see plants that have strange shapes or adaptations, such as baobab (babaobu), cycads (sikada), and aloes (aloe).
You can also see plants that have medicinal or cultural values, such as rosy periwinkle (periwinkle loa), coffee (kope), and frankincense (frankincense kahiko).
Hike Waimea Valley Trail
Waimea Falls hike is a short and easy hike on the paved Waimea Valley Trail, the main trail that takes you through a lush botanical garden and past some historical sites. It is literally a stroll in the park!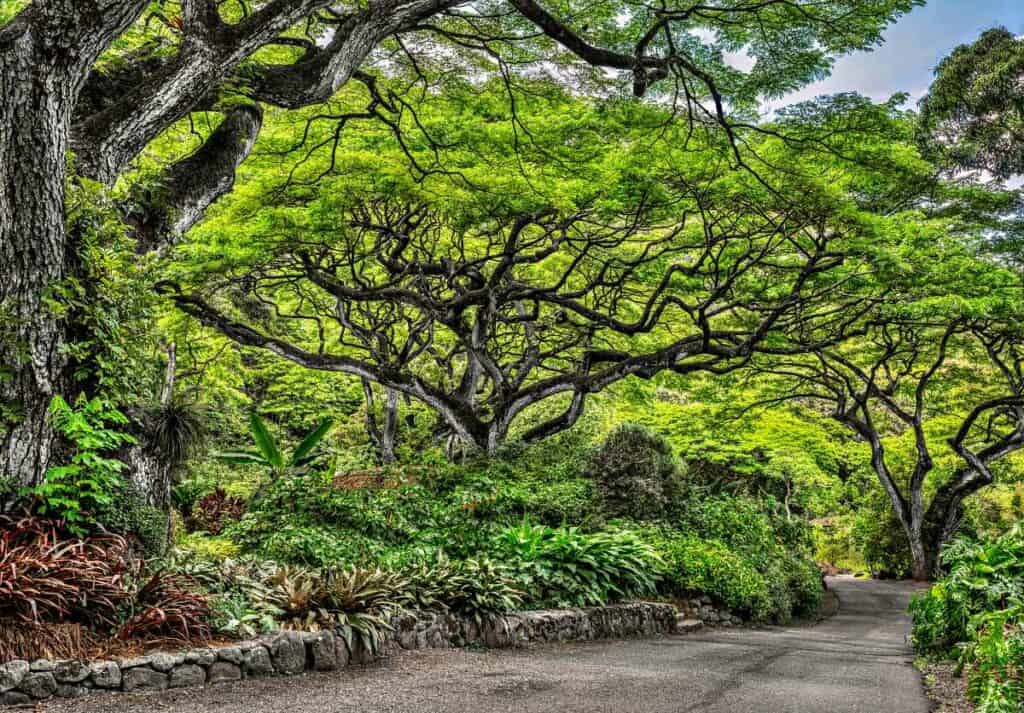 The Waimea Valley hike is about 1.5 miles (2.4 km) roundtrip, and it is mostly flat and paved. You can walk at your own pace, or join a guided tour if you want to learn more about the plants and the culture of the valley.
The hike starts at the entrance of Waimea Valley, where you can pick up a map of the trail.
As you walk, you will see many signs that tell you about the different plants and animals that live in the valley. There are many side trails that you can explore.
The trail follows the Waimea Stream, which flows from the mountains to the ocean. You will hear the sound of water and birds as you walk. You will also feel the breeze and smell the flowers.
You will also see some ancient sites, like a kauhale (a village), a heiau (a temple), a lo'i kalo (a taro patch), a pohaku ku'i 'ai (a stone for pounding poi), and more. These sites are sacred, so please be respectful and don't touch or climb on them.
The trail ends at Waimea Falls, which is also known as Waihi Falls. Hiking Waimea Falls Trail is one of the best waterfall hikes in Oahu, its so easy!
Waimea Valley Waterfall: A Fun and Refreshing Experience
Waimea Valley Falls, one of the most popular waterfalls in Oahu, and the swimming area at its base are two of the main attractions of Waimea Valley.
You can get there by walking along the paved trail (Waimea Valley Trail) that goes through the botanical garden, among the easiest hikes I have taken. It takes about 20 minutes to get there, but you can also take an optional shuttle service if you want.
Waimea Falls, also known as Waihi Falls, is a stunning 45-foot-tall waterfall that flows from the Kamanui Stream, which comes from the north end of the Koolau Mountains.
Waimea waterfall drops into a large pool area that is about 30 feet deep. The pool is surrounded by rocks, trees, and plants, creating a natural and beautiful setting.
The water in the pool is cool and refreshing, and you can see fish and turtles in the water. You can also enjoy the view of the forest and the mountains from the pool.
Waimea Valley is one of the few places in Oahu where you can legally swim at the waterfall!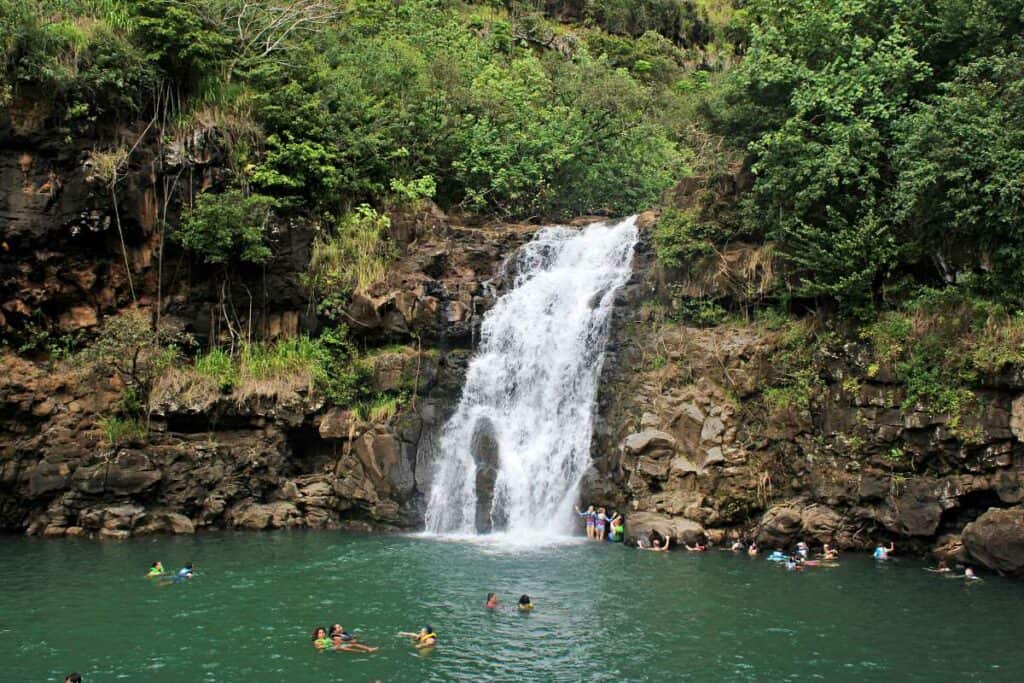 To swim at the waterfall, you need to wear a life vest that is provided by the staff for free. There is also a changing room near the pool where you can change your clothes.
You can also dive or jump into the water from the rocks, but be careful not to hit the bottom or hurt yourself. Sometimes, you can also see professional cliff divers who perform cliff jumping shows at the waterfall.
There is a lifeguard on duty who monitors the water conditions and safety of the swimmers.
You can swim or sunbathe as long as you want, but be careful not to drink the water or get it in your eyes or mouth. Do not enter the water if you have an open cut or wound. The water may have bacteria that can cause infections or disease.
Toa Luau at Waimea Valley: A Cultural and Culinary Experience
Toa Luau is a cultural and culinary experience that you don't want to miss – a traditional Hawaiian luau feast with delicious foods and great live musical entertainment.
Toa Luau is one of the best Hawaiian luaus in Oahu and takes place at Waimea Valley on Oahu's North Shore. It is the only Oahu luau that is held in a beautiful botanical garden.
Toa Luau offers three different luau packages: Silver, Gold, and VIP. Each package includes admission to Waimea Valley, where you can visit the waterfall, the botanical garden, and the cultural sites.
Check pricing and availability on this highly popular, 5-star rated tour Toa Luau at Waimea Valley that includes the admission fee!
Each package also includes a luau dinner, a cultural show, and various activities and demonstrations.
Toa Luau has two shows per day: 12:30 PM and 5:00 PM. The 12:30 PM show is more casual and family-friendly, while the 5:00 PM show is more romantic and intimate.
The 12:30 PM show also includes free admission to the Byodo-In Temple, a replica of a Japanese temple that is located nearby.
Toa Luau Cultural Show
Toa Luau offers a spectacular cultural show that showcases Polynesian dances from all over the Pacific. You can see dances from Hawaii, Tahiti, Samoa, Tonga, New Zealand, etc.
You can also see fire knife dancers who perform amazing tricks with flaming knives. The show is accompanied by live music and narration that tell stories and legends of Polynesia.
Toa Luau Dinner
Toa Luau dinner program offers a delicious luau dinner that features traditional Hawaiian dishes as well as modern favorites.
You can enjoy dishes like kalua pig (roasted pork), lau lau (pork wrapped in taro leaves), poi (taro paste), lomi lomi salmon (salmon salad), poke (raw fish salad), chicken long rice (chicken noodle soup), haupia (coconut pudding), and many other delicious dishes.
You can also enjoy drinks like water, soda, juice, coffee, and tea. You can also upgrade to an open bar package that includes beer, wine, and cocktails.
Waimea Valley Wildlife
I love visiting Waimea Valley because of its wildlife, especially the birds.
I will introduce you to some of the wildlife that you can see in Waimea Valley, and tips on how to spot them and recognize what they are.
Waimea Valley Birds
Waimea Valley is a great place to see many kinds of birds: native birds, endangered birds and foreign birds adapted to live here.
Waimea Valley Audubon Center and History
Waimea Valley used to be managed by the Audubon Society, which is an organization that protects birds and nature. They started to take care of the valley in 2003, when it was threatened by development.
They restored the native plants and animals, and created a sanctuary for the birds.
What birds can you see in Waimea Valley?
You can see many birds in Waimea Valley including ducks, doves, cardinals, mynahs, and finches. Here are some of the highlights.
Alae Ula (Hawaiian moorhen)
Alae ula is a small black bird, native to Hawaii, with a white stripe on its side and a red and yellow face shield.
It likes to swim and walk in the wetlands and ponds, where it eats insects, fish and plants. If you spot one, you are lucky, since it is very secretive and hard to see, but you may hear its loud call that sounds like "kukuku".
According to a Hawaiian legend, this bird knew the secret of making fire but refused to share it with Maui, the demigod. Maui caught the bird and burned its forehead with a stick, giving it its red shield.
Auku'u (Black-crowned night heron)
Auku'u is a medium-sized gray bird with a black crown, a white throat and a yellow eye. You may spot one in Kamanaui Stream below the bamboo groves or near the waterfall pool.
Nene (State bird of Hawaii)
The nene is the state bird of Hawaii, a type of goose that has a black head, neck, and wings, and a buff-colored chest and belly. It has a black bill with yellow stripes.
The nene lives on land and eats grasses, seeds, and fruits.
I'iwi (Native honeycreeper)
The i'iwi is a native honeycreeper that has bright red feathers, a long curved bill, and black wings and tail. It feeds on nectar from flowers, especially the red ones.
It makes a squeaky sound that sounds like its name.
Peacock
The peacock is not native to Hawaii, but was brought here by people long ago. It is a large bird that has colorful feathers, especially the males.
They have a long train of feathers that they can spread out like a fan. Watching a male peacock dance during the mating season is an incredible sight!
Fish in Waimea Valley Stream
Waimea Valley has a stream that runs from the mountains to the sea. The stream is home to many kinds of fish that live in fresh water or salt water or both.
See if you can spot o'opu, small fish with round bodies and big eyes, aholehole, medium-sized fish with a silver body with dark spots or stripes, and pufferfish, small fish with a round body covered with spines.
Some of the other fish you may see are tilapia, catfish, carp, and mullet.
Other Animals
Though much rarer, you may spot a wild pig, a large black or brown pig with tusks and bristles. Keep a safe distance – they can be aggressive and dangerous.
Of course, mosquitoes are ubiquitous, don't forget your insect repellent!
Cultural Activities and Special Events at Waimea Valley
Waimea Valley offers various cultural activities and programs that teach you about Polynesian culture and traditions. You can watch or join hula demonstrations, music performances, storytelling, crafts, traditional Hawaiian games, and more.
You can also take hula lessons, lei making classes, ukulele lessons, etc. These activities are fun and educational for all ages and levels.
Waimea Valley also offers guided educational tours for groups or individuals that give you more information and insight about Waimea Valley's history, culture, and nature. You can choose from different types of tours, such as botanical tours, cultural tours, historical tours, and birdwatching tours.
Waimea Valley hosts special events throughout the year that celebrate different aspects of Hawaii and its people. Some of the events are Moon Walks (nighttime walks to the waterfall), Makahiki Festival (a celebration of the harvest season), and Summer Concert Series (live music at the amphitheater).
Tips for Visitors to Waimea Valley, Oahu
Here are some tips to make your visit to Waimea Valley more enjoyable:
Wear comfortable shoes and clothes. The hike is easy, but you might get dirty or wet along the way.
Bring a swimsuit and a towel if you want to swim in the waterfall pool. You have to wear a life jacket, which they provide for free.
If you have open wounds or cuts, be wary of swimming: the water may have bacteria that can cause infections or disease.
Don't forget your camera or a charged smartphone. I cherish the Waimea Valley photos I took on our family trip!
Bring some cash or credit card to pay for the admission fee, parking fee, locker fee, shuttle fee, snacks, drinks, and souvenirs.
Bring some sunscreen and bug spray to protect yourself from the sun and the bugs. You can also buy them at the gift shop if you forget.
Bring some water and snacks to stay hydrated and energized. You can also buy them at the snack bar, coffee house, bar, or snack shop if you prefer.
Bring some birdseed if you want to feed the birds. You can buy them at the gift shop or at some stations along the trail.
Respect the nature and the culture of Waimea Valley, remember this is a sacred place! Don't touch or pick the plants, don't litter, don't climb on the ancient sites, don't disturb the birds, and heed the warning signs.
Other Attractions near Waimea Valley
Waimea Valley is not the only place you can have fun on the North Shore of Oahu. There are many other things you can do near Waimea Valley that will make your trip more enjoyable.
Waimea Bay
Waimea Bay is a beautiful beach that is right next to Waimea Valley. You can swim, surf, or sunbathe.
Or you can just relax and watch the big waves and surfers here. You can also walk to the famous jumping rock and try to jump into the water if you are brave enough.
Pupukea Beach Park
Pupukea Beach Park has two parts: Shark's Cove and Three Tables, both great places for snorkeling and seeing colorful fish and coral.
You can rent snorkel gear from nearby shops or bring your own. Be careful of the waves and rocks when you snorkel here.
Sunset Beach Park
Sunset Beach Park is another beach that is famous for surfing. Apart from that, Sunset Beach Park is one of the best places to watch the sunset on Oahu.
You can see the sky turn into different colors and reflect on the ocean.
Best Oahu Tours
Have you booked these popular Oahu tours and excursions yet?
Love snorkeling? This Turtle Canyon snorkeling excursion from Waikiki lets you frolic with colorful fish and Hawaiian green sea turtles. Hands down the MOST BOOKED Oahu snorkeling tour: turtle sightings are guaranteed!
The most popular luau in Oahu, Paradise Cove Luau has a 4.5 rating on Viator with over 3.5K reviews. The tour includes pick-up from your Waikiki hotel, pre-dinner games, arts, and crafts, a delicious meal, and an award-winning show.
Based in Waikiki but want to see more of the island? This full-day Oahu Circle Island Tour includes Diamond Head, Hanauma Bay, Haleiwa, the Dole Plantation, and more!
Pay your respects at the USS Arizona Memorial at Pearl Harbor! This popular Pearl Harbor tour includes boat tickets and round-trip transport from Waikiki.
A super popular Oahu North Shore excursion, this Oahu shark cage dive allows you to observe wild sharks in the open ocean from the safety of a cage! It's a THRILLING Oahu advennture for your bucket list.
We have a detailed guide to the top Oahu tours and excursions if you are in the midst of planning your itinerary for the island.
Renting a Car in Oahu
If you want to explore more of the island of Oahu on your vacation, you should get a rental car.
Oahu's popular attractions are spread over the island: the windward coast, the North Shore, and Ko Olina are great places to explore beyond Waikiki (or the greater Honolulu area).
While Oahu does have public transport options that are better than the other islands, a car offers a lot more flexibility and time savings.
We always use Discover Cars to book Oahu car rentals. They search across a variety of rental car companies, both budget and brand, to offer you the best deals, AND they offer free cancellations. Plus, there are no hidden fees.
>> Check availability and prices on Oahu car rentals now!
Honolulu Airport-Hotel Shuttle
If you are not planning to get a rental car at Honolulu Airport, consider booking shuttle transport in advance!
This shared shuttle can be canceled up to 24 hours from the date of service. It serves hotels in Waikiki and Honolulu and then back again to the airport the day you leave. It's convenient and inexpensive, and saves time and hassle!
>> Check prices and availability for shared round-trip airport transfer in Oahu now!
Staying in Ko Olina? Consider this round-trip airport transfer instead!
Where to Stay in Oahu
Honolulu (Waikiki in particular) offers a large number of hotels and resorts, along with shopping and dining options. Most visitors to Oahu choose to base in Honolulu at least for a part of their stay.
While many of the large chains have a presence if you are looking to use your memberships, Honolulu also has several unique boutiques to consider.
Our faves include Halekulani for a splurge stay, the Lotus Honolulu for views of Diamond Head, and The Laylow for its awesome location.
Want more room to spread out or looking to stay elsewhere on Oahu? You will find VRBO listings all over the island!
On previous trips to Oahu, we have stayed in VRBO rentals in Waikiki as well as on the North Shore and the east coast and we've found the choice and quality great.
>> Look for an Oahu vacation rental on VRBO now!
More Oahu Travel Inspiration
Planning a trip to Oahu? Check out our other in-depth Oahu travel guides for help finalizing your Oahu itinerary!
Start by discovering the best things to do in Oahu. We also have a detailed guide to Oahu's North Shore, a round-up of things to do on the east side of Oahu, and the best things to do in Ko Olina, on the west coast of the island.
Of course you'll want to learn about all the exciting things to do in Honolulu, Hawaii's capital, and Waikiki, the touristic core of Oahu.
We also have a guide to the best beaches in Oahu, and a round-up of the must-visit Oahu waterfalls.
Oahu is home to so many must-visit landmarks! Check out our in-depth article on how to visit Pearl Harbor, and our guides on the beautiful Waimea Valley in Oahu and the spectacular Byodo-In Temple.
Want to enjoy the thrill of observing sharks in the wild? Check out our article on shark cage diving on Oahu's North Shore!
Discover the top places to go snorkeling in west Oahu, where you will find a long coastline with lovely beaches, and tips for snorkeling Kaneohe Sandbar on the island's east coast.
And if you love marine life, also check out our complete guide to (respectfully!) see and swim with dolphins in Oahu, and the best spots to snorkel with turtles in Oahu.
For hikers and outdoor enthusiasts, we have a round-up of the best Oahu hikes, and if you are looking to exclude the harder Oahu trails, a guide to the best easy Oahu hikes.
Find out how to do the iconic (and VERY popular) Diamond Head Hike near Waikiki for exceptional views. We also have a guide to the very popular Manoa Falls Trail in Honolulu.
More advanced hikers will want to read up on the Koko Head Hike, a long set of stairs leading to expansive views.
Learn where to go for the best sunsets in Oahu, whether you want to hike or enjoy watching a colorful Hawaiian sunset without working up a sweat.
We also have a guide to the best sunrise hikes in Oahu, one of which is the spectacular Makapu'u Point Lighthouse Trail in the southeastern part of the island. The Lanikai Pillbox Hike is another wonderful sunrise hike on Oahu!
Did you find this article informative? Pin it for later!