See And Swim With Dolphins In Oahu (+ Best 2023 Tours)
Oahu, one of the main Hawaiian islands, is a tropical paradise with stunning beaches, lush green mountains, and crystal clear waters. It is also the perfect destination for those who love nature and want to have an amazing experience with dolphins!
Swimming with dolphins in Oahu Hawaii is a thrilling, bucket-list, kind of experience!
Dolphins are incredibly intelligent and playful marine mammals that capture our hearts with their graceful movements and friendly nature. They are known for their charming smiles and the way they leap out of the water, making everyone around them smile too!
In Oahu, you have many options to engage with dolphins in their natural habitat: swim with dolphins, snorkel with dolphins, or just observe their incredible acrobatic displays from a distance. It's a dream come true for many people!
Hawaii's three iconic marine animals are the humpback whales, the spinner dolphins and the Hawaiian green sea turtles. While whale watching is seasonal and limited to the winter months, green sea turtles and dolphins can be viewed all year long!
Some links on this page may be affiliate links. If you click an affiliate link and make a purchase, we may receive a small commission, at no extra cost to you. For more details, refer to our disclosure.
In this blog post, we will provide you with all the information you need to plan your dolphin adventure, including where to find them, what to expect, and tips for a memorable experience. This blog post will guide you towards the perfect dolphin encounter in Oahu, Hawaii.
Hey, by the way! Visiting Oahu and planning your bucket-list activities? Check out our in-depth guide to the best tours and excursions in Oahu worthy of the splurge!
Different Kinds of Dolphins in Oahu
Dolphins usually travel in large groups called pods and are very social creatures. Oahu is home to several different kinds of dolphins, and you will be able to tell them apart, just read on!
Spinner Dolphins
Spinner dolphins are the most common dolphins you'll find in Oahu. They are known to be permanent residents and can be found in the waters around Oahu throughout the year.
Spinner dolphins are named after their spectacular spinning leaps out of the water. These dolphins have a slender body and a long, thin beak.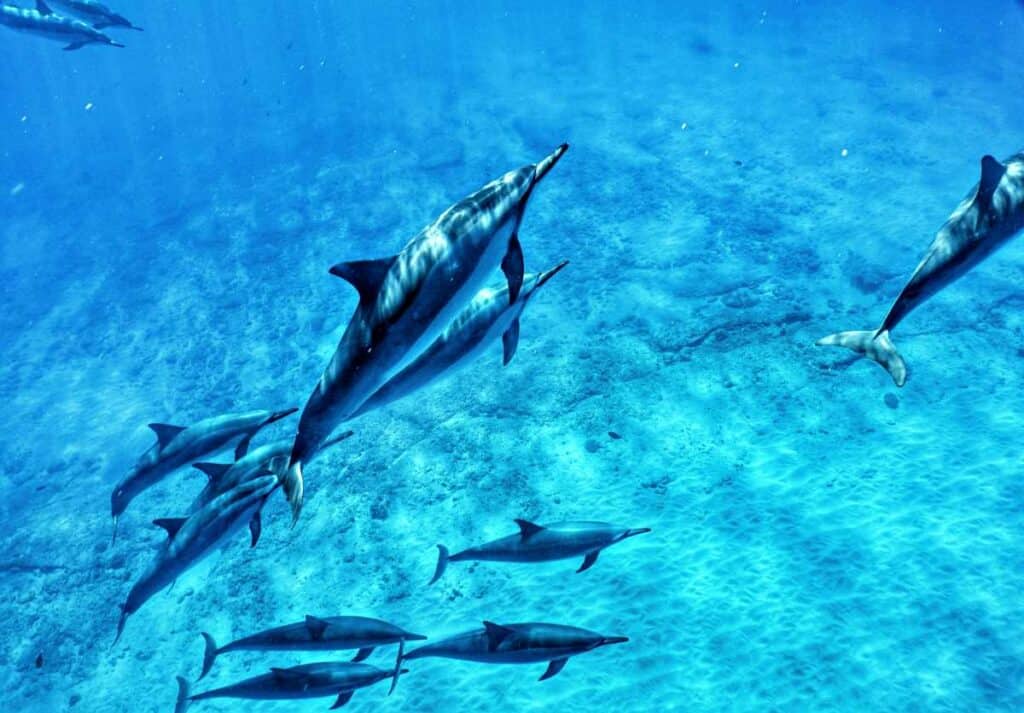 Spinner dolphins are more active in the morning, so early mornings are the best time to catch them in action. You can often spot them in the bays along the far west coast of Oahu, like Makua Beach or Makaha Beach.
>> Book an exciting, 5-star rated, highly popular, Oahu tour now!
Bottlenose Dolphins
Bottlenose dolphins have a short beak and a curved mouth that looks like a friendly smile. These dolphins are larger than spinner dolphins and can grow up to 10 feet long!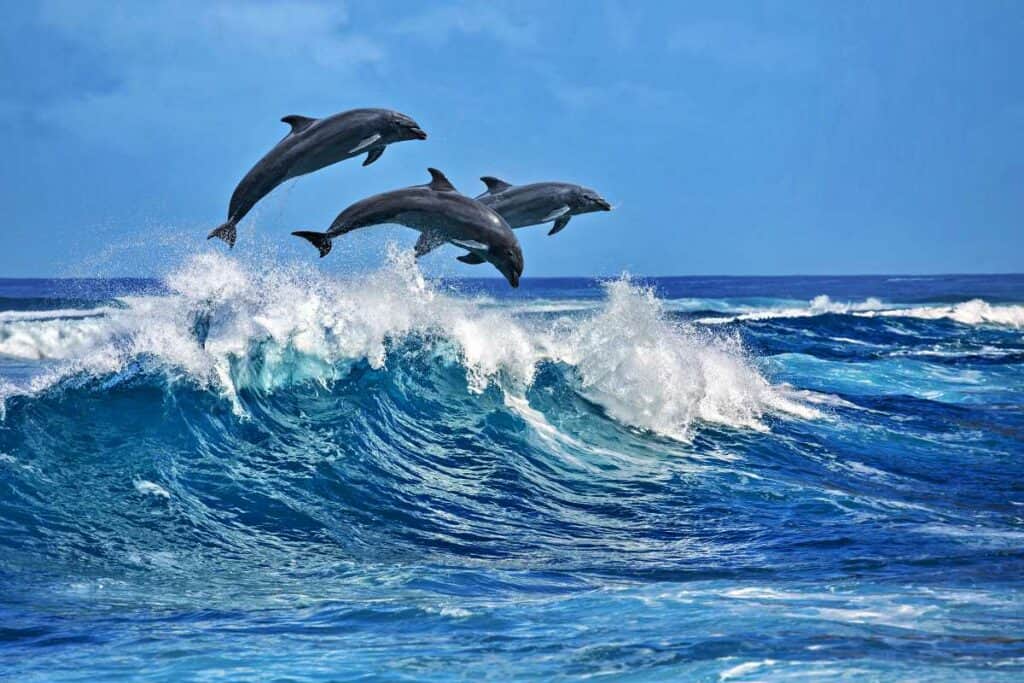 Bottlenose dolphins are known for their friendly and playful behavior. They are quite curious and often come close to boats, swimmers, or snorkelers.
Bottlenose dolphins are considered to be more migratory and may follow schools of fish or other food sources in and out of the Hawaiian waters. They are often seen swimming in groups near the shores of Oahu, especially in places like Waimanalo Bay and Ko Olina.
Spotted Dolphins
Spotted dolphins have dark spots all over their bodies. They are small to medium-sized dolphins, incredibly fast swimmers and known for their acrobatic displays, leaping and spinning in the air.
Spotted dolphins are seen throughout the year, often near the deep waters of the Waianae Coast and the North Shore of Oahu.
Rough-Toothed Dolphins
Rough-toothed dolphins have a sleek and streamlined body, with a unique feature that sets them apart from other dolphins – their teeth! Unlike most dolphins, rough-toothed dolphins have teeth that are large and have ridges on them, which gives them their name.
Rough-toothed dolphins are highly intelligent and curious, and may approach boats to investigate or ride the bow waves. While sightings of rough-toothed dolphins in Oahu are not as common as some other dolphin species, lucky visitors may have the chance to spot them during their excursions in the deeper waters around the island.
>> Book an exciting, 5-star rated, highly popular, Oahu tour now!
Best Places to See Dolphins in Oahu
Dolphins are most common along the stretch from the Yokohama Bay to Waianae but can often be spotted all along the west coast of Oahu from Kaena Point down to Waimanalo Bay.
Map for Best Places to See Dolphins in Oahu, Hawaii
The best places to spot dolphins in Oahu are shown in the map below.
Waianae
Waianae, located on the western coast of Oahu, is one of the most popular dolphin spotting locations. Hawaiian spinner dolphins, in particular, are often seen here swimming, leaping and spinning in the air.
The calm waters of Waianae are the perfect spot to swim with the dolphins!
Makua Beach and Makaha Beach
Makua Beach and Makaha Beach are known for their calm waters, which dolphins love. In the mornings, you might spot spinner dolphins here, as they often come closer to the shoreline to rest and play.

Ko Olina
Ko Olina is a beautiful resort area on the western side of Oahu, and it's also a hotspot for dolphin sightings. This area offers a mix of pristine beaches and calm lagoons, attracting various marine life, including dolphins. Bottlenose dolphins are commonly seen in this area, and they may swim close to the shoreline, giving you a great chance to spot them.
>> Book an exciting, 5-star rated, highly popular, Oahu tour now!
Waimanalo Bay
Located on the eastern side of Oahu, Waimanalo Bay is another great place for spotting dolphins. The waters here are clear and inviting, making it an ideal place for dolphins to swim and play.
Bottlenose dolphins are often spotted in Waimanalo Bay, showcasing their friendly and playful behavior. Look out for their curved mouths and friendly smiles!
Dolphins & You: Things to Do
In Oahu, Hawaii, you have an opportunity to engage with dolphins in a variety of ways!
Dolphins usually prefer the open ocean and deeper waters, and are often further than a mile from shore, so either you need some really good binoculars or you need to book a tour!
There are many guided tours where trained professionals will take you to the dolphins' natural habitat and ensure your safety.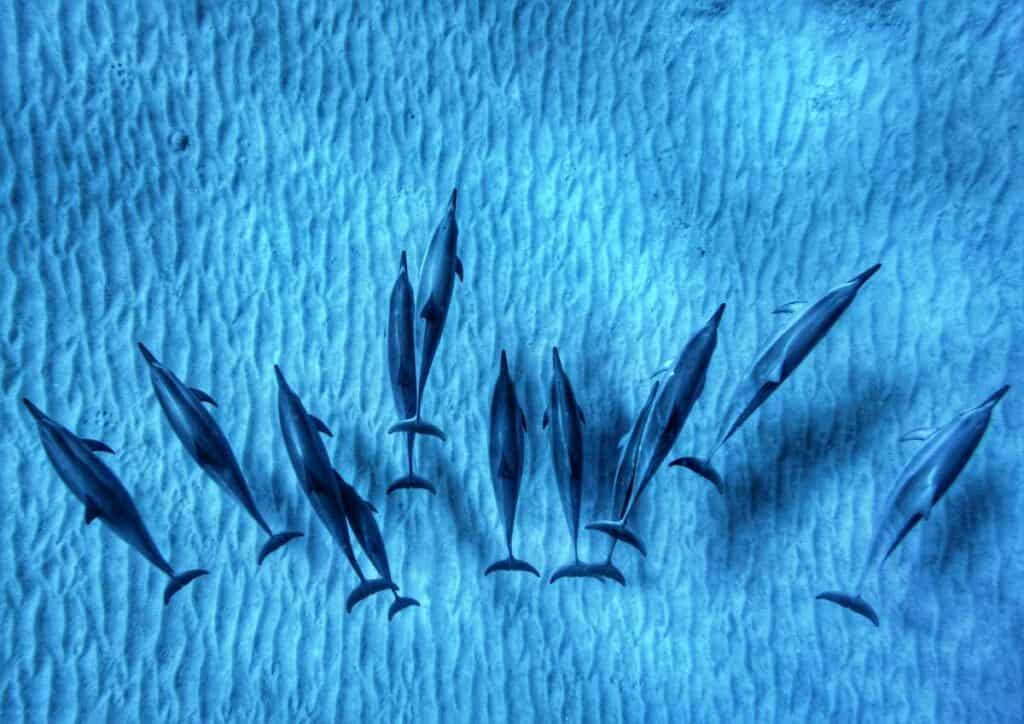 Most dolphin excursions in Oahu usually start from popular harbors, such as Ko Olina Marina, Waianae Boat Harbor, or Haleiwa Harbor. Pick the early morning tours to increase your chances of engaging with the dolphins!
Swim with Dolphins, Oahu
Swimming with wild dolphins is an incredible, once-in-a-lifetime, experience that allows you to get up close and personal with these playful mammals! If you're up for a thrilling adventure, I highly recommend this as the best activity with dolphins in Oahu!
For the ultimate dolphin adventure, swim with dolphins tours are the way to go. These tours provide you with the opportunity to enter the water and swim alongside these magnificent creatures.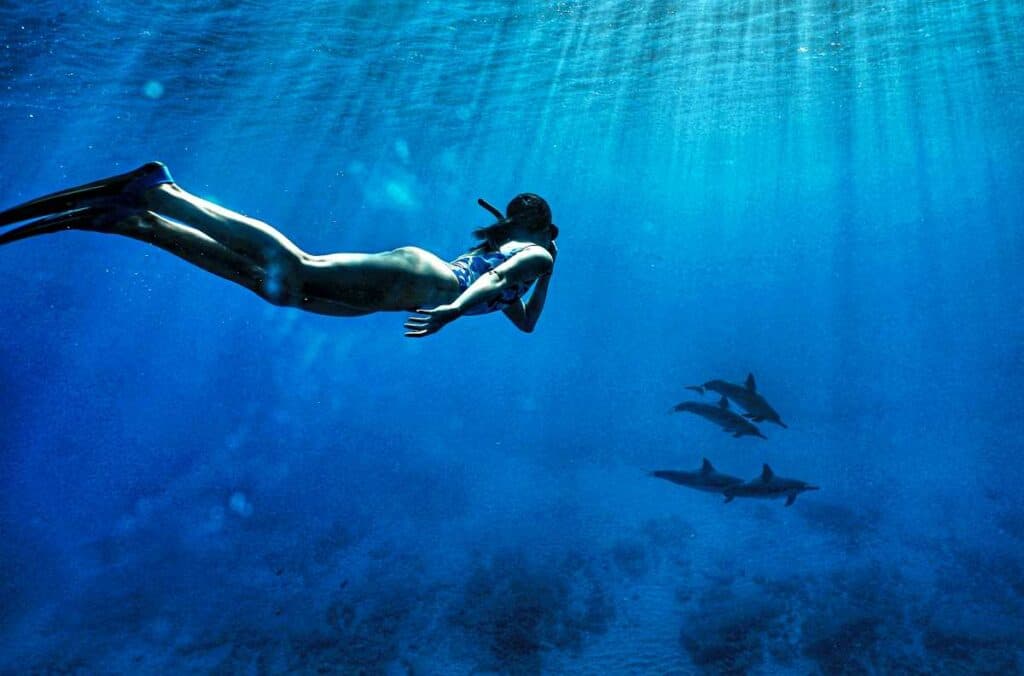 We took this tour Swim with Dolphins in the West Coast line of Oahu, and I highly recommend it to you. We had one of our best days in Oahu, swimming with a pod of dolphins – magnificent spinner dolphins!
Imagine being in the water, swimming alongside these magnificent creatures, especially in the wild, in their natural environment!
Snorkel with Dolphins in Oahu
If you prefer to stay on the surface and observe dolphins from a distance, snorkeling with dolphins is a fantastic option. You'll wear a snorkel mask and fins, and with the guidance of experienced guides, you'll get to explore the underwater world where dolphins swim.
Snorkeling tours provide snorkel gear and take you to areas where dolphins frequent. Our friends took this snorkel tour Oahu Dolphin Snorkel Cruise Including Lunch and Activities 2023 and highly recommend it.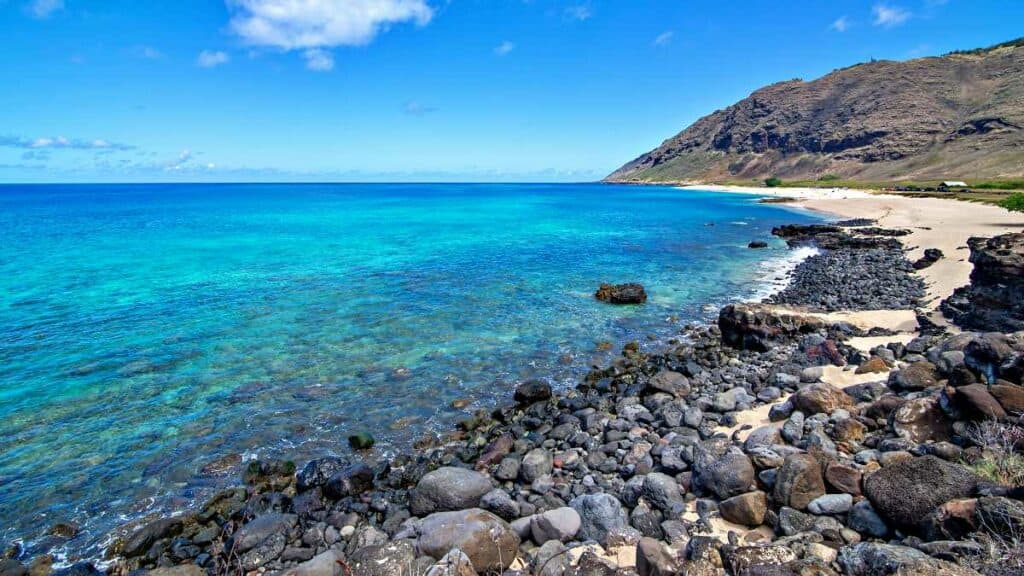 You'll embark on a boat from Ko Olina Marina, and after a scenic ride, you'll have the chance to snorkel alongside dolphins and Hawaiian sea turtles in their natural habitat.
As you float above them, you'll have the opportunity to witness their graceful movements and maybe even hear their clicks and whistles. It's like watching a magical show unfold right beneath you!
Watching Dolphins
Not everyone wants to get in the water, and that's okay! You can observe these incredible creatures from a boat or from the shoreline. And if the time of the year is whale season (winter season), you may also see the beautiful humpback whales!
Dolphin watching tours usually start from popular harbors, such as Ko Olina Marina or Waianae Boat Harbor, and take you on a boat ride to areas where dolphins are commonly seen.
The Waianae Coast Cruise with Dolphin and Whale Watching from Oahu 2023 is a great choice. You'll cruise along the picturesque coastline and have the chance to spot playful dolphins as they swim and leap in the sparkling ocean.
Or, you can also find a great spot on the shoreline and bring your binoculars for a closer look.
Dolphin Quest Oahu
Dolphin Quest Oahu is located at the luxurious Kahala Hotel & Resort and offers many programs that allow you to interact closely with these incredible creatures in a marine zoo setting! You can pet them, play with them, and learn all about their behavior. It's like making new friends with dolphins!
In the Dolphin Encounter Program, you stand in shallow water and dolphins swim right up to you. You can touch them, give them belly rubs, and learn about how they live.
The Dolphin Swim Program takes your interaction to the next level. You get to swim with dolphins in a protected lagoon. You'll see their friendly faces up close and swim alongside them. It's like being in a magical world with these amazing creatures.
We had friends with small children visit, and they loved the experience!
Dolphin Encounters: Sea Life Park, Oahu, Hawaii
Sea Life Park Hawaii is located on the eastern side of Oahu, right by the beautiful coastline, giving you a chance to see friendly dolphins in a protected setting.
At Oahu's Sea Life Park, you can choose the program you like.
In some programs you are in a waist-deep platform from which you can touch and feed the dolphins. They're so friendly and might even give you a playful dolphin kiss! It's a chance to learn about their habits and how to protect them.
Other programs let you into deeper water where you can swim with dolphins in a protected lagoon. The trainers will guide you and teach you all about dolphin communication.
It's a wonderful dolphins experience, being part of their underwater world, swimming alongside them.
Oahu Dolphin Tours
Dolphin tours range widely from $90 to $200+ depending on their duration and what they offer. Tours with smaller groups provide a more intimate, up close experience but are more expensive.
Some tours include marine biologists who educate you on dolphins, and the different tropical fish and marine life you see on the tour!
Given that dolphins usually hang out well away from the shore, the tours are definitely worth it (compared to observing from the shore). If you are up for the adventure, I would recommend swimming with dolphins in the wild as the best tour option!
Check price and availability on these popular tours now!
Best Time of Year to See Dolphins in Oahu, Hawaii
Spinner dolphins live near Oahu, Hawaii, and can be seen all year round.
If you are planning to swim with wild dolphins, note that the ocean waters are rougher and colder in winter.
Tips for Your Experience with Dolphins in Oahu
Here are some helpful tips to prepare you for your dolphins experience in the beautiful island of Oahu.
Book tours in Advance: Oahu is a popular tourist destination and many of the tours sell out quickly. Make reservations well in advance!
Pack the Essentials: Don't forget your swimsuit, towel, sunscreen, and a hat to protect yourself from the sun. It's also a good idea to bring a good pair of binoculars, a camera or a waterproof case for your phone to capture the special moments with dolphins.
Stay Hydrated: It's essential to drink plenty of water before and during your dolphin visit. The Hawaiian sun can be quite strong!
Listen to the Guides: They will give you important instructions and safety guidelines to follow. Take proper safety measures including wearing life jackets!
Respect the Dolphins: Dolphins are wild animals, and it's crucial to respect their space and well-being. Avoid making sudden movements or loud noises that could startle them.
Follow the Rules: Follow the rules and guidelines set by the dolphin excursion or tour program. The Hawaiian Spinner Dolphin is an endangered species under the Marine Mammal Protection Act.
Be Patient: Enjoy the beautiful surroundings while keeping an eye out for any signs of dolphins. Remember, spotting dolphins is a magical experience, but it's not guaranteed.
Enjoy the Moment: Observe their playful behavior, listen to their clicks and whistles, and marvel at their grace. Remember to be present and enjoy this incredible opportunity to connect with these magnificent creatures.
Go-City Card: If you are seeing multiple attractions in Oahu, the Go-City Card may save you money!
Please note that bananas are prohibited on many boats due to Hawaiian superstitions of bringing bad luck.
Dolphins in Oahu, Hawaii: FAQ
Can you swim with dolphins in Oahu?
The National Oceanic and Atmospheric Administration (NOAA) passed a rule under the Marine Mammal Protection Act that prohibits people and vessels from coming within 50 yards of a spinner dolphin.
While dolphin and wildlife tours can continue per NOAA, you need to stay away and make no effort to engage or pursue a spinner dolphin in the wild, and move away if it approaches you.
How much does it cost to swim with dolphins in Oahu?
Oahu dolphin tours range widely from $90 to $200+ depending on their duration and what they offer.
Dolphin excursions that offer swimming in open ocean waters with wild dolphins tend to be closer to $200 per person.
Swimming with Dolphins on Oahu: An Unforgettable Experience
Oahu, with its stunning coastlines and warm waters, is a perfect place to encounter dolphins. From the vibrant Waikiki Beach to the serene waters of the West Side, dolphins can be found in various areas around the island.
Whether you choose to swim with dolphins in Oahu, snorkel near them, or simply observe them from a boat, you'll be captivated by their beauty and intelligence. Join a tour or program that suits your preferences, and let experienced guides lead you to the best spots for dolphin sightings.
Swimming with dolphins in Oahu will be an adventure you'll cherish forever!
Best Oahu Tours
Have you booked these popular Oahu tours and excursions yet?
Love snorkeling? This Turtle Canyon snorkeling excursion from Waikiki lets you frolic with colorful fish and Hawaiian green sea turtles. Hands down the MOST BOOKED Oahu snorkeling tour: turtle sightings are guaranteed!
The most popular luau in Oahu, Paradise Cove Luau has a 4.5 rating on Viator with over 3.5K reviews. The tour includes pick-up from your Waikiki hotel, pre-dinner games, arts, and crafts, a delicious meal, and an award-winning show.
Based in Waikiki but want to see more of the island? This full-day Oahu Circle Island Tour includes Diamond Head, Hanauma Bay, Haleiwa, the Dole Plantation, and more!
Pay your respects at the USS Arizona Memorial at Pearl Harbor! This popular Pearl Harbor tour includes boat tickets and round-trip transport from Waikiki.
A super popular Oahu North Shore excursion, this Oahu shark cage dive allows you to observe wild sharks in the open ocean from the safety of a cage! It's a THRILLING Oahu advennture for your bucket list.
We have a detailed guide to the top Oahu tours and excursions if you are in the midst of planning your itinerary for the island.
Renting a Car in Oahu
If you want to explore more of the island of Oahu on your vacation, you should get a rental car.
Oahu's popular attractions are spread over the island: the windward coast, the North Shore, and Ko Olina are great places to explore beyond Waikiki (or the greater Honolulu area).
While Oahu does have public transport options that are better than the other islands, a car offers a lot more flexibility and time savings.
We always use Discover Cars to book Oahu car rentals. They search across a variety of rental car companies, both budget and brand, to offer you the best deals, AND they offer free cancellations. Plus, there are no hidden fees.
>> Check availability and prices on Oahu car rentals now!
Honolulu Airport-Hotel Shuttle
If you are not planning to get a rental car at Honolulu Airport, consider booking shuttle transport in advance!
This shared shuttle can be canceled up to 24 hours from the date of service. It serves hotels in Waikiki and Honolulu and then back again to the airport the day you leave. It's convenient and inexpensive, and saves time and hassle!
>> Check prices and availability for shared round-trip airport transfer in Oahu now!
Staying in Ko Olina? Consider this round-trip airport transfer instead!
Where to Stay in Oahu
Honolulu (Waikiki in particular) offers a large number of hotels and resorts, along with shopping and dining options. Most visitors to Oahu choose to base in Honolulu at least for a part of their stay.
While many of the large chains have a presence if you are looking to use your memberships, Honolulu also has several unique boutiques to consider.
Our faves include Halekulani for a splurge stay, the Lotus Honolulu for views of Diamond Head, and The Laylow for its awesome location.
Want more room to spread out or looking to stay elsewhere on Oahu? You will find VRBO listings all over the island!
On previous trips to Oahu, we have stayed in VRBO rentals in Waikiki as well as on the North Shore and the east coast and we've found the choice and quality great.
>> Look for an Oahu vacation rental on VRBO now!
More Oahu Travel Inspiration
Planning a trip to Oahu? Check out our other in-depth Oahu travel guides for help finalizing your Oahu itinerary!
Start by discovering the best things to do in Oahu. We also have a detailed guide to Oahu's North Shore, a round-up of things to do on the east side of Oahu, and the best things to do in Ko Olina, on the west coast of the island.
Of course you'll want to learn about all the exciting things to do in Honolulu, Hawaii's capital, and Waikiki, the touristic core of Oahu.
We also have a guide to the best beaches in Oahu, and a round-up of the must-visit Oahu waterfalls.
Oahu is home to so many must-visit landmarks! Check out our in-depth article on how to visit Pearl Harbor, and our guides on the beautiful Waimea Valley in Oahu and the spectacular Byodo-In Temple.
Want to enjoy the thrill of observing sharks in the wild? Check out our article on shark cage diving on Oahu's North Shore!
Discover the top places to go snorkeling in west Oahu, where you will find a long coastline with lovely beaches, and tips for snorkeling Kaneohe Sandbar on the island's east coast.
And if you love marine life, also check out our complete guide to (respectfully!) see and swim with dolphins in Oahu, and the best spots to snorkel with turtles in Oahu.
For hikers and outdoor enthusiasts, we have a round-up of the best Oahu hikes, and if you are looking to exclude the harder Oahu trails, a guide to the best easy Oahu hikes.
Find out how to do the iconic (and VERY popular) Diamond Head Hike near Waikiki for exceptional views. We also have a guide to the very popular Manoa Falls Trail in Honolulu.
More advanced hikers will want to read up on the Koko Head Hike, a long set of stairs leading to expansive views.
Learn where to go for the best sunsets in Oahu, whether you want to hike or enjoy watching a colorful Hawaiian sunset without working up a sweat.
We also have a guide to the best sunrise hikes in Oahu, one of which is the spectacular Makapu'u Point Lighthouse Trail in the southeastern part of the island. The Lanikai Pillbox Hike is another wonderful sunrise hike on Oahu!
Did you find this article informative? Pin it for later!