4 Amazing Kauai Botanical Gardens You Have to Visit!
The Garden Isle of Kauai in Hawaii is home to some spectacular gardens, and you'll find beautiful Kauai botanical gardens on both the north shore and the south shore.
If you are a plant lover or garden enthusiast, you'll definitely want to spend some of your time in Kauai strolling through one (or all!) of these garden paradises.
Visiting one or more of the botanical gardens here is one of the best things to do in Kauai!
The gardens on Kauai have some native Hawaiian plants, but they also house tropical plants from other parts of the world, and "canoe" plants — plants brought to the Pacific Islands by Polynesians a long time ago.
We found the garden tours fascinating, not only because of the variety of plants and flowers we saw, but also because guided tours come with a dollop of history as well.
Even if your interest in gardens is only casual, you may still find a visit to be a serene way to spend a couple of hours. The tree canopy is thick and lush, and oftentimes you feel like you are in a Jurassic movie as you stroll these gardens.
And many tours offer you the opportunity to taste exotic fruit…and chocolate.
Excited? Let's get started discovering the best gardens in Kauai to put on your itinerary!
And also be sure to check out our detailed posts on Hawaiian plants, trees and flowers, and beautiful Hawaiian birds, many endemic and not found anywhere else on earth!
Hey, by the way! Visiting Kauai? The only way to get a real feel for the rugged beauty of this incredible island is through a helicopter tour! Check out the five highest rated Kauai Helicopter tours for 2023!
Some links on this page may be affiliate links. If you click an affiliate link and make a purchase, we may receive a small commission, at no extra cost to you. For more details, refer to our disclosure.
Best Gardens in Kauai
Princeville Botanical Gardens
Location: Princeville, North Shore
Started in 2001 by Bill and Lucinda Robertson as a private hobby garden, the Princeville Botanical Gardens have grown into a lush tropical paradise and are today one of the must-visit gardens in Kauai.
The gardens house plant varieties native to Hawaii, as well as canoe plants, some rare and endangered plants, medicinals, and economic plants from other parts of the world.
Some of the colorful flowers you'll see include hibiscus, orchids, brugmansia, ginger, gardenias, and anthurium, and some of the fruit trees include papaya, pineapple, jackfruit, dragonfruit, and breadfruit. There are cacao trees in the garden too.
Although the gardens are spread over just nine acres, you'll find thousands of plants to admire here.
Set along lush valleys on Kauai's rainier north shore, the Princeville Botanical Gardens also feature a lovely waterfall.
With so many varieties of fruit trees yielding sweet fruit to taste, and honey from hives kept onsite, a tour of the Princeville Botanical Gardens comes with lots of edible treats to enjoy!
The tour of the garden involves leisurely walking (about a mile overall), plus lots of steps and somewhat steep ups and downs.
Strollers, walkers, and wheelchairs can't be accommodated and the tour is not suitable for very young children.
Princeville Botanical Gardens can only be visited on a guided tour offered by the garden. You have to reserve in advance at the garden website, or book online at Viator.
At the time of writing, guided tours are offered four days a week — Mondays, Tuesdays, Thursdays, and Fridays. Tours start at 9.30 a.m. and last about 3 hours.
Tours include tastings of seasonal fruit and honey, and a 30-minute chocolate tasting where you will learn about the cacao plant and the process of making chocolate as you sample chocolates from around the world.
>>> Check pricing and availability for the Princeville Botanical Gardens tour now!
Limahuli Garden and Preserve
Location: Hāʻena, North Shore
One of three gardens in Kauai managed by the National Tropical Botanical Garden, Limahuli Garden is a place of great historical significance as well as a gorgeous garden.
Visiting the Limahuli Botanical Garden is one of the best things to do in Hanalei Bay!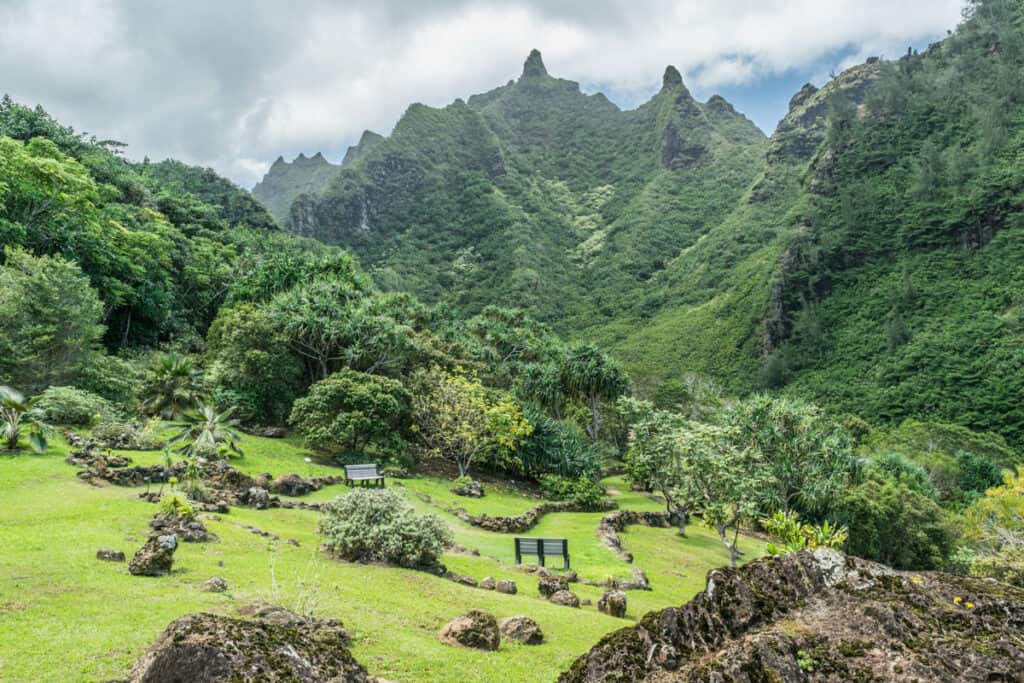 Set in a lush and biodiverse valley on the island's north shore, Limahuli Garden hosts numerous varieties of native Hawaiian plants in a natural Hawaiian setting.
New plants are occasionally discovered, and the garden focuses on restoring the natural landscape here.
So if you are looking to learn more about native flora, this is a garden in Kauai you just cannot miss!
The valley has been inhabited for many centuries, and is home to well-preserved archaeological sites. Descendants of the valley's early inhabitants still live here.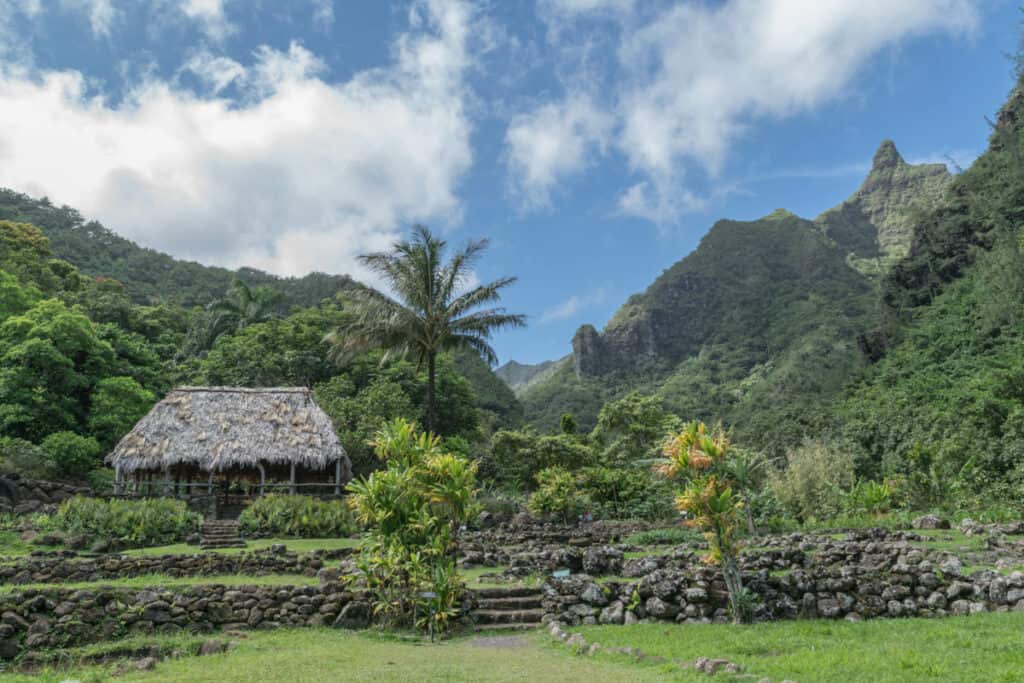 The complex overall is about 1,000 acres, of which the botanical garden that you can tour makes up 17 acres.
Native plant collections at Limahuli focus on plants from northwestern Kauai, and include many species that are rare and endangered.
The ethnobotanical collection includes cultivars of crop plants like taro, sweet potato, and bananas grown by the ancient Hawaiians.
Plantation era collections include fragrant flowers like frangipani, as well as fruit like mangoes and papayas.
While you'll see some flowers in the garden, prepare to be amazed by the lush green vegetation.
Well-placed signs allow you to learn more about the plants and their cultural impact on the island. The guide book that you receive with admission is also very informative.
There is a loop trail that runs through the garden, about 0.75 mile in length. Expect an elevation change of about 200 feet and multiple steps.
At the higher elevations along the loop, you get beautiful views!
The trail is not suitable for strollers, walkers, or wheelchairs.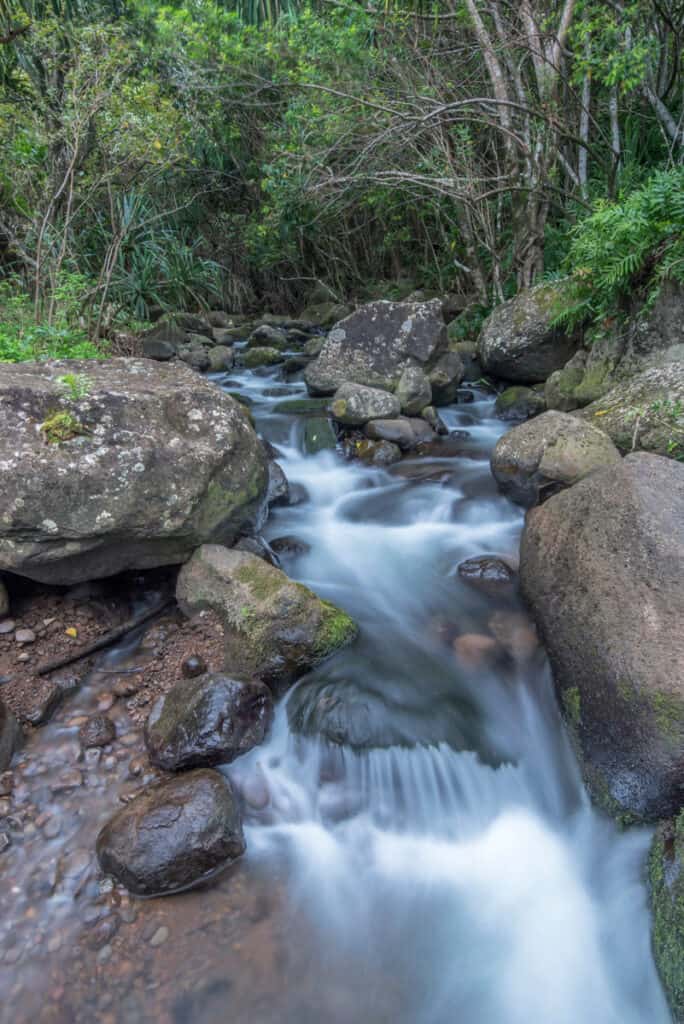 You can visit Limahuli Botanical Garden either on a self-guided tour or a guided tour with a docent.
At the time of writing, self-guided tours depart at multiple times during the day, Tuesday through Saturday. You can pick your time slot when you book your self-guided tour. A self-guided tour costs $30.00 per adult non-resident of Hawaii.
Allow a minimum of 1.5 hours for a self-guided tour. We spent about two hours here and felt we could have easily spent another couple of hours.
If you plan to drive to the garden, book your garden tickets online in advance to reserve a parking space, which is included with the purchase.
Although the garden tries to accommodate walk-ins for self-guided tours, they do not guarantee a parking spot will be available. You can arrive via the North Shore shuttle for a self-guided tour without a reservation.
Guided tours last 2.5 hours and require advance reservations, which you can make on the garden website.
At the time of writing, guided tours are offered at 9 a.m. Tuesday and Thursday. A guided tour costs $60.00 per adult non-resident of Hawaii.
>> Book these 5 star rated, highly popular, Kauai Tours now!
McBryde Garden Kauai
Location: Koloa, South Shore
Spread over 50 lush acres on Kauai's south shore, the McBryde Garden is nestled within the picturesque Lawa'i Valley.
So if you are looking for botanical gardens near Poipu, consider the McBryde (and Allerton) Gardens!
Duncan McBryde, the sugar baron, bought the land in the late 1800s and set up sugar cane fields in the upper valley.
When the Pacific Tropical Botanical Garden was established in 1964, the upper valley was identified as the site for the new botanical garden, and that was the beginning of the McBryde Garden.
Today the garden boasts the largest collection of native Hawaiian plants away from the wild, along with significant collections of ethnobotanical plants and canoe plants.
Many of the native Hawaiian plants you'll see here are found only in Hawaii, and many are rare and endangered (or even extinct) in the wild.
Look for the alula plant, successfully brought back from the brink of extinction. Native to Kauaʻi and Niʻihau, the alula plant has small fragrant flowers.
Of special note are the collections of palms, zingiberales, coral, and coffee. A coral tree in bloom is a magnificent sight: look for the flame colored blooms in late spring and summer.
You'll also see lots of different varieties of breadfruit trees in the organic orchard.
You can visit McBryde Garden on a self-guided tour or a guided tour. Book your spots on the garden website online or at GetYourGuide.
You'll travel by bus from the visitor center to the valley floor, where your walking tour will begin.
Self-guided tours are timed entry and exit: you can pick your slot when you book. You will have about two hours in the garden.
At the time of writing, the self-guided tour costs $30.00 per adult.
Guided tours are offered only in conjunction with the Allerton Garden, and you can pick either the Best of Both Worlds Tour, which is offered at different times during the day, or the Twilight Tour, which occurs in the evening.
The Best of Both Worlds tour costs $65.00 per adult, and the Twilight Tour costs $85.00 per adult.
At the time of writing, McBryde Garden is open Tuesday through Saturday from 9 a.m. until 4.30 p.m.
>>> Check pricing and availability for the McBryde Garden self-guided tour now!
Allerton Garden Kauai
Location: Koloa, South Shore
Allerton Garden has a gorgeous location by the Lawa'i Bay on Kauai's south shore, right next to the McBryde Garden.
Scenes from the long-running TV show Fantasy Island were filmed here!
The garden, which is managed by National Tropical Botanical Garden, is laid out along the banks of the lovely Lawa'i Stream, and split into many garden "rooms."
Along with the lush tropical vegetation, you can admire brilliantly colored flowers!
The valley was settled by the Hawaiians long before the first Europeans arrived on the islands.
Over the years, garden plantings were made in the area by successive owners, most recently by Robert Allerton, an artist, and John Gregg, an architect, who enlarged the garden, added more exotic plants, and introduced statuary.
Today the Allerton Garden holds significant collections of gingers, native and exotic palms, anthuriums, cassia, and plumeria. Bougainvillea brightens the cliffs over the sea.
But possibly the most photographed specimens in the garden are the giant Moreton Bay fig trees, with their showy sculptural roots.
This is where the dinosaur eggs were found in the movie Jurassic Park! You'll see visitors posing for photos in the cavities made by the gigantic roots.
Allerton Garden has served as a filming location for a number of movies and TV shows, including Jurassic Park and Pirates of the Caribbean.
You can only visit the Allerton Garden as part of a guided tour. A variety of tours, lasting from 2.5 to 3 hours, are offered by the garden, and you can reserve online.
On your tour, you'll ride a bus along the coast and into the valley, where you will begin the walking tour of the gardens.
For time-constrained visitors, there is a tour that combines the McBryde and the Allerton Gardens. This tour costs $65.00 per adult at the time of writing.
A combination twilight tour of both gardens is another option. It lasts about 2.5 hours and costs $85.00 per adult.
You can also opt for a 2.5-hour dedicated tour of just the Allerton Garden, a 3-hour sunset tour of the Allerton Garden, a private guided tour (3+ hours), or Allerton by Fire, which combines a guided tour with dinner.
Not all tours are offered everyday — please check the garden website for current schedules.
At the time of writing, Allerton Garden is open Tuesday through Saturday, 9 a.m. until 4.30 p.m.
>>> Check pricing and availability for the Allerton Garden small group tour now!
Tips for Visiting Botanical Gardens in Kauai
Reserve tours in advance
Tours fill up ahead of time, especially in season, so booking your tour in advance is a good idea.
Both Viator, if you book through them for Princeville, and the gardens, if you book directly, offer cancelations up to 24 hours before your tour, so you lose nothing by reserving your spot in advance.
>> Book these 5 star rated, highly popular, Kauai Tours now!
Bring (and use) bug spray
You are going to tour lush tropical gardens, with thick tree canopies, lots of shade, and water features.
Bring bug spray and use it, to minimize the potential for bug bites.
Wear light long-sleeved shirts and long pants
Light loose clothing that covers the bulk of your body offers the best protection from mosquitoes!
So ditch the red, black, or bright blue, and opt for long-sleeved tops and long pants in light neutrals!
Bring rain gear
It's Kauai, folks! Expect rain at any time, and come prepared with a rain jacket and an umbrella.
Tours are conducted rain or shine. We got caught in a downpour on one of our tours and it felt just like being in an adventure movie!
Wear comfortable walking shoes
Kauai gardens can be very muddy, especially if it's rained in the recent past, or if it starts raining during your tour.
Plus, you'll likely encounter exposed tree roots, loose rocks and dirt, and other walking hazards.
Wear comfortable walking shoes (or secured hiking sandals) with good grip that you do not mind getting muddy.
Some gardens may turn you away if you arrive in flip flops!
>> Book these 5-star rated, highly popular, Kauai tours now!
Bring drinking water (or a refillable bottle)
Most of the garden tours in Kauai we've described last upward of two hours, so bring drinking water to stay hydrated as you stroll.
Filling stations are offered at the gardens, so you can also just bring a refillable water bottle if you prefer.
Use sun protection
Although the gardens feature shady tree canopies in many sections, you'll still want to wear sun protection.
Also bring a hat with a brim that you can securely fasten under your chin!
We hope you enjoyed our round-up of the must-visit botanical gardens in Kauai, Hawaii. Which Kauai botanical garden will you add to your itinerary for your next visit to the island?
The Best Kauai Tours
Have you booked these top Kauai guided adventures yet?
Sunset catamaran tour of the Na Pali Coast (relatively more stable ride, insane views on good weather days!)
Doors-off helicopter tour of Kauai (unobstructed views, chance to see more of the island than you can by land, no middle seats!)
Kayak on the Wailua River plus hike to a waterfall (a super fun activity for active travelers, albeit a little muddy sometimes!)
Raft trip to the Na Pali Coast plus snorkeling (prepare to get wet on this exhilarating adventure!)
Eurocopter ECO-Star helicopter tour over Kauai (the most booked Kauai helicopter tour on Viator with close to 2K reviews and a 5-star rating!)
Renting a Car in Kauai
The best things to do in Kauai are scattered all over the island.
Public transport options on Kauai aren't great, so if you want to explore the island beyond your base, you'll want to book a rental car for your Kauai trip.
We always use Discover Cars to book Kauai car rentals. They search across a variety of rental car companies, both budget and brand, to offer you the best deals, AND they offer free cancellations. Plus, there are no hidden fees.
>> Check availability and prices on Kauai car rentals now!
Lihue Airport-Hotel Shuttle
Not planning to pick up a rental car at Lihue airport? Pre-arrange round trip transfer from the airport to your hotel and back!
This shared shuttle serves hotels or vacation rentals in Princeville, Kahala, Poipu, Kapaa, or Lihue, and then back again. It's convenient and inexpensive, and saves time and hassle!
>> Check prices and availability for shared round-trip airport transfer in Kauai now!
Where to Stay in Kauai
Depending on whether you want a vacation rental with more room and the option to cook some of your meals, or you want a resort or hotel experience, and depending on which part of Kauai you want to choose as your base, you have a variety of options.
Since you'll likely want to base in a couple places on your trip to Kauai, we suggest starting your search for Kauai accommodations by browsing vacation rentals on VRBO.
We have stayed in VRBO rentals in both Poipu and Princeville and find that the choice and quality are generally great.
>> Look for a Kauai vacation rental on VRBO now!
Want detailed recommendations for accommodations in Kauai? Check out our comprehensive guide to the best places to stay in Kauai!
More Kauai Travel Inspiration
Considering a trip to the Garden Isle in Hawaii? You'll definitely want to check out some of our other comprehensive Kauai travel and attraction guides!
If you are a first-time visitor to Kauai, start by discovering the best things to do in Kauai! From beaches and botanical gardens to cliffs, canyons, and waterfalls, Kauai has it all, and our round-up lists all of Kauai's must-experience activities and attractions.
Read our in-depth guide to visiting the Na Pali Coast of Kauai. We give you the full scoop on the best ways to visit this stunning coast in the remote northwest of the island.
Discover our round-up of the nine spectacular state parks in Kauai, which house some of Kauai's most treasured natural wonders.
We also have visitor's guides to popular parks like Waimea Canyon State Park, which protects the namesake canyon, nearby Kokee State Park, and the remote but beautiful Polihale State Park.
Also check out the ultimate guide to visiting Haena State Park on Kauai's north shore, and a full guide to hiking the epic Kalalau Trail.
Check out our round-up of the most beautiful waterfalls in Kauai, from waterfalls you can view from the road to falls that require hiking and falls that are best seen from a helicopter or sightseeing flight.
Read our guide to Wailua River State Park to discover two easy-to-access Kauai waterfalls, and our trail guide for the easy hike to Ho'opi'i Falls. We also have an article on the best Kauai waterfall hikes.
And if a helicopter tour is part of your plans for Kauai, read our article on the top-rated helicopter tours in Kauai!
Hiking enthusiasts will want to read our article on the best hikes in Koke'e State Park: the trails here are some of the best hikes in Kauai!
We have detailed trail guides for the most popular Koke'e hikes, from the scenic Canyon Trail to the top of Waipo'o Falls, to the epic Awa'awapuhi Trail, challenging but very rewarding!
Also discover the best hikes in Waimea Canyon State Park, and the best hikes on Kauai's north shore.
We also have a trail guide for the Mahaulepu Heritage Trail on Kauai's scenic south shore, an article on how to hike the Sleeping Giant Trail, and a guide to the Kuilau Ridge Trail, one of the easy hikes on Kauai.
Get the scoop on the best botanical gardens in Kauai, from Limahuli Garden on the north shore to McBryde and Allerton Gardens on the south shore.
Learn about the best things to do in Hanalei, the charming town that sits in the middle of Kauai's scenic north shore.
Read our guide to the best swimming beaches on Kauai, from Hanalei Bay on the north shore to Poipu Beach on the south shore! We also have a guide to the best snorkeling beaches on Kauai, and a round-up of the best Kauai north shore beaches.
Did you find this article informative? Pin it for later!