6 Best Waterfall Hikes On Kauai: Easy To Hard Trails – 2023
With thousands of beautiful waterfalls scattered over the island of Kauai, you would think viewing a few of them would be relatively easy.
Not so. Unfortunately, only about 10% of Kauai is developed with roads, and this means the vast bulk of the waterfalls are inaccessible or you need to hike to them or you need to be content viewing them from a helicopter or a lookout point.
But you don't need to despair! With the the abundance of pretty waterfalls on the island of Kauai, hikers have trails to some of the more beautiful ones!
Like hiking? You've come to the right vacation destination! Kauai is literally a hiker's paradise, with amazing nature trails, stunning views, and often beautiful waterfalls along or at the end of the trail!
Join us as we explore the best waterfall hikes on Kauai, and select the ones you would like to visit.
Hey, by the way! Visiting Kauai? The only way to get a real feel for the rugged beauty of this incredible island is through a helicopter tour! Check out the five highest rated Kauai Helicopter tours for 2023!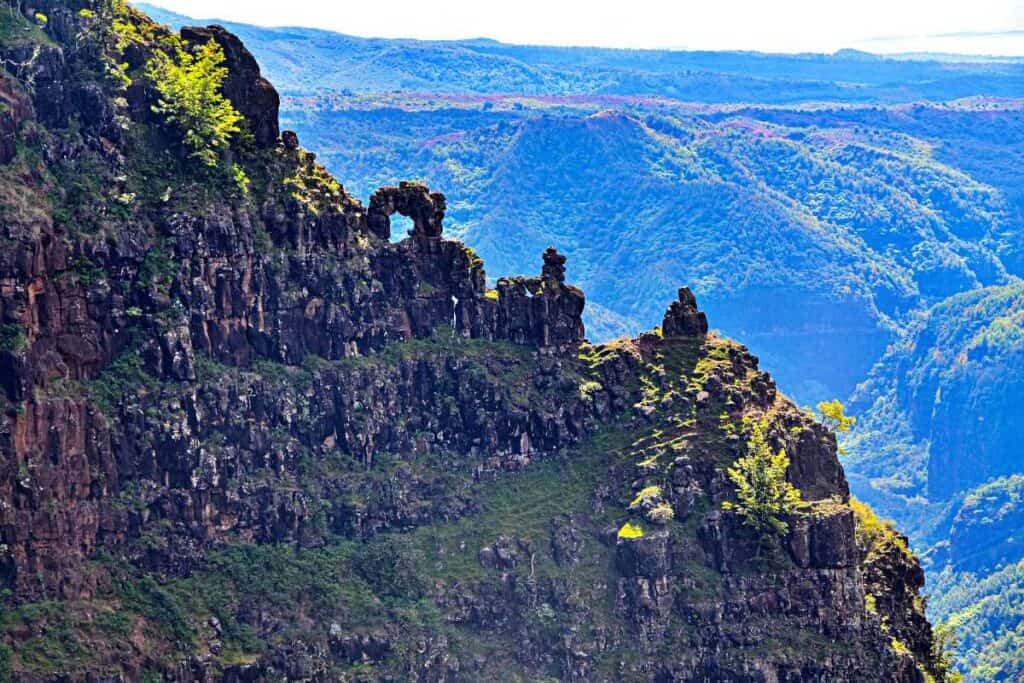 Some links on this page may be affiliate links. If you click an affiliate link and make a purchase, we may receive a small commission, at no extra cost to you. For more details, refer to our disclosure.
Best Waterfall Hikes on Kauai
1. Ho'opi'i Falls Trail Hike
Searching for an easy Kauai waterfall hike? Look no further: I have one of the best easy Kauai hikes to one of the best Kauai waterfalls for you!
The Ho'opi'i Falls Trail hike is a short, easy hike to two beautiful waterfalls, the Upper Ho'opi'i Falls and the Lower Ho'opi'i Falls.
Not only do you get to enjoy a hike on a lush, rainforest jungle path, you get to view a celebrity waterfall: Ho'opi'i Falls was featured in the beginning of the first Jurassic Park movie, where the lawyer visits the Amber Mines (supposedly in the Dominican Republic).
Use our detailed guide to hiking the Ho'opi'i Falls Trail to plan this hike!
>> Book these 5 star rated, highly popular, Kauai Tours now!
2. Canyon Trail to Waipo'o Falls & Mini Falls
One of the best Koke'e State Park hikes, the Canyon Trail to Waipo'o Falls hike takes you along the rim of Waimea Canyon with stunning views of the canyon and surroundings.
The trail ends at the top of Waipo'o Falls, and I've seen some adventurous tourists peer over the 800-foot cliff to see the water fall.
But the amazing Waipo'o Falls is best viewed from the Waimea Canyon State Park lookout, across the canyon, in the distance.
There is a small waterfall (Mini Falls) at the top that you can hike to, and maybe enjoy a dip as well.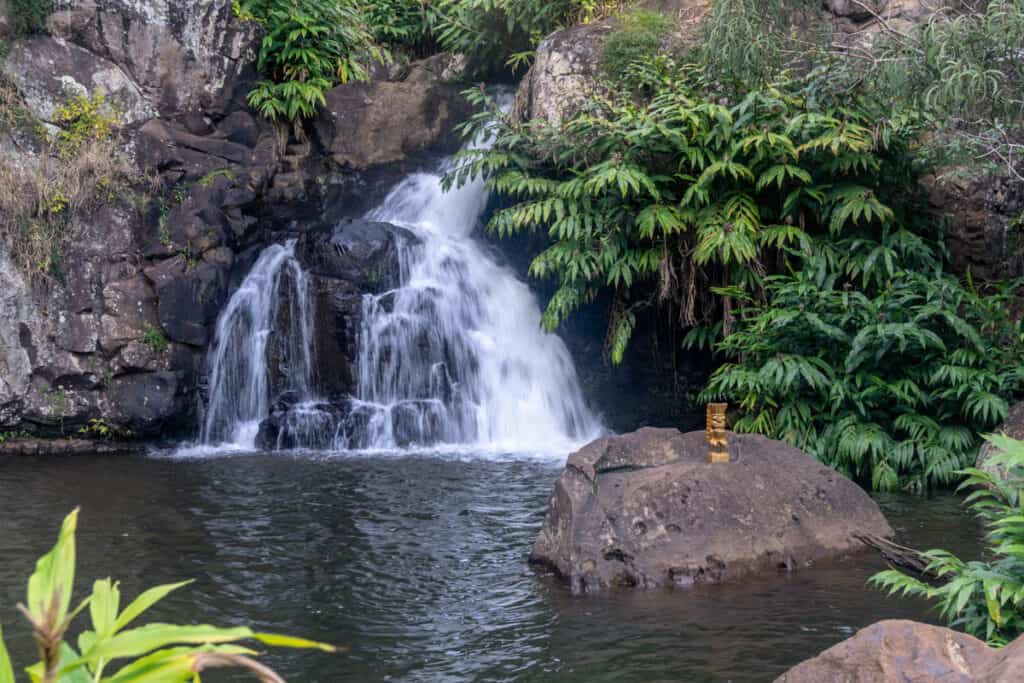 Use our detailed guide to hiking the Canyon Trail to Waipo'o Falls to plan this hike!
3. Uluwehi Secret Falls via Wailua River
Secret (Uluwehi) Falls used to be a well-kept secret, an undiscovered gem that could be reached only by kayaking 2 miles up Wailua River to a trailhead and a moderately difficult 1.5 miles trail to the waterfall.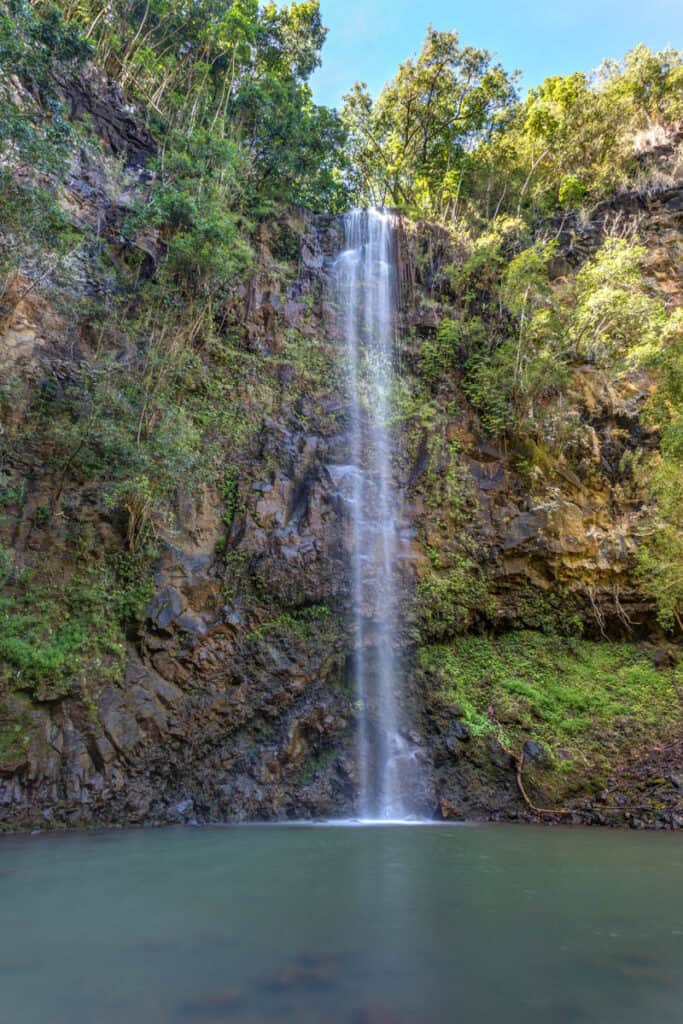 This local favorite haunt, with a popular swimming pool to cool off at the base, can now be enjoyed by visitors through a guided kayaking and hiking tour.
At the end of the hike, you will come to the beautiful 120-foot waterfall, Uluwehi Falls!
>> Check pricing and availability for the Secret Falls kayaking and hiking tour now!
4. Hanakapi'ai Falls via Hanakapiai Falls Trail & Kalalau Trail
Hiking the legendary Kalalau Trail, one of the best hard Kauai hikes, on your Kauai bucket list? If it is, you're in luck, the Kalalau Trail hike includes two hikes to picturesque waterfalls in Kauai: the Hanakapiai Falls and the Hanakoa Falls.
But planning the Kalalau Trail hike is a chore with complex reservations and permits to navigate.
Luckily, the waterfall hike to Hanakapiai Falls, requires a bit less planning that the full Kalalau Trail hike!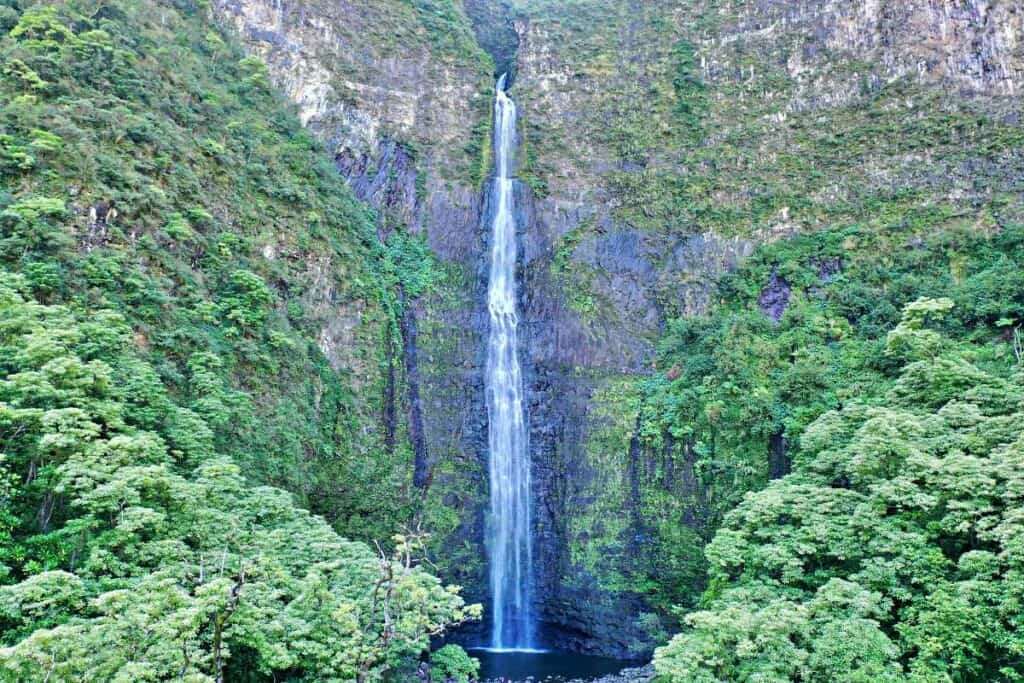 You'll love the beautiful views of the rugged Na Pali coastline, the pretty Ke'e Beach and Hanakapiai Beach views, and the 8-mile round trip trek through the rainforest and coastline.
Use our detailed guide to hiking the incredible Kalalau Trail to plan this hike!
>> Book these 5 star rated, highly popular, Kauai Tours now!
5. Waialeale Weeping Wall via Waialeale Blue Holes Falls Trail
One waterfall not enough? How about a hike to a wall full of them?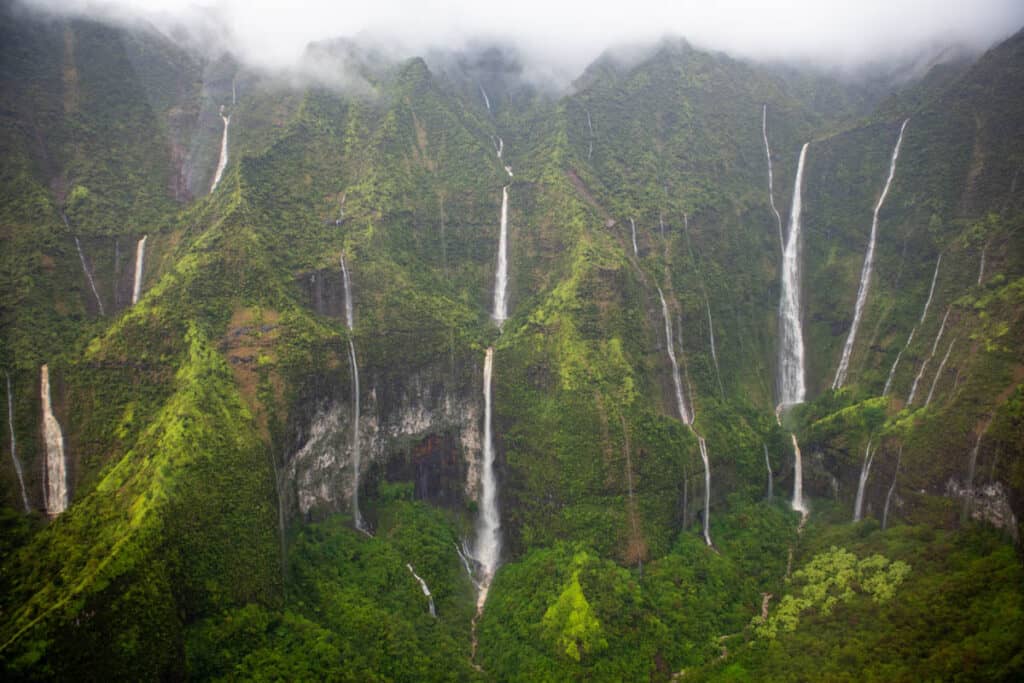 The Waialeale Weeping Wall is on Mount Waialeale, remnants of the extinct volcano that formed the island, one of the wettest regions of the world.
Primarily for the adventure seekers and experienced avid hikers, the Wai'ale'ale Blue Holes Fall Trail that leads to the Weeping Wall starts from a trailhead near the original Jurassic Park gates, accessible only by a 4×4 vehicle.
Even if you reach the trailhead, you are looking at a 5-mile, hard, ill-defined jungle trek, with a significant risk of flash floods!
>> Book these 5-star rated, highly popular, Kauai tours now!
6. Hanakoa Falls via Kalalau Trail
What about a stunning waterfall in a remote, secluded location reachable only by an adventurous few? More than halfway up the Kalalau Trail, you come to a short (0.5 mile) spur trail to the beautiful Hanakoa Falls.
To get to the Hanakoa Falls, you have to plan well in advance, and must have a camping permit (to go past Hanakapi'ai Valley)
The Hanakoa Falls Trail, though short, is not well-marked, and you should download a map and use GPS.
Use our detailed guide to hiking the Kalalau Trail to plan this hike!
Map of the Best Kauai Waterfall Hikes
The below map shows how to get to the best Kauai waterfall hikes described above.
The Best Kauai Tours
Have you booked these top Kauai guided adventures yet?
Sunset catamaran tour of the Na Pali Coast (relatively more stable ride, insane views on good weather days!)
Doors-off helicopter tour of Kauai (unobstructed views, chance to see more of the island than you can by land, no middle seats!)
Kayak on the Wailua River plus hike to a waterfall (a super fun activity for active travelers, albeit a little muddy sometimes!)
Raft trip to the Na Pali Coast plus snorkeling (prepare to get wet on this exhilarating adventure!)
Eurocopter ECO-Star helicopter tour over Kauai (the most booked Kauai helicopter tour on Viator with close to 2K reviews and a 5-star rating!)
Renting a Car in Kauai
The best things to do in Kauai are scattered all over the island.
Public transport options on Kauai aren't great, so if you want to explore the island beyond your base, you'll want to book a rental car for your Kauai trip.
We always use Discover Cars to book Kauai car rentals. They search across a variety of rental car companies, both budget and brand, to offer you the best deals, AND they offer free cancellations. Plus, there are no hidden fees.
>> Check availability and prices on Kauai car rentals now!
Lihue Airport-Hotel Shuttle
Not planning to pick up a rental car at Lihue airport? Pre-arrange round trip transfer from the airport to your hotel and back!
This shared shuttle serves hotels or vacation rentals in Princeville, Kahala, Poipu, Kapaa, or Lihue, and then back again. It's convenient and inexpensive, and saves time and hassle!
>> Check prices and availability for shared round-trip airport transfer in Kauai now!
Where to Stay in Kauai
Depending on whether you want a vacation rental with more room and the option to cook some of your meals, or you want a resort or hotel experience, and depending on which part of Kauai you want to choose as your base, you have a variety of options.
Since you'll likely want to base in a couple places on your trip to Kauai, we suggest starting your search for Kauai accommodations by browsing vacation rentals on VRBO.
We have stayed in VRBO rentals in both Poipu and Princeville and find that the choice and quality are generally great.
>> Look for a Kauai vacation rental on VRBO now!
Want detailed recommendations for accommodations in Kauai? Check out our comprehensive guide to the best places to stay in Kauai!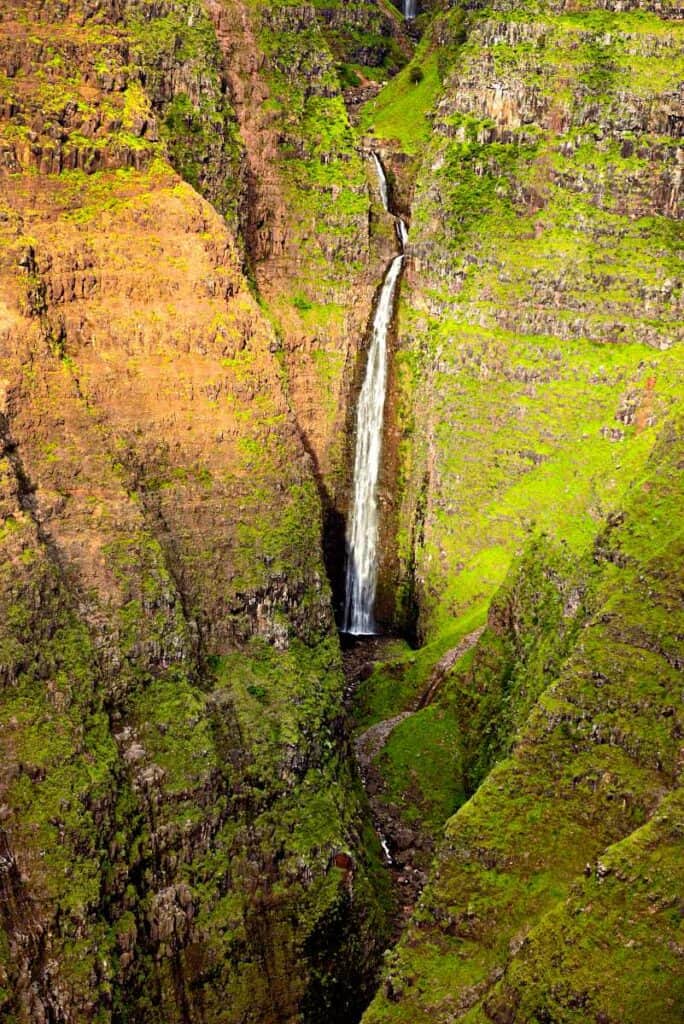 More Kauai Travel Inspiration
Considering a trip to the Garden Isle in Hawaii? You'll definitely want to check out some of our other comprehensive Kauai travel and attraction guides!
If you are a first-time visitor to Kauai, start by discovering the best things to do in Kauai! From beaches and botanical gardens to cliffs, canyons, and waterfalls, Kauai has it all, and our round-up lists all of Kauai's must-experience activities and attractions.
Read our in-depth guide to visiting the Na Pali Coast of Kauai. We give you the full scoop on the best ways to visit this stunning coast in the remote northwest of the island.
Discover our round-up of the nine spectacular state parks in Kauai, which house some of Kauai's most treasured natural wonders.
We also have visitor's guides to popular parks like Waimea Canyon State Park, which protects the namesake canyon, nearby Kokee State Park, and the remote but beautiful Polihale State Park.
Also check out the ultimate guide to visiting Haena State Park on Kauai's north shore, and a full guide to hiking the epic Kalalau Trail.
Check out our round-up of the most beautiful waterfalls in Kauai, from waterfalls you can view from the road to falls that require hiking and falls that are best seen from a helicopter or sightseeing flight.
Read our guide to Wailua River State Park to discover two easy-to-access Kauai waterfalls, and our trail guide for the easy hike to Ho'opi'i Falls. We also have an article on the best Kauai waterfall hikes.
And if a helicopter tour is part of your plans for Kauai, read our article on the top-rated helicopter tours in Kauai!
Hiking enthusiasts will want to read our article on the best hikes in Koke'e State Park: the trails here are some of the best hikes in Kauai!
We have detailed trail guides for the most popular Koke'e hikes, from the scenic Canyon Trail to the top of Waipo'o Falls, to the epic Awa'awapuhi Trail, challenging but very rewarding!
Also discover the best hikes in Waimea Canyon State Park, and the best hikes on Kauai's north shore.
We also have a trail guide for the Mahaulepu Heritage Trail on Kauai's scenic south shore, an article on how to hike the Sleeping Giant Trail, and a guide to the Kuilau Ridge Trail, one of the easy hikes on Kauai.
Get the scoop on the best botanical gardens in Kauai, from Limahuli Garden on the north shore to McBryde and Allerton Gardens on the south shore.
Learn about the best things to do in Hanalei, the charming town that sits in the middle of Kauai's scenic north shore.
Read our guide to the best swimming beaches on Kauai, from Hanalei Bay on the north shore to Poipu Beach on the south shore! We also have a guide to the best snorkeling beaches on Kauai, and a round-up of the best Kauai north shore beaches.
Did you find this article informative? Pin it on Pinterest for later!