Visiting Wailua River State Park, Kauai: The Complete 2023 Guide!
Wailua River State Park, located along the lush east coast of Kauai, is a must-visit for its lovely scenery and many things to do.
Want to chase waterfalls, cruise a river, hike through lush rainforest, or visit a lovely fern-fringed grotto? Head to Wailua River State Park on Kauai's east side!
One of the best state parks in Kauai you can visit, Wailua River State Park is centered around the namesake river, one of the largest on the island and the fifth longest.
Wailua River has its source up in Mount Waiʻaleʻale, one of the wettest places on the planet. From here it flows down and creates a lush valley en route to the ocean.
A place of great historical importance to the Hawaiians, the Wailua River area is home to many sacred sites.
The river offers lots of opportunities for fun, including boat cruises, kayaking or stand-up paddleboarding, picnicking and more.
In this Wailua River guide, we describe the best things to do in Wailua River State Park, and offer helpful tips for an enjoyable visit.
Planning a trip to Kauai? We also have an article on Waimea Canyon State Park, a guide to the best things to do in Kokee State Park, the complete guide to Hā'ena State Park, and an article on the remote Polihale State Park!
And now, let's dive in and discover how to visit Wailua River State Park, Kauai!
Hey, by the way! Visiting Kauai? The only way to get a real feel for the rugged beauty of this incredible island is through a helicopter tour! Check out the five highest rated Kauai Helicopter tours for 2023!
Some links on this page may be affiliate links. If you click an affiliate link and make a purchase, we may receive a small commission, at no extra cost to you. For more details, refer to our disclosure.
Things to Do in Wailua River State Park
Admire Wailua Falls
Wailua Falls is one of the best waterfalls in Kauai! Not only are the falls beautiful to see, they are also easy to access. No hiking required!
Consisting usually of two side by side cascades on the Wailua River, Wailua Falls plunges 80 feet into a large pool in the gorge below.
If you visit in the morning on a sunny day, you may be lucky enough to catch a rainbow at the falls!
After exceptionally heavy rainfall, the falls may converge into one giant cascade, or sometimes have a third cascade in addition to the two you normally see.
Also be prepared for the water to be muddy after rain.
Wailua Falls was featured in the opening credits of Fantasy Island, a popular TV show that ran from 1978 to 1984.
You can see Wailua Falls from a roadside overlook right by the parking area. You'll see them at an angle rather than full on.
Sometimes, overgrown vegetation can prevent you from seeing the falls in their entirety, but it's still a great view.
Note that Wailua Falls is closed to hiking, and going down the steep and slippery slope to the base of the falls is not advised.
Wailua Falls is a popular stop, and parking is limited to just roadside, so visit early in the day.
If you do arrive when spots are full, be patient and wait a few minutes and one will open up…people usually stay only a few minutes at the overlook to view the falls and snap a few photos.
To get to Wailua Falls, take State Highway 583, also known as Maalo Road (see map).
Parking and entry are free, and you can see Wailua Falls any time of the day.
>> Book these 5 star rated, highly popular, Kauai Tours now!
View Opaekaʻa Falls
There's not one but two Kauai waterfalls you can see in Wailua River State Park
ʻŌpaekaʻa Falls, on the ʻŌpaekaʻa Stream, is both wide and tall. It plunges 151 feet into the gorge below, but sadly, you can't see the plunge pool from the roadside viewpoint.
The setting of Opaekaa Falls is lovely. It is framed by mountains and lots of greenery, and the water looks lovely against the dark basalt rock.
Although you can see Opaekaa Falls full on, it's from a fair distance. When there is no traffic on the road, you can still hear the waterfall!
Bring a camera with a zoom lens for a close-up shot of this beautiful waterfall.
There is a parking lot at Opaekaa Falls and it's large enough that you'll usually be able to find a spot.
To get to Opaekaa Falls, take State Highway 580, also known as Kuamoo Road (see map).
Parking and entry are free, and you can see Opaekaa Falls any time of the day. There are picnic tables and restrooms at this roadside stop.
Snap a Photo of the Wailua River from the Overlook
At the same stop where you see Opaeka'a Falls, if you walk a little bit away from the parking area and cross the road, you'll come to an overlook that offers a great look at the Wailua River.
The Wailua River is about 20 miles long. It starts up in Mount Waiʻaleʻale, in the heart of the island, and ends its journey at the eastern shore of Kauai, where it flows into the Pacific Ocean.
The largest and longest navigable river in Kauai, the Wailua River offers lots of opportunities for recreation.
From this overlook, you get a stunning view of the wide Wailua River and the lush valley it creates.
It's a must-stop spot in Wailua River State Park.
There's no parking right at this overlook but it's a quick and easy walk from the parking area for Opaekaa Falls. Be careful crossing the busy road, though.
>> Book these 5 star rated, highly popular, Kauai Tours now!
Take a Boat Cruise to the Fern Grotto
The Wailua River is the only river in all of Hawaii where you can take a boat cruise.
So when you visit Wailua River State Park, be sure to avail yourself of this unique opportunity!
Boat cruises generally take you up to the Fern Grotto and back, a two-mile round trip cruise. En route, enjoy the lush vegetation on the banks of the river, and look for birds.
Tours are usually narrated, and you may hear stories about old Hawaii or commentary about local geology, flora, and fauna.
The Fern Grotto is a popular kayaking and boat cruise destination on Kauai. The lush grotto is framed by ferns and other vegetation in a tropical garden setting.
Your boat cruise will usually allow for a landing at the bank near the Fern Grotto, from where you can do the short nature walk through the rainforest to the grotto, to see it up close.
Be sure to use bug spray!
The boat cruise has a fee, $30.00 per adult and $15.00 per child at the time of writing. Tours depart from the Wailua River State Park Marina (see map).
>> Book your Fern Grotto Cruise now!
This highly-rated tour of Kauai attractions includes a boat cruise on the Wailua River and pick-up and drop-off at select hotels. The tour price includes the cost of the boat ride.
You'll also visit Waimea Canyon, the Halona Blowhole, and other Kauai sights.
>> Check price and availability for this Kauai tour that includes a Wailua River cruise now!
Do the Secret Falls Hiking and Kayaking Tour
Want to try an exciting land and water adventure at Wailua River State Park?
One of the most popular excursions in Kauai is the combination kayaking and hiking tour at the Wailua River.
On this tour, you'll kayak two miles up the river, then hike about one mile through the rainforest to reach Uluwehi Falls, also known as Secret Falls.
Uluwehi Falls plunges 120 feet into a beautiful plunge pool.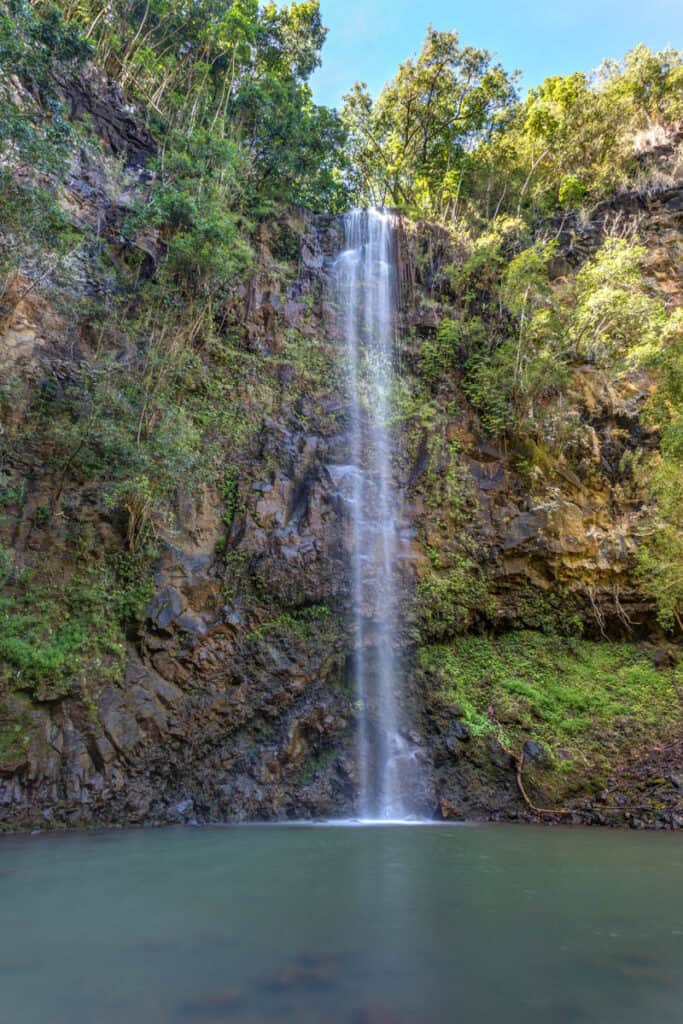 At the falls, you'll have time to relax, and take a dip in the plunge pool if you like.
Then you'll retrace your steps to the trailhead and paddle back two miles to the kayak launch point.
The paddle along the Wailua River offers the opportunity to take in the views of the lush greenery along the banks, and to look for birds.
The hike through the rainforest also offers the opportunity to see local vegetation up close, and it involves stream crossings!
The trail can be quite muddy, especially if you hit it after a period of rain, and the stream crossings can be quite muddy as well. Wear appropriate clothing and footwear!
You can rent a kayak and do this excursion on your own, or you can join a guided tour.
This popular half-day Secret Falls kayaking and hiking tour is restricted to 12 participants for a personalized experience. Your guide will offer commentary and entertain you with songs and stories.
>> Check price and availability for this Secret Falls kayaking + hiking tour now!
Visit the Wailua Complex of Historic Sites
Wailua River State Park is also home to a number of sacred sites (heiau, pu'uhonua, and birthstones). Heiau are historical Hawaiian places of worship, and pu'uhonua were sites of refuge.
In pre-contact times, Wailua was one of two royal centers in Kauai, and home to the ali'i nui (high chiefs) and priests.
Today the remains of the sacred sites here serve as important links to the past.
The Wailua complex of heiaus has been designated a National Historic Landmark, and history and culture buffs will want to set aside some time to tour them on a visit to the park.
Start at Hikinaakala, near the mouth of the river, and view the sites along Kuamoo Road as you work your way inland (see map).
Please view the sites from designated viewing areas, where you will also find informational signs. Do not step on the rocks or move them!
>> Book these 5-star rated, highly popular, Kauai tours now!
Getting to Wailua River State Park
Wailua River State Park is located along the east shore of Kauai, Hawaii.
Sites in the park are dispersed, so we've given information on how to access each site above.
To give you a general idea, here are the driving distances to Opaeka'a Falls, one of the sites inside Wailua River State Park, from various parts of the island:
Koloa (or Poipu) — 18 miles, 32 minutes
Lihue — 8.2 miles, 16 minutes
Hanalei (or Princeville) — 27.6 miles, 46 minutes
It makes sense to visit Wailua River State Park on your way from the south shore of Kauai to the north shore or vice versa.
Wailua River State Park Hours and Admission Fees
Wailua River State Park is open daily from 7 a.m. until 7.45 p.m.
There is no entrance fee to visit any of the sites in Wailua River State Park.
Are Wailua River State Park Reservations Required?
Reservations are not required to visit Wailua River State Park.
The only state park on Kauai that requires reservations is Haena State Park, which also provides access to Na Pali Coast State Wilderness Park.
The Best Time to Visit Wailua River State Park
You can visit Wailua River State Park year round, but ideally, you'd want to avoid rainy weather, when views can be obscured and trails muddy and slick.
Kauai's east side tends to receive a lot of rain in the winter months (between November and April, usually), so you may want to plan your visit for the summer months.
Even in the drier months, some rain is inevitable, so check the weather forecast before your visit.
Of course, the flip side is that in the wetter months the waterfalls have a much heavier flow, and the vegetation is very lush and green.
Our vote is still to pick a dry patch to visit, especially if you plan to hike. The trail to Secret Falls can get SUPER muddy after rains.
The Best Kauai Tours
Have you booked these top Kauai guided adventures yet?
Sunset catamaran tour of the Na Pali Coast (relatively more stable ride, insane views on good weather days!)
Doors-off helicopter tour of Kauai (unobstructed views, chance to see more of the island than you can by land, no middle seats!)
Kayak on the Wailua River plus hike to a waterfall (a super fun activity for active travelers, albeit a little muddy sometimes!)
Raft trip to the Na Pali Coast plus snorkeling (prepare to get wet on this exhilarating adventure!)
Eurocopter ECO-Star helicopter tour over Kauai (the most booked Kauai helicopter tour on Viator with close to 2K reviews and a 5-star rating!)
Renting a Car in Kauai
The best things to do in Kauai are scattered all over the island.
Public transport options on Kauai aren't great, so if you want to explore the island beyond your base, you'll want to book a rental car for your Kauai trip.
We always use Discover Cars to book Kauai car rentals. They search across a variety of rental car companies, both budget and brand, to offer you the best deals, AND they offer free cancellations. Plus, there are no hidden fees.
>> Check availability and prices on Kauai car rentals now!
Lihue Airport-Hotel Shuttle
Not planning to pick up a rental car at Lihue airport? Pre-arrange round trip transfer from the airport to your hotel and back!
This shared shuttle serves hotels or vacation rentals in Princeville, Kahala, Poipu, Kapaa, or Lihue, and then back again. It's convenient and inexpensive, and saves time and hassle!
>> Check prices and availability for shared round-trip airport transfer in Kauai now!
Where to Stay in Kauai
Depending on whether you want a vacation rental with more room and the option to cook some of your meals, or you want a resort or hotel experience, and depending on which part of Kauai you want to choose as your base, you have a variety of options.
Since you'll likely want to base in a couple places on your trip to Kauai, we suggest starting your search for Kauai accommodations by browsing vacation rentals on VRBO.
We have stayed in VRBO rentals in both Poipu and Princeville and find that the choice and quality are generally great.
>> Look for a Kauai vacation rental on VRBO now!
Want detailed recommendations for accommodations in Kauai? Check out our comprehensive guide to the best places to stay in Kauai!
More Kauai Travel Inspiration
Considering a trip to the Garden Isle in Hawaii? You'll definitely want to check out some of our other comprehensive Kauai travel and attraction guides!
If you are a first-time visitor to Kauai, start by discovering the best things to do in Kauai! From beaches and botanical gardens to cliffs, canyons, and waterfalls, Kauai has it all, and our round-up lists all of Kauai's must-experience activities and attractions.
Read our in-depth guide to visiting the Na Pali Coast of Kauai. We give you the full scoop on the best ways to visit this stunning coast in the remote northwest of the island.
Discover our round-up of the nine spectacular state parks in Kauai, which house some of Kauai's most treasured natural wonders.
We also have visitor's guides to popular parks like Waimea Canyon State Park, which protects the namesake canyon, nearby Kokee State Park, and the remote but beautiful Polihale State Park.
Also check out the ultimate guide to visiting Haena State Park on Kauai's north shore, and a full guide to hiking the epic Kalalau Trail.
Check out our round-up of the most beautiful waterfalls in Kauai, from waterfalls you can view from the road to falls that require hiking and falls that are best seen from a helicopter or sightseeing flight.
Read our guide to Wailua River State Park to discover two easy-to-access Kauai waterfalls, and our trail guide for the easy hike to Ho'opi'i Falls. We also have an article on the best Kauai waterfall hikes.
And if a helicopter tour is part of your plans for Kauai, read our article on the top-rated helicopter tours in Kauai!
Hiking enthusiasts will want to read our article on the best hikes in Koke'e State Park: the trails here are some of the best hikes in Kauai!
We have detailed trail guides for the most popular Koke'e hikes, from the scenic Canyon Trail to the top of Waipo'o Falls, to the epic Awa'awapuhi Trail, challenging but very rewarding!
Also discover the best hikes in Waimea Canyon State Park, and the best hikes on Kauai's north shore.
We also have a trail guide for the Mahaulepu Heritage Trail on Kauai's scenic south shore, an article on how to hike the Sleeping Giant Trail, and a guide to the Kuilau Ridge Trail, one of the easy hikes on Kauai.
Get the scoop on the best botanical gardens in Kauai, from Limahuli Garden on the north shore to McBryde and Allerton Gardens on the south shore.
Learn about the best things to do in Hanalei, the charming town that sits in the middle of Kauai's scenic north shore.
Read our guide to the best swimming beaches on Kauai, from Hanalei Bay on the north shore to Poipu Beach on the south shore! We also have a guide to the best snorkeling beaches on Kauai, and a round-up of the best Kauai north shore beaches.
Did you find this article informative? Pin it on Pinterest for later!