11 Best Waterfalls in Kauai to Visit in 2023 (+ Map!)
There are so many beautiful waterfalls in Kauai that you'll be spoiled for choice on which ones to visit. The Garden Isle is known for its lush landscapes, and that means hundreds of waterfalls!
Every part of Kauai is blessed with waterfalls.
Even the drier west side has the stunning Waipo'o Falls, which cascades down the wall of the Waimea Canyon, the Grand Canyon of the Pacific.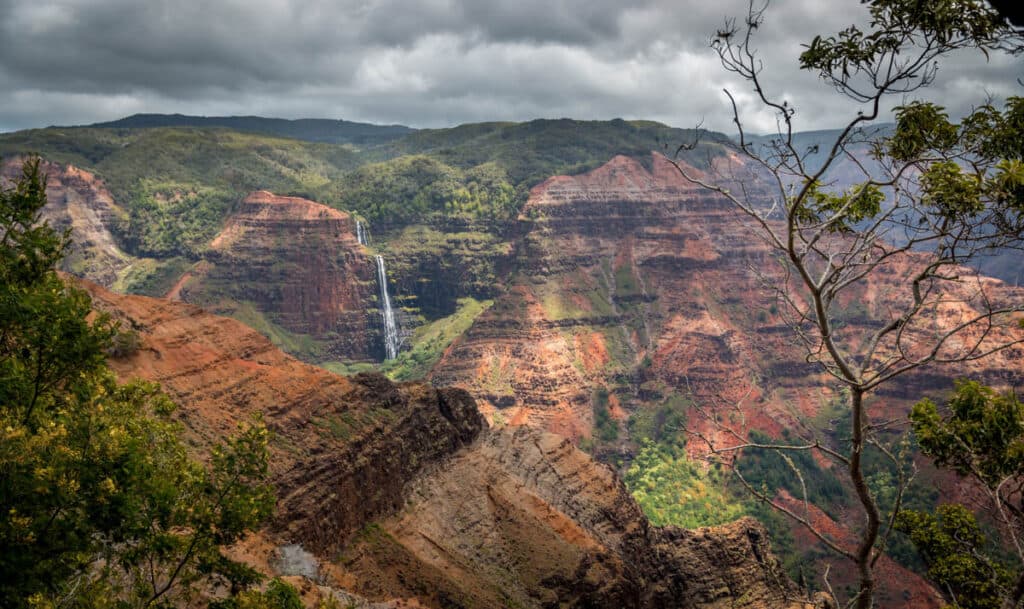 In more lush parts of the island, like the east, and the north, you will find many beautiful waterfalls, some of which can even be viewed without hiking.
Just driving along the north shore of the island, you'll see waterfalls flowing down the mountains.
But of course, since the vast majority of Kauai's interior is not easily accessible, some Kauai waterfalls can only be seen from the air.
So if you are looking for one more reason to add a Kauai helicopter tour to your visit, then know that a chopper tour offers unparalleled opportunities for photographing some of Kauai's best waterfalls.
In this article, we've rounded up the best waterfalls in Kauai, along with information on how to visit each of them. If it's your very first trip to Kauai, these are the waterfalls to consider putting on your itinerary!
Excited? Let's get started discovering the must-visit waterfalls in Kauai, Hawaii!
Hey, by the way! Visiting Kauai? The only way to get a real feel for the rugged beauty of this incredible island is through a helicopter tour! Check out the five highest rated Kauai Helicopter tours for 2023!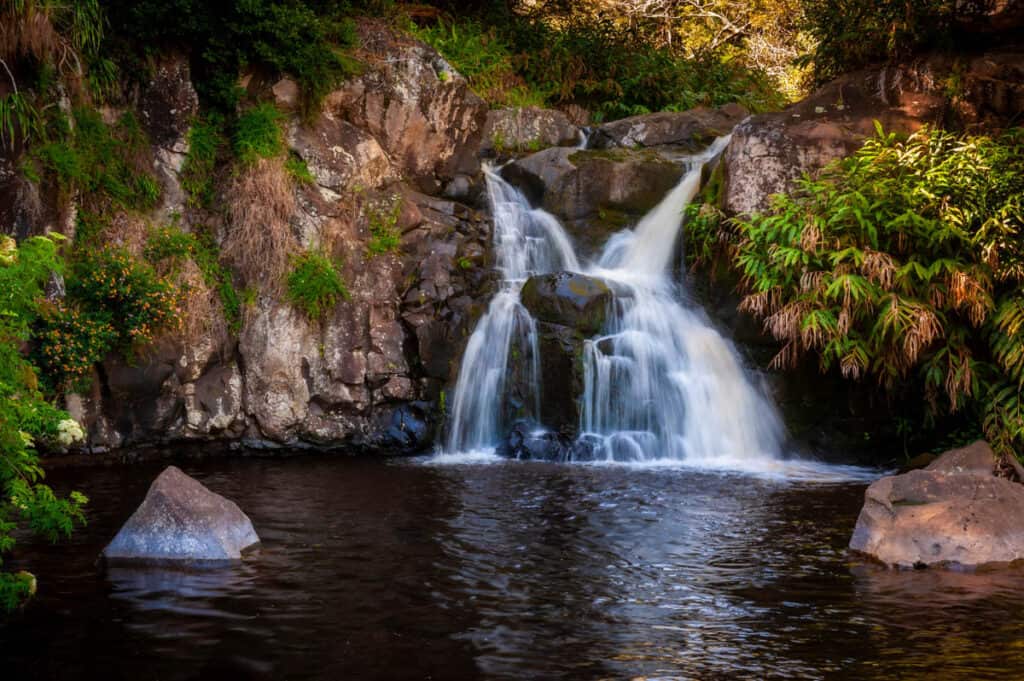 Some links on this page may be affiliate links. If you click an affiliate link and make a purchase, we may receive a small commission, at no extra cost to you. For more details, refer to our disclosure.
Best Kauai Waterfalls
1. Wailua Falls
A set of two stunning side-by-side cascades that plunge 80 feet into a pool below, Wailua Falls should definitely be on your Kauai itinerary if you enjoy waterfalls.
If you've seen the TV show Fantasy Island, Wailua Falls are featured in the opening credits!
The twin cascades are framed by lush green vegetation and make the perfect picture postcard.
Depending on how much it has rained recently in the mountains above, the cascades can be torrential or sedate.
Located on the south fork of the Wailua River, Wailua Falls are housed inside Wailua River State Park, one of Kauai's best state parks.
Wailua Falls are not only beautiful, they are also very easy to access.
All you have to do is drive up to the parking lot, get out of your car, and walk the few feet to the railing to view the falls. No hiking necessary!
If you visit in the morning, you may even be treated to a rainbow over the falls, as the sun's light meets the mist from the cascades.
Note that sometimes, overgrown vegetation can obstruct the view, but it's still worth making the drive for the quick photo op.
To get to Wailua Falls, drive north from Līhuʻe along Maʻalo Road until you come to the Wailua Falls Fruit Stand.
Veer right and continue on Ma'alo Road to where it ends at the parking area for the falls.
Good to know: The parking lot is small, but there is no entry fee and no parking fee. Local vendors are sometimes here selling banana bread or fresh coconuts, so bring cash!
Good to know: Going down to the bottom of the falls is dangerous and the hiking path is closed.
>> Book these 5 star rated, highly popular, Kauai Tours now!
2. Waipo'o Falls
Definitely one of the most striking waterfalls in Kauai, Waipo'o Falls is a two-tiered waterfall that is located on the far wall of the magnificent Waimea Canyon.
Waipo'o Falls plunges an astounding 800 feet to the bottom of the canyon!
Because it's so far away, you'll likely see Waipo'o Falls as a thin ribbon if you view it from the near side of Waimea Canyon.
The flow depends on recent rainfall, and Waipo'o Falls may even run dry during a dry spell.
One of the best places to see Waipo'o Falls full-on is from the Waimea Canyon Overlook, just past mile marker 10 on Highway 550 in Waimea Canyon State Park.
Further up the road, you'll be able to see Waipo'o Falls from the Pu'u Ka Pele lookout, near mile marker 13.
This is the closest you'll see the waterfall from the overlooks, even though the view is partially obstructed. Note that you're still very far away from the falls here.
The popular Canyon Trail in Koke'e State Park, 1.6 miles each way, takes you to the top of Waipo'o Falls.
The trail offers stunning views over Waimea Canyon, but no full-on views of Waipo'o Falls. At the end of the trail, you'll be at the top of the falls, where there's a pool and a small cascade.
Possibly your best shot at getting a good up-close view of Waipo'o Falls is from a helicopter! So if a helicopter tour is on your Kauai bucket list, you're in luck, not just when it comes to Waipo'o Falls but many other inaccessible Kauai waterfalls.
The best Kauai helicopter tours take you quite close to Waipo'o Falls, and may even hover close, giving you a splendid photo opportunity!
To get to the lookouts at Waimea Canyon, drive west from Lihue to Hanapepe and then north along Highway 550 to Waimea Canyon State Park and Koke'e State Park.
Good to know: Visit earlier in the day for a higher likelihood of good visibility and lower crowds.
Good to know: If you are not a resident of Hawaii, there are entry and parking fees for Waimea Canyon State Park and Koke'e State Park: $5.00 per person entrance and $10.00 per vehicle parking.
One set of fees will get you into both parks on the same day.
3. Opaekaa Falls
ʻŌpaekaʻa Falls, on the Opaekaa Stream, is located inside Wailua River State Park, on the lush eastern shore of Kauai.
Like Wailua Falls, Opaekaa Falls can be viewed from a roadside viewpoint, with no hiking required. From the parking lot, it's just a few steps to the viewpoint.
The majestic waterfall is 40 feet wide and drops 151 feet over a cliff into a hidden plunge pool below. It's framed by green vegetation and flows year-round.
Opaekaa Falls is best viewed in full sunlight, when the light falls directly on the waterfall. Late morning on a nice weather day is the perfect time to view, and photograph, Opaekaa Falls.
The falls are at a distance, so bring a zoom lens for photography is you have one.
There are picnic tables and restrooms here and across the street is a nice view of the Wailua River.
There is no parking fee and no entrance fee for the Opaekaa Falls lookout area.
To get to Opaekaa Falls, drive north from Lihue along Highway 56 to Highway 580. Just before mile marker 2, you'll see the sign for the Opaekaa Falls viewing area.
>> Book these 5 star rated, highly popular, Kauai Tours now!
4. Uluwehi Falls (Secret Falls)
Have you come across mention of the Secret Falls in Kauai? Secret Falls is one of the best swimming waterfalls in Kauai!
Uluwehi Falls, also known as Secret Falls, is located on Kauai's east shore.
These falls are actually not very "secret": they are a super popular waterfall destination in Kauai, because you can get right up to the bottom of the falls and even swim in the plunge pool.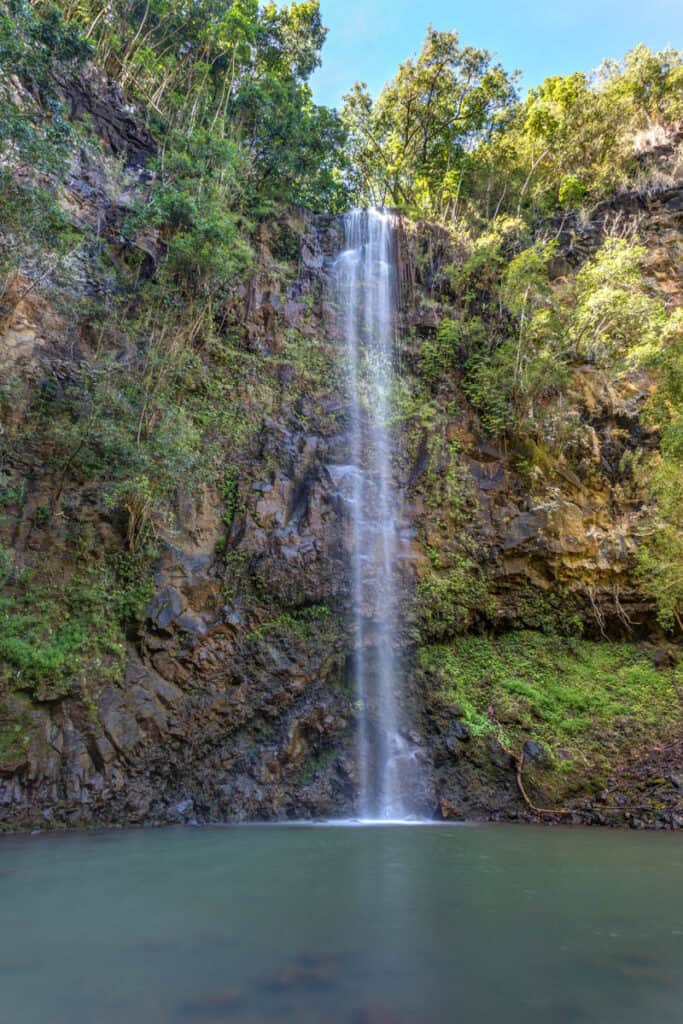 And although you do need to hike to get to Uluwehi Falls, the hike is moderate and not super challenging. In fact, this is one of the best waterfall hikes in Kauai.
The trailhead for the hike is located up the Wailua River, and you have to kayak to reach it.
The best way to visit Uluwehi Falls is on a guided kayaking plus hiking tour.
On this tour, you'll paddle 2 miles upstream along the Wailua River. Then hike 1.5 miles through lush rainforest, with multiple stream crossings (bring water shoes!).
En route, your guide will offer commentary on local Hawaiian flora and fauna.
Your payoff is the scenic 120-foot Uluwehi Falls! Bring your bathing suit if you want to wade in the plunge pool and get under the falls.
>> Check pricing and availability for the Secret Falls kayaking and hiking tour now!
5. Manawaiopuna Falls (Jurassic Falls)
Located in the Hanapepe Valley on the southwestern side of the island of Kauai, Manawaiopuna Falls is one of the most well known waterfalls in Kauai.
It featured in the 1993 Spielberg classic Jurassic Park and is hence also sometimes known as Jurassic Falls.
Viewing this incredible waterfall is one of the most exciting things to do in Kauai!
The 400-foot cascade drops into a gorgeous plunge pool.
Framed by lush green vegetation, the waterfall has a spectacular setting.
Manawaiopuna Falls is one of the many Kauai waterfalls that is inaccessible to the public via land and can only be viewed on a helicopter tour.
It is located on land owned by the Robinson family, who also own the Forbidden Isle of Ni'ihau, just off the coast of Kauai.
The good news is that the waterfall features on most island helicopter tours, and if conditions permit, you can get quite close to the falls in a helicopter.
Door-off helicopter tours offer unique photo ops, with nothing between you and Kauai's stunning landscapes.
Given that these falls featured in the initial helicopter landing scene in the movie Jurassic Park, when Dr. Grant and crew arrived, viewing the cascade from a chopper seems entirely appropriate!
>> Check pricing and availability for a doors-off Kauai helicopter tour now!
6. Hanakapiai Falls
The 300-foot Hanakapiai Falls plunges straight down a near-vertical cliff into a lovely plunge pool below.
No wonder, this waterfall is one the bucket list of many adventure-loving visitors to Kauai!
As one of the waterfalls on Kauai to which you can hike, Hanakapiai Falls doesn't require shelling out big bucks for a helicopter tour over Kauai.
But the trail is a moderate to challenging day hike, requiring some planning.
First, the trailhead is located in Haena State Park, on the northwest corner of Kauai. If you aren't a Hawaii resident, entry reservations are mandatory, as well as a parking reservation if you will arrive in your car.
On this day hike, you'll be hiking a part of the epic Kalalau Trail into the stunning Na Pali Coast. Hike this trail two miles in, to Hanakapiai Beach, where you will take the trail to Hanakapiai Falls, another 2 miles into the valley.
At the end of the trail, you'll be rewarded with a view of the lovely waterfall, plus, if you wish, you can take a dip in the cold waters of the plunge pool.
Start early, and be prepared for many stream crossings en route. Note that flash floods are possible!
7. Ho'opi'i Falls
You'll find many of Kauai's waterfalls along the lush eastern shore, and Ho'opi'i Falls is one of them. The series of falls, on the Kapa'a Stream, can be found near the town of Kapa'a.
Ho'opi'i Falls makes for nice photos, so if you enjoy chasing waterfalls, it's worthwhile seeking out these falls.
You can hike to Ho'opi'i Falls. The hike, about 1.8 miles round trip, is considered moderately challenging. But it's one of the best waterfall hikes in Kauai.
Note that the trail can be muddy and slippery at times and wear proper shoes. Please stay on the main trail to avoid damaging vegetation in the area.
Before you arrive at the waterfall overlook, there is a fork in the road. If you go right, you will arrive at the pool at the second waterfall, where there is a rope swing.
If you choose to jump at either waterfall, be careful, because there are rocks just below the surface.
The trail is shaded most of the way, with lots of tall trees and lush tropical vegetation, including giant ferns and creepers. You'll feel like you are in a scene from Jurassic Park! Bring bug spray.
To arrive at the trailhead for Ho'opi'i Falls, drive north from Lihue along Highway 56 to Kaapuni Road and then take Kapahi Road in Kapaa.
The trailhead is in a residential area, and there is parking by the side of the street. Please be respectful of residents!
>> Book these 5-star rated, highly popular, Kauai tours now!
8. Mount Waialeale Falls: The Weeping Wall
Mount Waialeale is one of the wettest spots on the planet.
Not surprising then that Mount Waialeale features many, many waterfalls. In fact, the Weeping Wall of Mount Waialeale is known for the multitude of cascades that flow down the crater wall.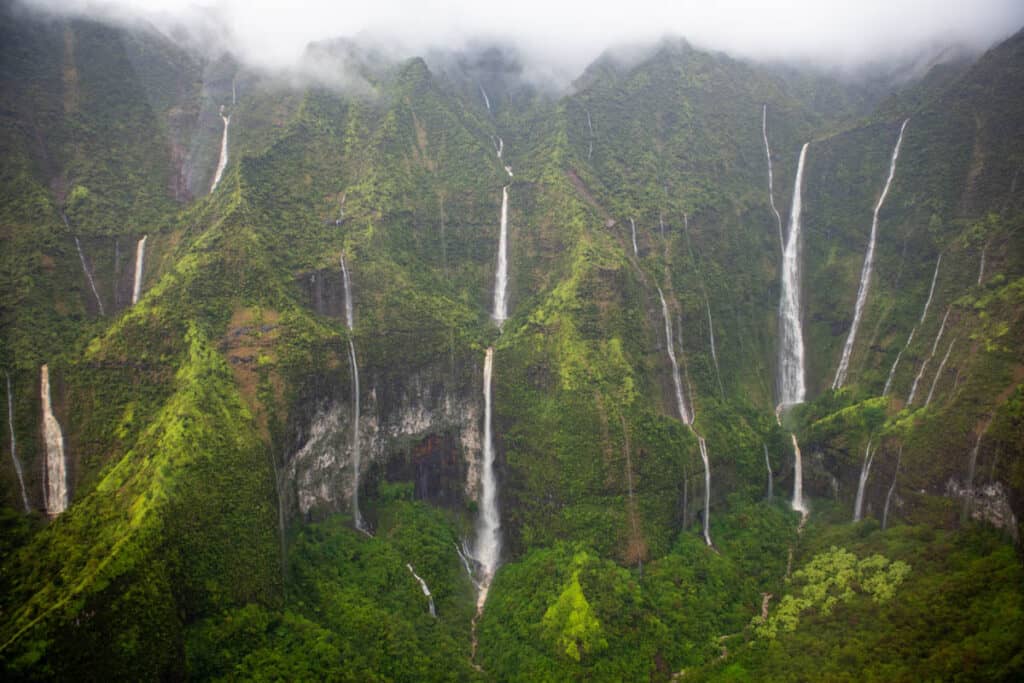 Located in the heart of the island of Kauai, Mount Waialeale is not easily accessible, and most visitors admire the Weeping Wall from a helicopter.
The thin waterfalls, surrounded by lush green vegetation, with mist hanging over it all, is a quintessential Kauai scene.
Mount Waialeale is on the itinerary for most island helicopter tours in Kauai, so provided conditions are suitable, you'll get to see, and photograph, these silvery strands of water on your helicopter tour.
Some intrepid adventurers hike to the Weeping Wall. The Waialeale Blue Hole Hike is very challenging, one of the most difficult hikes on Kauai, and every year visitors need rescuing after being stranded due to flash floods or other problems.
The trail isn't well marked and comes with an elevation change of about 1,500 feet in extremely difficult terrain.
The 4.9-mile round trip hike starts from a trailhead located just past the Keauhua Arboretum in Kapa'a on the east shore of the island. You need to 4WD to get to the trailhead.
A helicopter tour is thus the route most visitors to Kauai take in order to see the Weeping Wall of Mount Waialeale!
9. Hanakoa Falls
Hanakoa Falls is located in the Hanakoa Valley, part of the remote Na Pali Coast of Kauai. You'll find this striking waterfall on a detour from the Kalalau Trail.
Reputed to be about 1,000 feet in length, Hanakoa Falls has multiple tiers, and from the bottom, you can only see up a certain extent.
The flow is less most of the time when compared to Hanakapiai Falls, the other major waterfall along the trail.
But it's a beautiful waterfall, worth the detour from the Kalalau Trail.
Starting at Ke'e Beach, you will hike until you arrive at the campgrounds in Hanakoa Valley, after which you will find the marked detour to the falls.
You cannot swim at Hanakoa, but the still beauty of the setting will captivate you.
The hike to Hanakoa Falls is about 6 miles each way, and you require an overnight camping permit, whether you choose to camp or not.
The trailhead is at Ke'e Beach in Haena State Park, and if you aren't a Hawaii resident, you will also need entry reservations for Haena State Park and a parking reservation if you plan to drive into the park.
You can also see Hanakoa Falls on helicopter tours of Kauai. In fact, from the air, you can more easily appreciate the full length of the waterfall!
10. Red Dirt Waterfall, Waimea
This little waterfall doesn't have a name other than "red dirt waterfall," but it's a super popular photo spot on the western side of the island.
The Red Dirt Waterfall looks like it's located on Mars rather than on our planet. The dirt is a deep rust, and, fair warning, will get on your shoes and clothes.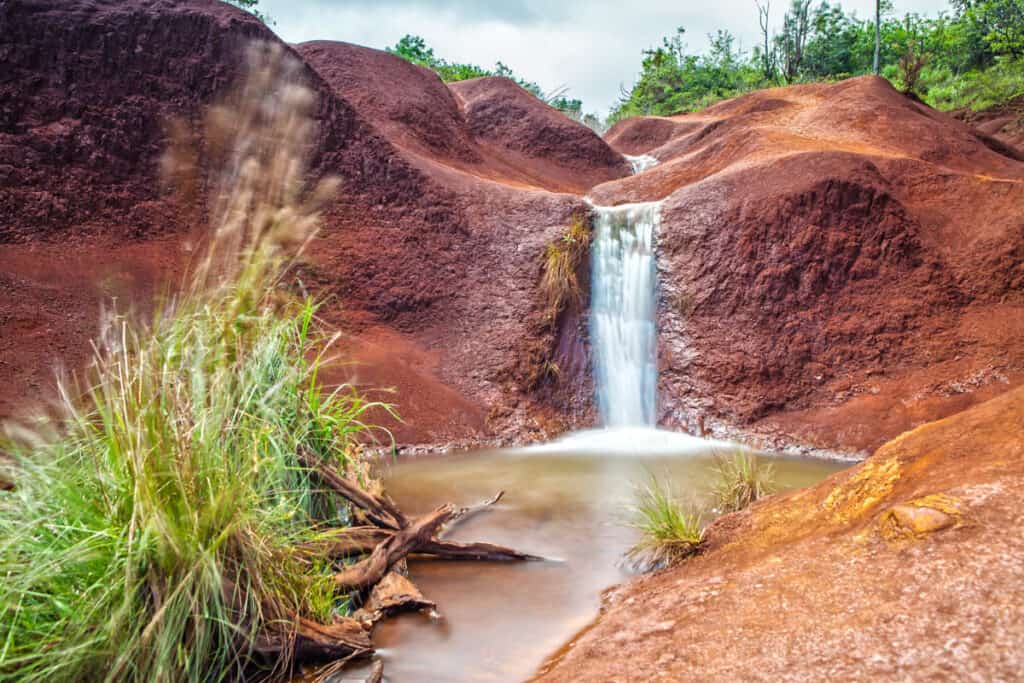 This little waterfall comes up at mile marker 23 on Highway 550, the route to Waimea Canyon.
"Waimea" means reddish water in Hawaiian, and this part of the island is especially famous for the oxidized volcanic rock.
It's a short hike to the little waterfall, doable for most visitors. When the flow isn't heavy, you'll see visitors jumping over the stream above the falls.
Water flow varies based on the amount of recent rainfall. Note that this is the drier side of the island, and there can be dry spells.
There is no parking lot, so you'll have to park in the pullout on the opposite side of the street, from where there is a view into the Lower Waimea Canyon as well.
11. Kahili Falls
Also known as the Five Sisters Falls, Kahili Falls is a cluster of five (or more!) waterfalls on the Hanapepe River, located near the Manawaiopuna Falls, in the heart of the island.
Like other waterfalls in Kauai, the Kahili Falls can only be seen from the air, on a Kauai helicopter tour or sightseeing airplane flight. The falls are part of privately-owned lands.
The series of falls is gorgeous, with each plunge pool leading into another waterfall! Although the plunge pools are normally a pretty turquoise, they can be mud-colored after rains. That's when the water flow is best, though!
When the color of the plunge pools is a pretty turquoise, Kahili Falls make for a fantastic aerial photo op.
Not all aerial Kauai tours have itineraries that include Kahili Falls, so if viewing and photographing them is on your wish-list, call or email your tour provider ahead of time to make sure these waterfalls are included.
Map of the Best Waterfalls in Kauai
The Best Kauai Tours
Have you booked these top Kauai guided adventures yet?
Sunset catamaran tour of the Na Pali Coast (relatively more stable ride, insane views on good weather days!)
Doors-off helicopter tour of Kauai (unobstructed views, chance to see more of the island than you can by land, no middle seats!)
Kayak on the Wailua River plus hike to a waterfall (a super fun activity for active travelers, albeit a little muddy sometimes!)
Raft trip to the Na Pali Coast plus snorkeling (prepare to get wet on this exhilarating adventure!)
Eurocopter ECO-Star helicopter tour over Kauai (the most booked Kauai helicopter tour on Viator with close to 2K reviews and a 5-star rating!)
Renting a Car in Kauai
The best things to do in Kauai are scattered all over the island.
Public transport options on Kauai aren't great, so if you want to explore the island beyond your base, you'll want to book a rental car for your Kauai trip.
We always use Discover Cars to book Kauai car rentals. They search across a variety of rental car companies, both budget and brand, to offer you the best deals, AND they offer free cancellations. Plus, there are no hidden fees.
>> Check availability and prices on Kauai car rentals now!
Lihue Airport-Hotel Shuttle
Not planning to pick up a rental car at Lihue airport? Pre-arrange round trip transfer from the airport to your hotel and back!
This shared shuttle serves hotels or vacation rentals in Princeville, Kahala, Poipu, Kapaa, or Lihue, and then back again. It's convenient and inexpensive, and saves time and hassle!
>> Check prices and availability for shared round-trip airport transfer in Kauai now!
Where to Stay in Kauai
Depending on whether you want a vacation rental with more room and the option to cook some of your meals, or you want a resort or hotel experience, and depending on which part of Kauai you want to choose as your base, you have a variety of options.
Since you'll likely want to base in a couple places on your trip to Kauai, we suggest starting your search for Kauai accommodations by browsing vacation rentals on VRBO.
We have stayed in VRBO rentals in both Poipu and Princeville and find that the choice and quality are generally great.
>> Look for a Kauai vacation rental on VRBO now!
Want detailed recommendations for accommodations in Kauai? Check out our comprehensive guide to the best places to stay in Kauai!
More Kauai Travel Inspiration
Considering a trip to the Garden Isle in Hawaii? You'll definitely want to check out some of our other comprehensive Kauai travel and attraction guides!
If you are a first-time visitor to Kauai, start by discovering the best things to do in Kauai! From beaches and botanical gardens to cliffs, canyons, and waterfalls, Kauai has it all, and our round-up lists all of Kauai's must-experience activities and attractions.
Read our in-depth guide to visiting the Na Pali Coast of Kauai. We give you the full scoop on the best ways to visit this stunning coast in the remote northwest of the island.
Discover our round-up of the nine spectacular state parks in Kauai, which house some of Kauai's most treasured natural wonders.
We also have visitor's guides to popular parks like Waimea Canyon State Park, which protects the namesake canyon, nearby Kokee State Park, and the remote but beautiful Polihale State Park.
Also check out the ultimate guide to visiting Haena State Park on Kauai's north shore, and a full guide to hiking the epic Kalalau Trail.
Check out our round-up of the most beautiful waterfalls in Kauai, from waterfalls you can view from the road to falls that require hiking and falls that are best seen from a helicopter or sightseeing flight.
Read our guide to Wailua River State Park to discover two easy-to-access Kauai waterfalls, and our trail guide for the easy hike to Ho'opi'i Falls. We also have an article on the best Kauai waterfall hikes.
And if a helicopter tour is part of your plans for Kauai, read our article on the top-rated helicopter tours in Kauai!
Hiking enthusiasts will want to read our article on the best hikes in Koke'e State Park: the trails here are some of the best hikes in Kauai!
We have detailed trail guides for the most popular Koke'e hikes, from the scenic Canyon Trail to the top of Waipo'o Falls, to the epic Awa'awapuhi Trail, challenging but very rewarding!
Also discover the best hikes in Waimea Canyon State Park, and the best hikes on Kauai's north shore.
We also have a trail guide for the Mahaulepu Heritage Trail on Kauai's scenic south shore, an article on how to hike the Sleeping Giant Trail, and a guide to the Kuilau Ridge Trail, one of the easy hikes on Kauai.
Get the scoop on the best botanical gardens in Kauai, from Limahuli Garden on the north shore to McBryde and Allerton Gardens on the south shore.
Learn about the best things to do in Hanalei, the charming town that sits in the middle of Kauai's scenic north shore.
Read our guide to the best swimming beaches on Kauai, from Hanalei Bay on the north shore to Poipu Beach on the south shore! We also have a guide to the best snorkeling beaches on Kauai, and a round-up of the best Kauai north shore beaches.
Did you find this article informative? Pin it for later!