9 Best Whale Watching In Maui (+ Best 2023 Tours)
Whale Watching in Maui: Introduction
Welcome to the beautiful island of Maui, Hawaii!
Maui is a tropical paradise in the Pacific Ocean known for its stunning beaches, lush landscapes, and vibrant culture.
But did you know that Maui is also home to a magnificent creature that captures the hearts of both locals and visitors? That's right, we're talking about WHALES!
Whales are fascinating marine mammals that inhabit the waters surrounding Maui. These gentle giants are some of the largest animals on the planet, and people from all over the world come to Maui to see these majestic creatures in their natural habitat.
Simply put, whale watching is one of the best things to do in Maui!
Watching a 60,000-pound, fully-grown humpback whale breach the surface of the water by launching its full body into the air is truly amazing, a once-in-a-lifetime experience!
In this blog post, we'll take you on a virtual journey through the world of whale watching in Maui.
We'll delve into the fascinating world of whales, discover why they choose Maui as their winter playground, and provide you with tips and insights to make the most out of your whale watching adventure.
Visiting Hawaii? Check out our detailed travel blog on Hawaii for ideas!
Some links on this page may be affiliate links. If you click an affiliate link and make a purchase, we may receive a small commission, at no extra cost to you. For more details, refer to our disclosure.
What is the Best Time of Year for Whale Watching?
The best time of year for whale watching in Maui is the winter season, and the Maui whale season usually runs from December to April! If you're visiting Maui during the winter months or early spring, you're in luck – you have the best chance of seeing the majestic humpback whales in action!
While the first whale may be seen as early as late November, the best month for whale watching is definitely January, with the most recorded whale sightings!
Unlike spinner dolphins, whales are active throughout the day. The best time of day for whale watching in Maui is the early morning, mainly because the weather is much nicer, the ocean waters are calmer and the crowds are much less!
Why Whale Watching in Maui? Whale Migration Patterns
But have you ever wondered why whales choose Maui as their winter getaway? Whales are migratory animals that travel thousands of miles from their feeding grounds in Alaska to the warm waters of Hawaii, primarily to mate and give birth to their young ones.
On our last visit Maui, we had the unique experience of seeing a new-born calf breaching in unison with its mother whale!
Kinds of Whales in Hawaii
Humpback whales (more specifically, North Pacific humpback whales) are the most common species you'll see in Maui. Humpback whales have long pectoral fins, or flippers, and a huge tail called a fluke.
These magnificent creatures are known for their breaching, when they jump out of the water and splash back in with a huge splash! It's like they're saying, "Look at me, I'm here!"
Other whales you might spot include pygmy whales, pilot whales, which are smaller and have a round head, false killer whales, and spinner dolphins (yes, all dolphins are whales), which are known for their playful spins in the air.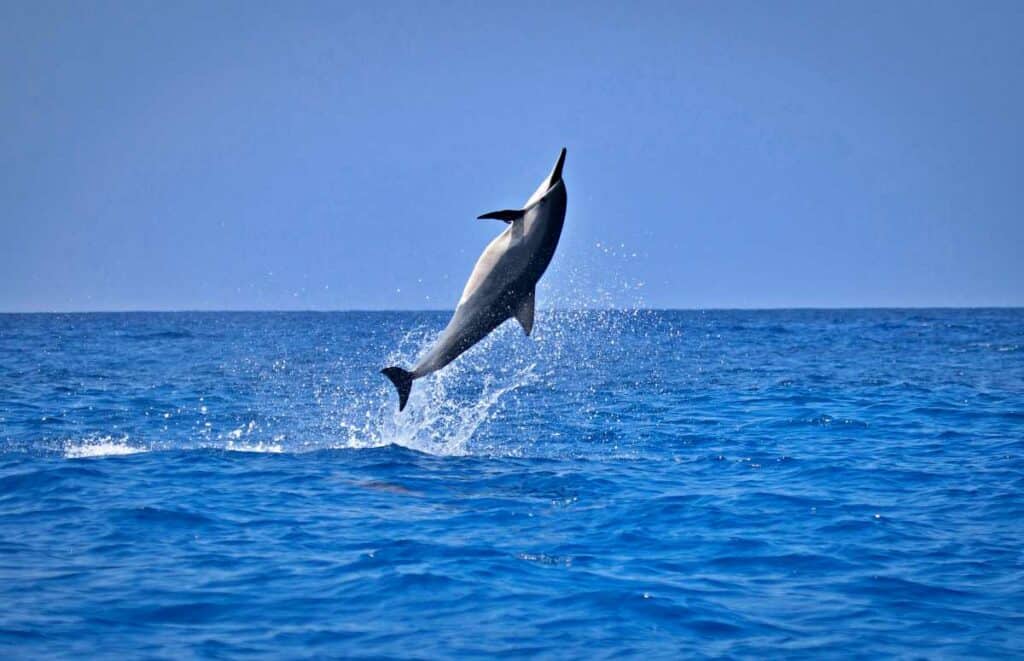 What to watch for? Whale Behavior Patterns
Whales have fascinating behavioral patterns through which they communicate – let's talk about what to watch for!
Spy hopping is when a whale pokes its head out of the water, just like you would if you wanted to peek at something above the surface. They do this to get a better view of their surroundings.
Breaching is when a whale propels its huge body out of the water and comes crashing back down with a big splash! It's like they're doing a magnificent belly flop! It's spectacular!
A blow is the spout of water and mist that shoots up into the air when a whale exhales through its blowhole. It's like a whale's way of blowing its nose.
Whales use their pectoral fins, or flippers, to make a big splash on the water's surface, and this behavior is called pec slapping. Tail slapping is when whales lift their massive tails out of the water and slap them on the surface to create a loud noise and a big splash!
Scientists think tail slapping and pec slapping are ways to communicate with other whales or to scare away predators.
When a whale is ready to go for a deep dive, they show you their magnificent fluke, which is their tail. They lift their tail out of the water and gracefully disappear beneath the surface. It's like waving goodbye, and they likely won't re-appear for some time!
What's truly mesmerizing about whales is their ability to sing! Male humpback whales are known for their beautiful songs, which can last for minutes or even hours. Whale songs are made up of different patterns of moans, cries, and squeaks.
Scientists believe that male humpbacks sing to attract a mate or to communicate with other whales.
On your whale watching adventure in Maui, keep your eyes peeled for spy hopping, breaching, blows, pec slapping, tail slapping, fluke dives, and listen carefully for the magical whale songs.
Where to Whale Watch in Hawaii?
With as many as 12,000 whales in the Hawaiian waters during the peak whale season (January to March), whale sightings are available from any of the Hawaiian islands.
The highest concentration of humpback whales are in two areas: the Maui Nui Basin and the Au'au Channel.
The Maui Nui Basin, the ocean waters between Maui, Lanai and Kaho'olawe, is a protected sanctuary for whales, and 6000+ whales end up in its warm and shallow waters for breeding every year .
The shallow Au'au Channel, a stretch of ocean located between the islands of Maui, Lanai, and Molokai, is among the best whale watching places in the world!
The Au'au Channel is a highway for whales that provides warm waters, strong currents and ample, nutrient-rich food sources! The shallow, protected waters of the channel offer a safe haven for the whales to frolic, play, and perform their impressive behaviors.
No wonder Maui is the best Hawaiian island for whale watching!
Your best chance of seeing these incredible creatures up close will be from the west and south coasts of Maui along the Auau Channel and the Maui Nui Basin, such as Lahaina, Ka'anapali, and Maalaea. These are the best places for the ultimate whale watch!
9 Best Whale Watching in Maui (From the Shore)
You have two main options for whale watching in Maui: watch from land (free!) or take a boat tour!
If you're not keen on going out on a boat, don't worry! There are plenty of great places on land where you can still catch a glimpse of these beautiful creatures.
A pair of good binoculars or a camera with a nice zoom lens will definitely help! Also find a vantage point that gives you unobstructed views of the vast, open ocean waters.
Let's explore the 9 best spots to watch whales in Maui (big hint: they all overlook the Maui Nui Basin and the Au'au Channel).
The below map shows the locations of the 9 best places for whale watching in Maui from the shore.
Lahaina Harbor
Lahaina Harbor, located on the west side of Maui, is our favorite spot for whale watching because it directly overlooks Maui Nui Basin, the whale sanctuary, and the Au'au Channel.
We had an unforgettable experience here of watching a calf gloriously breaching with its mother!
Ka'anapali Beach
This beautiful beach, north of Lahaina Harbor, is the next best spot, again, because it is right next to Maui Nui Basin and the Au'au Channel. Grab a beach chair, sit back, and enjoy the stunning views of the ocean. Keep your eyes peeled for blows and breaches.
Kapalua Bay
Located north of Ka'anapali, Kapalua Bay is another fantastic spot to spot whales. Take a leisurely stroll along the beach and find a comfortable spot to observe these giants frolicking in the water.
McGregor Point Lookout
McGregor Point Lookout, high up on a cliff, off the Honoapiilani Highway, offers panoramic views of the ocean and is an excellent vantage point for spotting breaching whales.
Honolua Bay
On the northwest coast of Maui, Honolua Bay is a beautiful bay that has open ocean areas.
Olowalu
On the west coast, a few miles south of Lahaina, lies Olowalu, a secluded beach that offers a peaceful setting for whale watching.
Maalaea Harbor
An excellent vantage point overlooking the Au'au channel on the south-central coast of Maui.
Wailea Coastal Beach Path
On the south coast of Maui, the Wailea Beach Path, a beautiful, 3-mile, easy walk from Andaz Maui to the Polo Beach Club / Fairmont Kea Lani, provides a picturesque setting for whale watching.
Hawaiian Islands Humpback Whale National Marine Sanctuary Visitor Center
Stop by the Visitor Center of the Hawaiian Islands Humpback Whale National Marine Sanctuary in Kihei on the south shore of Maui to learn all about the whales and watch them from the observation deck.
Close Encounters with Whales in Maui
While you can watch whales from the shore, to truly appreciate the amazing acrobatics of giant humpback whales, we strongly recommend getting a closer look from a whale watching tour!
Most whale tours have expert guides and / or marine biologists who can provide fascinating information on the humpback whales and any other marine life you may see (spinner dolphins, Hawaiian green sea turtles and tropical fish), and answer your questions. They also know the best spots to find the whales!
During whale season, most tour operators offer whale-sighting guarantees, so try to book your tour early in your trip, in case you need to avail of this offer.
Check pricing and availability on this popular Maui whale watching tour now!
Kinds of Whale Watching Tours
With whale watching tours, you have a large number of options and making the right choice is critical to your whale watching experience.
First, you have to consider the kind of vessel and size of the group. You have a choice of catamarans, sailboats, inflatable motorized rafts, kayaks and outrigger canoes.
Catamarans and Bigger Boats
Catamarans, boats with two hulls and a wide deck, and larger boats cater to large groups (80+). These boats provide a smoother ride (very important if you have motion sickness!) and many have restrooms and other facilities (food and drinks) on board.
Some may even offer glass bottoms, a perfect option for you to see tropical fish if you don't like snorkeling or getting wet!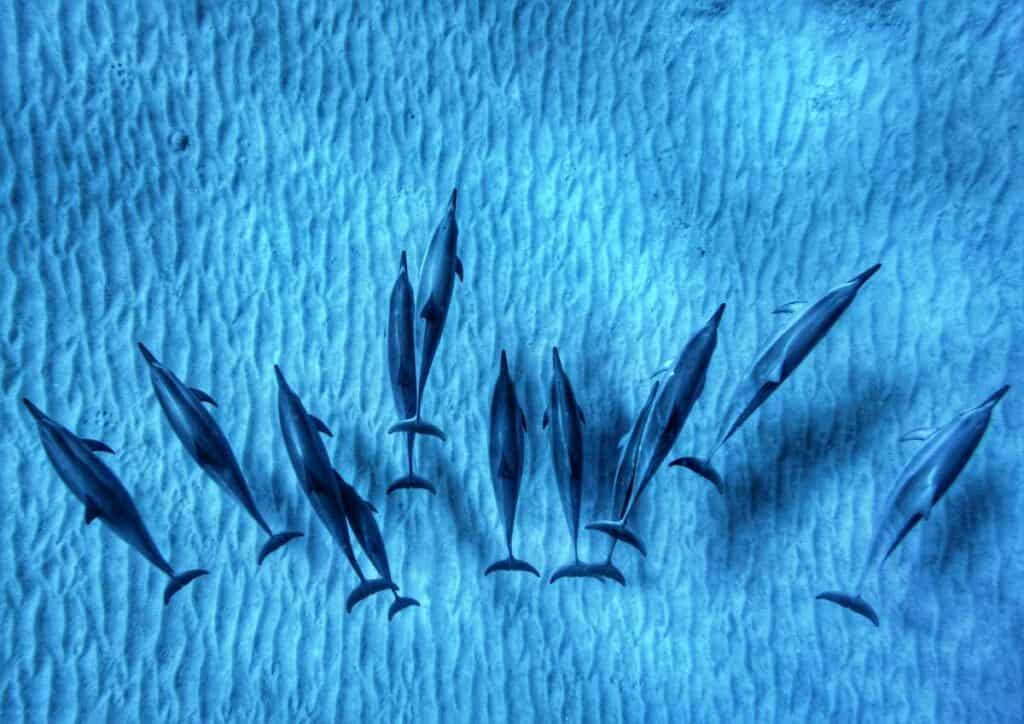 These tours are also usually much cheaper than the others. Though sometimes crowded, the boat captains do a good job of making sure everyone on board gets to watch the whales by turning the boat.
Sailboats
Sailboats are smaller boats, but still provide a comfortable ride. They cater to small groups (less than 60) and a more intimate whale watching experience. Many offer food and an open bar, glass bottoms, and restroom facilities.
Rafts
Inflatable motorized rafts are speedy and low. They can get you quickly to nearby whale sightings and offer you a much better viewing perspective, being nearly at eye level with the water. However, the rides, while thrilling, are often bumpy.
Kayaking and Outrigger Canoes
Kayaking and outrigger canoes (traditional Hawaiian transportation) are options for savvy, adventure-seeking visitors.
While your coverage of the ocean will be limited (to where you paddle and row), experienced guides will escort you to the best locations with the most recent whale sightings, and keep you at a safe distance.
Best Whale Watching Tours in Maui
We (and our friends) have taken several of the whale watching tours. We liked the inflatable rafts the best, and they provided a front row seat for spectacular humpback acrobatics!
I highly recommend the Eye-Level Whale Watching 2 Hour Eco-Raft Tour from Lahaina, Maui or similar tour. Our friends took the Ultimate 2 Hour Small Group Whale Watch Tour from Lahaina Harbor and they loved it.
On our last trip we opted for a catamaran tour (one of the members in our party had a history of sea sickness). Our knowledgeable guides still managed to provide new whale information, despite all our earlier trips!
We liked the one we chose and highly recommend it to you: Whale Watching Cruise with Open Bar from Ka'anapali Beach.
Other well-reputed tour operators include the Pacific Whale Foundation Tours, the Pac-Whale Eco Adventures, Ultimate Whale Watching, Maui Adventure Tours and Redline Rafting.
Prefer tours that start from the west coast of Maui (Lahaina Harbor, Maalaea Harbor, Ka'anapali Beach, etc.) – you reach the Au'au Channel and the Maui Nui Basin much quicker!
How much does Whale Watching in Maui cost?
Whale watching in Maui can cost anywhere from around $50 for the larger tours with discounts and/or deals to $100+ for the smaller groups.
In our opinion, whale tours are definitely worth the price!
And don't forget, you may be able to combine whale watching with snorkeling!
Learn more about snorkeling in Lahaina and West Maui, click here!
Tips for Maui Whale Watching
If you're going on a whale-watching tour, here are some helpful tips to make your experience even more awesome!
Hydrophones: Listening to the male whales singing their beautiful songs is an unforgettable experience so definitely use the complimentary hydrophones many tours provide.
Reef safe sunscreen: Use sunscreen and a hat to protect against Maui's strong sun.
Sea sickness medication: Take or pack sea sickness medication. If you feel nauseous, stay above deck and look straight ahead to the horizon.
Binoculars: Keep binoculars and zoom lenses handy.
Water and snacks: Stay hydrated during the trip.
Towel: A towel is useful if you get splashed.
Whale Watching in Maui FAQ
Is whale watching in Maui worth it?
Absolutely. Given the migration pattern of the humpback whales, Maui is one of the best spots in the world to watch these gentle giants frolicking with their calves!
Which is the best Hawaiian island for whale watching?
Maui is the best Hawaiian island for whale watching, with its close proximity to Maui Nui Basin and the Au'au Channel, two places that have the highest density of whales in the Hawaiian waters.
Check pricing and availability on this popular Maui whale watching tour now!
When is the whale season in Maui?
Whale season in Maui is in the winter months, with peak whale season in January and February.
Which is the best month for whale watching in Hawaii?
The best month for whale watching in Maui and Hawaii is January, with the highest recorded whale sightings.
What is the best time of day for whale watching in Maui?
There is no best time of day for whale watching in Maui. Early morning is cooler and less crowded. The light in the early afternoon is best for seeing below the surface of the water for underwater whales. The golden hours are great for photography.
What part of Maui is best for whale watching?
The best whale watching in Maui is on the west side of Maui: the Maui Nui Basin and the Au'au channel. Most boat tours converge to these two locations in the Hawaiian waters. From shore, beaches and vantage points along the west coast from Kanalua Bay to Puu Olai beach are best, with Lahaina Harbor being the sweet spot.
Whale Watching in Maui: Memories for a Lifetime
While Maui is a beautiful tropical island, Maui is also the best destination in the world for whale watching. We planned many of our trips around this single activity, and to this day have never regretted this!
Eye-level whale watching from a thrilling inflatable raft is a once-in-a-lifetime adventure, we loved every bit of it!
More Maui Travel Inspiration!
If you are planning a visit to Maui, check out some of our other in-depth guides to craft the perfect Maui itinerary!
Did you find this article informative? Pin it for later!