Haleakala Sunrise: The Ultimate 2023 Guide (What to Expect, Reservation Info, Tours!)
For many first-time travelers to Maui, a visit to the island is not complete without experiencing a Haleakala sunrise.
It's one of those magical Maui experiences that you'll remember long after your trip, especially if you are lucky and have great weather and visibility for your Haleakala sunrise.
Despite the need to wake up at an ungodly hour on vacation and the chance that the summit could be socked in, more than two million visitors to the Valley Isle make the journey to the top of the crater each year.
So high is this experience on travelers' wish-lists for things to do in Maui that Haleakala National Park, within which the summit of Haleakala is located, has introduced a parking reservation system to manage visitation for sunrise.
We've visited Haleakala for sunrise twice so far, once with perfect conditions: colorful skies and a spectacular sunrise, and a second time with a great sunrise and perfect visibility but without the blaze of colors that makes a sunrise (or sunset) epic for us.
In this article, we tell you everything you need to know to plan a trip to the summit of Haleakala for sunrise, including what to expect, where to go, how to make parking reservations, tour information if you don't want to drive, and more.
Excited? Let's get started discovering how to visit Haleakala at sunrise!
Some links on this page may be affiliate links. If you click an affiliate link and make a purchase, we may receive a small commission, at no extra cost to you. For more details, refer to our disclosure.
Sunrise at Haleakala: What to Expect
Sunrise at Haleakala is magical.
When the weather gods smile on you, the experience is without a doubt one of the best things to do in Haleakala National Park.
The summit of Haleakala, Maui's dormant volcano, tops out at 10,023 feet, way above the clouds. Haleakala means "the house of the sun," and the association between this Maui crater and the sun is in fact the subject of a famous Hawaiian legend.
But legends aside, a Haleakala sunrise is an almost religious experience.
Especially if you are lucky and have those colorful skies at dawn.
As you drive up in the dark, you will be treated to a night sky with millions of stars. Walk to the lookout, where you'll be awed by the beauty of the still dawn as the sky gradually lightens and gets dressed in shades of pink and orange.
Then the sun emerges in all its brilliant glory, bathing the crater and its cinder cones in warm gold.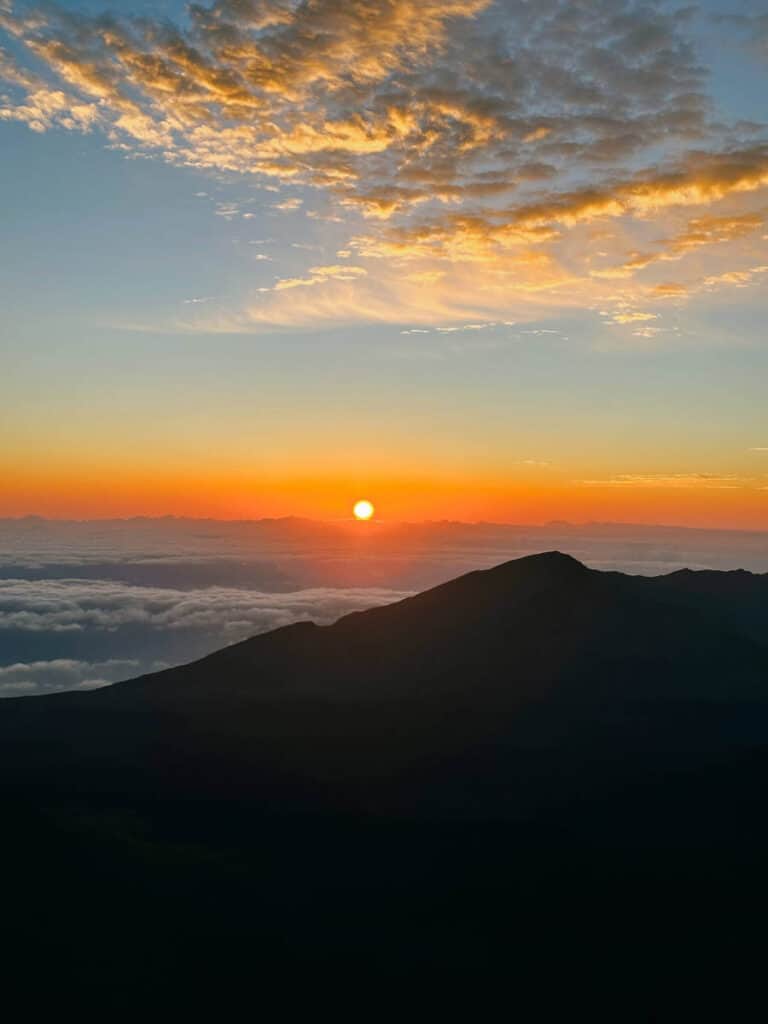 You may hear collective "oohs" and "aahs", or a smattering of applause, as the waiting crowd takes in the mesmerizing sight.
And if you are very lucky, a ranger may perform the sunrise chant — E Ala Ē — to awaken the sun and imbue everyone present with energy for the new day.
It moved me almost to tears when we heard it, in conjunction with a great sunrise, our second time at Haleakala for sunrise.
Haleakala Sunrise Tours
Minivan Haleakala Sunrise Tour with Breakfast
If you'd rather not drive the winding road up Haleakala in the dark, consider a guided tour! You'll also save yourself the hassle of getting parking reservations.
This highly-rated (and very popular!) Haleakala sunrise tour includes round-trip transport in an air-conditioned vehicle, with pick-ups and drop-offs at several Maui hotels.
The tour also includes insightful commentary, the Haleakala National Park admission fee, and breakfast at Mill House, set in an old sugar mill, in Waikapu.
The tour lasts 10 hours, and pick-ups begin in the very early morning.
Here's what a recent traveler said about this tour:
"Terrific tour guide! … The sunrise trip is a definite must! Breakfast was fabulous, too! Take warm clothes! Would highly recommend!!!!" — Jacqueline (read more reviews here)
>> Check pricing and availability for this popular Haleakala sunrise tour now!
Haleakala Sunrise Bike Tour
This highly-rated tour is for experienced downhill bicyclists that are seeking an adventure!
It combines a ride up Haleakala for sunrise in an air-conditioned vehicle, followed by a downhill self-guided bike ride from 6,500 feet.
You'll stop on the way back for a casual breakfast (not included) and to explore the charming little town of Makawao.
Entrance to Haleakala National Park is included, as is all gear, along with a custom Kona bike.
Check out this recent tour review:
"An amazing bike ride with beautiful views & a gorgeous sunrise! Our guide was so knowledgeable, friendly & kind! Made for a tremendous & unforgettable experience!" — Christine (read more reviews here)
>> Check pricing and availability for this Haleakala sunrise + downhill bike ride now!
Haleakala Sunrise Reservation
A Haleakala sunrise reservation is required if you need a parking spot at the summit.
So if you plan to visit Haleakala for sunrise independently, you will need to make an advance reservation to be able to enter the park for sunrise (between 3 a.m. and 7 a.m.).
Reservations can be made online at recreation.gov, up to 60 days in advance of the date you plan to visit.
Slots are released at 7 a.m. Hawaii Standard Time 60 days in advance, with a second batch being released 48 hours in advance of any given date, also at 7 a.m. HST.
There is a reservation fee of $1.00 per ticket and you only need one ticket per vehicle. The ticket is only valid for the day reserved, and you can only buy one sunrise reservation in any 3-day period.
Refunds or exchanges are not issued due to weather or for any other reason.
Once you've made your reservation, download the confirmation email or print it. You will need to show it, along with photo ID that matches the reservation, and a park entry pass, to be able to enter the park.
Note that tickets for sunrise viewing are not available at the park and you cannot obtain one in person. The reservation HAS to be made online in advance!
Sunrise at Haleakala is a very popular Maui activity and slots do sell out, especially in high season. To ensure your spot, make your Haleakala sunrise reservation as soon as your date becomes available.
If you wait for the 48-hour slots to verify weather conditions, make your reservation as soon as slots go available. These tickets tend to get snapped up very quickly.
As I write this, there are no tickets available for the near term dates, but there are tickets available for the further out dates.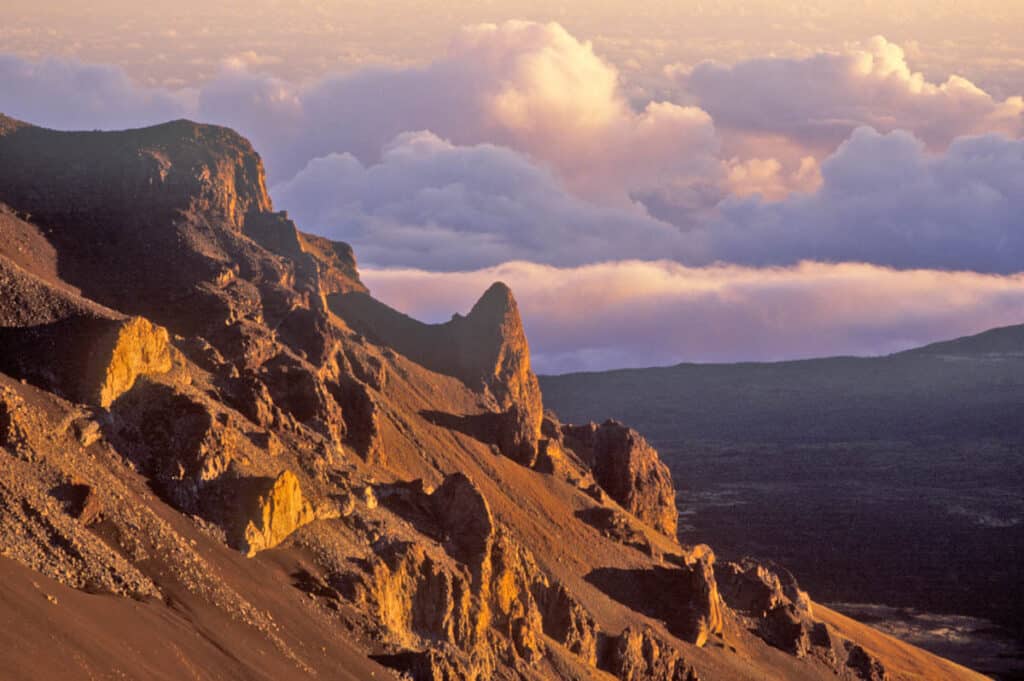 Getting to Haleakala for Sunrise
Sunrise time at Haleakala varies by time of year: it can be as early at 5.35 a.m. or so in the summer and as late as 7.00 a.m. in the depths of winter.
You can look up exact sunrise and sunset times for the date of your visit here.
You should plan to be at the summit at least 60 minutes before sunrise, so you can settle down at a good spot to watch the whole show, from dark sky to gold.
The colors in the sky, the pinks and oranges, appear before the sunrise, and they are an integral part of the show, making for the best photos.
Plus, the earlier you arrive, the higher the chance that you get your top choice of viewing spot at the summit (see more below about the various viewing areas at the Haleakala summit).
And there may be a line of cars at the entrance waiting to pay and get in, plus it takes time to park and walk to your viewing spot, so allow for possible delays and parking time.
If you want to arrive JUST to see the sunrise, plan to arrive at least 30 minutes before the scheduled sunrise time. It will already be light by then, but it's still fabulous watching the golden ball peek out from the clouds and take over the skies.
Once you've figured out what time you need to arrive at Haleakala to be at your viewing spot at the time you want, you can use Google Maps to calculate when you need to depart from your hotel or vacation rental.
Note that it can take from an hour and 30 minutes to over 2 hours to get to the park entrance at the summit of Haleakala from resort areas in west Maui like Kihei, Wailea, or Kapalua.
From the park entrance to the summit, it is a drive of about 30 minutes. We suggest setting Google Maps to the Red Hill Summit when calculating drive times to decide when to leave.
If you're based in Paia, or in upcountry Maui, your drive time will be less.
What's the drive up Haleakala like?
It's a 37-mile drive (along Highways 377 and 378) from sea level to the top of the 10,023-foot volcanic crater. That's the most elevation gain in the shortest distance on the planet.
Haleakala Highway (also called Crater Road) is paved and well-maintained.
Crater Road features lots of switchbacks along its 20-mile stretch to the very top of the crater (see map). Some of the bends are tight and steep, with drop-offs.
There are no guardrails, and the road is not lit, so be very cautious driving up in the dark!
Obey the speed limit signs, of course, but don't be afraid to drive slower if weather conditions are unfavorable — you may encounter fog en route any time of the year, although the clouds usually roll in later in the day.
In winter, the road may be icy, so you may want to skip driving in favor of a guided tour if you are not experienced with driving in wintry conditions on icy roads.
Note that cows and nene (Hawaiian geese) can meander onto the road, so always be on the watch for animals and birds as you drive.
The road to the top of Haleakala can cause queasiness if you are prone to motion sickness, so bring some motion sickness medicine if you think you will need it.
Where to Go: Haleakala Sunrise Spots at the Summit
There are four sunrise parking areas at the summit of Haleakala, and, depending on when you arrive, park rangers will direct you to one of the parking areas.
Each parking area is close to a sunrise viewing area. And if the weather is good, any of the four Haleakala sunrise spots offers fabulous views of sunrise over the crater.
When a parking lot is full, it is closed for sunrise parking. It is imperative to arrive early if you have your heart set on the true summit!
From highest to lowest elevation, the four areas are:
The Pu`u Ula ula or the Red Hill Summit (at 10,023 feet, the very top of the crater)
The Haleakalā Visitor Center (at 9,740 feet)
Kalahaku Overlook (at 9,324 feet)
Leleiwi Overlook (at 8,840 feet)
Puʻuʻulaʻula, or Red Hill
Puʻuʻulaʻula, or Red Hill, is a popular spot for sunrise viewing at Haleakala.
You can walk up a few steps or a ramp to the small building at the top, which offers protection from the wind. It has large windows to allow for views in every direction, including over the crater.
Of course you can also stand just outside the cabin if you want photos without glass.
After you view the sunrise, you can catch the mellow golden light of golden hour on the rare and endangered Haleakala silversword plants that grow here.
Note, however, that you may not be able to see the full crater from the Red Hill Summit.
Haleakala Visitor Center
The Haleakala Visitor Center offers two locations for sunrise viewing.
Many visitors line up at the railing outside the visitor center building, from where you can get spectacular views of the sun rising over the crater. This is possibly the most popular (and crowded) sunrise viewing spot at Haleakala.
But you can also walk the small trail up to the Pā Kaʻoao viewing area, also known as White Hill. This hike is just 0.2 mile each way, but it is uphill.
This viewing area is a stunning spot for a Haleakala sunrise. It's where we watched the sun rise on our second visit to the summit for sunrise. It's also the spot where we heard a ranger chant the E Ala E, the sunrise chant, an experience I will never forget.
If you decide you want to walk up to the Pā Kaʻoao viewing area, and want to arrive while it's still dark out, bring a headlamp or flashlight, because the ascent is rocky and you need to be able to see where you are stepping.
Kalahaku Overlook
The Kalahaku Overlook offers an expansive view of the crater valley and is an excellent spot for a Haleakala sunrise.
You'll likely have fewer people here than at the Red Hill Summit or the Visitor Center railing, which makes for a more serene experience.
And sometimes, when the summit is socked in, you may still have good visibility at the the Kalahaku Overlook (or the Leleiwi Overlook).
Leleiwi Overlook
The Leleiwi Overlook provides excellent views into the crater and is a great lower-crowd option for Haleakala sunrise viewing.
But note that it's a 0.15-mile walk from the parking lot to the actual overlook, over a series of steps. Bring a headlamp or flashlight to light your way if you arrive in the dark.
Tips for a Great Sunrise at Haleakala Experience
Plan your Haleakala sunrise experience for early in your Maui vacation
The day after you arrive from the mainland is an excellent time to plan to head up to the top of Haleakala for sunrise.
Because at that stage of your vacation, you are still likely to be on mainland time if you are visiting from other parts of the US, and waking up so early in the morning won't seem quite as much of a hardship as later in your stay.
Fill up your gas tank before you head up the mountain
There is no gas available inside Haleakala National Park. Be sure to fill up your gas tank before you head up the mountain!
The nearest town to Haleakala National Park where you can get gas is Pukalani, and Ohana Fuels along the Haleakala Highway opens at 4 a.m.
Dress warmly
BUNDLE UP!!!
Temperatures at the summit of the Haleakala crater are MUCH colder than at sea level. Think 30 degrees colder. You may even see snow in the winter.
And the wind can make things substantially more miserable from a weather perspective if you are not dressed right.
We went up in December one year, and even though we had thermal underlayers, jackets, beanies, hats, and gloves, we were still glad to be back inside our heated vehicle.
Also remember to wear thick warm socks and closed-toed shoes to keep your feet and toes from freezing.
Bringing a warm blanket, on top of dressing warmly, would not be a bad idea, since the experience can mean being outdoors for up to an hour at the summit.
Bring a thermos of hot coffee or hot chocolate
A hot beverage will be welcome as you are sitting (or standing) at the summit, waiting for the skies to lighten, signaling the start of the show.
Know where to find restrooms
Public restrooms are located at the Haleakala Visitor Center at the summit.
Even though the visitor center may not be open at sunrise, restrooms can be accessed from the outside 24/7.
There is also a public bathroom at the Kalahaku Overlook.
Carry food and snacks
The Haleakala sunrise experience lasts several hours from the time you leave your accommodation to the time you return, and even more if you stay on to explore after sunrise.
Come prepared with food and snacks!
There is no food available for purchase at Haleakala National Park, and nothing will be open en route at that time of the morning.
Arrange whatever food and snacks you need the day before.
Bring drinking water
The Haleakala Visitor Center does have a drinking water fountain, but the park recommends you carry drinking water.
Do not drink water from the taps in the restrooms, since that's recycled water.
Don't forget a camera or charged smartphone for photos
If you are a serious hobby photographer, a Haleakala sunrise is definitely a photo op for which it's worth bringing your "gear."
But for most visitors, a smartphone is perfectly fine for capturing photos and shooting video.
Don't expect great cell service
The Summit District of Haleakala National Park is remote. Cell service can be spotty or non-existent.
Download or print whatever maps, documents, or brochures you need, prior to setting out for your Haleakala sunrise experience.
Manage expectations!
Weather conditions at the top of the Haleakala crater can be less than perfect any time of the year, and conditions can change rapidly as well.
Be sure to check the weather forecast the evening before, and drive up if it looks good, hoping that visibility is great when you arrive!
But be prepared for any type of weather and know that you may not have the best conditions at sunrise on the day you visit. The summit may even be completely socked in, with poor visibility.
Sometimes, it's possible that the overlooks, which are at lower elevations, have clear skies or better visibility than at the summit, so you may want to try there if those parking lots are not full.
Plan to stay on to explore if you arrive independently
If you arrive on your own for sunrise at Haleakala, plan to stay on afterwards to hike or to see the views from the overlooks.
The Sliding Sands Trail into the crater is of course a several-hour undertaking, but you can always do a part of the trail if you are time-constrained.
And there are shorter hiking trails, like the Hosmer Grove Trail, that you can do as well.
Bring sunscreen and wear proper shoes if you plan to explore
The summit of Haleakala is exposed, so sunscreen is a must once it's daylight, especially if you plan to stay on for a bit to explore.
And wear closed-toed walking or hiking shoes with good grip if you plan to hike.
Should you go for sunrise or sunset?
While the Haleakala sunrise experience is definitely epic and gets all the hype, sunset at Haleakala is also spectacular if you have good weather.
Plus, sunset doesn't require an early wake-up call on vacation and you don't have to worry about reservations either.
AND you can stay on for stargazing if you are so inclined!
In the end, whether you choose a Haleakala sunrise or a Haleakala sunset is based entirely on your personal preference!
Remember your National Parks Pass if you have one!
You have to pay the park entrance fee in order to be admitted for your Haleakala sunrise experience.
At the time of writing, the entrance fee is $30.00 per car, $25.00 per motorcycle, or $15.00 per person for walk-ins.
The entrance is valid for 3 days, and valid for both the Summit District and the Kipahulu District.
Bring your credit card to pay at the automated machine if you arrive outside of the hours when the station is staffed.
Haleakala National Park accepts the America the Beautiful National Parks Pass, so be sure to bring yours if you have one!
More Maui Travel Inspiration
If you are planning a visit to Maui, check out some of our other in-depth guides to craft the perfect Maui itinerary!
Did you find this article informative? Pin it for later reference!