Turtle Town Snorkeling in Maui (+ Best 2023 Tours)
Turtle Town snorkeling in Maui is truly amazing, an incredible experience!
Beautiful Maui, a true tropical paradise, is renowned for its breathtaking natural beauty: crystal clear, turquoise waters, stunning beaches and lush vegetation.
When it comes to snorkeling, Maui stands out among the Hawaiian islands due to its strategic location in the very heart of the Hawaiian archipelago, resulting in ideal snorkeling conditions: sheltered bays protected from the ocean swells by the surrounding islands.
Turtle Town, a long stretch of coastline on Maui's scenic southern coast, is known for its beautiful sandy beaches, pristine waters and vibrant marine life.
And, of course, turtles!
As the name suggests, Turtle Town is famous for its thriving population of Hawaiian green sea turtles, also known as honu. These gentle giants have made Turtle Town their sanctuary, attracting snorkelers from far and wide who seek the magical experience of swimming with turtles in the ocean.
Turtle Town is one of my favorite places to snorkel in Maui. I have been there many times and I always see something new and exciting. I love watching the turtles glide through the water and sometimes come up to say hello.
In this blog post, I will tell you everything you need to know about Turtle Town snorkeling, including how to get there, what to bring, what to expect, and some tips and tricks to make your trip even better.
And if you enjoy marine life, also consider going whale watching in Maui!
Some links on this page may be affiliate links. If you click an affiliate link and make a purchase, we may receive a small commission, at no extra cost to you. For more details, refer to our disclosure.
Turtle Town of Maui
One of the best places to see turtles in Maui is Turtle Town, a long stretch of coastline in the south of the island.
Turtle Town is not just one beach, but a series of beaches and reefs that stretch from Nahuna Point to One'uli Black Sand Beach. Nahuna Point is a rocky point that marks the end of Kihei, a town that has many shops, restaurants, and hotels.
Black Sand Beach is a beach that has black sand made from lava rocks. It is part of the Ahihi-Kinau Natural Area Reserve, a protected area that has many plants and animals that are rare or endangered.
Why is Turtle Town an Exceptional Snorkeling Location?
Turtle Town is in the southern part of Maui, in a region called Makena. Makena means "abundance" in Hawaiian, and it is a fitting name for this place that has so much to offer.
Turtle Town is one of the best places to snorkel in Maui, and there are many reasons why.
Turtle Town's Large Coral Reef
The coral reefs in Turtle Town are known for their vibrant colors and intricate formations.
Turtle Town was formed by underwater volcanoes that erupted long ago. The lava from the volcanoes cooled and hardened into different shapes and sizes.
Some of the lava formations became arches, caves, and tunnels that you can swim through. The lava formations also became home to coral, which are living animals that grow on rocks.
Coral come in many colors and shapes, and they provide food and shelter for many other animals including fish, octopus, eel, ray, and of course, turtles.
Turtle Town's coral reef is extensive, covering a wide area, and teeming with marine life!
Turtle Town: Leeward Side of Maui
Apart from the large coral reef, Turtle Town also has ideal snorkeling conditions.
Turtle Town is on the leeward side of Maui, which means it is sheltered from the strong trade winds that blow from the northeast across the Hawaiian islands.
The leeward side of Maui, which faces away from the wind, is calm and smooth, and makes the water clearer and safer for snorkeling.
Visibility under water is excellent, resulting in an awesome snorkeling site!
Maui's Turtle Town: A Sanctuary for Hawaiian Green Sea Turtles
Turtle Town has a large population of Hawaiian green sea turtles, which are also called honu in Hawaiian. Honu are a protected species under the endangered species act.
Honu like to live in Turtle Town because there is plenty of food and shelter there. Honu eat seaweed, algae, jellyfish, and sometimes fish.
Hawaiian green sea turtles have been living in the ocean for millions of years.
They are important for the health of the coral reefs since they eat algae and seagrass that can overgrow and harm the corals.
Honu are very important to the Hawaiian culture, and they are considered a symbol of wisdom, good luck, and long life.
Turtle Town Snorkeling in Maui (From the Shore)
Turtle Town is in South Maui, Hawaii, and stretches between the towns of Makena and Wailea,
Where to snorkel in Turtle Town?
If you want to snorkel in Turtle Town from the shore, the best place to go to is Maluaka Beach, which is the most popular and accessible beach in the area. Maluaka Beach is a beautiful white sand beach with blue water and green trees.
How to get there?
To get to Maluaka Beach, you need to drive south from Kihei or Wailea on Makena Road. The entrance to the beach is across from the Maui Makena Beach and Golf Resort, which is well signposted.
You can park your car in the free parking lot near the resort, or on the street near the beach. The beach is about 100 yards from the parking lot, and you can follow the signs to get there.
Where to rent snorkeling equipment?
To rent snorkeling equipment, you can go to one of the many shops in Kihei or Wailea, or you can rent them on site at Maluaka Beach. You will need a mask, a snorkel and fins.
There is a small hut near the beach that offers snorkel gear rentals, as well as umbrellas, chairs, and boogie boards. The prices are reasonable and the staff are friendly and helpful.
What facilities are available?
To use the facilities, you can go to the grassy park area near the beach, where you will find restrooms, showers, picnic tables, and a lifeguard station.
The park area is also a nice place to relax, play, or have a picnic. There are also some shaded areas under the trees if you want to cool off from the sun.
Best Turtle Town Snorkeling Spots
The shallow waters of the beach are popular snorkeling spots for beginners and families with small kids.
To find the best spots to snorkel, you need to walk to the south end of the beach, where you will see some rocks near the water. This is where the coral reef begins, and this is where you will find most of the turtles and fish.
You can enter the water from the sandy beach, near the rocks, and snorkel along the reef. The reef extends for about 300 yards along the coast, and has a gentle slope that goes from 3 feet to 16 feet deep.
You can choose any depth that is comfortable for you.
Other popular snorkeling spots in Turtle Town include the beach near Makena Landing, a popular departure spot for tours, and the Five Caves / Five Graves area.
What can you see snorkeling in Turtle Town?
To see the turtles, you need to be calm, swim slowly, and respect their space. Do not touch them, feed them, or bother them in any way.
They are protected by law and they are very important to the Hawaiian culture.
They are also very curious and friendly, and they may swim close to you or even look at you with their big eyes. Green sea turtles can grow up to four feet long and weigh over 400 pounds.
They are also very graceful and gentle.
To see other marine life, you need to look around the coral reef, which is home to many kinds of fish, octopus, eel, ray, and sea urchin.
The coral reef is made of different types of coral that come in many colors and shapes.
Some of them are hard and some of them are soft. Some of them look like brains and some of them look like fingers.
They are all living animals that grow on rocks and provide food and shelter for other animals.
Some tips for snorkeling in Turtle Town from the shore
Go early in the morning when the water is clearer and calmer.
Wear reef-safe sunscreen and a hat to protect yourself from the sun.
Wear a rash guard or a wetsuit to keep yourself warm in the water.
Wear water shoes or fins to protect your feet from rocks and sea urchins.
Bring a waterproof camera or a GoPro to capture your memories.
Turtle Town Snorkeling Maui (From Boat Tours)
While you can snorkel Turtle Town from the shore, the best spots for Turtle Town snorkeling tend to be well offshore, beyond the reach of most swimmers.
That's why I think it is better to snorkel at Turtle Town from a boat tour. You can get there faster and safer, and enjoy more time in the water with the turtles.
Turtle Town is easily accessible by boat or kayak, with various snorkeling tours available for visitors. Here are some of the top-rated tours:
We took the Turtle Town Snorkel with Photo and Video and had a fantastic time! It was a small group tour with a highly knowledgeable guide who took us to some great snorkeling spots.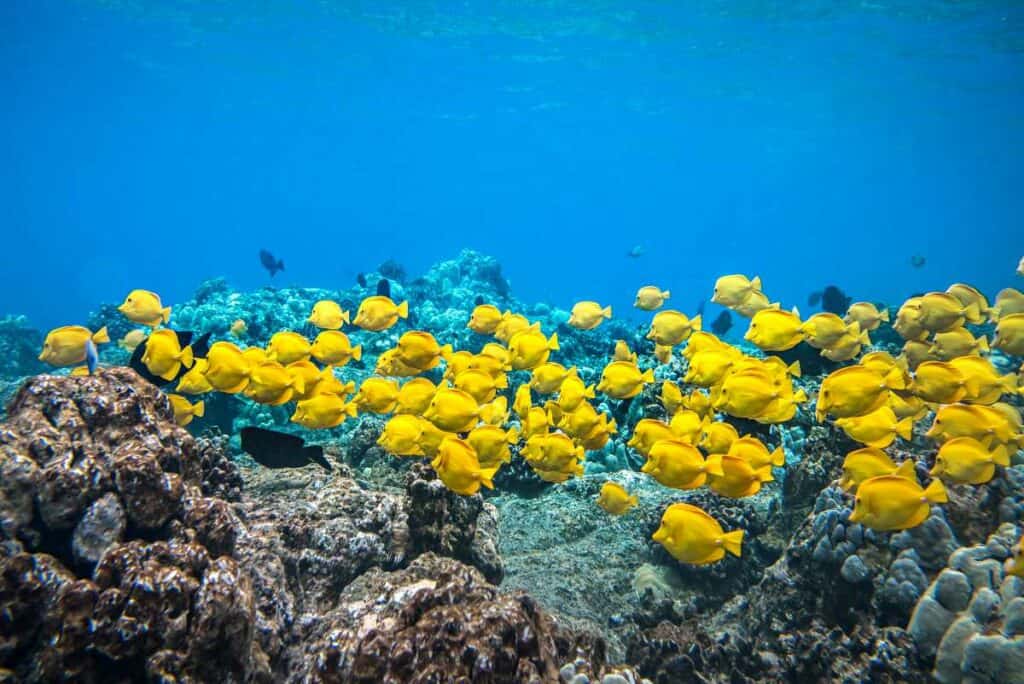 This tour is a bit more expensive, but the photos and videos that came with the tour were well worth the splurge!
Check out availability for this fabulous tour now!
Turtle Town and Molokini Crater Snorkeling Tours
Some tours also go to Molokini Crater, another amazing snorkeling spot.
Molokini is an old volcano that is now a half-circle island in the middle of the ocean. It has clear water and lots of colorful fish.
The tour that we especially loved was the Molokini Crater and South Maui Coast Adventure from Kihei: a small group tour that takes you to the back wall of Molokini and finishes with Turtle Town.
Both snorkeling sites were amazing!
Here are some other highly popular tours that combine Turtle Town with Molokini Crater:
Why are Boat Tours Better?
You may wonder why you should pay for a boat tour when you can snorkel from the shore for free.
Well, there are many reasons why boat tours are better for snorkeling in Maui.
Better Snorkeling Spots
Boat tours take you to more secluded snorkeling spots that often have larger fish populations and higher-quality coral. You can see more variety and beauty of marine life than from the shore.
Snorkeling gear
Boat tours provide you with all the gear and instruction you need. The crew will help you fit your mask, fins, and snorkel, and show you how to breathe underwater.
They will also give you flotation devices such as noodles, boards, or vests if you need them.
Food and drinks
Boat tours offer free drinks and meals on board. You don't have to pack your own food or water, or go back to the shore when you are hungry or thirsty.
You can enjoy a delicious breakfast and lunch, and an open bar with soft drinks, juice, water, beer, wine, and cocktails.
Facilities and additional equipment
Boat tours have equipment and amenities that make your snorkeling more comfortable and fun. You can use underwater cameras, wetsuits, snuba, or scuba gear for an extra fee.
You can also enjoy the shade, restrooms, showers, and music on the boat. Some boats even have slides, trampolines, or glass-bottom windows for more entertainment.
Expert guides and naturalists
You can also learn more about Maui's history, culture, and marine life from the captain and crew. They will tell you stories and facts about the places you visit, and answer any questions you have.
My Recommendation
I have tried both snorkeling from the shore and from a boat tour, and I can tell you that the boat tour was much more enjoyable and memorable. One of the best days of my life was snorkeling at Molokini Crater and Turtle Town on this boat tour.
Check pricing and availability for this tour!
Additional Tips for Turtle Town Snorkeling Boat Tours:
Tips for snorkeling at Turtle Town from a boat tour include:
Book your tour online or by phone in advance, especially during peak season or holidays.
Check the weather forecast and sea conditions before you go. Sometimes the tours may be canceled or changed due to bad weather.
Arrive at least 30 minutes before your departure time to check in and get your gear.
Wear sunscreen, sunglasses, hat, swimsuit, and comfortable clothes. You may also want to bring a towel, camera, water bottle, and snacks.
Listen to the safety instructions from the captain and crew. They will tell you how to use your snorkel gear, where to go, and what to do if you need help.
Best Time to Snorkel at Turtle Town
While you can snorkel at Turtle Town all through the year, careful planning will make your trip a lot more enjoyable.
Best Time of the Year for Turtle Town Snorkeling
Generally speaking, the best time of the year to snorkel at Turtle Town is from April to October. The water is warmer, clearer, calmer, and more full of life.
You can see more fish, coral, turtles, dolphins, manta rays, and even sharks.
You can still have a great snorkeling experience in winter, especially if you go on a boat tour that can take you to the best spots depending on the conditions.
You may also have a chance to see humpback whales that visit Maui from December to March.
Best Time of the Day for Turtle Town Snorkeling
The best time of the day to snorkel at Turtle Town is in the morning or early afternoon when the sun is high enough to illuminate the water and the reef.
The water is at its calmest, making it safer and improving the visibility. Most marine life are active and visible, especially turtles that come to the surface to breathe.
You can still have a good snorkeling experience in the late afternoon or evening, especially if you have a flashlight or a camera with a flash. You may also see different kinds of marine life that are more active or nocturnal, such as eels, octopus, lobster, and squid.
I have snorkeled at Turtle Town different times of the year and day, and I can tell you that it is always amazing and fun.
Turtle Town Snorkeling Maui: FAQ
Can I touch turtles while snorkeling?
Touching or feeding sea turtles is illegal. The Office of National Marine Sanctuaries recommends "hands to yourself" to keep wildlife safe and healthy.
In Hawaii, the recommended viewing distance for sea turtles is at least 10 feet (on land and in water).
What can I see while snorkeling in Turtle Town?
You can see lots of turtles! But apart from turtles, the coral reef is teeming with all kinds of beautiful tropical fish.
Check out our Hawaii fish snorkeling guide for the common reef fish so that you can recognize them under water.
How much does a Turtle Town snorkeling tour cost?
The cost varies from roughly $100 for the shorter duration boat tours to $150-$200 for tours that are longer and include Molokini Crater and other destinations.
More Maui Travel Inspiration!
If you have a Maui vacation on your radar, check out some of our other helpful guides to build the perfect Maui itinerary!