Magical Honokalani Black Sand Beach in Maui: The Complete 2023 Guide!
Is the black sand beach in Maui on your Hawaii bucket list?
Officially Pailoa Beach or Honokalani Beach, the black sand beach near Hana in Maui is among the top attractions on the island.
Located inside Waiʻānapanapa State Park, one of the best stops on the Road to Hana, Maui's black sand beach is spectacularly scenic and fully deserving of its popularity.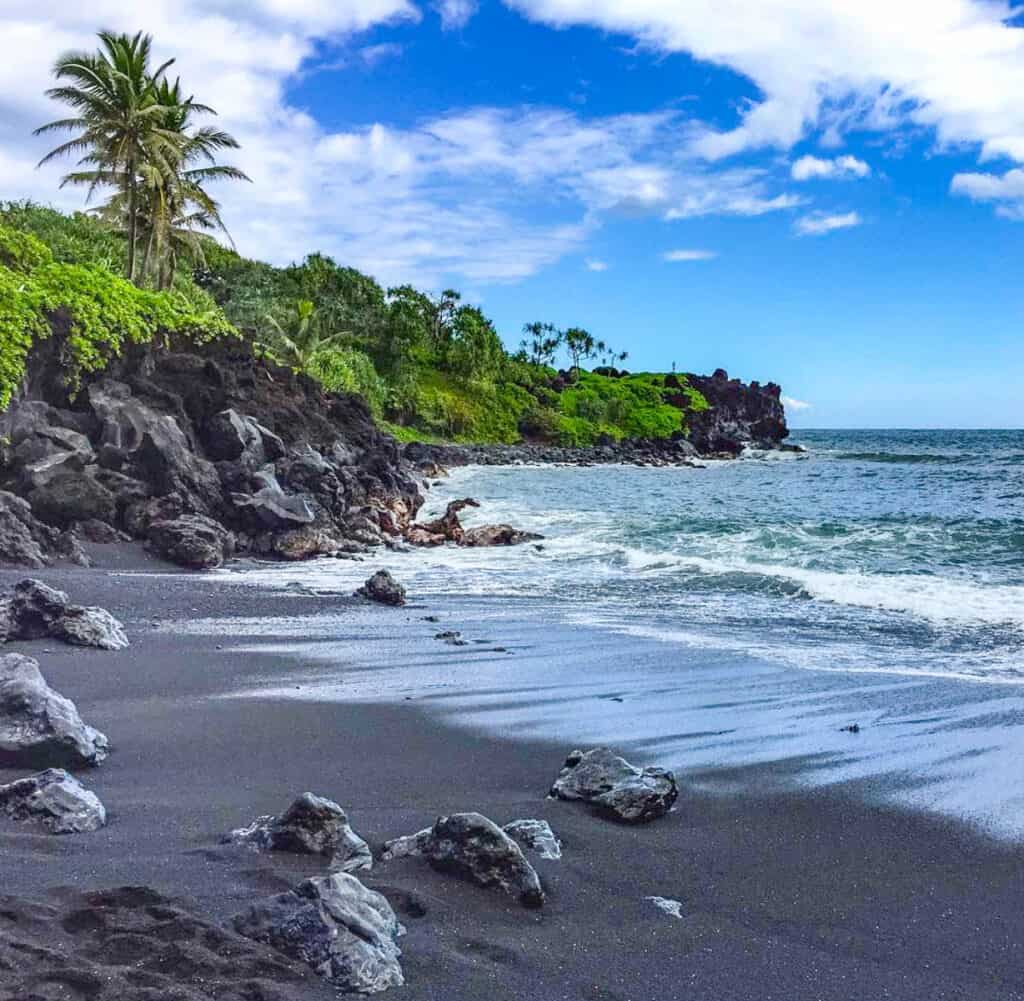 Especially if it's your first trip to the Valley Isle, you'll want to make sure the black sand beach on Maui is on your itinerary.
Yes, there are a few other black sand beaches in Maui, but undoubtedly the most famous black sand beach in Maui is the one we're talking about, Pailoa Beach (Honokalani Beach) within Waianapanapa State Park.
We enjoyed our first visit to Pailoa Beach (and the park) so much that we've returned many times since. Its allure is enduring!
But visiting this stunner of a beach requires advance planning: there's a reservation system in place for Wai'anapanapa State Park.
In this guide to Maui's black sand beach and Waianapanapa State Park, we give you all the information you need to visit, from the best things to do to how to navigate the reservation system.
Ready? Let's get started discovering how to visit the Honokalani black sand beach in Maui!
Some links on this page may be affiliate links. If you click an affiliate link and make a purchase, we may receive a small commission, at no extra cost to you. For more details, refer to our disclosure.
Things to Do at the Black Sand Beach Maui
Snap Photos of Honokalani Beach from the Lookout Above
The first thing you'll want to do at Wai'anapanapa State Park is snap photos (and shoot video!) of the views from the lookout points.
From above, you get a fabulous view over the black sand Pailoa Beach, framed beautifully by the black lava cliffs, lush greenery, and swaying palms behind and the deep blue ocean in front.
It's a picture postcard!
Apart from the beach, the lookouts above offer views of Pailoa Bay and the lava rock formations, so there's more to photograph than the beach.
Marvel at the Black Sand
Once you are at the black sand beach, you'll see that quite a bit of the beach is actually black pebbles that are yet to be ground to sand.
But there are some sandy parts as well, and here and there you'll see larger lava rocks.
Water shoes are a great idea for Pailoa Beach!
Admire the gorgeous black "sand" from up close and let it run through fingers or seep between your toes.
But please, leave the sand, pebbles, and any other natural object you see on the beach where you found it, for other visitors to enjoy.
Plus, the beach is a culturally sensitive area for Hawaiians and you want to be a respectful visitor.
And finally, it's illegal to take lava rock or sand from any beach in Hawaii. So just savor the experience and leave only with photos!
Relax and Enjoy the Scenery at Pailoa Beach!
Maui's black sand beach is very picturesque, and admiring the scenery is one of the best things to do here, especially if you happen to visit when it is not too crowded.
While the beach is small and you can't really stroll it, you can find a spot to spread out your towel so you can sit and enjoy the beauty around you.
Watching the waves roll over the black sand and dash against the lava rocks is mesmerizing.
Swimming is not advised because there are riptides and the currents can be dangerous (there is no protective reef at Pailoa Beach!). The beach is not lifeguarded.
To add to the reasons for not swimming at Pa'iloa Beach, there are jellyfish and Portuguese man o' war in the waters here.
Explore the Sea Cave!
One of the cool things to do at the black sand beach is explore the little sea cave right at the beach.
You'll see the opening on the right side of the beach as you face the ocean.
The opening is not too tall, so you'll have to crawl through it but once inside, there's plenty of room to stand up and look around you.
The other side of the cave faces the ocean, and the view of the lava rocks and the ocean from inside makes for a great photo!
Watch out for waves rolling into the cave, depending on the tide.
Visit the Sea Arches and the Blowhole
If you walk right along the paved pathway from the parking lot, in about 500 feet, you will come to the blowhole.
Generally there are visitors standing around waiting for the action to happen, so you can't miss it!
Along the way, pause to snap photos of the rock shaped like a Y in the islet below: it's apparently a cliff-diving spot for the daring.
You'll also see some pretty sea arches here!
A little ways ahead is the blowhole.
A blowhole, literally a hole in the ground, is connected to an ocean chamber, and sometimes, when waves rush into the chamber, the water is propelled upwards and erupts through the hole in a dramatic fashion.
The blowhole at Wai'anapanapa does not erupt on a regular basis, but when conditions are just right, watch out!
Of course, stay well away from the blowhole opening at all times.
We saw folks too close to the blowhole opening both here and at Nakalele. You cannot predict when the next big one will hit!
Hike the Trails
Beyond the immediate walkways near the black sand beach, Wai'ānapanapa State Park offers two longer hiking trails. These trails are some of the most scenic Maui hikes.
The park encompasses a little more than 120 acres, and is home to many historic and cultural sites. Along these trails, you will get to see some of them.
The trail that goes east along the coast towards Hana passes by the blowhole before entering a grove of hala trees on its way to the Ohala Heiau, a sacred temple site. Please do not climb on the heiau!
This trail, called the Ke Ala Loa O Maui or Pi'ilani Trail, is 3 miles round trip and also passes by ancient grave sites.
If you are a birder, keep your eyes peeled for Hawaiian noddies and other birds on the islets offshore. You may see a great frigatebird!
At the heiau, or the boulder beach a little beyond, you can retrace your steps, or continue further towards Kainalimu Bay, but note that the trail, which was easy to moderate, now gets challenging.
The second trail, also a part of the historic Maui King's Trail, starts at the far end of the black sand beach and goes north towards Hana Airport.
Along this trail, which is moderate to strenuous, you will see an ancient burial site, and a heieu at Pukaulua Point.
There are views of black sand coves, sea arches, and crashing waves along the way, but be prepared for a lot of scrambling over lava rock.
Most visitors hike the trail part way.
Bring drinking water, and wear sun protection and proper footwear (with ankle support!) for these hikes.
Go Camping!
Want to spend a night or two at Waianapanapa State Park?
If the thought of being in the park early or late, when there are very few other visitors in the park, sounds enticing, you can camp in the park!
You have a choice of cabins or tent camping, or you can camp in a campervan, all with a valid permit that must be obtained in advance.
The campground offers restrooms, outdoor showers, picnic tables, and potable water.
Cabin reservations must be made 7 days prior to your stay, and a two-night stay is required unless only one night is available, in which case you can book for one night.
At the time of writing, a cabin is $70.00 per night for a resident of Hawaii and $100.00 per night for a non-resident.
Tent camping or campervan camping is $20.00 per night for Hawaii residents and $30.00 per night for non-residents.
Make camping reservations online here.
Getting to the Black Sand Beach in Maui
Maui's black sand beach is located inside Waianapanapa State Park near Hana, and the official name is Pailoa Beach or Honokalani Beach.
To get to Wai'anapanapa State Park from a base in west Maui, you have to drive the famous Road to Hana, also called the Hana Highway (see map).
The black sand beach is located at mile marker 32 on the Hana Highway.
Once you get to Hana, take Honokalani Road (also called Wai'anapanapa Road) to the park entrance.
The Hana Highway is one of the most scenic drives in the USA, so you'll have spectacular views all along the way to the park, with many waterfalls and lots of lush tropical vegetation.
However, it's worthwhile noting that the road is a twisting, turning, narrow road with many one-lane bridges and hundreds of hairpin bends.
If the thought of driving the winding road yourself doesn't appeal, don't worry: there are several guided tours from which to choose!
This highly rated small group tour includes a one hour stop at Wai'anapanapa State Park. The tour is capped at 6 to 8 passengers and includes breakfast and lunch.
>> Check price and availability on this Road to Hana tour now!
Or consider this small-group tour that also offers one hour at the black sand beach / park. The tour offers transport by Mercedes van and includes lunch.
>> Check price and availability on this small group Hana Highway tour now!
You can also arrive at Wai'anapanapa State Park by driving the Pi'ilani Highway along the south shore of the island (see map).
Note that this route has an unpaved stretch that can be rough, and many rental car companies will not allow their cars to be driven this route.
Wai'anapanapa State Park Hours and Fees
Wai'anapanapa State Park is open daily from 7 a.m. until 6 p.m.
The park is free for residents of Hawaii with proof of residency: a driver's license or State ID. Parking is also free for residents.
For visitors that are not residents of Hawaii, the entrance fee is $5.00 per person, with kids 3 and under admitted free.
Non-residents of Hawaii also pay for parking if they drive to the park in their rental car. The parking fee is $10.00 per vehicle at the time of writing.
Wai'anapanapa State Park Reservation System
Wai'anapanapa State Park, home to Maui's famous black sand beach, implemented a reservation system in 2021.
Hawaii residents are exempt from the reservation requirement.
Non-residents of Hawaii must reserve in advance. You can reserve online, starting 30 days before the date you plan to visit up until the day before the day you will visit.
We urge you to make your reservations for Waianapanapa State Park as soon as they open up for your date, at midnight Hawaii time. Slots fill up, especially the slots in the middle of the day.
Cell reception in the park is spotty, so be sure to download your reservation vouchers ahead of time so you can produce them when asked. Else you may be asked to leave, and you definitely do not want that!
You can make either a combination entry + parking reservation, or just an entry voucher if you will be visiting with a Hawaii resident in their vehicle.
Vouchers are issued in four time slots: 7 a.m. – 10 a.m., 10 a.m. – 12.30 p.m., 12.30 p.m. – 3 p.m., and 3 p.m. to 6 p.m. (last entry 5.30 p.m.).
You can enter any time during your reserved time slot, but you HAVE to exit by the end of that time slot.
If you plan to spend more time at the black sand beach and the park, you will need to purchase more than one time slot.
The system allows you to check more than one slot, but note that a slot may be sold out for the date you want.
The Best Time to Visit Maui's Black Sand Beach
Ideally you'd want to visit the black sand beach on a nice sunny day, when the contrast between the black sand, the green vegetation, and the blue ocean and sky is best.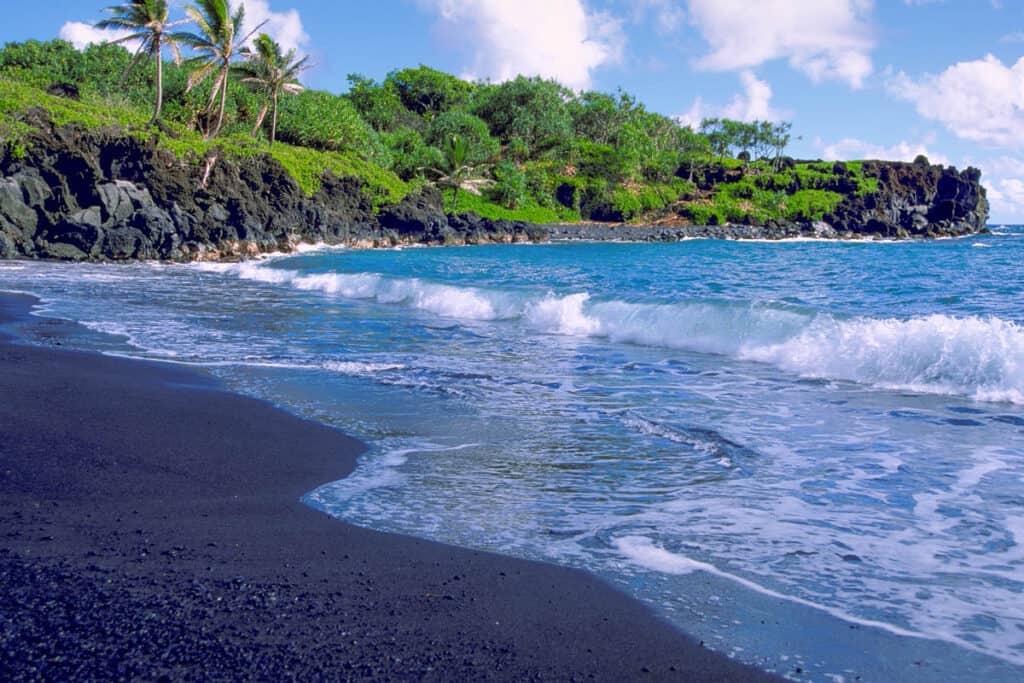 But the black sand beach is located on the wet lush side of the island, so rain is quite common. Rain showers that clear up in a bit bring gorgeous rainbows!
And the beach looks stunning even if there are storm clouds in the sky.
The winter and spring months generally tend to be rainier, so visit between June and September for better chances of dry or relatively dry days.
Within this time period, we love visiting Maui in September: crowds are lower than the summer while the weather is pleasant.
Tips for Visiting the Black Sand Beach on Maui
Make your black sand beach reservations (for Waianapanapa State Park) early!
Along with Haena State Park in Kauai and Diamond Head State Monument in Oahu, Waianapanapa State Park is one of the most popular state parks in Hawaii.
Make your reservations for Maui's black sand beach as soon as your date(s) are available. You can book as early as 30 days prior to your planned visit date, but you MUST book by the day before your visit.
You will be turned away if you are not a Hawaii resident and arrive without a reservation.
Download your reservation vouchers!
Remember: cell reception may be spotty or non-existent along the Road to Hana or at Waianapanapa State Park.
Download your vouchers at your accommodations before you set out for the park, so you can show them at the park entrance when requested.
Allow enough time for the activities you want to enjoy
The park suggests a minimum of 30 minutes to park, enjoy the views from the lookout areas near the parking lot, and go down briefly to the black sand Honokalani Beach.
If you take a guided tour, you will usually have 45 minutes to an hour at the park.
Even if they visit independently, the majority of visitors make a visit to the black sand beach a part of their day trip on the Road to Hana, spending just about 30 to 60 minutes here snapping photos and enjoying the views.
But if you are planning an extended visit to the island, or you are a repeat visitor to Maui, consider spending a night or two in Hana Town, so you will have the time for a more extended visit to Waianapanapa State Park.
Book a couple of time slots and hike a part of the trails or spend time just soaking in the beauty at the beach.
If you are able to visit in the early (or later) time slot, you will have to share the beach with fewer visitors, and the light on the water is beautiful.
More Maui Travel Inspiration
If you are planning a visit to Maui, check out some of our other in-depth guides to craft the perfect Maui itinerary!
Did you find this article informative? Pin it for later!